Pasta e Fagioli (Mediterranean white beans and pasta soup)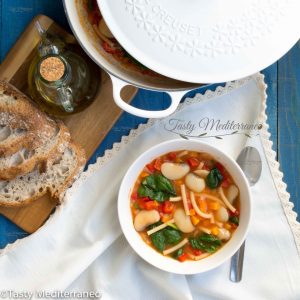 Author:
Margarita @ Tasty Mediterraneo
Cuisine:
Mediterranean Diet
2 Jars (250g net drained weight each jar) of organic white beans cooked in water with no added salt, drained
2 Tablespoons extra virgin olive oil (EVOO)
1 Garlic clove, peeled and thinly chopped
1 Onion, peeled and finely chopped
1 Red bell pepper, cored and diced
1 Carrot, peeled and diced
1 Potato, peeled and diced
5 Medium ripe tomatoes, thinly chopped. You could also use ½ l of tomato passata if tomatoes are not in season
250g (1 ¼ cups) Fresh spinach leaves, thinly chopped
100g (1 cup) Organic whole-wheat pasta
1 Teaspoon salt (or salt to taste)
1 ½ Litre (3 pints or 6 cups) water
Have all the vegetables well washed and prepared as indicated in the ingredients description. Rinse the white beans well and drain.
Mash half of the cooked white beans either with a pestle and mortar or with a hand mixer until they become a puree.
Heat the olive oil in a large saucepan over moderate heat. Add the garlic and sauté for 1 minute until lightly golden. Add then the onion, the red pepper, the carrot, the potato and a pinch of salt and sauté over medium heat for around 5 minutes.
Reduce heat to low. Add the tomatoes, the pureed white beans and the rest of white beans, cover with cold water and leave to cook, covered with a lid, at a medium-low heat for approximately 25 minutes, stirring from time to time. Add a teaspoon salt (or salt to taste) and stir.
Add the thinly chopped spinach and the pasta. Cook the pasta as per the cooking instructions on the package. Remove from the heat and serve hot.
If you are using dried beans, to cook them: soak the dried beans in cold water for 12 hours (ideally leave them soaked overnight). Rinse them well and drain. Put them in a cooking pot and cover with water and cook over low to medium heat for about 1 hour or until tender. While cooking part of the water may evaporate, add one cup of cold water and continue boiling until they are tender. Remove them from the heat, drain and add them as indicated in step 4.
Recipe by
Tasty Mediterraneo
at https://www.tastymediterraneo.com/mediterranean-white-beans-with-pasta-pasta-fagioli/