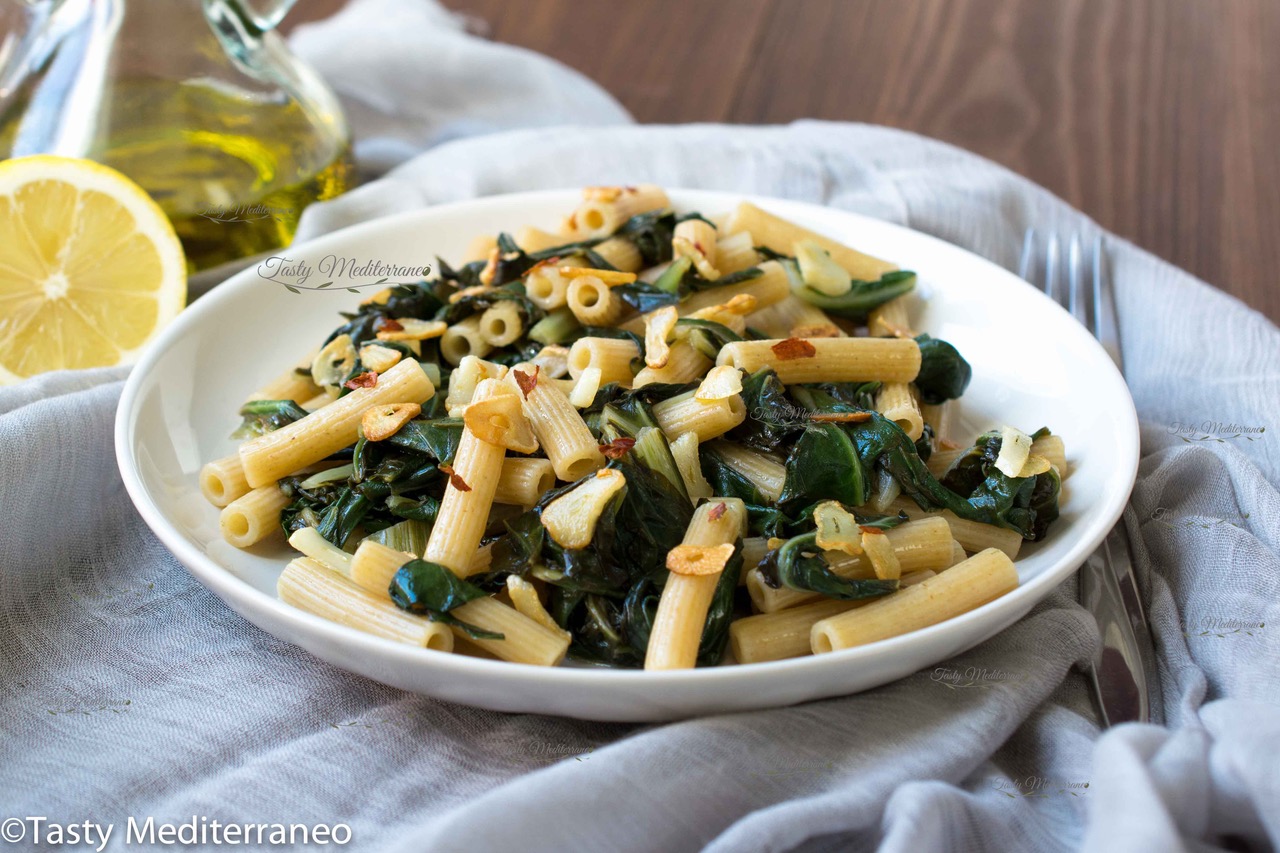 Those of you who are regular followers of my work may have seen on Tasty Mediterraneo's Instagram, Facebook and/or Twitter that I had the honour to attend the launch of World Pulses Day at United Nations headquarter in New York.
Little did I know when I shared 5 of my recipes with FAO and became a Gourmet Guru of the Global Pulse Confederation in 2016, that I would have the honour to be invited to celebrate the first World Pulses Day at United Nations. Also I had the opportunity to talk about my work at Tasty Mediterraneo and about the importance of pulses in the Mediterranean diet in front of a selective audience. This has been a once in a lifetime opportunity and an amazing experience!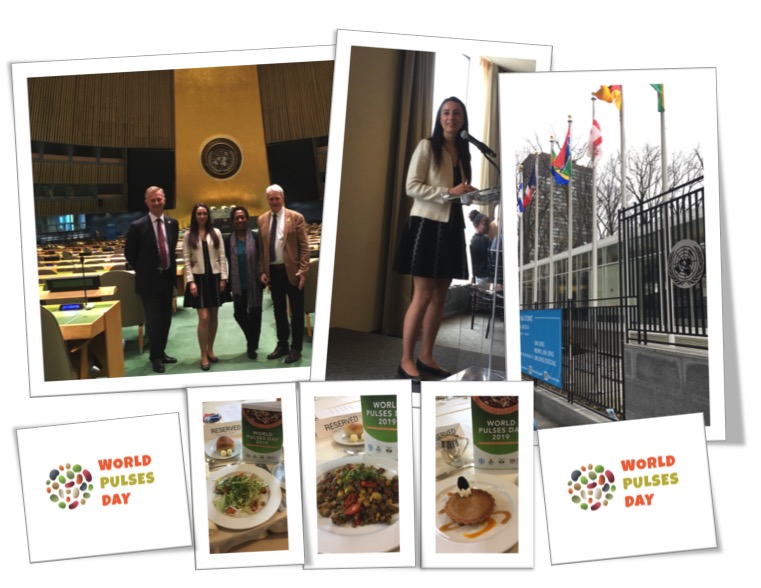 Today I am sharing with you a tasty and nutritious vegan Mediterranean diet recipe of whole-wheat pasta, my "Spicy Mediterranean pasta with chard".
Scientific research shows that eating whole grain products regularly, as part of a healthy diet and lifestyle, may help to reduce the risk of many common diseases.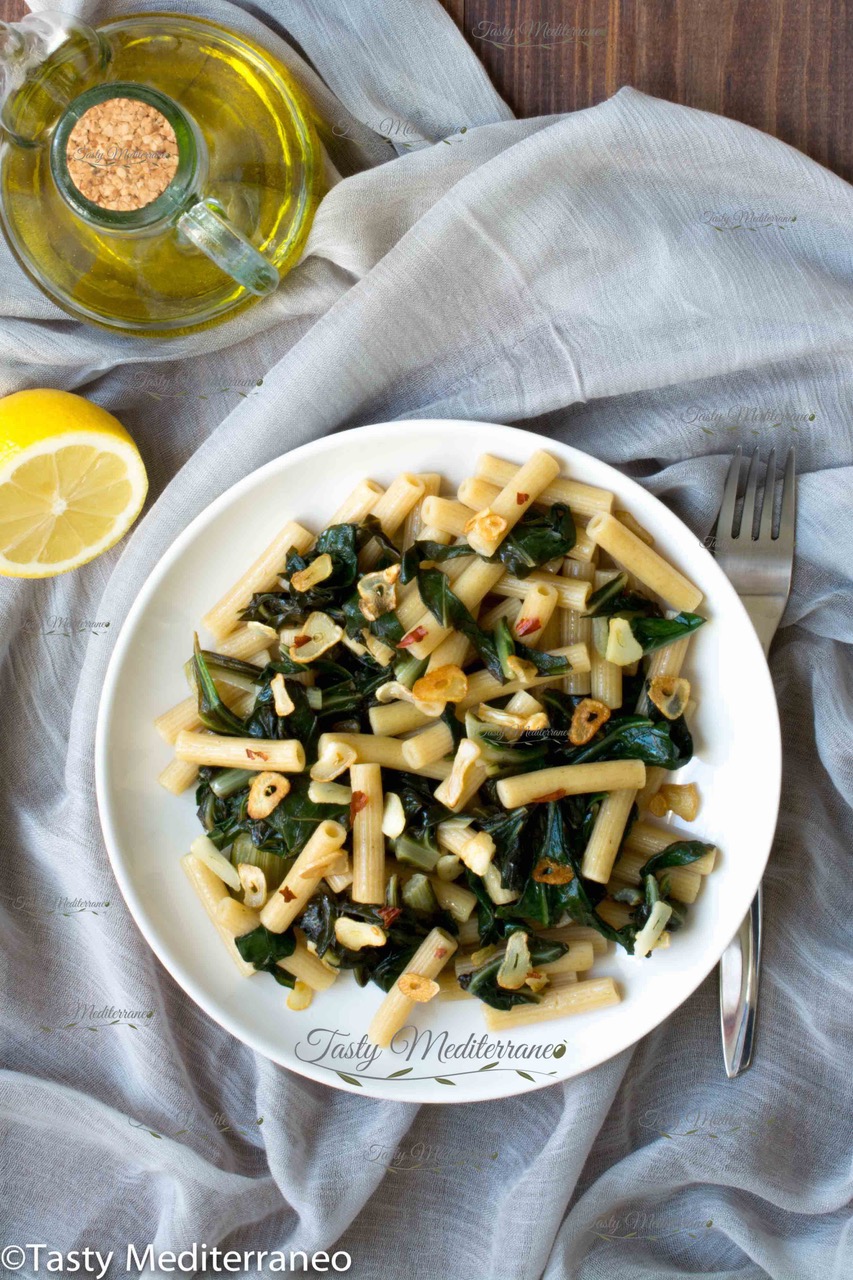 Whole grains also seem to be beneficial in helping maintain a healthy weight over time. Whole grains are usually low in fat, but rich in fibre and starchy carbohydrate. Whole grain pasta has a low glycaemic index (GI) what means that it provides a slow release of carbohydrate into the blood. This, together with the high fibre content, can help you to feel fuller for longer, helping to control appetite.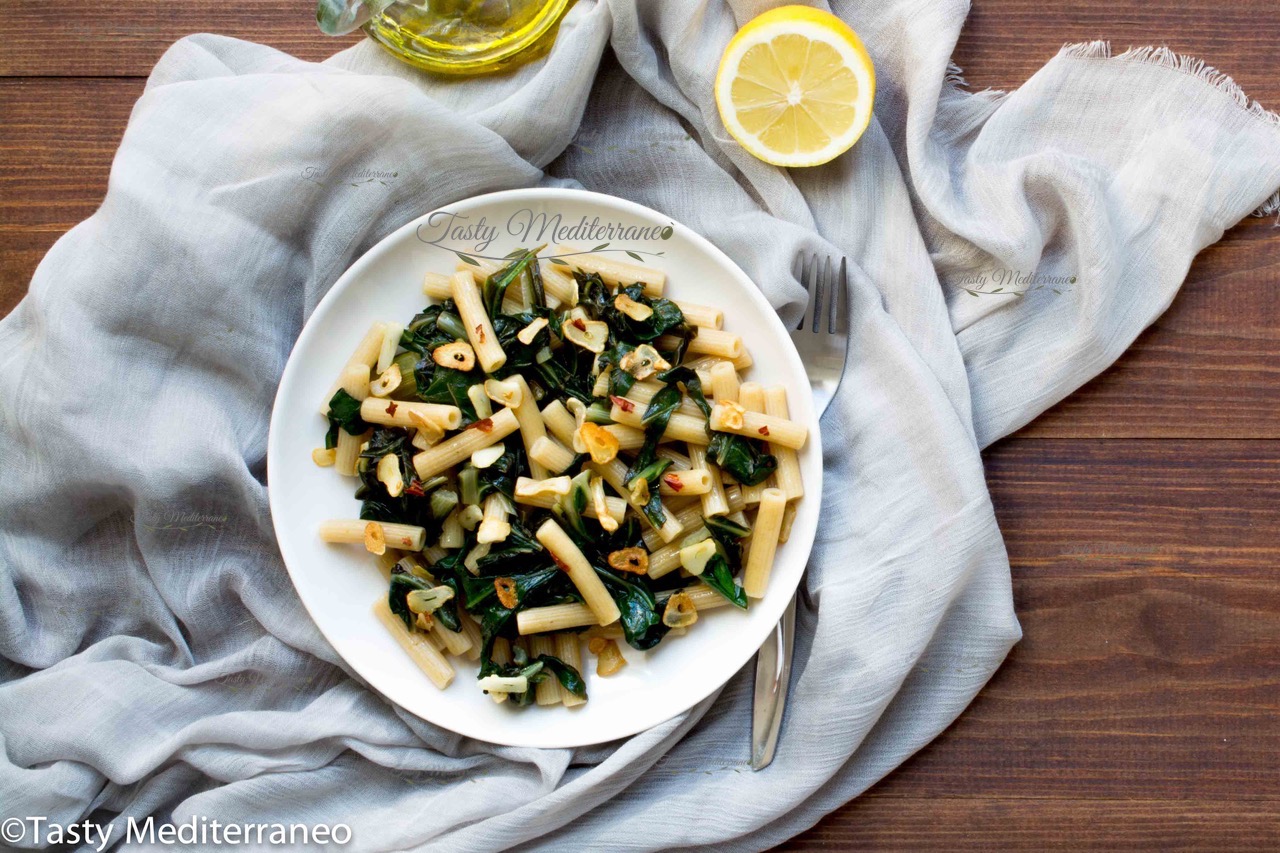 Whenever you eat pasta I encourage you to choose whole grain pasta, whole grain foods can contain up to 75% more nutrients than refined cereals.
Another nutritious ingredient in this recipe is chard. Chard is a leafy green vegetable that we use a lot in the Mediterranean cuisine. It is rich in vitamins A, K, C and E, as well as minerals such as magnesium, manganese, iron & potassium. Garlic, lemon juice and Extra Virgin Olive Oil (EVOO) are other of the nutritious ingredients in this tasty recipe.
If you try this tasty and healthy vegan Mediterranean diet recipe of "Spicy Mediterranean pasta with chard", please let me know, leave a comment and rate it. I would love to know what you come up with. Enjoy and happy healthy cooking!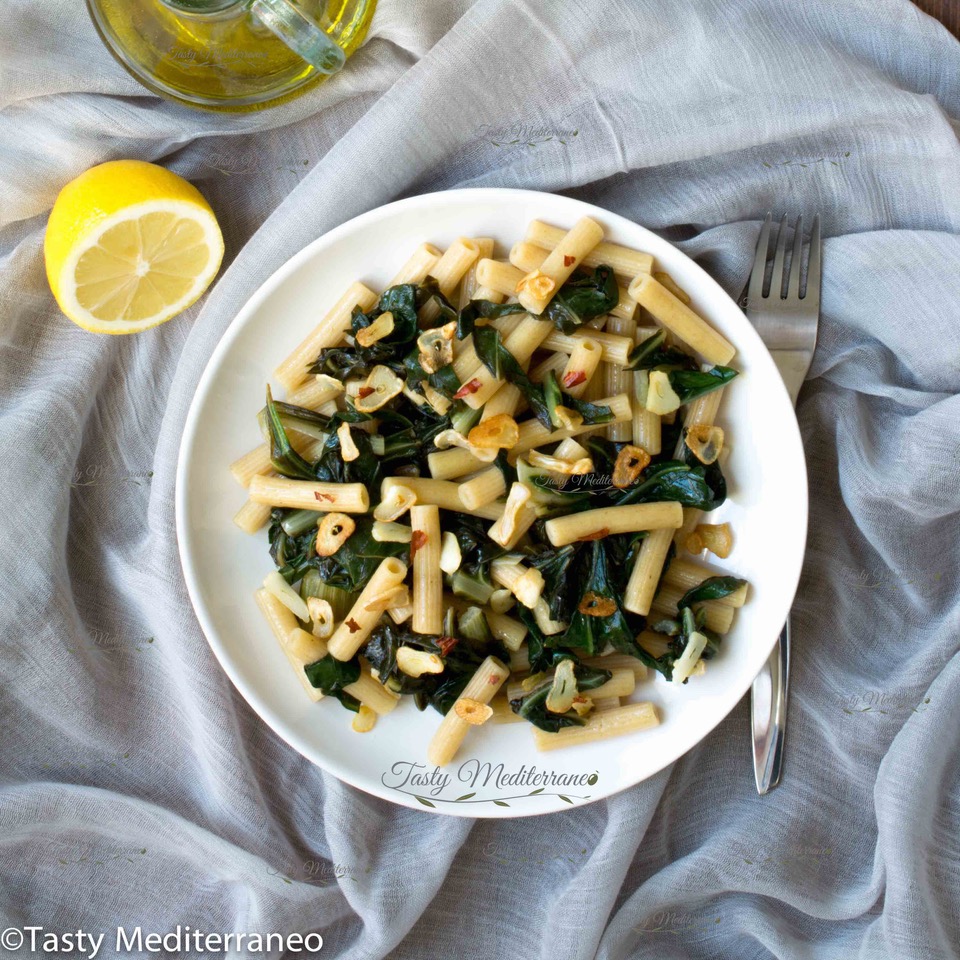 Spicy Mediterranean pasta with chard
Author:
Margarita @ Tasty Mediterraneo
Cuisine:
Mediterranean Diet
Ingredients
200g (7 ounces) Whole-wheat organic penne pasta
10 Swiss chard leaves, chopped
3 Tablespoons Extra Virgin Olive Oil (EVOO)
3 Garlic cloves, pealed and finely sliced
2 Tablespoons freshly squeezed lemon juice
½ Tablespoon sea salt (or salt to taste)
A pinch of dried red chilly flakes
Instructions
Have the chard leaves well washed and the rest of ingredients prepared as indicated in the ingredients description.
Boil water in a large saucepan and add half-tablespoon sea salt. When the water is boiling, add the whole-wheat organic penne pasta and stir. Follow the cooking instructions on the package. Stir the pasta from time to time and when the cooking time indicated in the package is over, remove from the heat and drain.
While the pasta is boiling, in a large frying pan heat one tablespoon of EVOO over moderate heat, add the garlic and sauté for one minute until lightly golden. Remove the garlic from the frying pan and leave aside. Add the chopped chard leaves to the frying pan, the dried red chilly flakes (depending on how spicy you like it!) and an extra tablespoon of EVOO and sauté for about 5 minutes over low heat, stirring from time to time. Add then the freshly squeezed lemon juice, salt to taste, sauté and continue stirring for 2 more minutes.
Finally add to the sautéed chard leaves the drained pasta, the sautéed garlic and 1 tablespoon of EVOO and stir all together over moderate heat for a couple of minutes. Remove from the heat, and serve hot.
Notes
If the chard leaf stalks are large, you could cut them out, only use the green leaves for this recipe and use the leaf stalks to prepare my
Vegetarian chard fillets
recipe.
You could add some shavings of Parmesan cheese or your favourite vegan cheese alternative as a topping for this pasta dish.