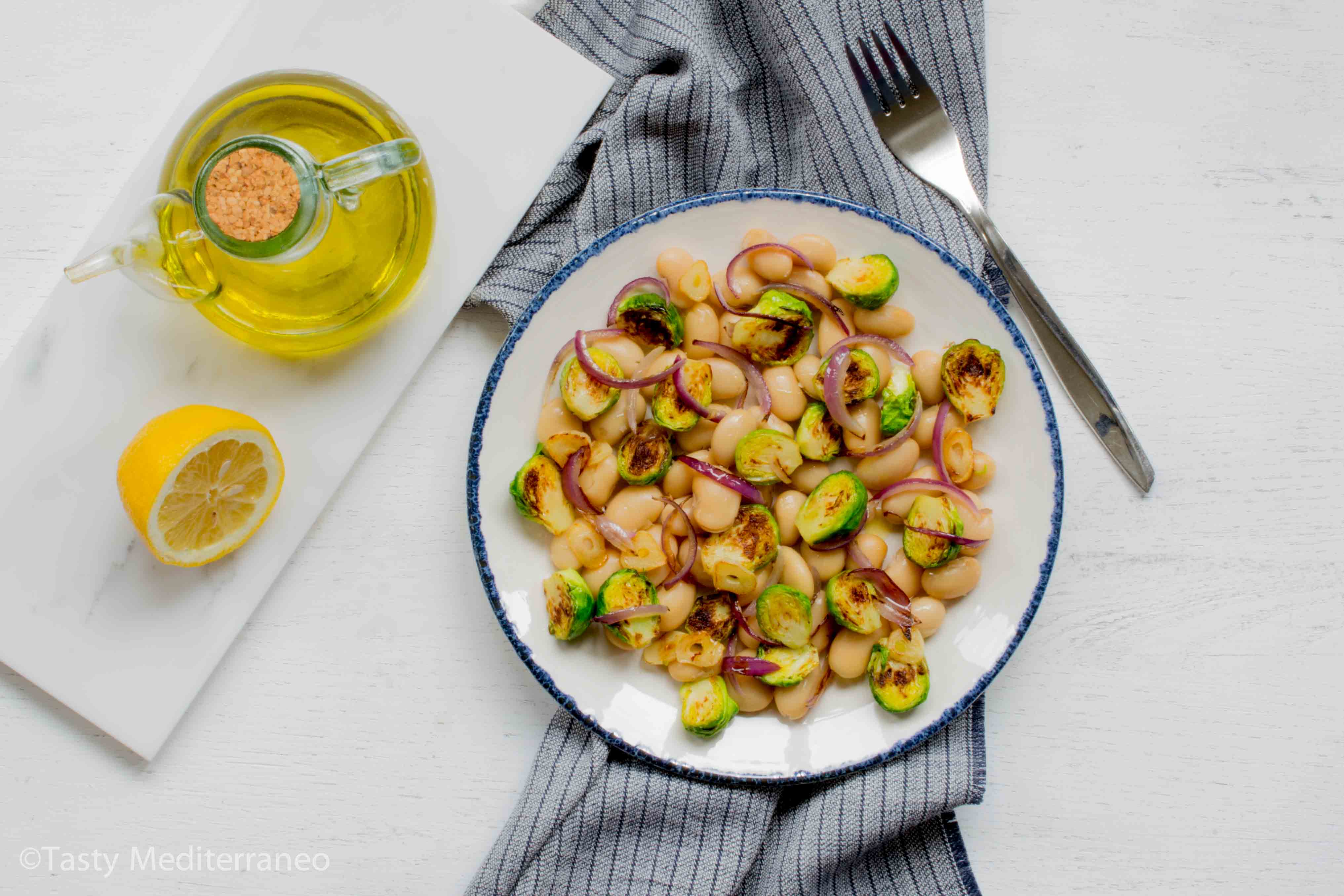 Those of you who are regular followers of my blog already know that I am a Gourmet Guru of the Pulses organization with whom I shared one of my pulses recipes for Global Pulse Day representing both Spain and Ireland.
You also know that I am proud to be a contributor to the International Year of Pulses of the FAO (Food and Agriculture Organization) of the United Nations, with whom I shared a few of my pulses recipes, recipes that are featured on the FAO website.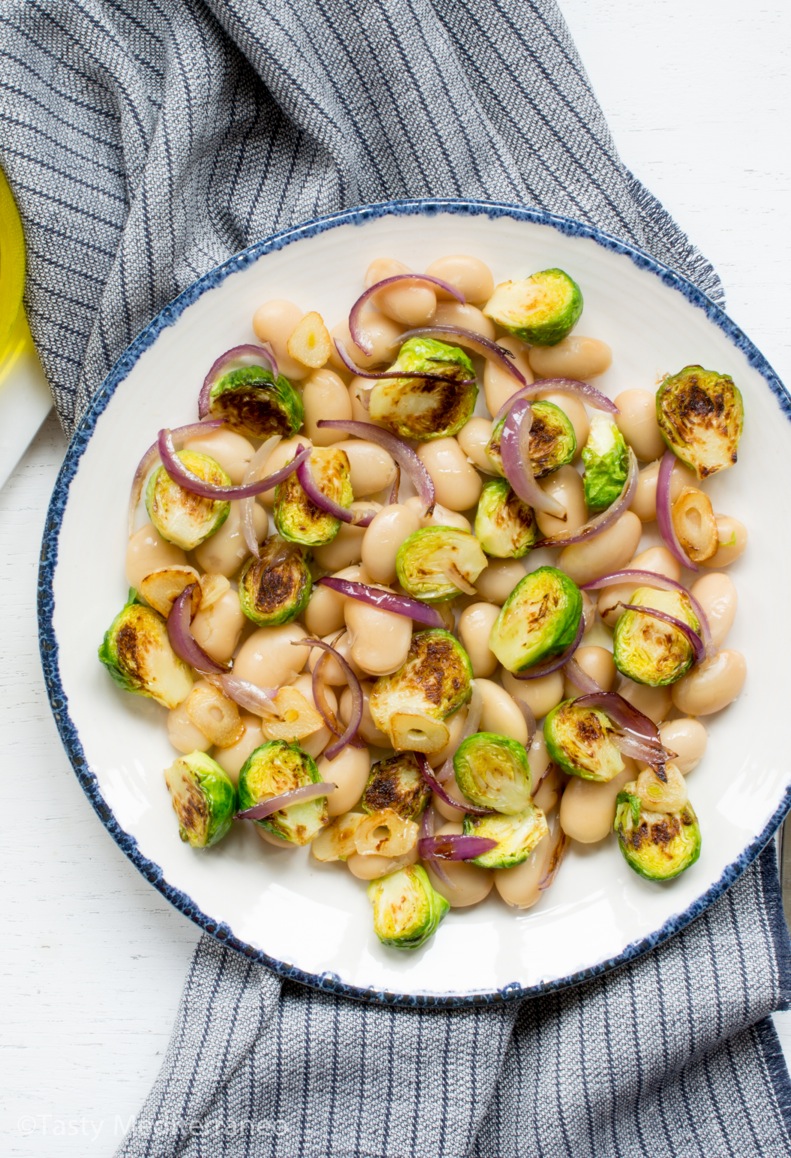 Pulses are part of the legume family, but when we talk about pulses we refer only to the dried seed. Legumes are good sources of proteins, amino acids, fibre, iron, B group vitamins and other nutrients.
Legumes are a staple of the Mediterranean diet and you can find plenty of vegetarian and vegan pulses recipes on my blog under the "Beans & other legumes" category.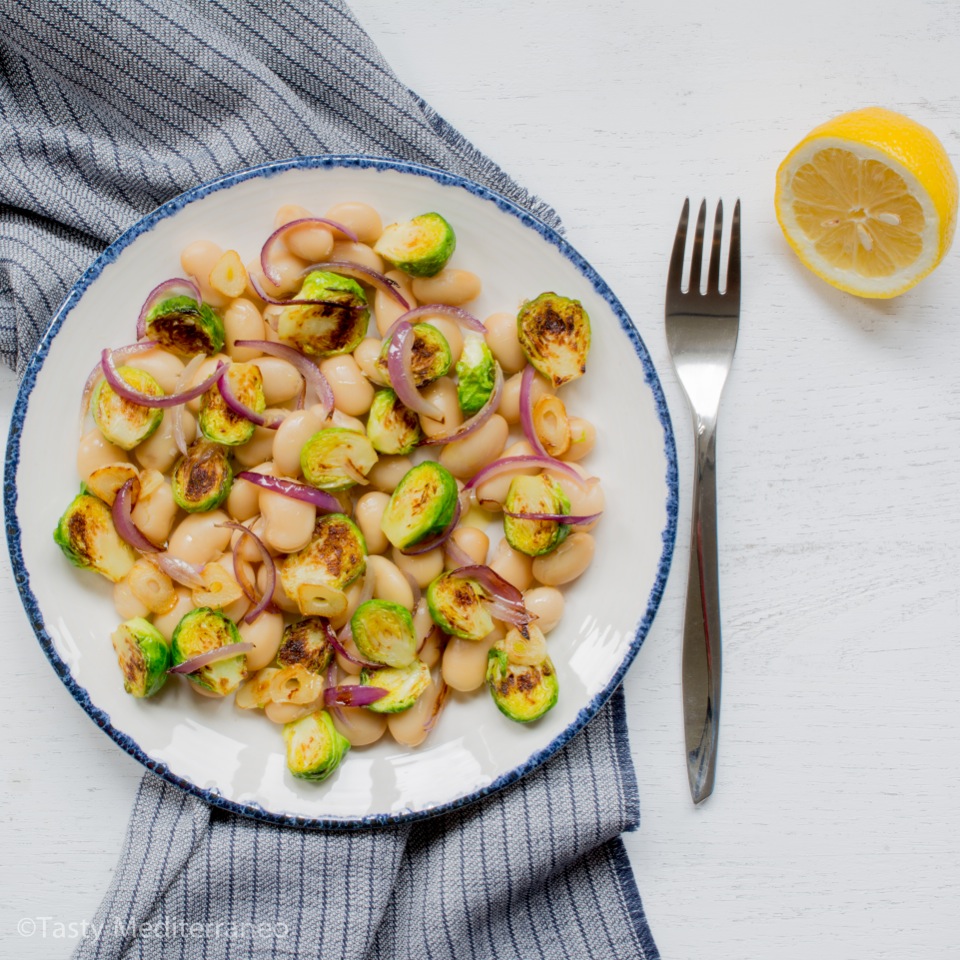 Today I share another pulses recipe of white bean with Brussels sprouts. Brussels Sprouts belong to the Brassica vegetables family. The brassica vegetables are also called cruciferous vegetables, such as cabbage, cauliflower, broccoli, kale and similar green leaf vegetables and they are well known for their disease fighting compounds.
Brussels sprouts are surprisingly high in protein for a green vegetable and they are rich in antioxidants, anti-inflammatories compounds, fibre, folates, vitamin A, vitamin C, vitamin K, vitamin B6, folate, potassium and manganese.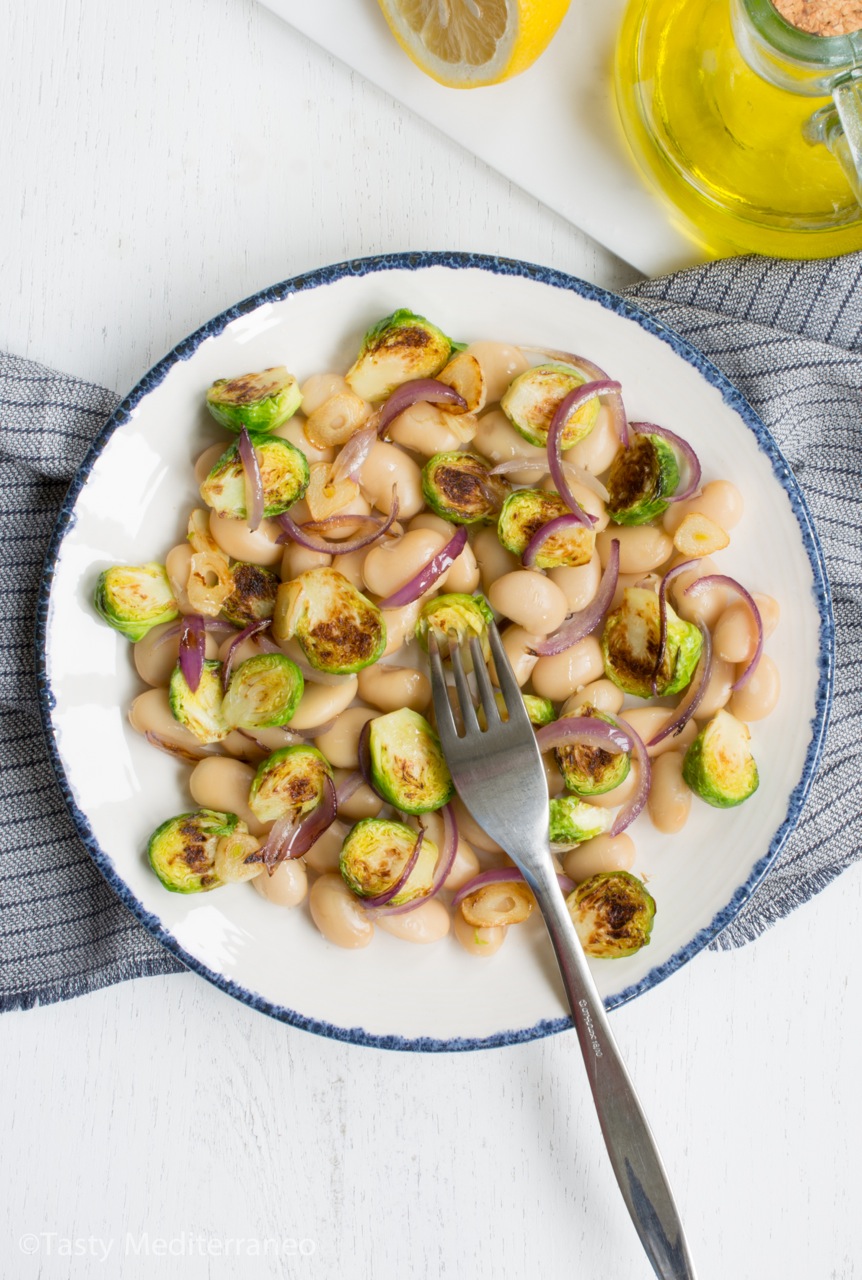 If you like Brussels sprouts you can also check my "Sautéed Brussels sprouts with garlic & pinenuts pasta" recipe.
If you try this tasty, healthy and highly nutritious vegan Mediterranean diet recipe of "Mediterranean white bean with Brussels sprouts" please let me know, leave a comment and rate it. I would love to know what you come up with. Enjoy!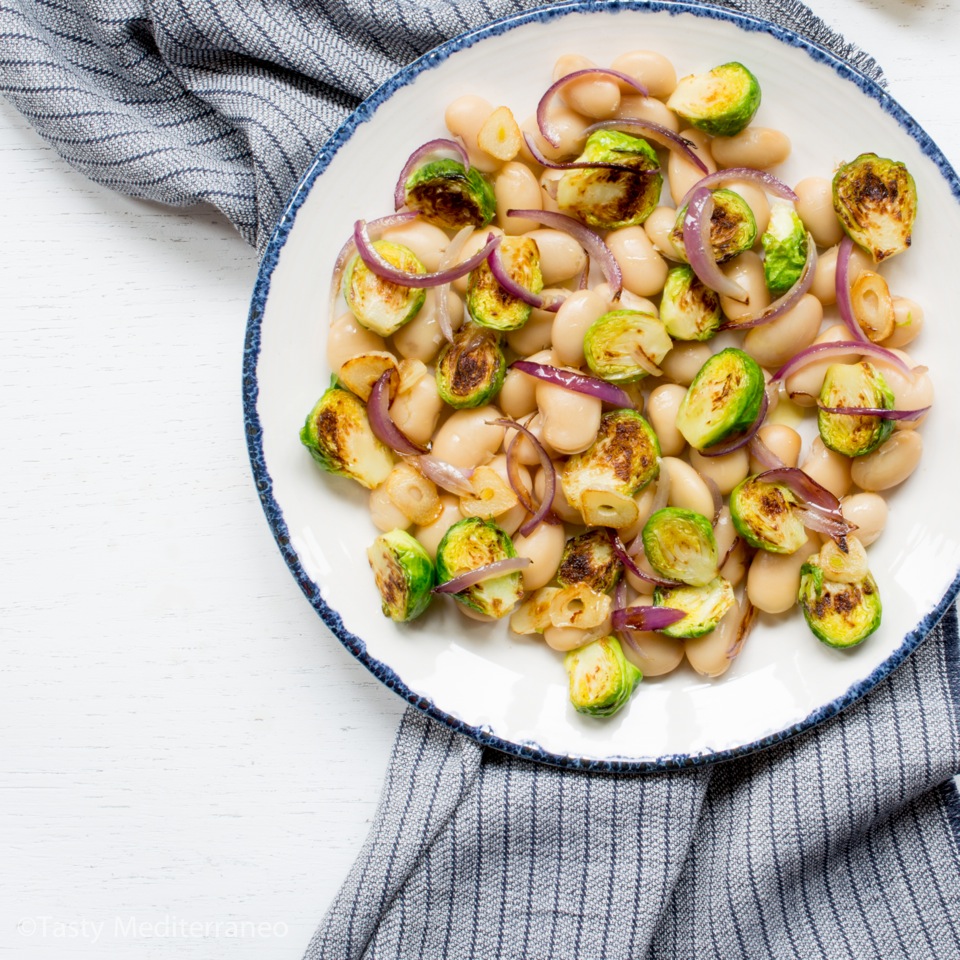 Mediterranean white bean with Brussels sprouts
Author:
Margarita @ Tasty Mediterraneo
Cuisine:
Mediterranean Diet
Ingredients
3 Cans (250g net drained weight each can) of organic white beans in water with no added salt
2 Tablespoons Extra Virgin Olive Oil (EVOO)
500g (4 ½ cups) Fresh organic Brussels sprouts, sliced off the rough part of the stem & cut in half or into quarters
3 Medium red onions, pealed and sliced
6 Garlic cloves, pealed and finely sliced
3 Tablespoons of freshly squeezed lemon juice
1 Teaspoon sea Salt (or salt to taste)
Freshly ground black pepper
Instructions
Have all the vegetables well washed and prepared as indicated in the ingredients description. Sometimes the outside leaves of the Brussels sprouts are bruised, in that case remove those.
In a large frying pan heat one tablespoon of EVOO over moderate heat, add the garlic and sauté for one minute until lightly golden. Add then the red onion and sauté for around 3 minutes until soft but not brown. Add the Brussels sprouts to the frying pan and an extra tablespoon of EVOO and sauté for about 5 minutes over low heat, stirring from time to time.
Add then the white beans, the freshly squeezed lemon juice, salt to taste and a bit of freshly grounded black pepper and sauté and continue stirring softly, to avoid breaking the white beans, for about 5 more minutes or until the Brussels sprouts are tender and lightly golden.
Remove from the heat and serve hot.
Notes
If you are using dried beans (360g (1⅔ cup) would suffice for 4 people), to cook them: soak the dried beans in cold water for 12 hours (ideally leave them soaked overnight). Rinse them well and drain. Put them in a cooking pot and cover with water and cook over low to medium heat for about 1 hour or until tender. Remove them from the heat, drain and add them as indicated in step 3.
You can add a drizzle of EVOO before serving, or you could add a bit of my
Lebanese tahini-based sauce: Tarator
.