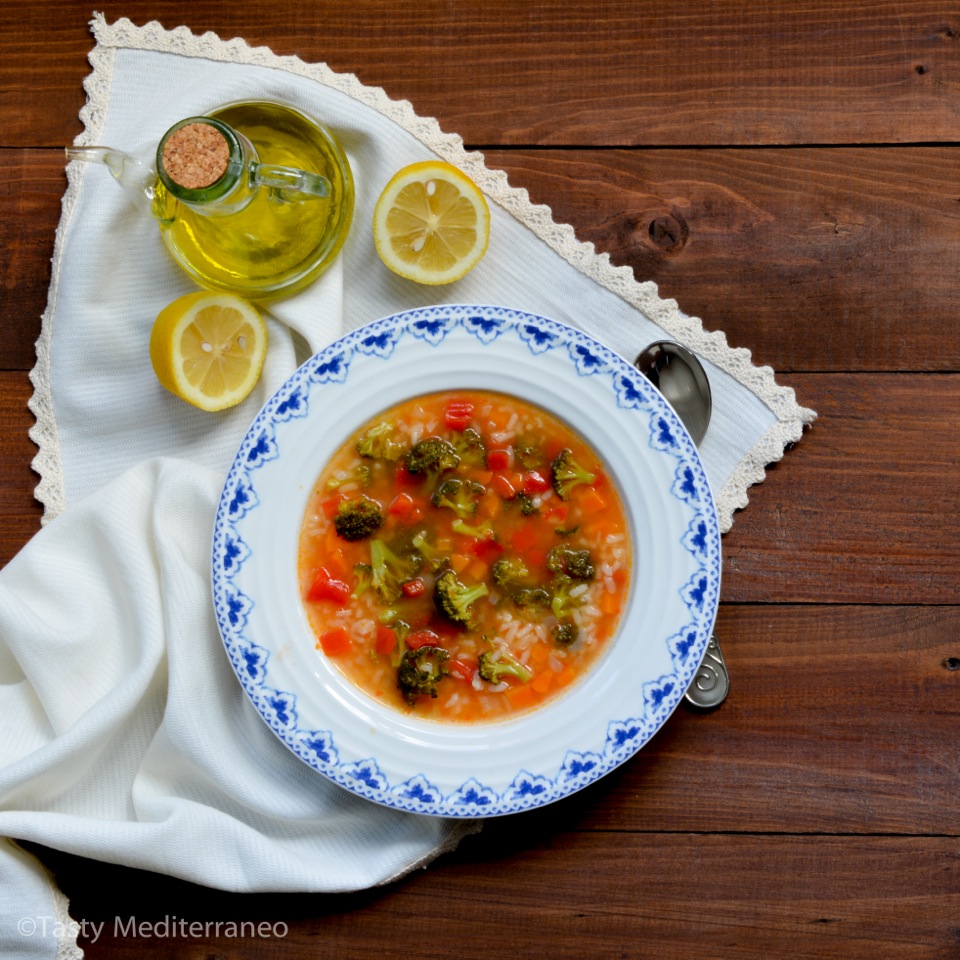 Those of you who follow Tasty Mediterraneo feed on Instagram already know that I am back to university. I want to take my career in nutrition a step further with a solid scientific base.
My MSc in Food, Nutrition & Health is keeping me quite busy; this is why I have not been able to share more recipes with you recently. But today I have found some free time and I am happy to share with you another healthy and nutritious vegan recipe from the Mediterranean cuisine that we love at home.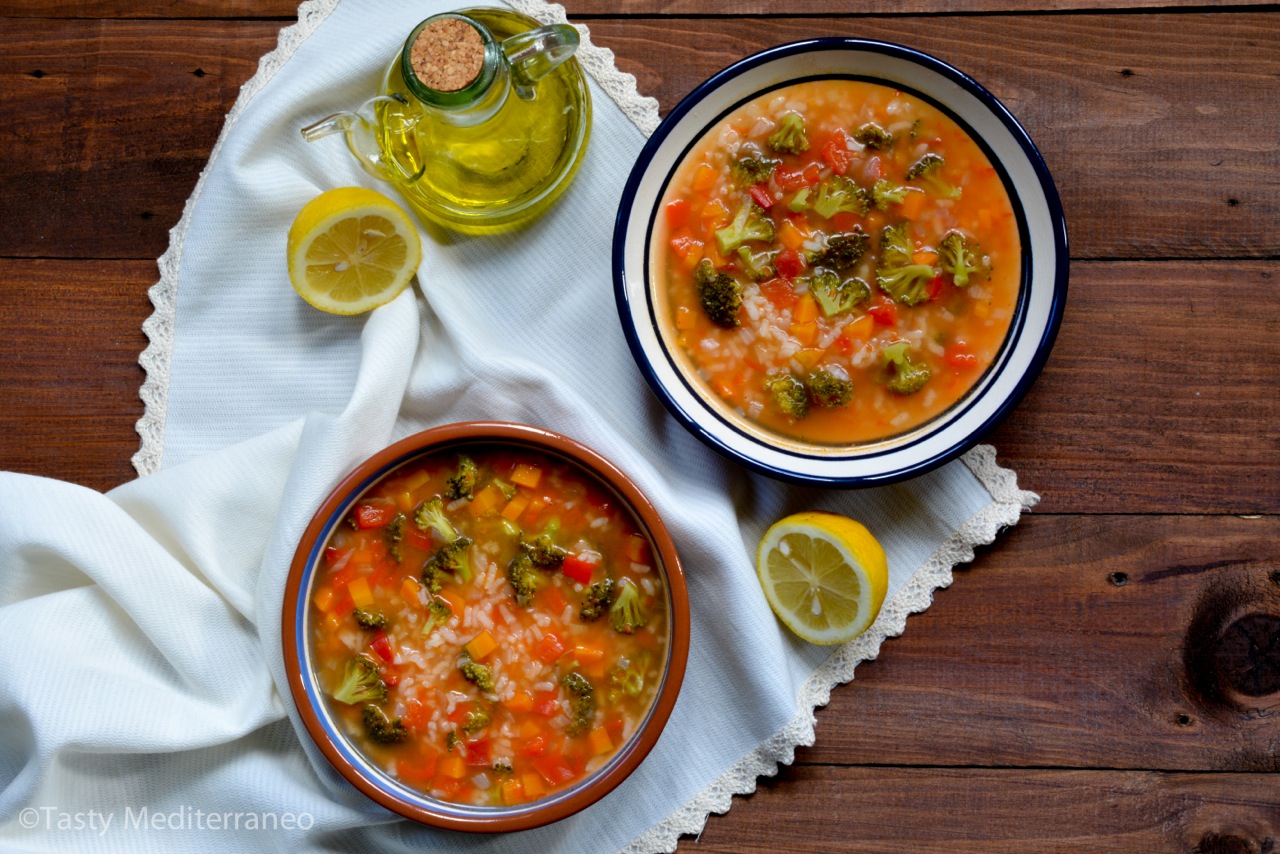 This rice and vegetable soup is full of goodness and very tasty. One of its main ingredients is broccoli. As you may already know broccoli belongs to the brassica vegetables family (also called cruciferous vegetables), which also include cabbage, cauliflower, kale and similar green leaf vegetables in the family. These vegetables are well known for their disease fighting compounds.
Broccoli is rich in antioxidants and anti-inflammatories compounds, fibre, folate, vitamin A, vitamin C, vitamin K, vitamin E, vitamin B6, calcium, magnesium, manganese, zinc, calcium, iron…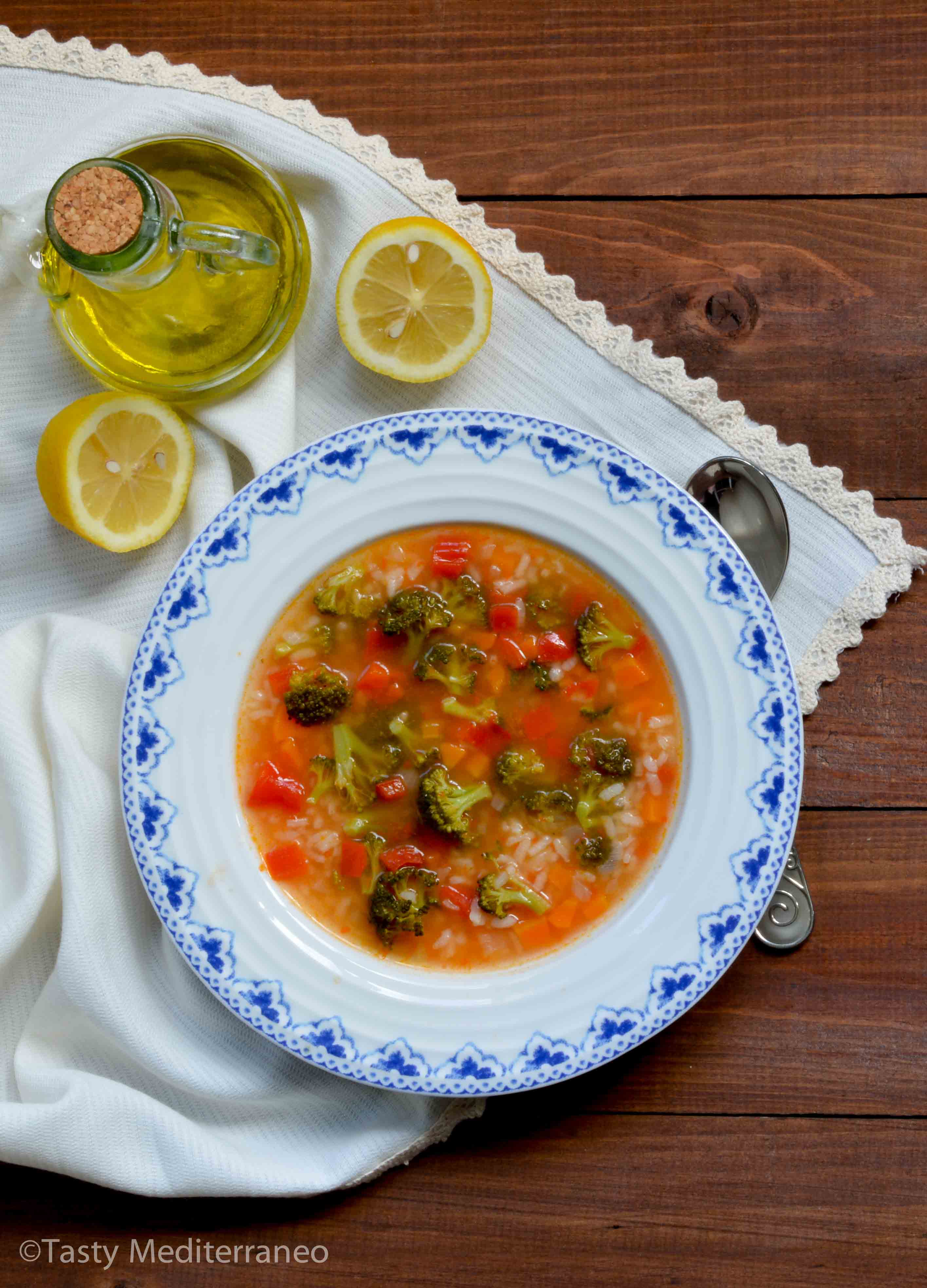 Given the fact that oxidative stress and chronic inflammation are risks factors for cancer, the antioxidant and anti-inflammatory richness of broccoli – and other vegetables from the brassica family – in a healthy and balanced diet can help to keep you at a lower risk for cancer and other chronic diseases.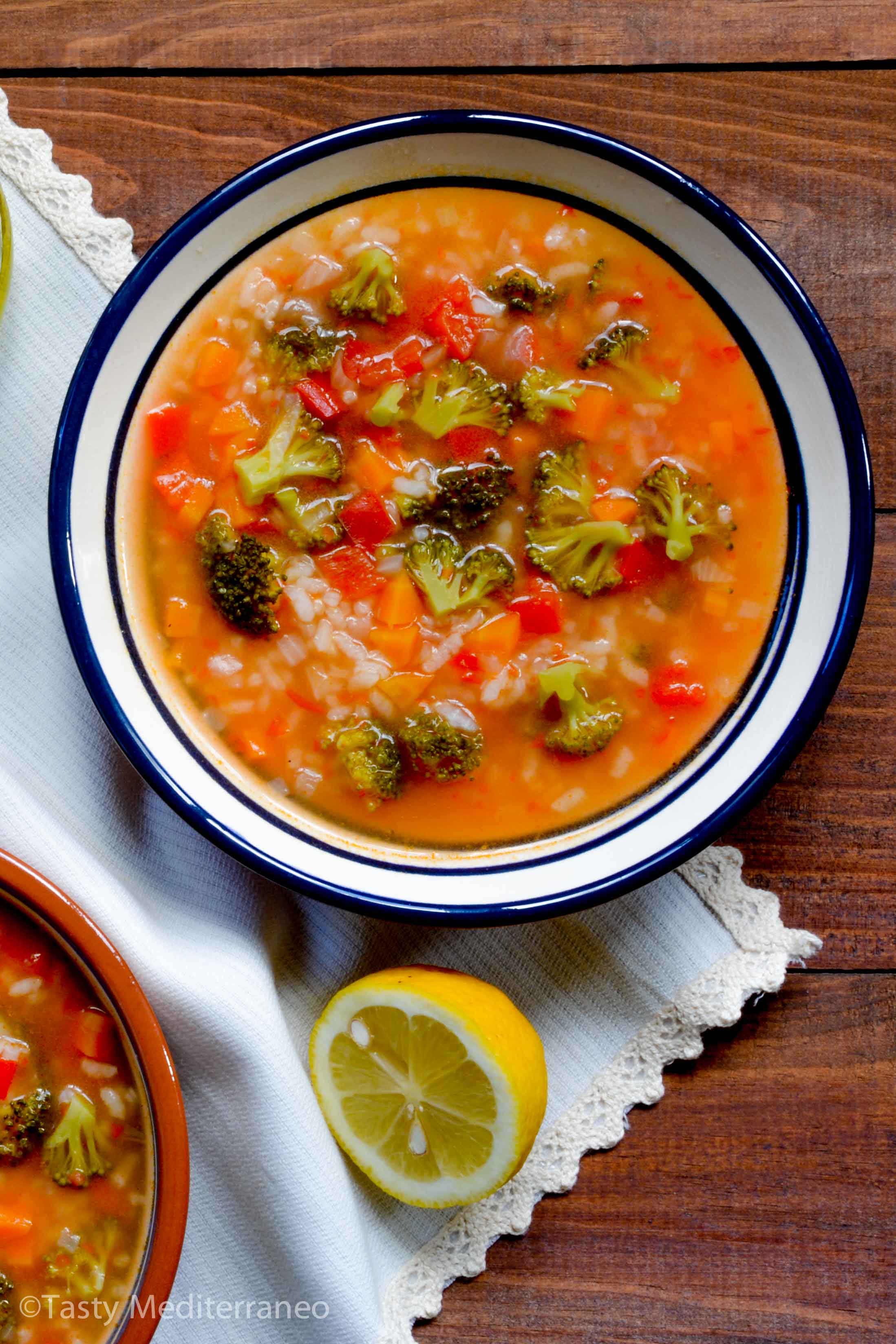 If you try this healthy and nutritious vegan Mediterranean diet recipe of "Rice & vegetable soup", please let me know, leave a comment and rate it. I would love to know what you come up with. Enjoy!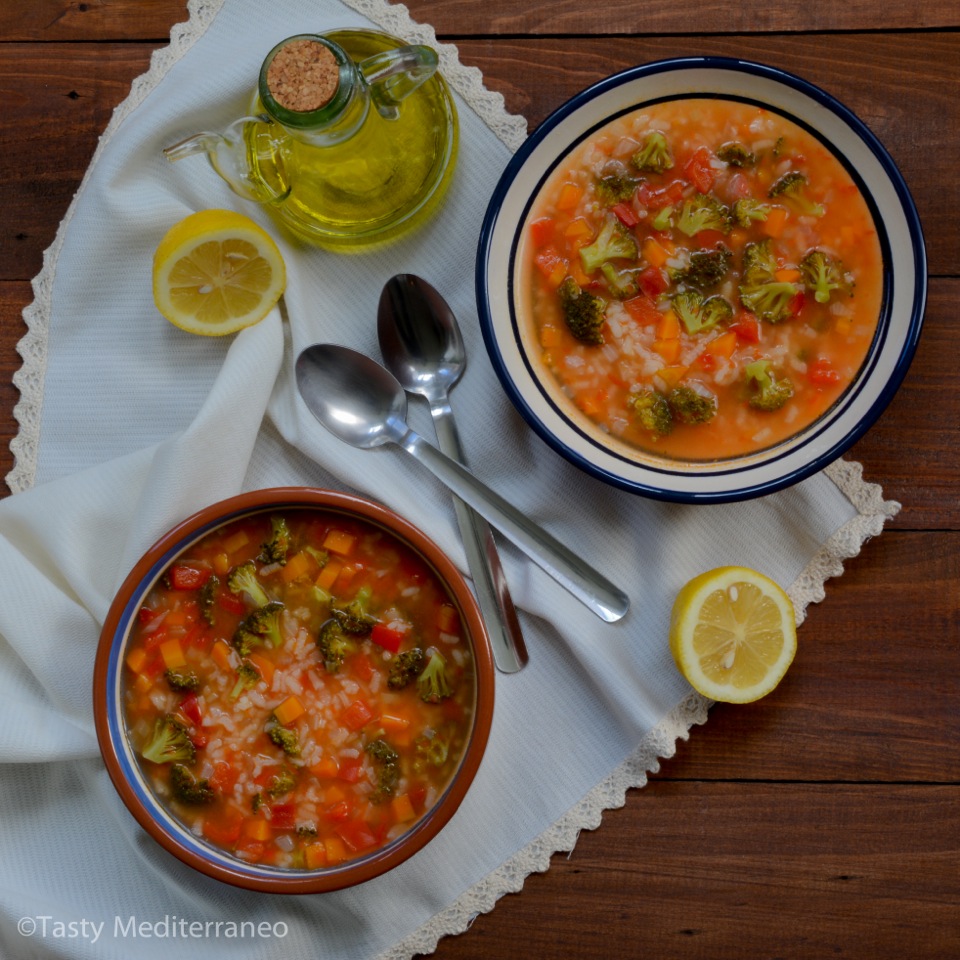 Rice & vegetable soup
Author:
Margarita @ Tasty Mediterraneo
Cuisine:
Mediterranean Diet
Ingredients
2 Tablespoons extra virgin olive oil
1 Garlic clove, peeled and thinly chopped
1 Onion, peeled and finely chopped
3 Medium carrots, peeled and diced
1 Red bell pepper, cored and diced
5 Ripe tomatoes, finely chopped
1 Teaspoon sea salt (or salt to taste)
1 ½ Litre (3 pints or 4 ½ cups) water
1 Broccoli head, the florets sliced into smaller pieces
200g (1 cup) Bomba rice (Arborio rice will do if you cannot find this variety of paella rice from Valencia)
4 Teaspoons freshly squeezed lemon juice (one teaspoon per portion)
Freshly ground black pepper
Instructions
Have the ingredients well washed and prepared as indicated in the ingredients description.
Heat the olive oil in a large saucepan over medium heat. Add the garlic and sauté for 1 minute until lightly golden. Add then the onion, the carrots, the red pepper and a pinch of salt and sauté for 2 more minutes until only lightly golden.
Reduce heat to low. Add the tomatoes and the rice and stir. Add the broccoli florets, cover with cold water and leave to cook at a medium-low heat, for about 10 minutes until the rice is done, preferably al dente. Add a tablespoon salt (or salt to taste) and stir.
Remove from the heat and serve hot with the freshly squeezed lemon juice and freshly ground black pepper to taste.
Notes
If you have
vegetable stock
available, you could enrich your soup using it instead of water. But with the amount of vegetables in this soup, even if you use water it will be very tasty.