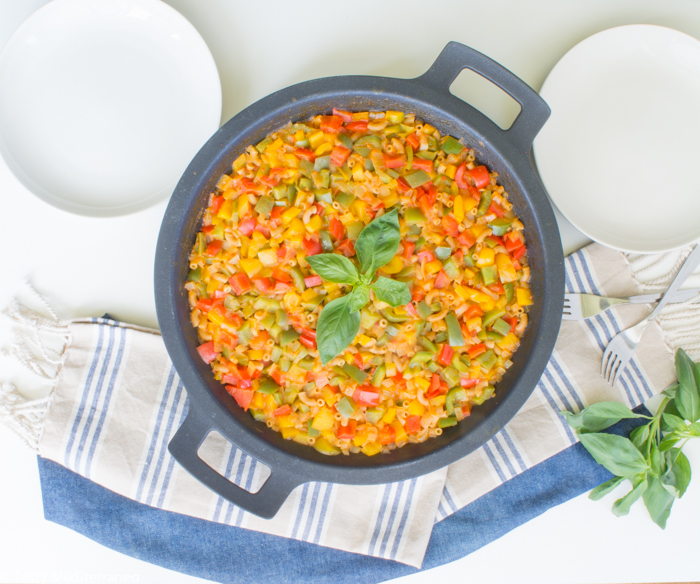 I am really looking forward to our next trip to Majorca Island to enjoy a few days of holidays and visit the family.
We are planning on spending some time doing the Majorcan Oil routes and definitely to enjoy the organic fresh vegetables from my family's garden, the sun and the beach.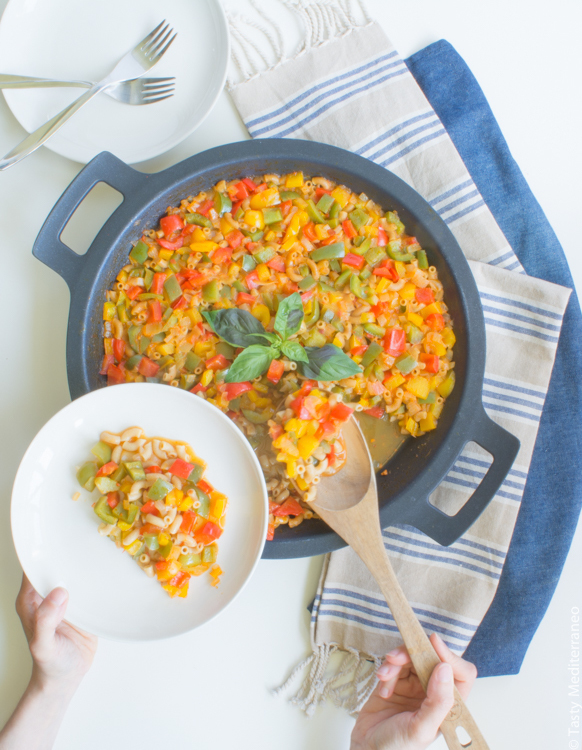 But before our holidays start, I have to study for the final exams of my Nutrition & Health Coaching course at the Irish Institute of Nutrition & Health (IINH), and right after that I will enjoy my well-deserved holidays! I can't wait!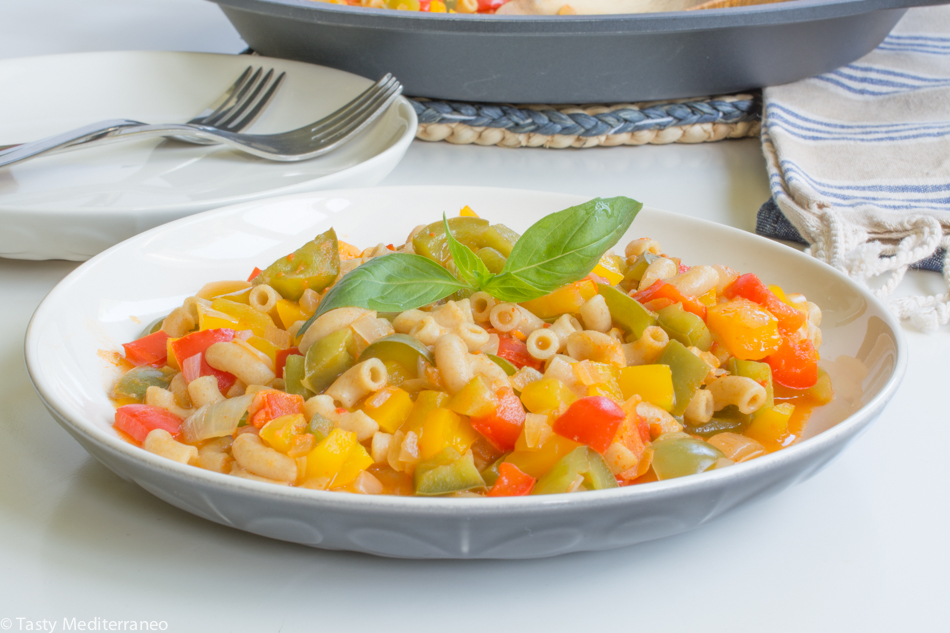 Today I share with you my vegan version of fideuá that is full of vitamins and oh so colourful! For those of you who are not familiar with this dish, you might want to know that the traditional "Fideuá" is a Spanish seafood dish from Valencia. It is similar to "Paella" but it is made with noodles instead of rice.
The fideuá is made with short pasta noodles (usually hollow) but it is not easy to find this Spanish variety of pasta in Ireland, so I usually replace them with buckwheat macaroni.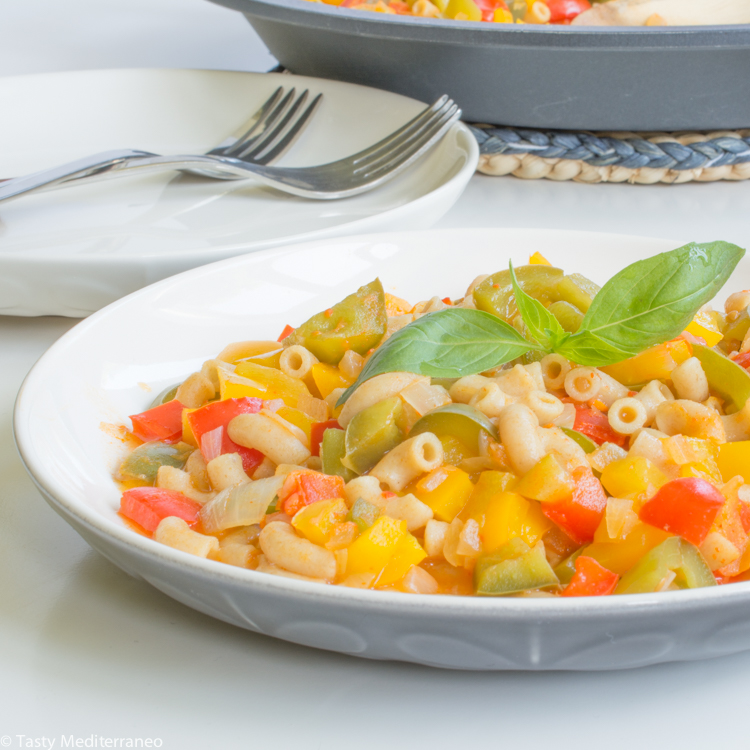 I would like to remind you that to celebrate that next June my blog will turn one year old, I have decided to do a GIVEAWAY of a Hard Anodized Aluminium Saucepan (20cm / 3.8l). If you would like to participate in the competition please see the terms and conditions here.
I hope you enjoy my vegan version of fideuá. If you try this tasty and healthy vegan Mediterranean diet recipe please let me know, leave a comment and rate it. I would love to know what you come up with. Enjoy and best of luck in the competition!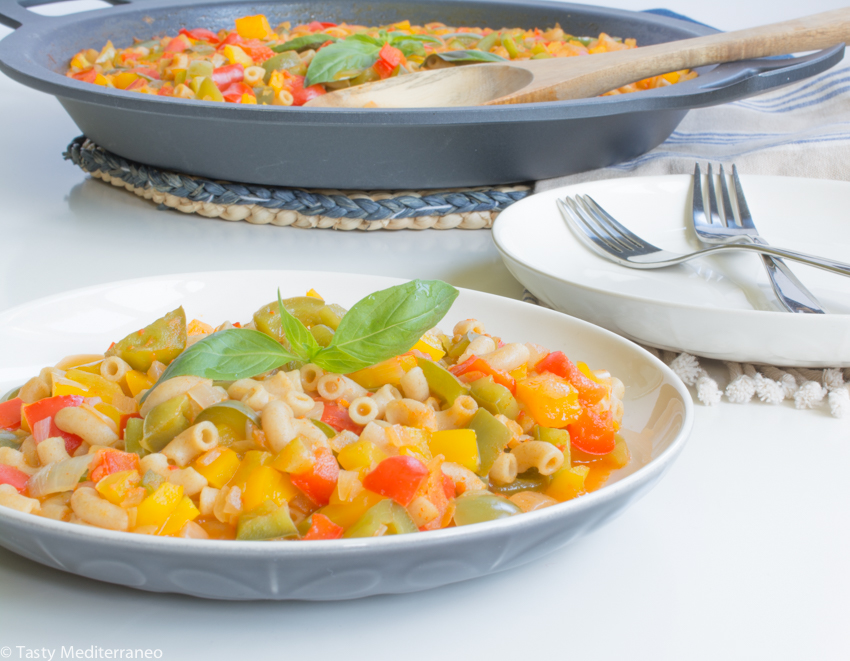 Vegan Fideuá
Author:
Margarita @ Tasty Mediterraneo
Cuisine:
Mediterranean Diet
Ingredients
2 Tablespoons extra virgin olive oil
1 Garlic clove, peeled and finely minced
1 Medium onion, peeled and finely chopped
1 Red bell pepper, cored and diced
1 Green bell pepper, cored and diced
1 Yellow bell pepper, cored and diced
4 Medium tomatoes, peeled and crushed
10 Raw unsalted almonds, peeled and chopped
1 ½ Teaspoon Spanish paprika (ideally Pimentón de la Vera)
½ Teaspoon saffron threads
1 Teaspoon sea salt (or salt to taste)
¾ l (3 cups) Vegetable broth, hot
100g (1 cup) Organic buckwheat macaroni
A few fresh basil leaves
Instructions
Have all the vegetables well washed and prepared as indicated in the ingredients description.
Mix the peeled and chopped almonds, 1 teaspoon salt, 1 ½ teaspoons smoked paprika and 1 teaspoon saffron threads in a mortar and pestle until it is all well combined.
Bring the vegetable broth to a boil in a small saucepan.
In a non-stick paella pan (a large deep frying pan will do too) heat the olive oil over medium heat, add the garlic and sauté for around 1 minute until golden. Add then the onion, red, yellow and green bell peppers. Add a pinch of salt and stir and cook for around 3 minutes until lightly soft but not brown.
Reduce heat to low. Add the pasta and stir well for one minute to ensure it is well coated with oil. Add the tomatoes and the almonds + salt + paprika + saffron mix on top, stir and pour the hot vegetable broth making sure the pasta is completely covered. Continue stirring and leave to cook at a medium-low heat.
When it boils lightly taste the broth and add a pinch of salt if needed. From the moment the broth is simmering stir the pasta occasionally and cook it uncovered for around 10 minutes.
Taste the pasta and if it is still not cooked, add a bit more of vegetable broth. Allow it to simmer gently until the liquid has been absorbed and the pasta is cooked, for about 5 minutes.
Remove from the heat, add a few fresh basil leaves and serve hot.