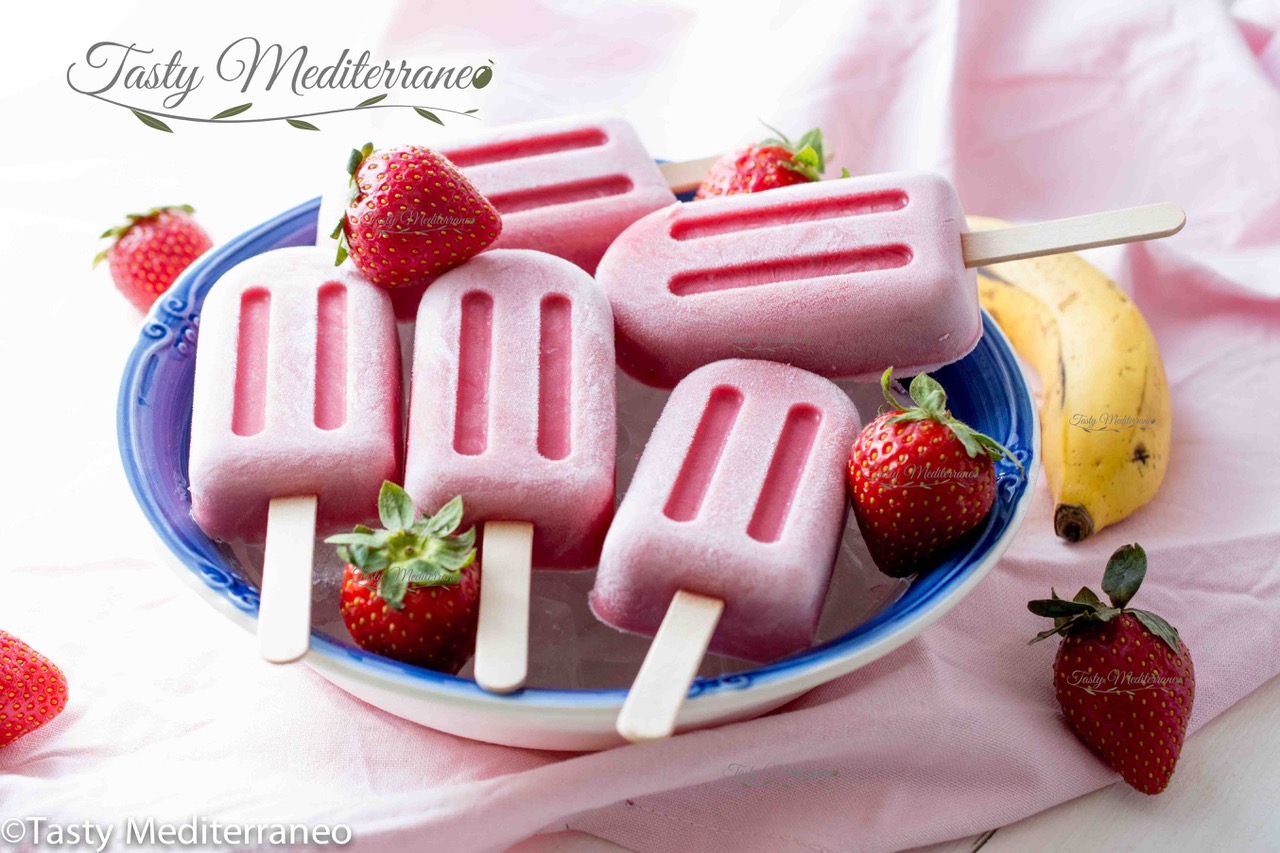 It is hard to believe that my blog turns 4 years old in June!
When I created Tasty Mediterraneo I would have never dreamt of the many good things it has brought me. Thanks to the work I do on my blog:
– The United Nations (UN) invited me to the first celebration of World Pulses Day at UN headquarters in New York.
– The European Union Food Information Council (EUFIC) invited me as a Key Food & Health Influencer of the European Union (EU) to attend the Food & Health Forum in London and I am invited again to attend another event in Brussels at the end of June called "Eating the Gap" with top chefs and other food & health influencers of the EU.
– The Irish Examiner newspaper wrote an article about the work I do at Tasty Mediterraneo.
– The Irish magazine Naturally Good Health featured me as one of the Health Bloggers to know (see page 8).
– I won "Silver Health & Fitness blogger of the year" Award at the Irish Health & Fitness Awards 2018, and I was shortlisted as a finalist for "Best European Health Blog" at the Health Blog Awards 2018 of UK.
And those are just some of the recognitions I got thanks to my work. But the most important achievement for me is to know that my vegetarian and vegan Mediterranean diet recipes are helping my readers, from all over the world, to improve their eating habits.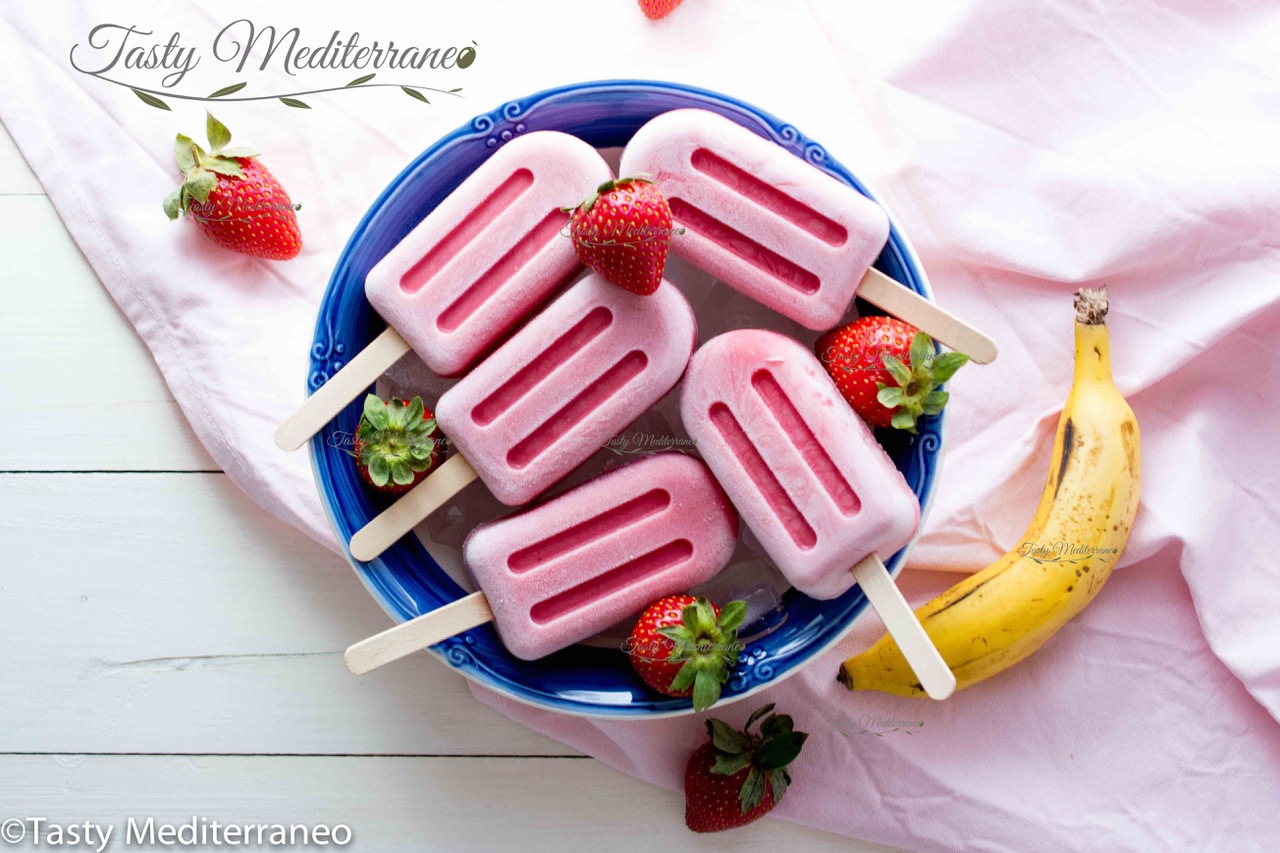 To celebrate my blog's 4th anniversary I am not sharing a cake, but these "Strawberry, banana & yogurt popsicles".
In 2001, the Food and Agriculture Organisation of the United Nations (FAO) selected June 1st as World Milk Day. Dairy cannot be viewed as one entity. And particular positive health effects come mainly from the fermented dairy products (yogurts and cheese).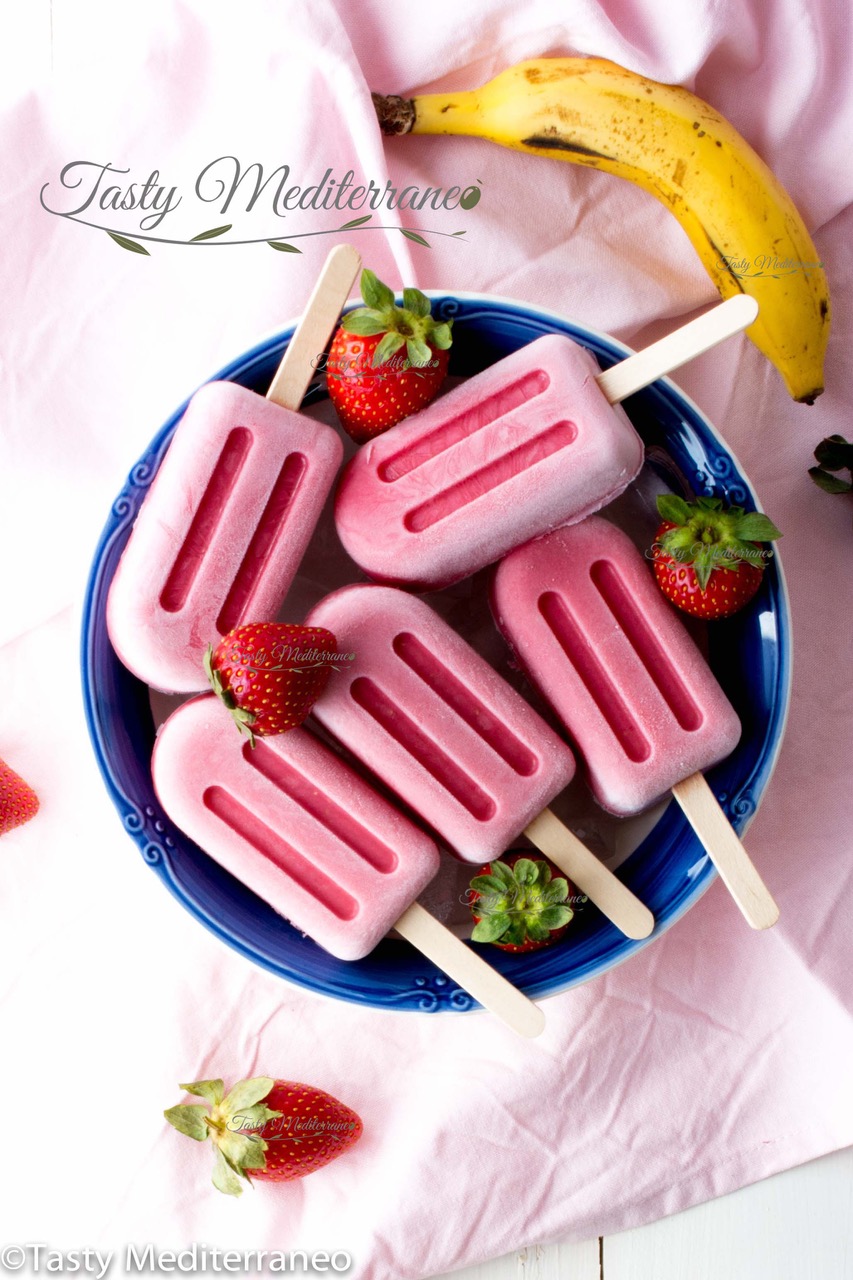 Dairy products, mainly cheese and yogurt, are consumed in moderation in the Mediterranean diet. They are highly nutritious foods and when consumed in moderation they are an essential part of a healthy eating plan.
Dairy products are rich in high quality protein, vitamin D, potassium and calcium. They are a very good source of calcium for building healthy bones. Studies show that cheese and yogurt can help to boost immunity, lower blood pressure, reduce risk of diabetes, reduce risks for some types of cancers and help maintain a healthy weight.
Unless you are vegan or have a dairy intolerance, it is good to incorporate natural cheese and yogurt to your diet.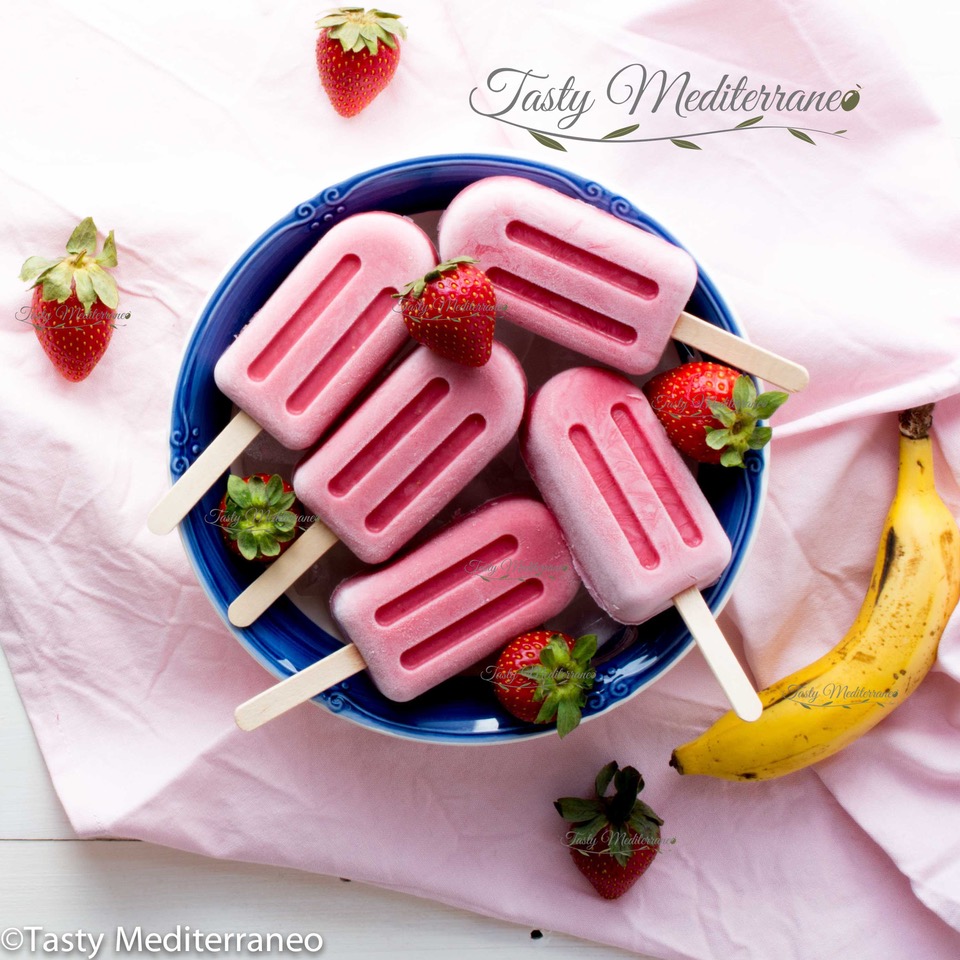 These popsicles have no added sugar. Their sweetness comes from the fresh fruits. The yogurt together with the banana makes them very creamy and an ideal treat for all the family during hot summer days!
If you try this tasty and nutritious Mediterranean diet recipe of "Strawberry, banana & yogurt popsicles" please let me know, leave a comment and rate it. I would love to know what you come up with. Enjoy and happy healthy cooking!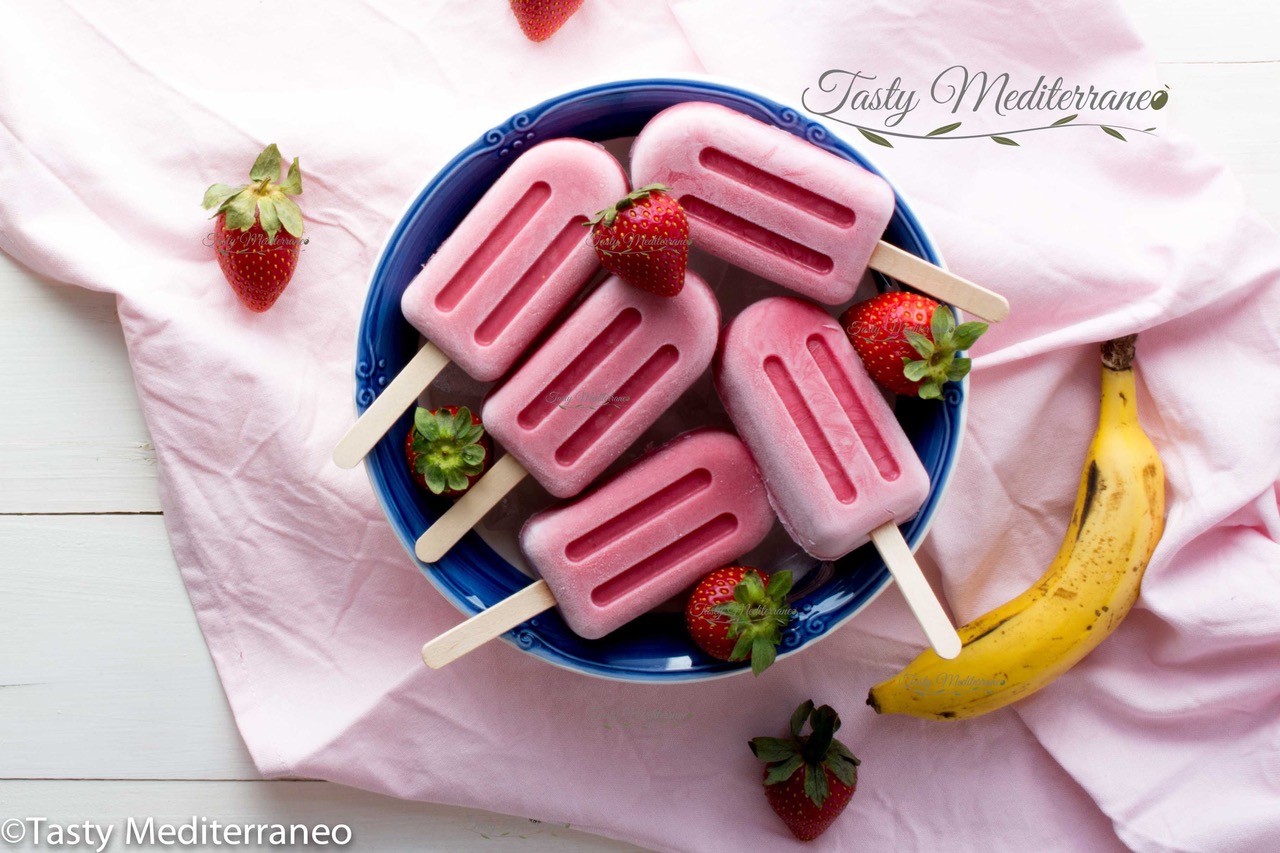 Strawberry, banana & yogurt popsicles
Author:
Margarita @ Tasty Mediterraneo
Cuisine:
Mediterranean Diet
Serves:
8 Small popsicles
Ingredients
250g (1 + ¼ cup) Strawberries
1 Ripe banana, peeled and cut into small pieces
150g (1/2 cup) Organic natural yogurt
50ml (1/4 cup) Still water
Instructions
Wash well the strawberries under cold water. Rinse and remove the hull, with the help of a small sharp knife, and discard.
Blend the strawberries, the peeled banana, the yogurt and water until smooth.
Put into popsicles moulds with sticks and freeze for 4 hours.
Notes
The preparation time is just 10 minutes, there is no cooking time, but you have to freeze for 3-4 hours.
If you are vegan or have lactose intolerance you could replace the natural yogurt by your favourite plant-based natural yogurt.