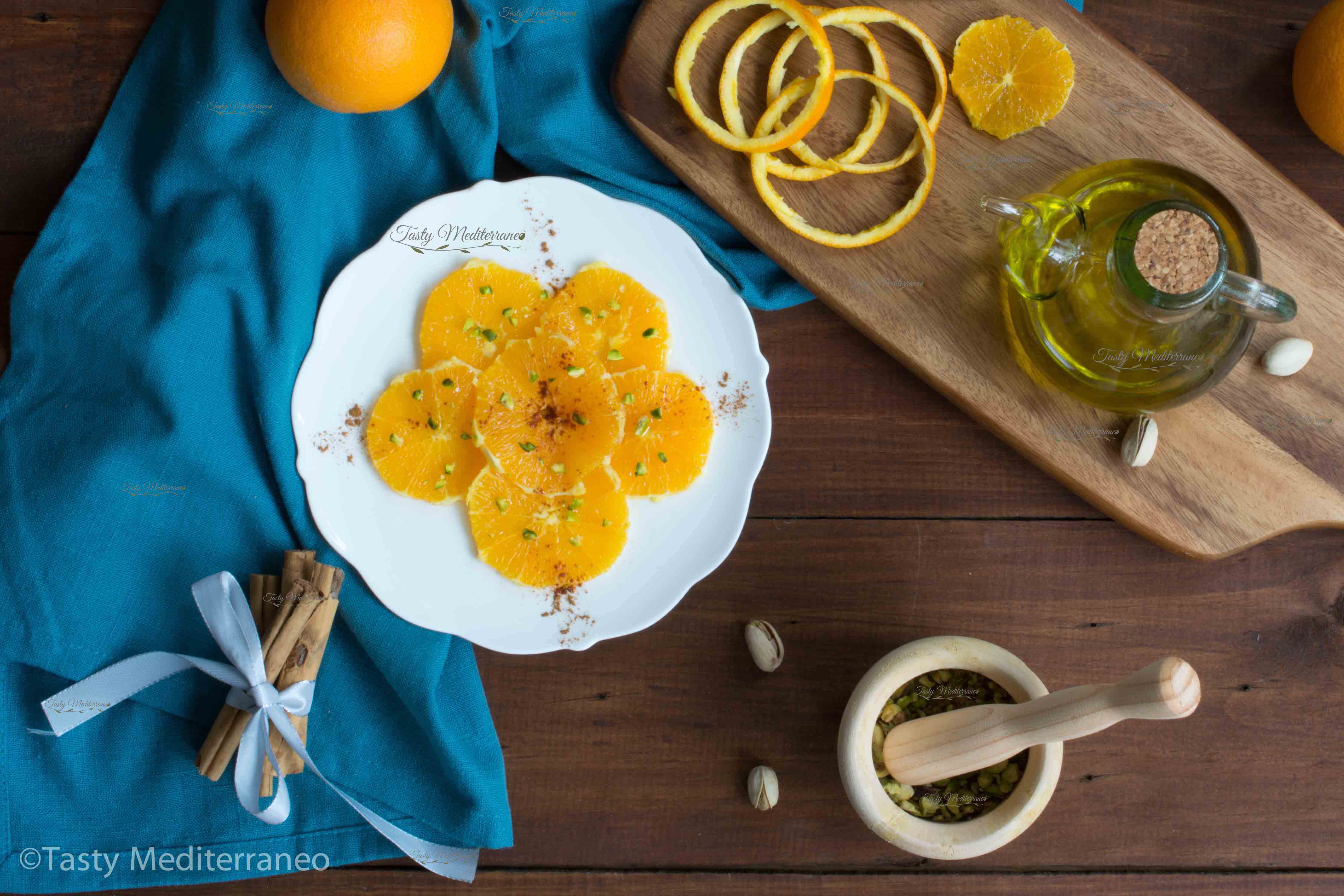 Oranges are naturally juicy and sweet and they are well known for their high concentration of vitamin C. They also are a good source of fiber and folate as well as vitamin A, vitamin B1, potassium and calcium.
Vitamin C is important for the proper functioning of a healthy immune system.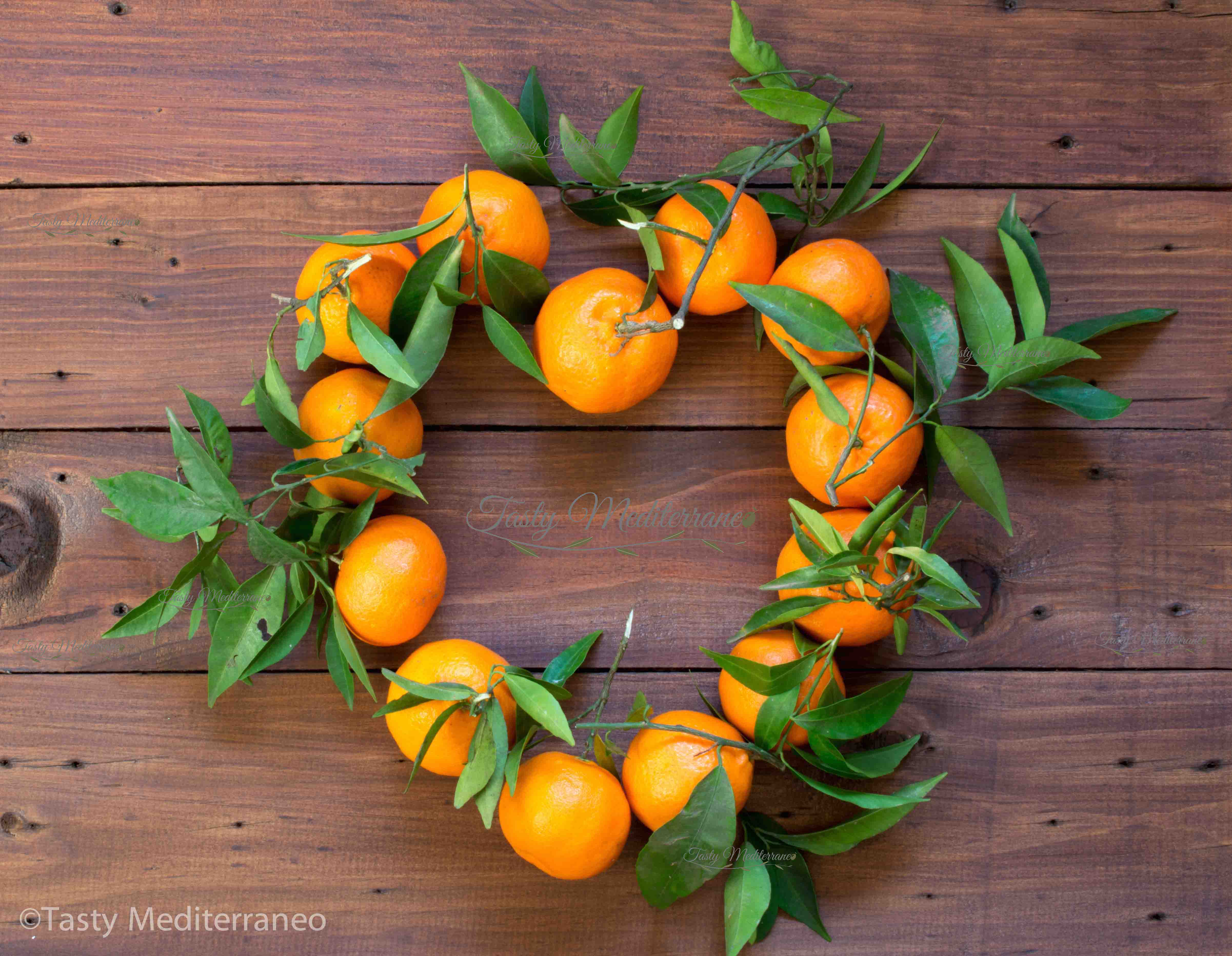 Oranges are an excellent source of phenolic compounds – especially flavonoids – that contribute to most of their antioxidant properties. As all citrus fruits, oranges are rich in carotenoids, a type of antioxidant that is responsible for their orange color.
We need antioxidants that help prevent the damage that oxidative stress and free radicals cause in our body. And given the fact that oxidative stress and chronic inflammation are risk factors for cancer, the antioxidant and anti-inflammatory richness of citrus fruits in a healthy and balanced diet help to keep you at a lower risk for cancer and other chronic diseases.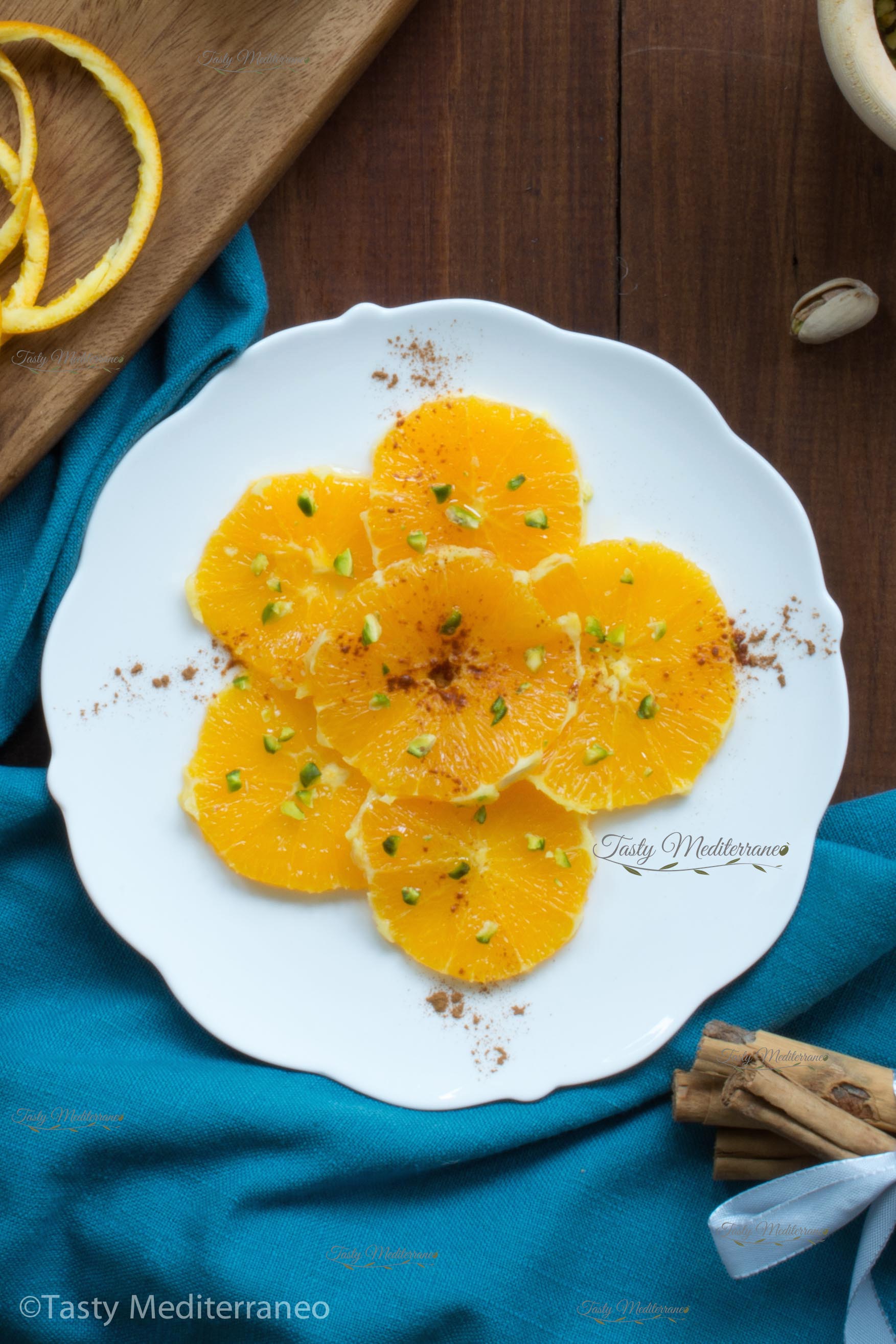 Vitamin C is also important to help increase the absorption of iron from the digestive tract, this is why when you eat iron-rich foods, the consumption of oranges and other citrus fruits that are rich in Vitamin C can help to prevent anemia.
Overall, oranges are not only a juicy and delicious fruit but also very good for health.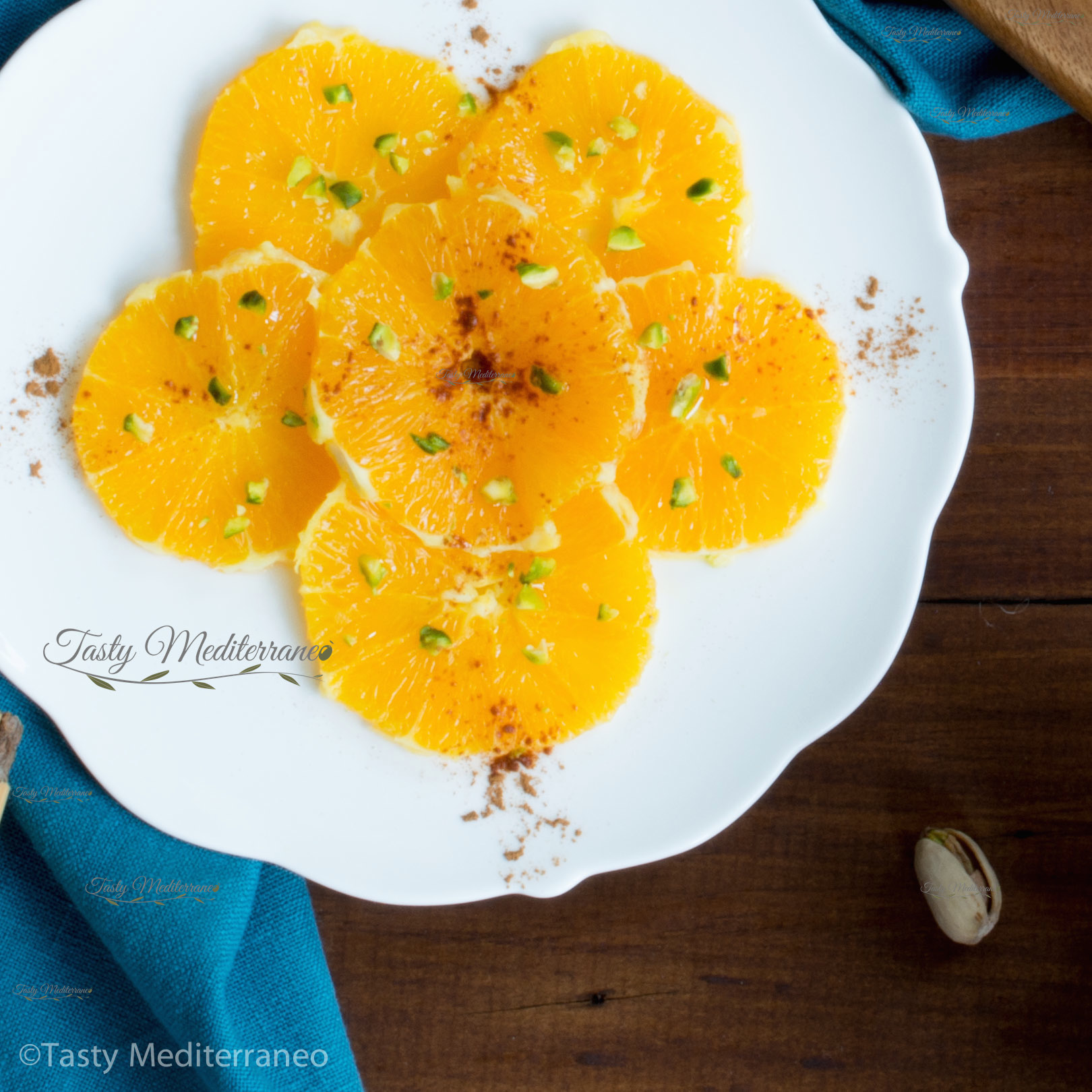 This is a very simple yet tasty and nutritious recipe with oranges. It is perfect for dessert, for a snack or as part of your breakfast.
If you try this tasty and healthy vegan Mediterranean diet recipe of "Orange with EVOO, cinnamon & pistachios", please let me know, leave a comment and rate it. I would love to know what you come up with. Enjoy!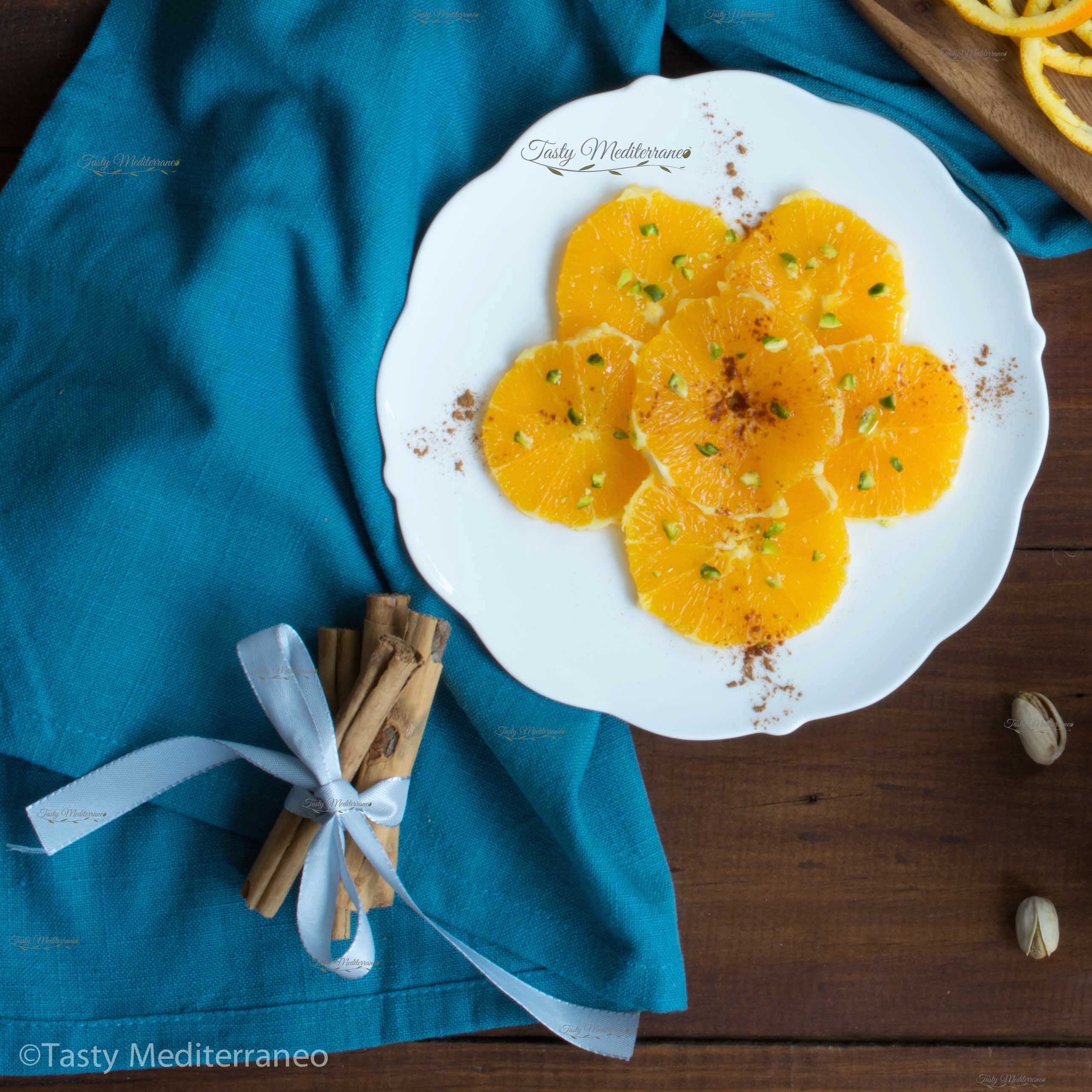 Orange with EVOO, cinnamon & pistachios
Author:
Margarita @ Tasty Mediterraneo
Cuisine:
Mediterranean Diet
Ingredients
4 Oranges
1 Teaspoon extra virgin olive oil (EVOO)
35g (1/4 cup) Raw Pistachios, coarsely ground
1 Tablespoon ground cinnamon
Instructions
Wash the oranges well, slice them and remove the skin with the help of a sharp knife.
Serve the sliced oranges on a dish, add a few drops of EVOO, and sprinkle with cinnamon and pistachios on top.