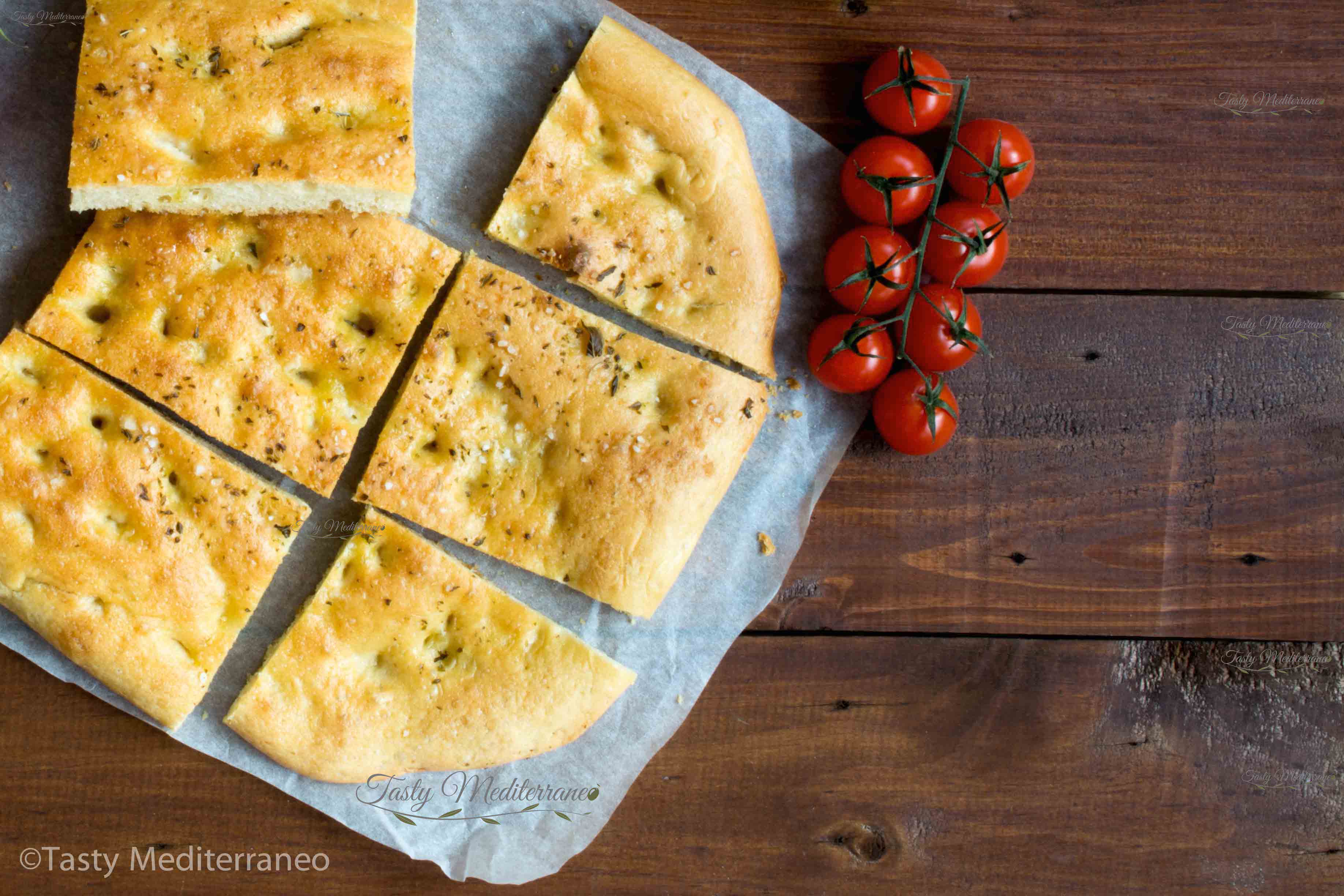 The Mediterranean Diet, Intangible Heritage of UNESCO, is one of the healthiest dietary patterns in the world.
The Mediterranean Diet is not a "diet" as in "go on a diet", it is neither a weight-loss regime nor a prescriptive diet; it is a style of eating and living where large amounts of fruits and vegetables, legumes such as beans and lentils, nuts, whole grains and extra virgin olive oil (EVOO) are abundant.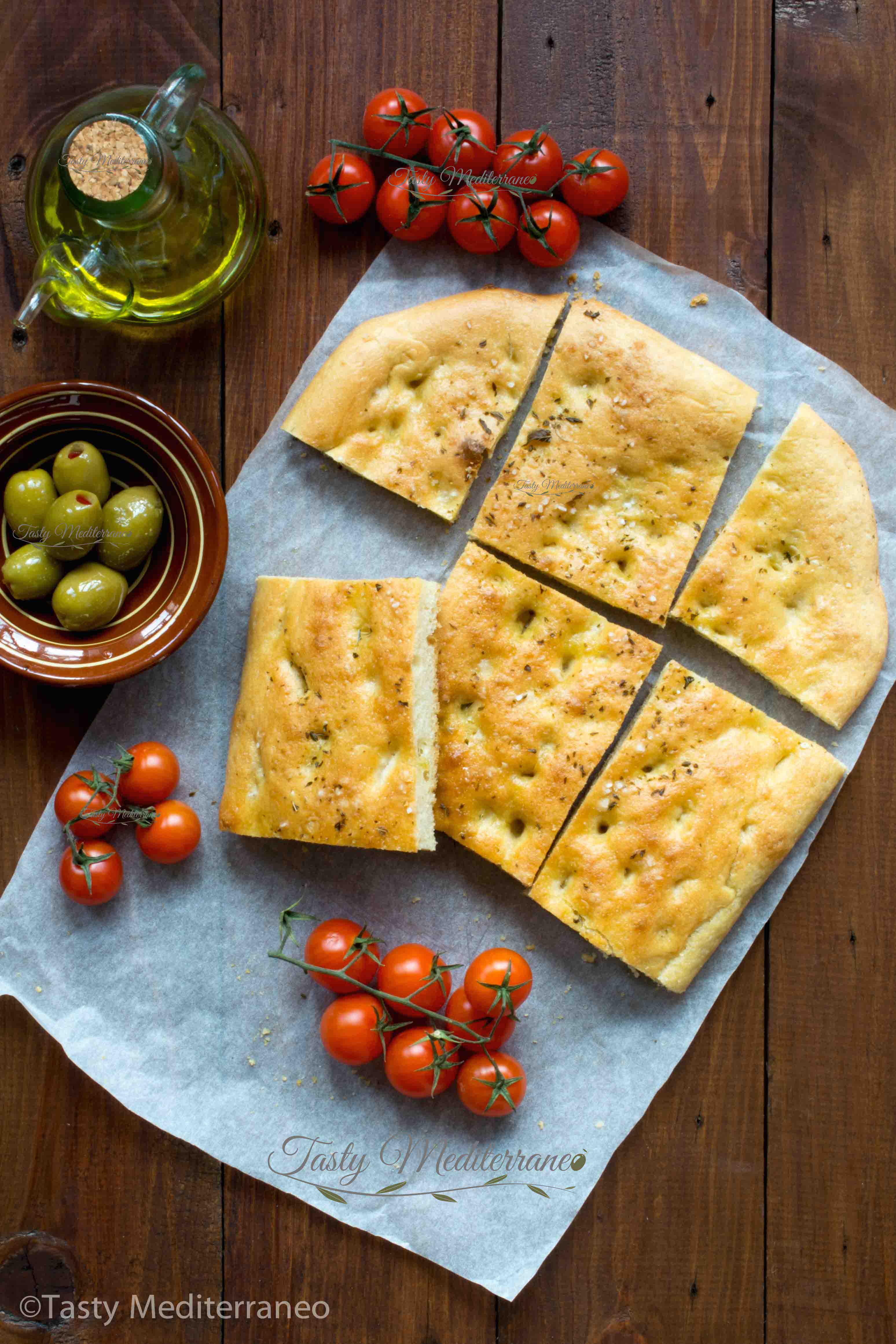 The Mediterranean Diet is much more than just a tasty and healthy dietary pattern. It is a balanced lifestyle that not only includes healthy and indulgent recipes and cooking methods, but also celebrations, customs, daily exercise, local products and many other activities.
Hospitality, conviviality and the transmission of recipes from generation to generation they all are an important part of the Mediterranean Diet.
As you know most of the recipes I share on my blog are my family recipes. But today I am sharing a recipe from a good friend of mine, Manuela Collarella. She is from Sicily (Italy) and on her blog "Sicilian Bake" she shares her family recipes and culinary traditions. For those of you who live in Dublin, you will be very happy to know that she has opened a catering service and you can order her delicious artisan food through her blog!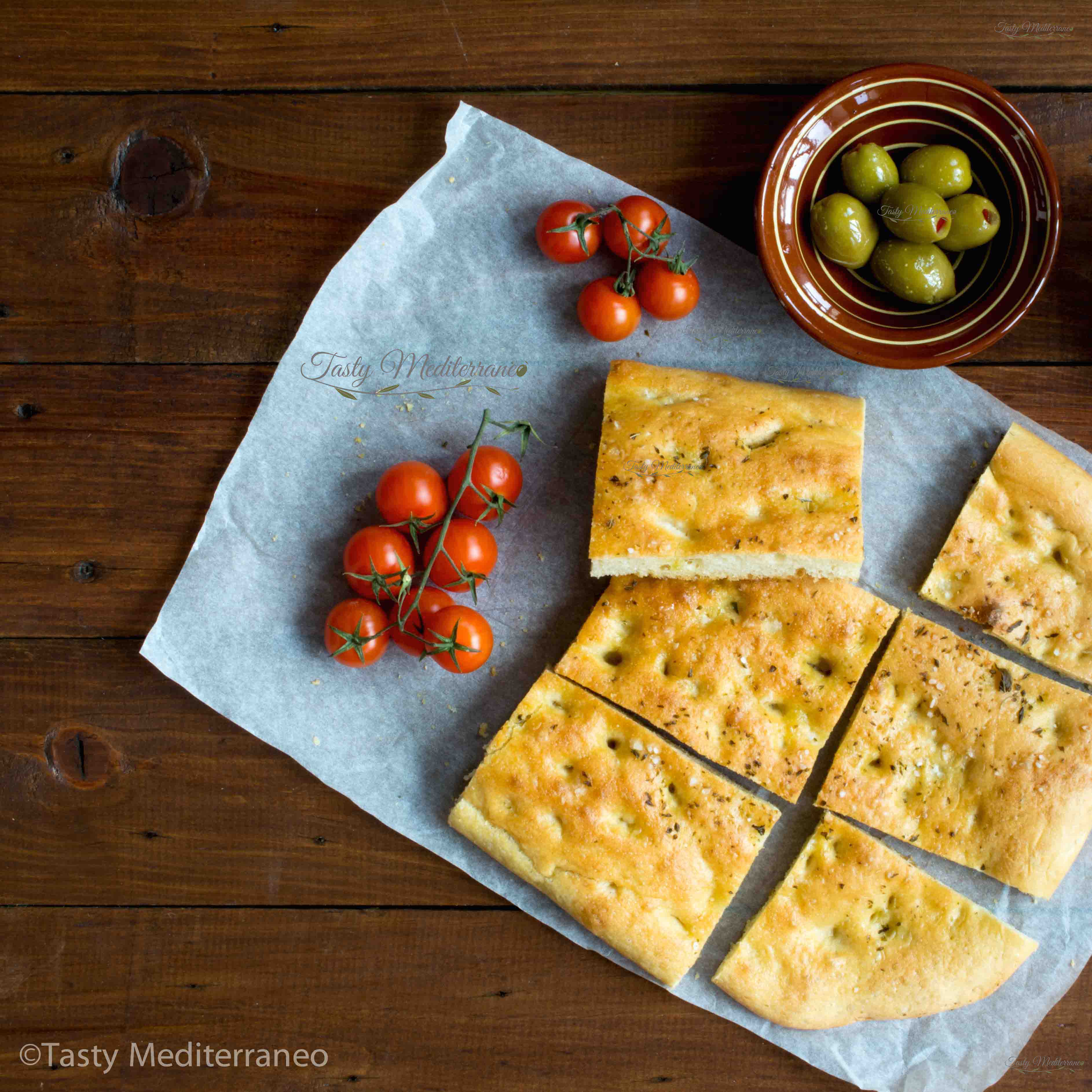 Both Manuela and I come from Mediterranean countries, she comes from Italy and I come from Spain.
For us spending time cooking and eating together is part of our culture and an authentic pleasure. Recently we cooked together Manuela's Focaccia bread recipe. It is one of the best focaccias I have ever tried, and I am sharing it with you so that you can prepare it at home, ideally with your family members or friends, the Mediterranean way! Maybe over a glass of red wine!
If you try this tasty vegan Mediterranean diet recipe of "Focaccia bread", please let me know, leave a comment and rate it. I would love to know what you come up with. Enjoy!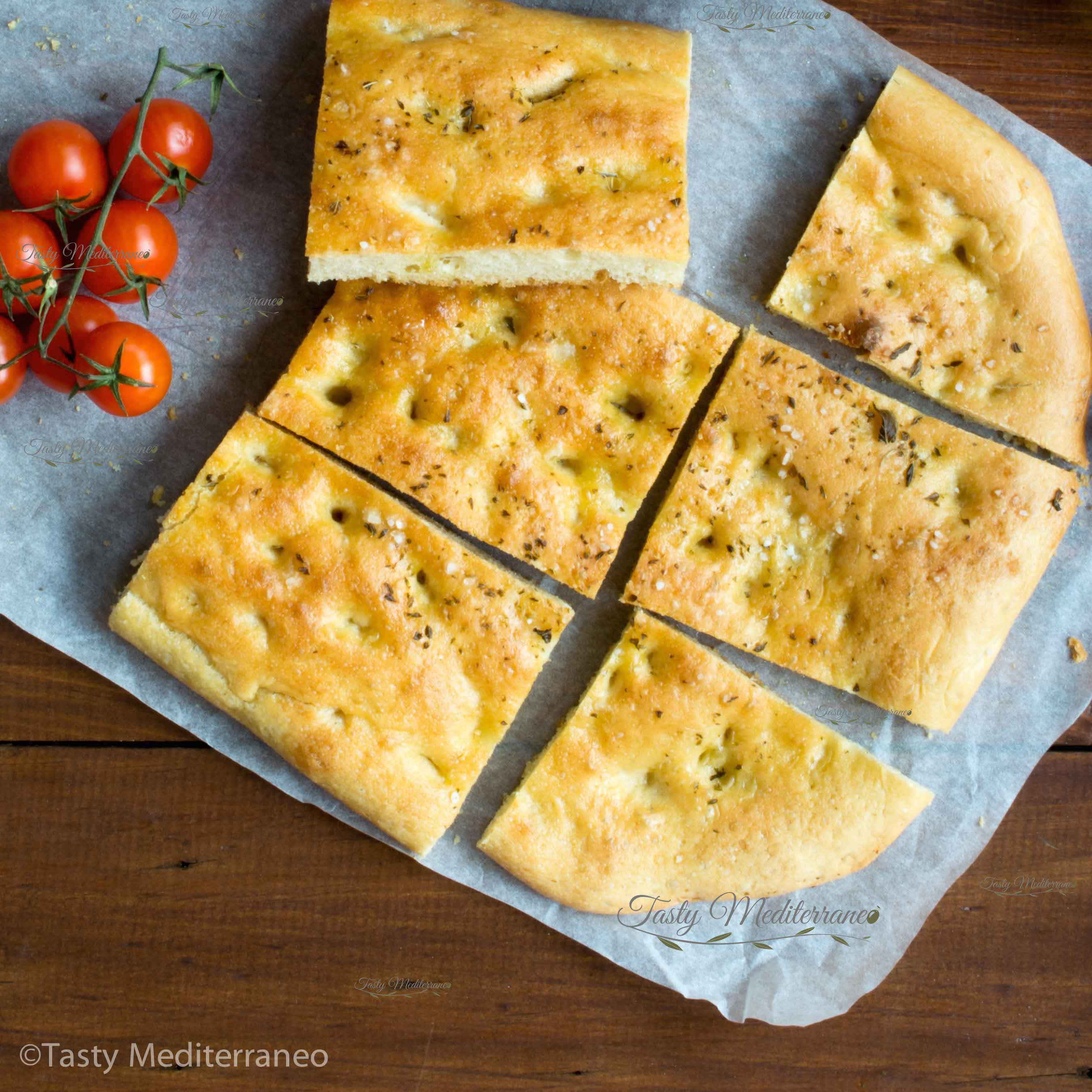 Focaccia bread
Author:
Margarita @ Tasty Mediterraneo
Cuisine:
Mediterranean Diet
Ingredients
For the dough:
500g Organic white spelt flour
1 Teaspoon (7g) Active dried yeast
300ml (1 ¼ cup) Lukewarm water
5 Tablespoons extra virgin olive oil (EVOO)
1 Teaspoon sea salt
For the topping:
1 Teaspoon dried oregano
Sea salt flakes
Instructions
For the dough:
Place the flour, the sea salt and the activated dried yeast into a large bowl and mix them well with the help of a silicon spatula. Make a well in the middle and add the lukewarm water into the well. With a silicon spatula bring the flour in from the sides and mix it well with the liquid. Keep mixing until it all starts to come together, and then remove the dough from the bowl, place it in a clean flour-dusted surface and start kneading vigorously for about 5 minutes. Add 2 tablespoons EVOO and keep on kneading for a couple of extra minutes.
Add one tablespoon of EVOO into the large bowl and return the dough to the bowl, cover with a tea towel and leave to prove in a warm place of the house until doubled in size, depending on the temperature it can take 1-2 hours. My friend's suggestion, if it's winter and you do not have a warm room would be to store the bowl inside the microwave with a glass of boiling water by its side.
Preheat the oven to 220 degrees C (425 degrees F). As soon as the dough has risen, lightly grease a large baking tray, tip the dough out of the bowl onto the baking tray and spread it out to cover the tray. With your fingers push down the dough to make rough dips and wells and add a good drizzle of extra virgin olive oil. Leave to prove for a further 20 minutes.
For the topping:
After the dough has proven, sprinkle the dried oregano and the sea salt flakes.
To cook the focaccia:
Bake in the oven at 200 degrees C (400 degrees F) for approximately 20 minutes, until it is golden on top and soft in the middle.
Notes
For the toppings you could replace the oregano by any other herbs of your choice (rosemary, thyme…), and add some veggies of your choice (cherry tomatoes, olives, onions… ) or some cheese if you are not vegan or do not have lactose intolerance.