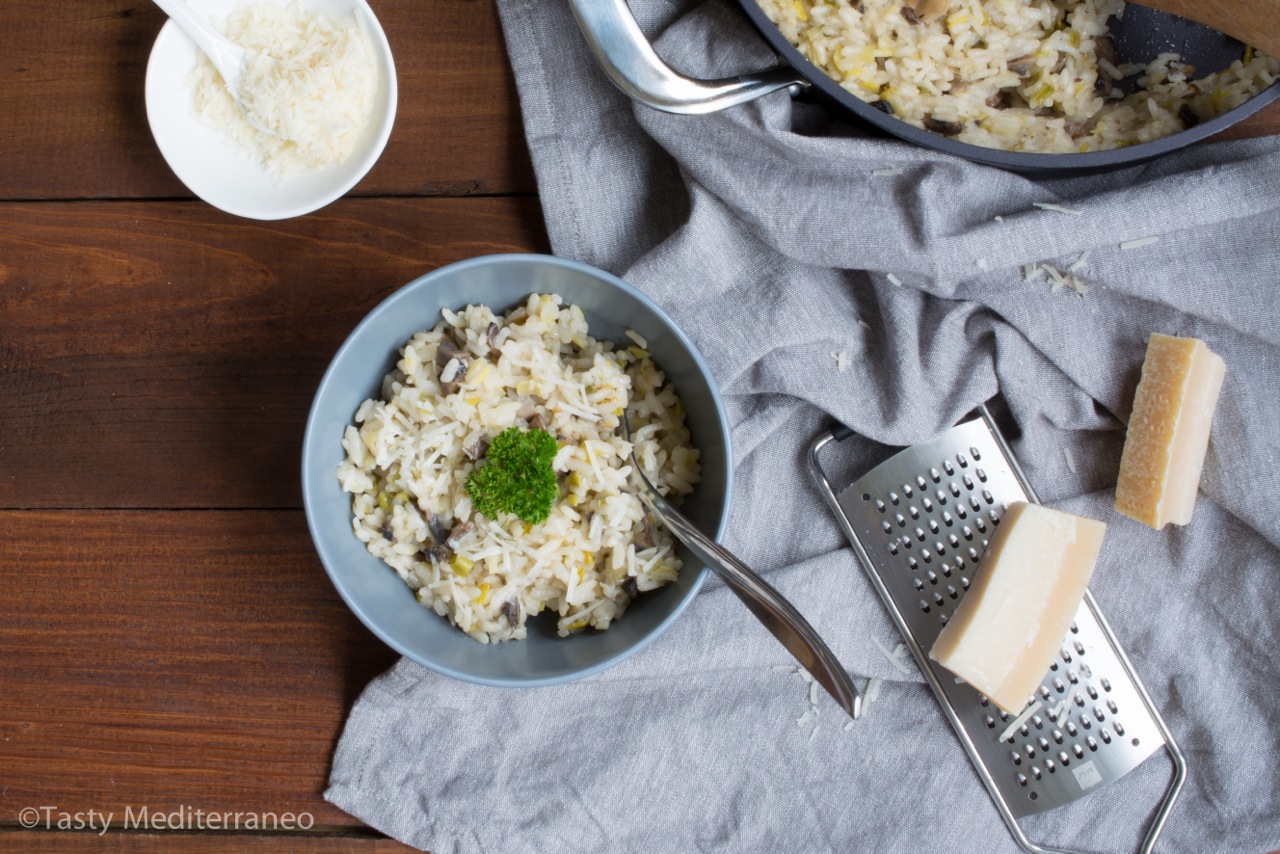 Do you like mushrooms? I love them, and the best is that they are highly nutritious.
Mushrooms are a good source of fibre, protein, riboflavin, vitamin D, vitamin B1 and niacin. They also contain important minerals such as phosphorus, potassium, selenium, magnesium, iron & copper.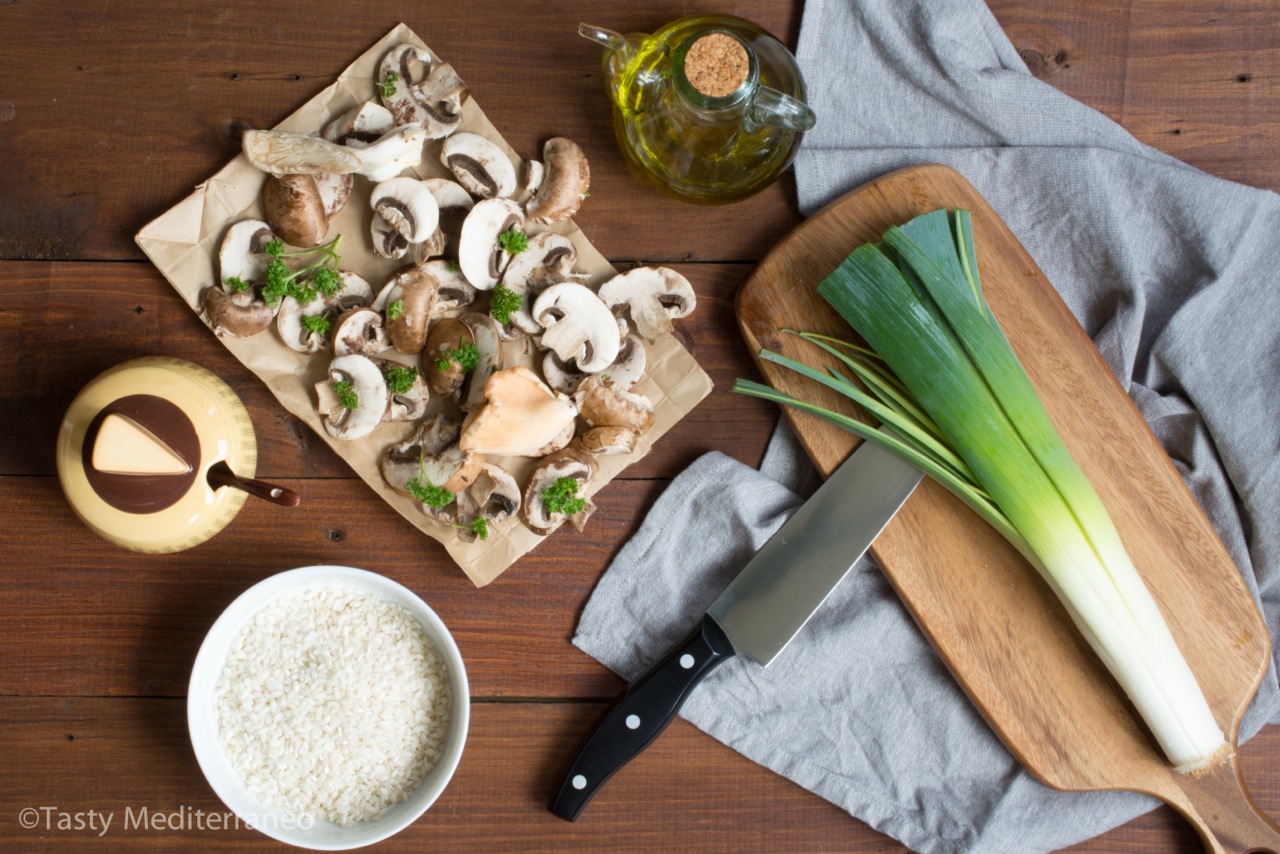 It is amazing how easy it is to prepare a healthy & delicious meal with mushrooms and other basic ingredients in no time! An example of it is this mushroom & leek risotto recipe, a very simple and nutritious dish that is ready in less than 30mins.
I have also shared other recipes on the blog where I use mushrooms such as my "Pasta with mushroom, tomato & red pepper sauce" and my "Porcini mushrooms, thyme & rosemary risotto".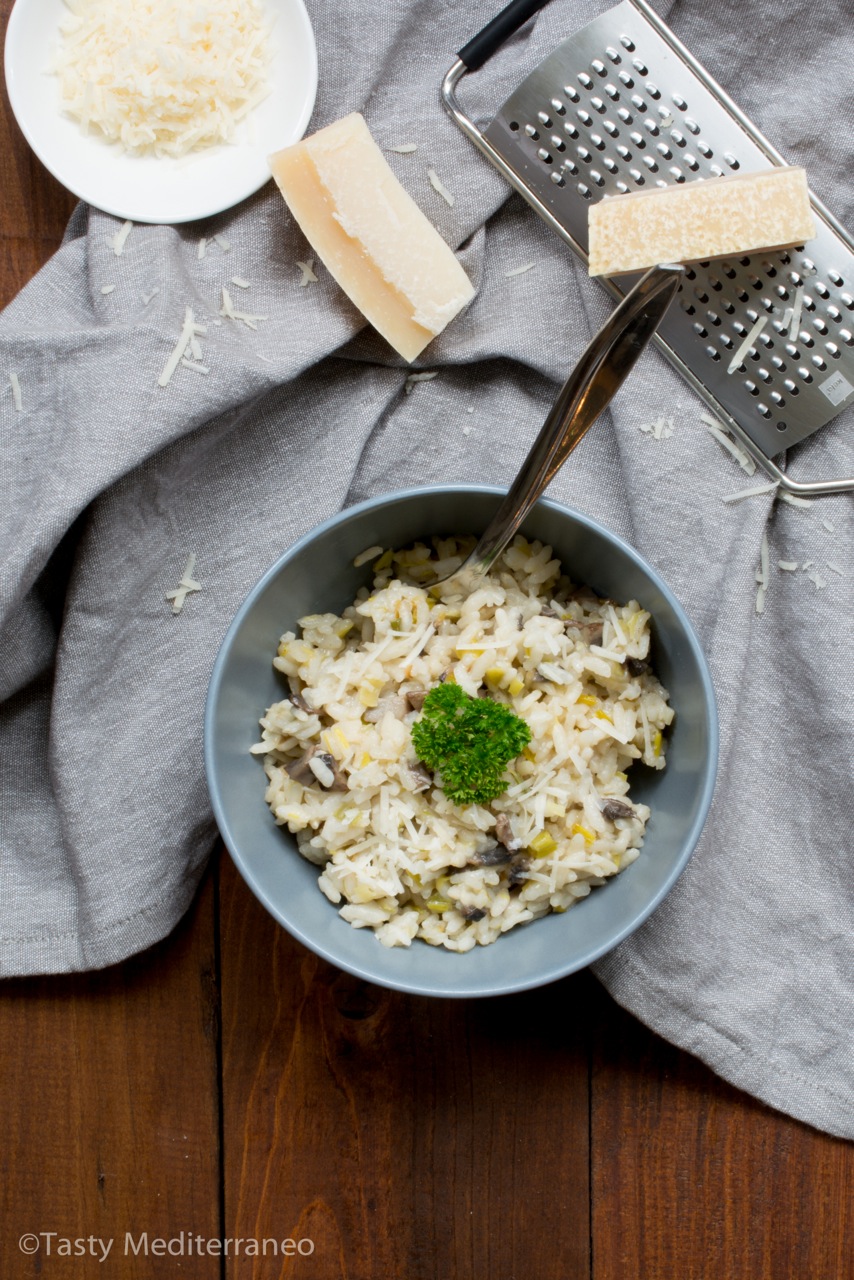 Healthy eating is possible even on a restricted budget; this mushroom & leek risotto is a very affordable meal. It is important to take the time to cook healthy meals at home and to eat less fast food and processed meals. Believe it or not cooking can fit in a busy lifestyle. The recipes I share with you at Tasty Mediterraneo are healthy, rich in nutrients, affordable, very easy to prepare and most of them are ready in 30 minutes or less.
If you try this tasty and nutritious vegetarian Mediterranean diet recipe of mushroom & leek risotto, please let me know, leave a comment and rate it. I would love to know what you come up with. Enjoy!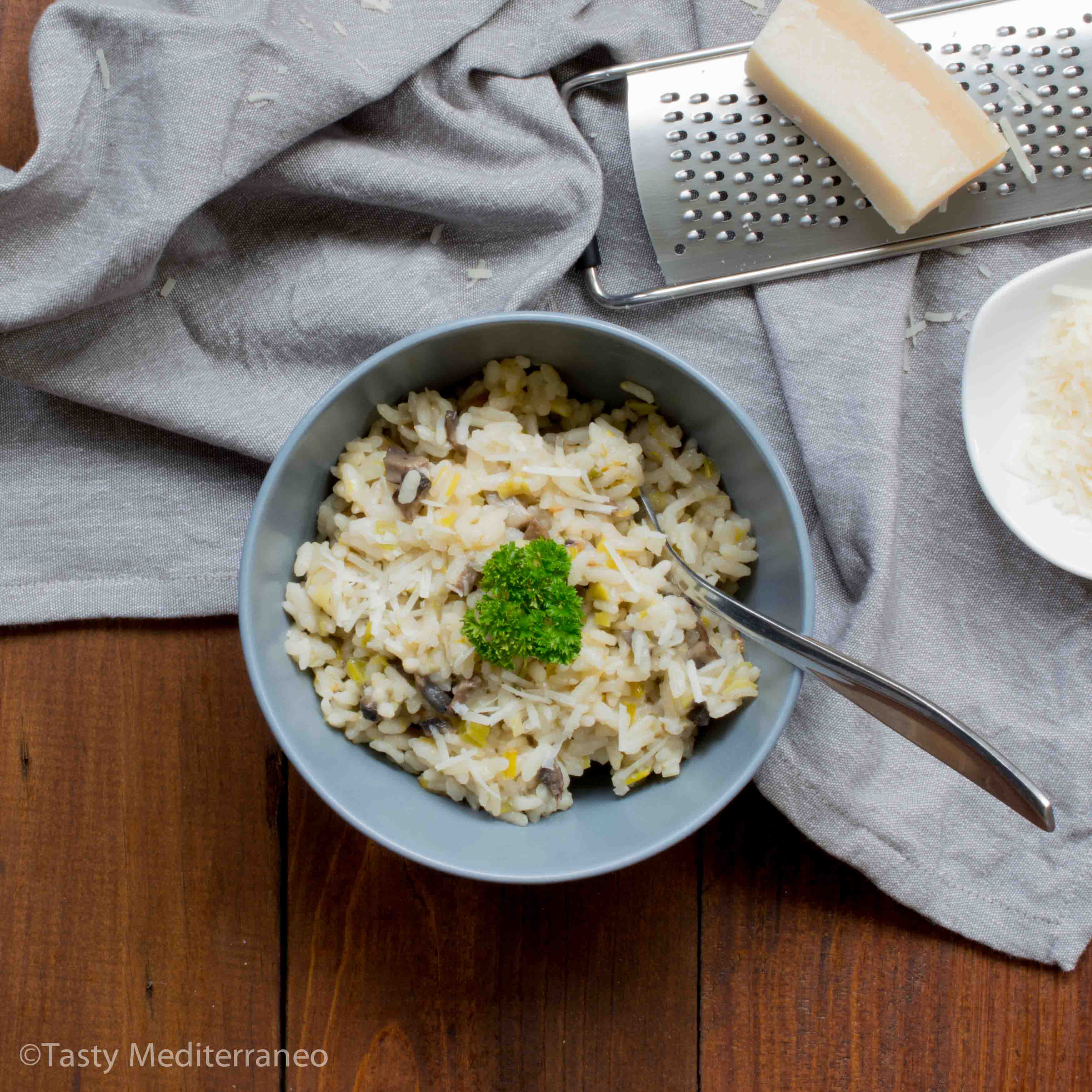 Mushroom & leek risotto
Author:
Margarita @ Tasty Mediterraneo
Cuisine:
Mediterranean Diet
Ingredients
2 Tablespoons extra virgin olive oil
1 Garlic clove, peeled and finely chopped
150g (2 cups) Fresh mushrooms, thinly sliced
1 Leek, thinly sliced
200g (1 cup) Arborio or Carnaroli rice
¾ l (3 cups) Vegetable stock , hot
50g (1/2 cup) Freshly grated Parmesan cheese
Sea salt
Instructions
Have all the vegetables well washed and prepared as indicated in the ingredients description.
Bring the vegetable broth to a boil in a small saucepan. Keep it at low heat, as we need it to be hot when we add it to the rice.
Heat the olive oil in a large deep frying pan over medium heat, add the garlic and sauté for around 1 minute until golden. Add then the leek and a pinch of sea salt and stir and cook for around 3 minutes until soft but not brown. Add the mushrooms and stir for one more minute.
Reduce heat to low. Add the rice and stir well for a couple of minutes to ensure that each grain of rice is well coated with oil. Pour the hot vegetable stock making sure the rice is completely covered. Continue stirring and leave to cook at a medium-low heat and when it boils lightly taste the broth and add a pinch of salt if needed (not too much as we still have to add the Parmesan cheese that is salty). Stir the rice from time to time and cook it uncovered for around 12 minutes.
Pour in the rest of vegetable stock and add the freshly grated Parmesan cheese. Stir and allow it to simmer gently until most of the liquid has been absorbed and the rice is al-dente and creamy, about 5 minutes. Remove from the heat and serve hot.
Notes
You can add some more freshly grated Parmesan cheese on top right before serving.