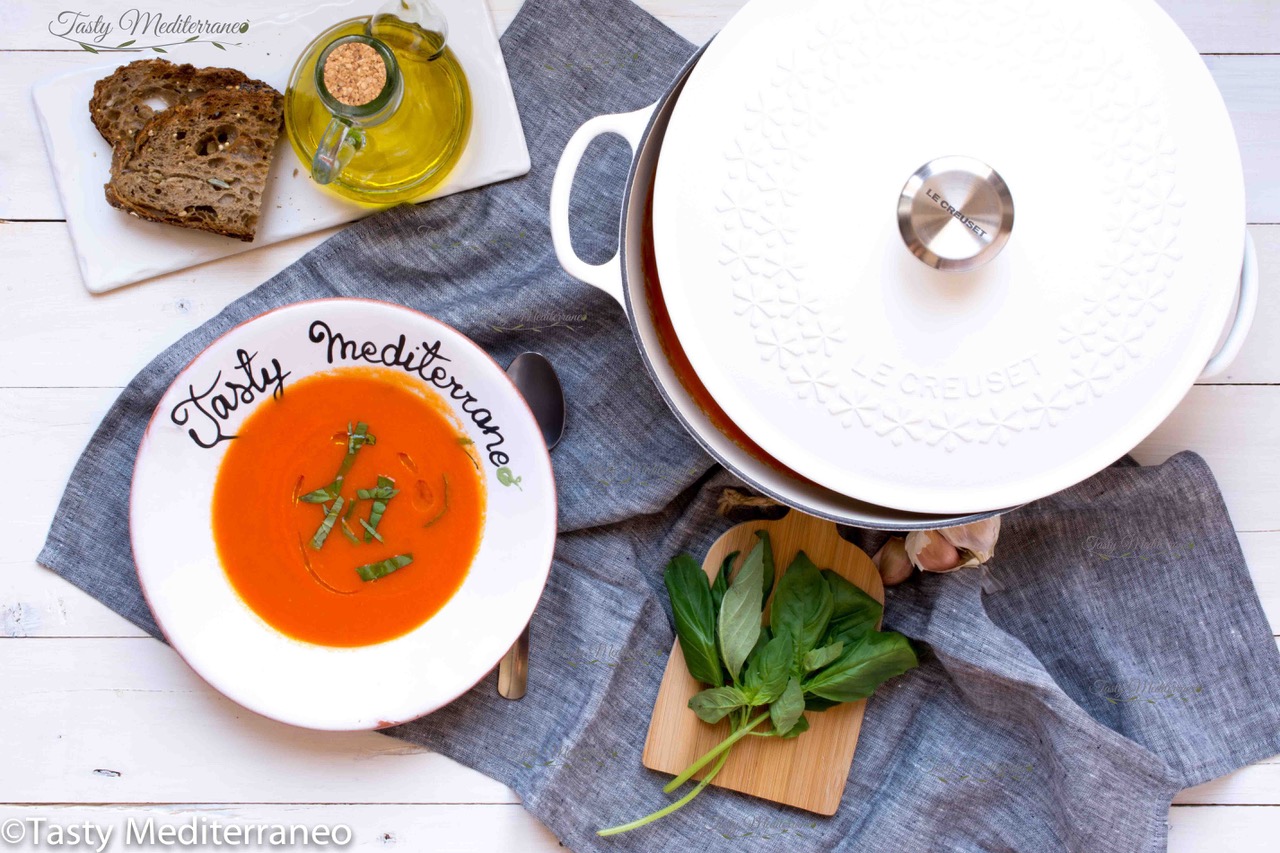 The traditional Mediterranean diet is characterised by an increased intake of plant foods such as fruits and vegetables, bread and cereals (primarily whole grain), legumes and nuts. And olive oil is the principal source of fat. All of these main ingredients of the Mediterranean diet are important sources of dietary antioxidants.
Fruits and vegetables contain most of the vitamins, minerals and phytochemicals that our body needs to be in good health.
By including a variety of fruits and vegetables of different colours in your diet you will get many potentially important antioxidants and different health benefits from each of them.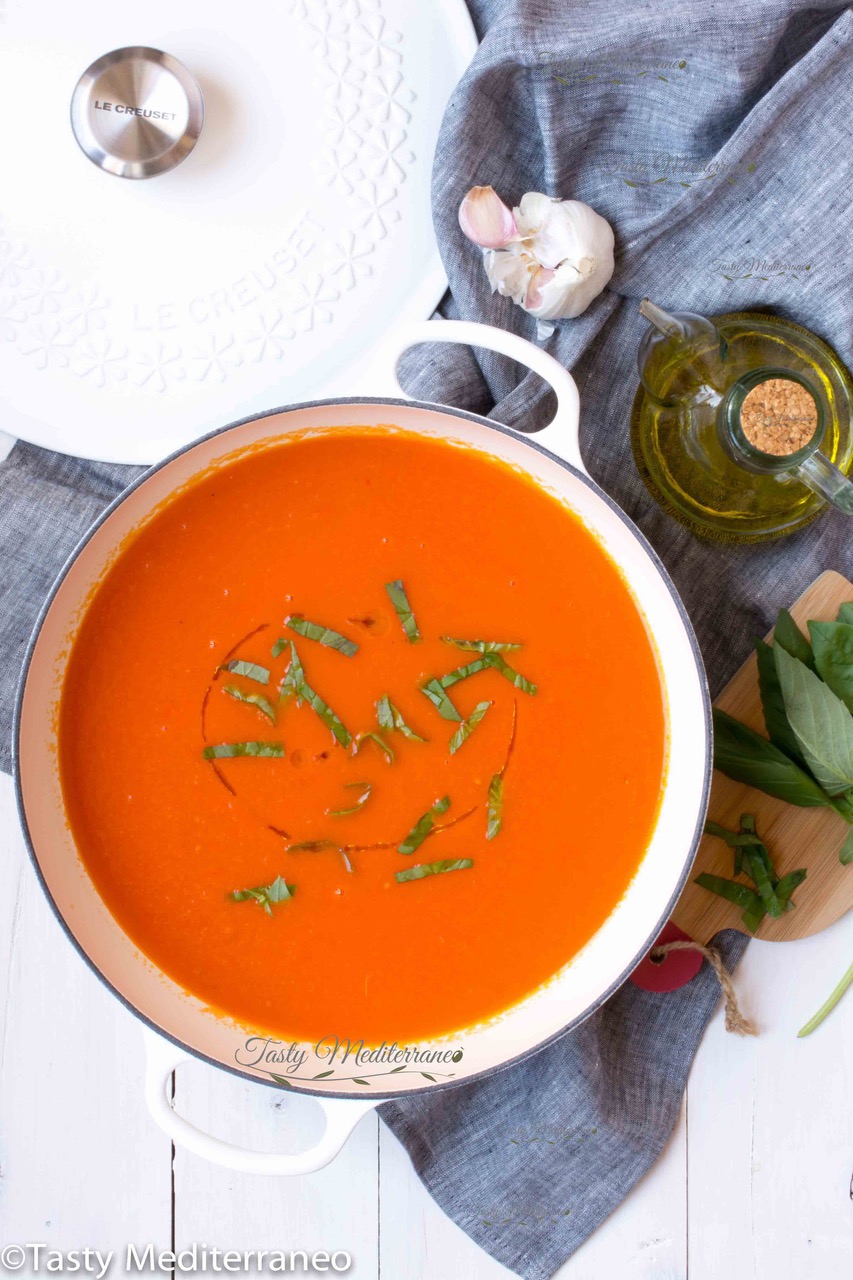 Apart from the most widely known antioxidants contained in fruits and vegetables, in olive oil there are other compounds such as oleuropein, hydroxytyrosol and other polyphenols that possess a marked antioxidant activity as well as other advantageous biological properties.
The Mediterranean diet is healthy yet indulgent, with a huge amount of delicious meals what makes it easy to be sustained over long periods of time as an appealing lifestyle.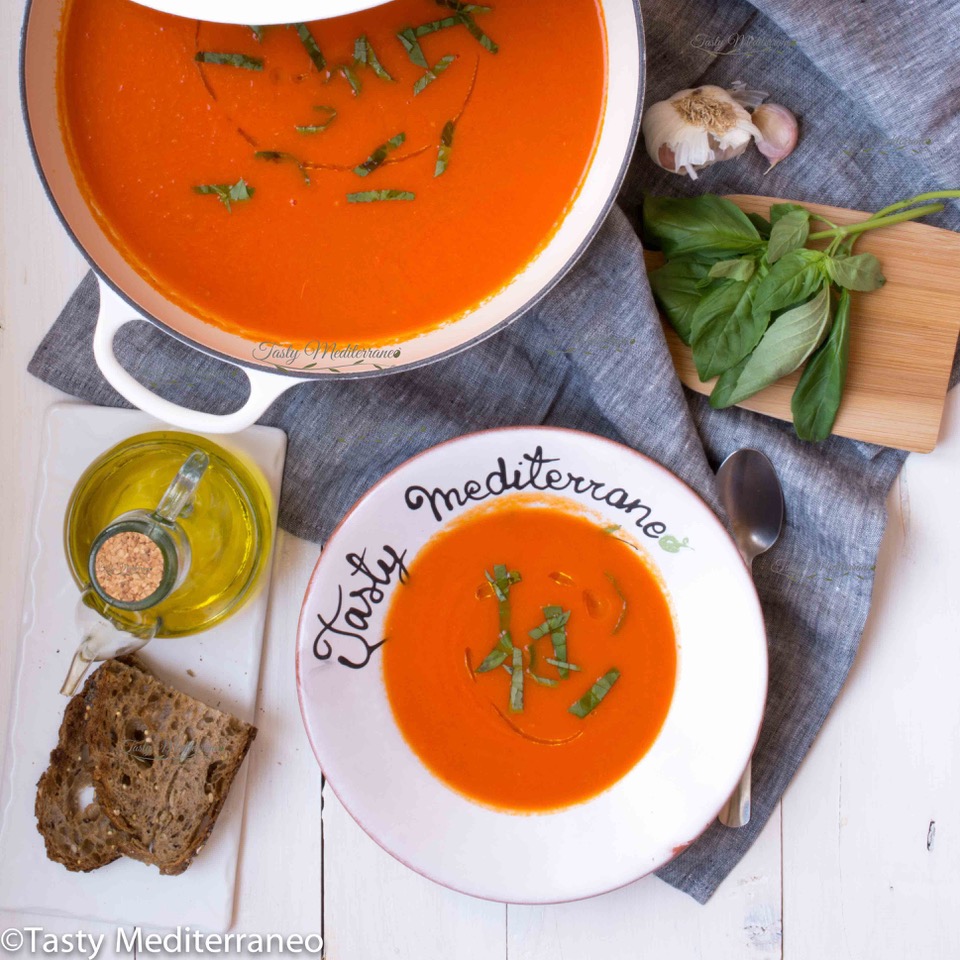 Today I share with you a tasty and nutritious vegan Mediterranean diet recipe: "Mediterranean tomato & red pepper soup". This soup is rich in antioxidants and polyphenols.
If you have ever wondered how you can incorporate a Mediterranean style diet into your everyday meals, you can find plenty of healthy vegetarian and vegan recipes from the Mediterranean cuisine on my blog.
If you try this tasty and healthy vegan Mediterranean diet recipe of "Mediterranean tomato & red pepper soup", please let me know, leave a comment and rate it. I would love to know what you come up with. Enjoy and happy healthy cooking!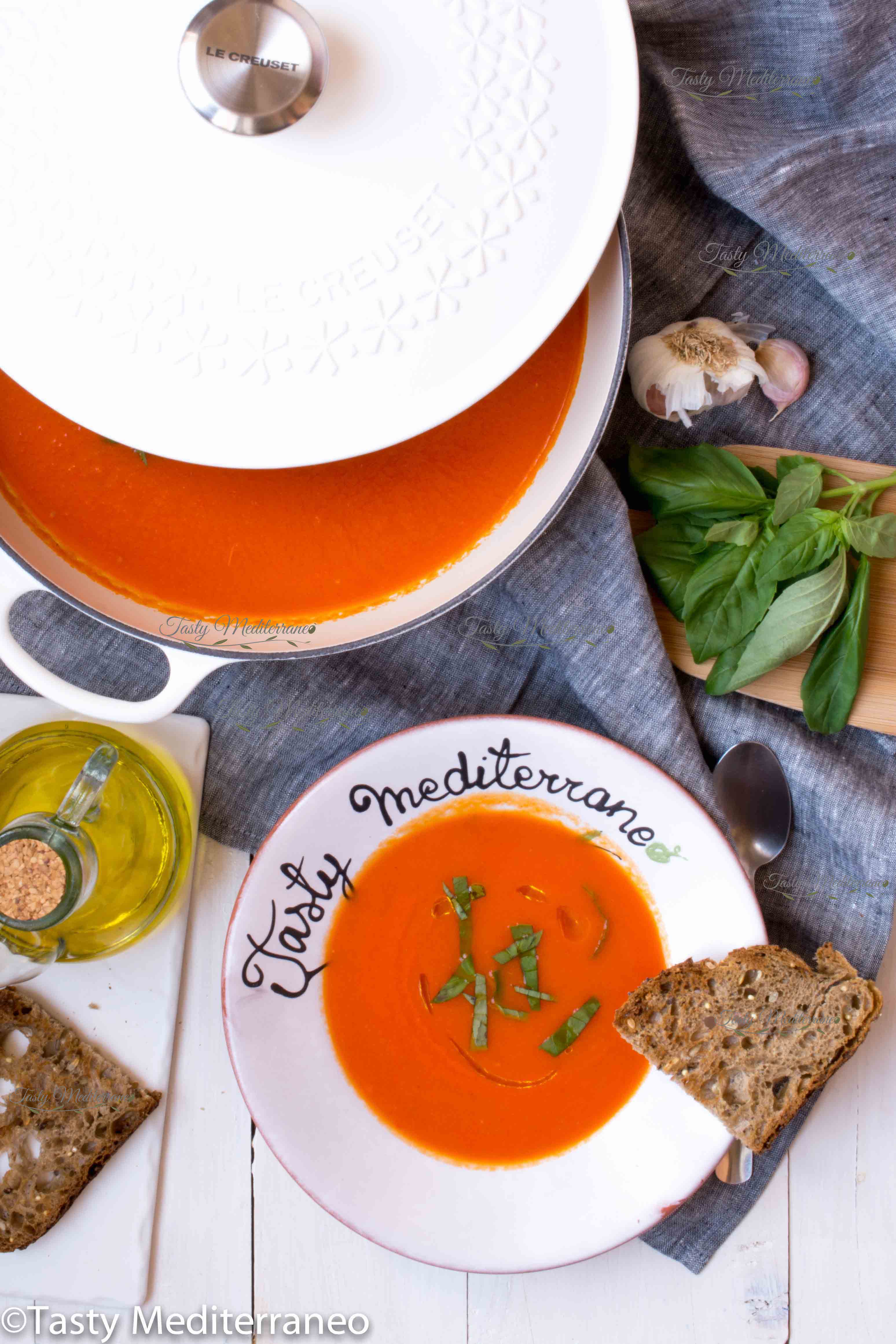 Mediterranean tomato & red pepper soup
Author:
Margarita @ Tasty Mediterraneo
Cuisine:
Mediterranean Diet
Ingredients
2 Tablespoons extra virgin olive oil (EVOO)
1kg (2,2 pounds) Ripe organic tomatoes, diced (if fresh tomatoes are not in season, you could replace it by tomato passata, but it is best with fresh tomatoes)
½ kg (1,1 pounds) Organic red bell pepper, diced
1 Onion, peeled and diced
2 Garlic cloves, peeled and crushed
1 l (4 cups) Vegetable stock or water
A pinch of red chili pepper flakes
A pinch of freshly ground black pepper
1 Teaspoon sea salt, or salt to taste
Fresh basil leaves, thinly sliced to decorate the dish
Instructions
Have the tomatoes, the red pepper and the fresh basil leaves well washed and all the ingredients prepared as indicated in the ingredients description.
Heat the EVOO in a large saucepan over medium heat, add the garlic and sauté for around 1 minute until it begins to colour lightly. Add then the onion and the red peppers, add a pinch of salt and sauté for a couple of minutes. Add the tomatoes, the pinch of red chili pepper flakes and sauté all together for about one minute at low heat.
Add the vegetable stock (or water) bring to the boil, and then turn the heat to low heat and simmer for 15-20 minutes stirring occasionally. You can add a pinch of sugar if you do not like the acidity of the tomatoes. Add a pinch of freshly ground black pepper and salt to taste.
Remove the saucepan from the heat and with the help of a hand mixer (ideally a powerful one of at least 450 watt) mix it all well until perfectly combined. Serve hot with the slices of fresh basil leaves and drizzle a bit of EVOO.