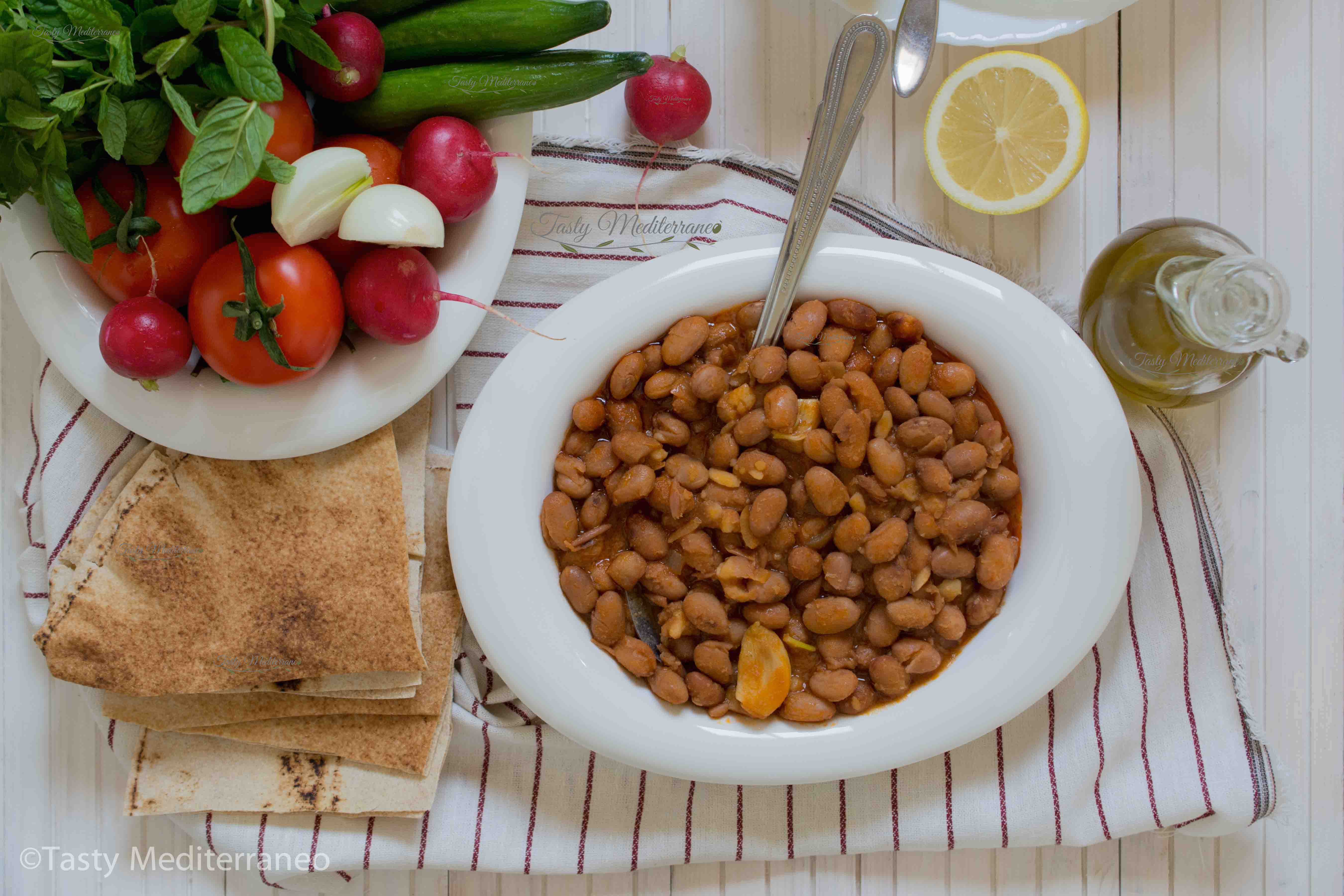 Back in 2016 the United Nations celebrated the International Year of Pulses (IYP) in order to create awareness of the nutritional benefits of pulses as part of sustainable food production.
Pulses are part of the legume family, but when we talk about pulses we refer only to the dried seed. Legumes are good sources of proteins, amino acids, fibre, iron, B group vitamins and other nutrients that help prevent cancer, diabetes and heart diseases.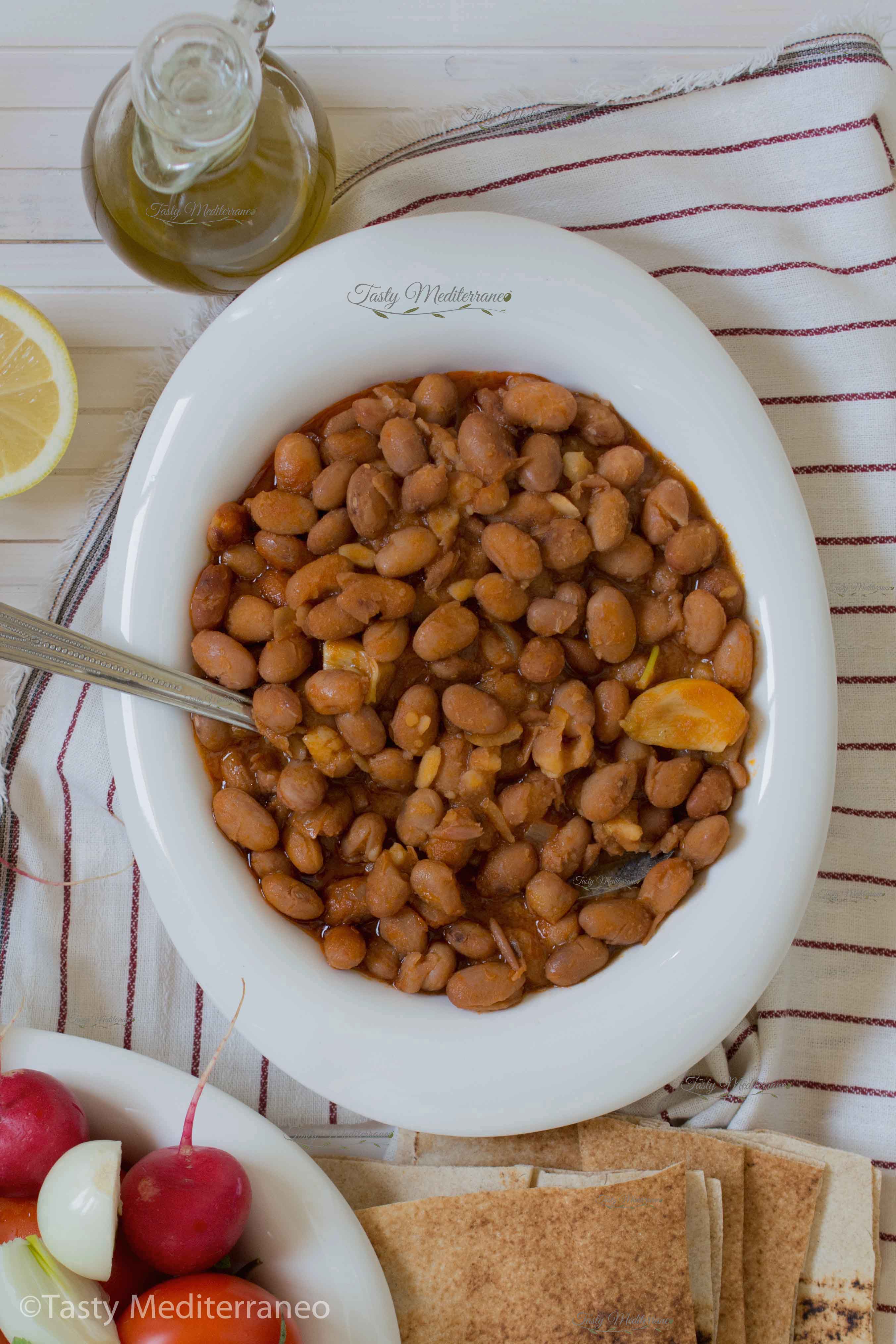 Pulses are linked to a sustainable agriculture. Pulses crops increase farm biodiversity and create a more diverse landscape for animals and insects. And pulses have nitrogen-fixing properties that help improve soil fertility. By producing a smaller carbon footprint, pulses help reduce greenhouse gas emissions.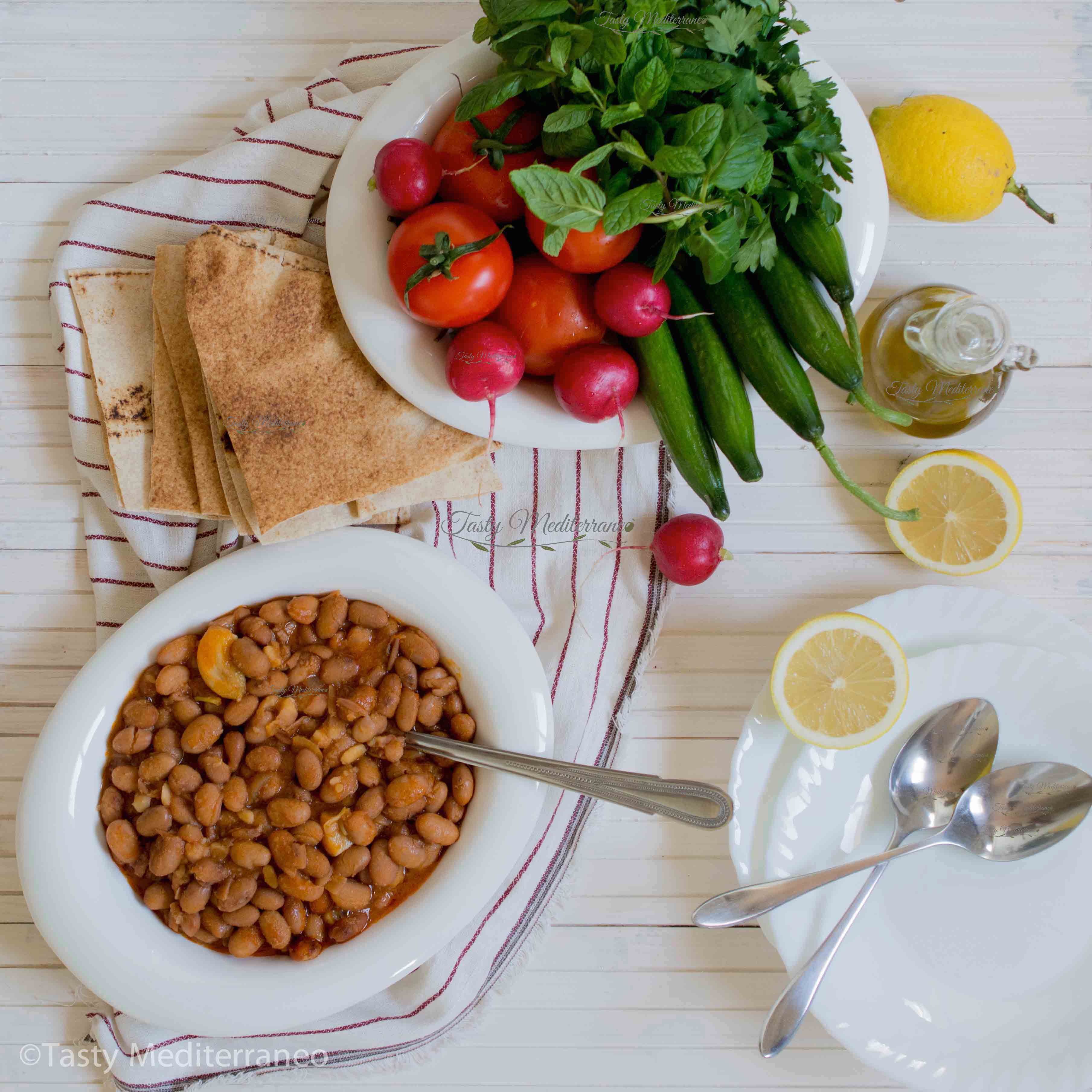 And since Legumes are a staple of the Mediterranean diet and I share plenty of legumes recipes on my blog, I had the opportunity to share 5 of my pulses recipes with the FAO (Food and Agriculture Organization) of the United Nations for the International Year of Pulses back in 2016.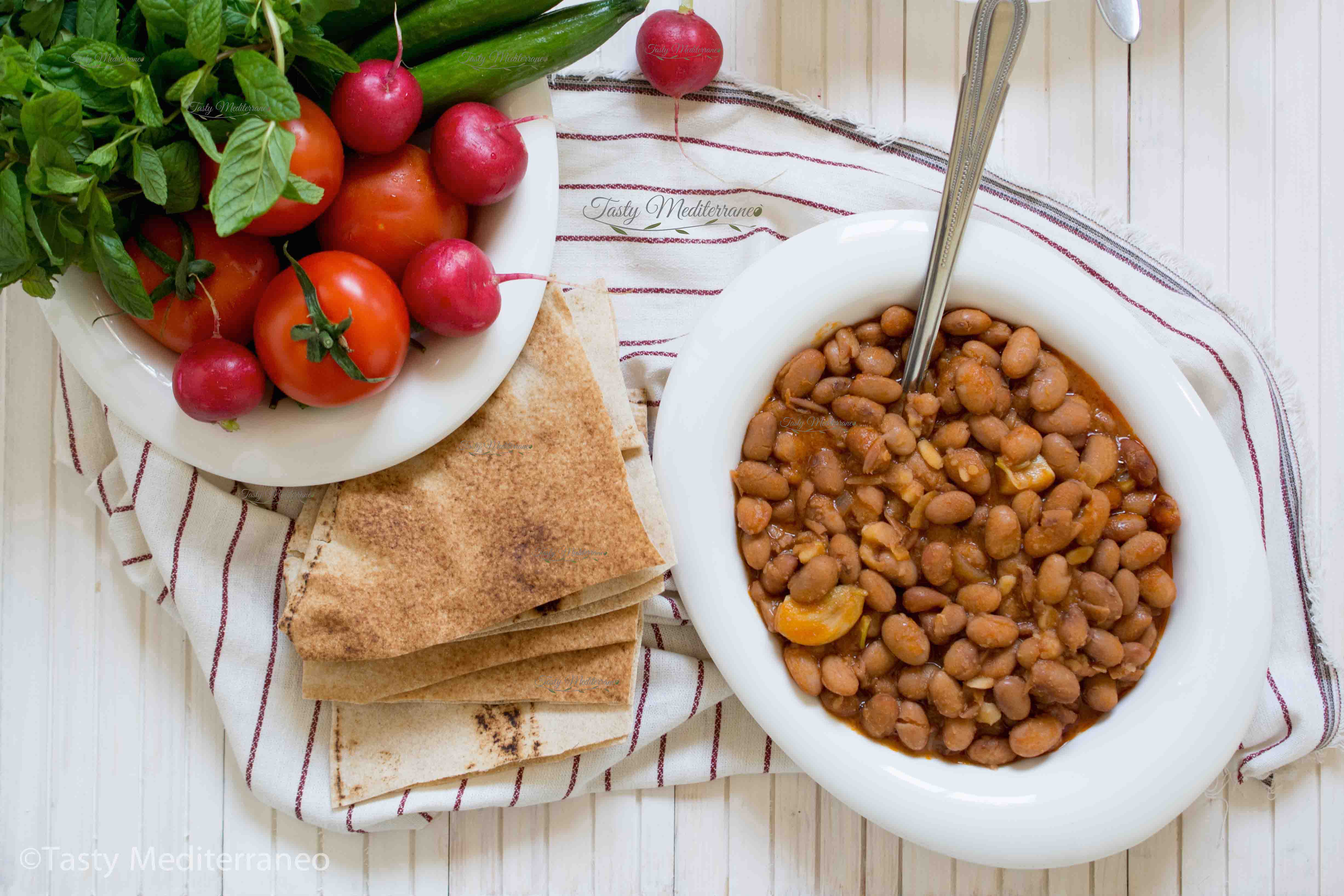 Today I am sharing on Tasty Mediterraneo yet another nutritious recipe with pulses, "Fasolia bi zeit", a delicious Lebanese recipe of red kidney beans with extra virgin olive oil (EVOO) that my mother in law shared with me during our latest trip to Beirut.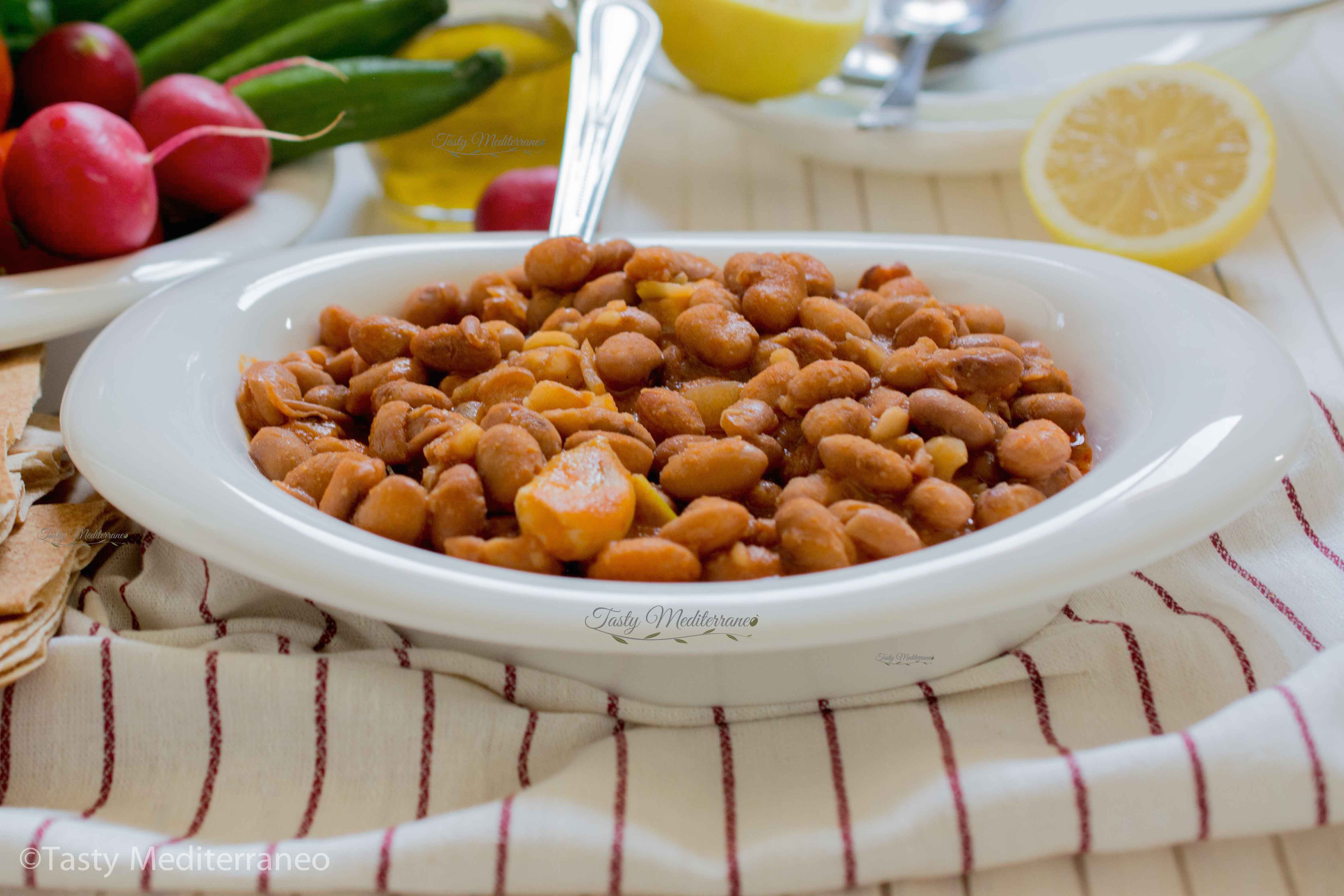 When beans are eaten with grains their nutritional value is even higher as the body is better able to absorb iron and other minerals found in them. So you could accompany this delicious dish of "Fasolia bi zeit" for example with a side dish of rice (ideally whole rice) or bread. And to even better increase the body's ability to absorb iron from the beans it is good to combine them with vitamin C rich foods. This is why I sprinkle some lemon juice to my family "Fasolia bi zeit" recipe right before serving.
If you try this tasty and healthy vegan Mediterranean diet recipe of "Fasolia bi zeit", please let me know, leave a comment and rate it. I would love to know what you come up with. Enjoy!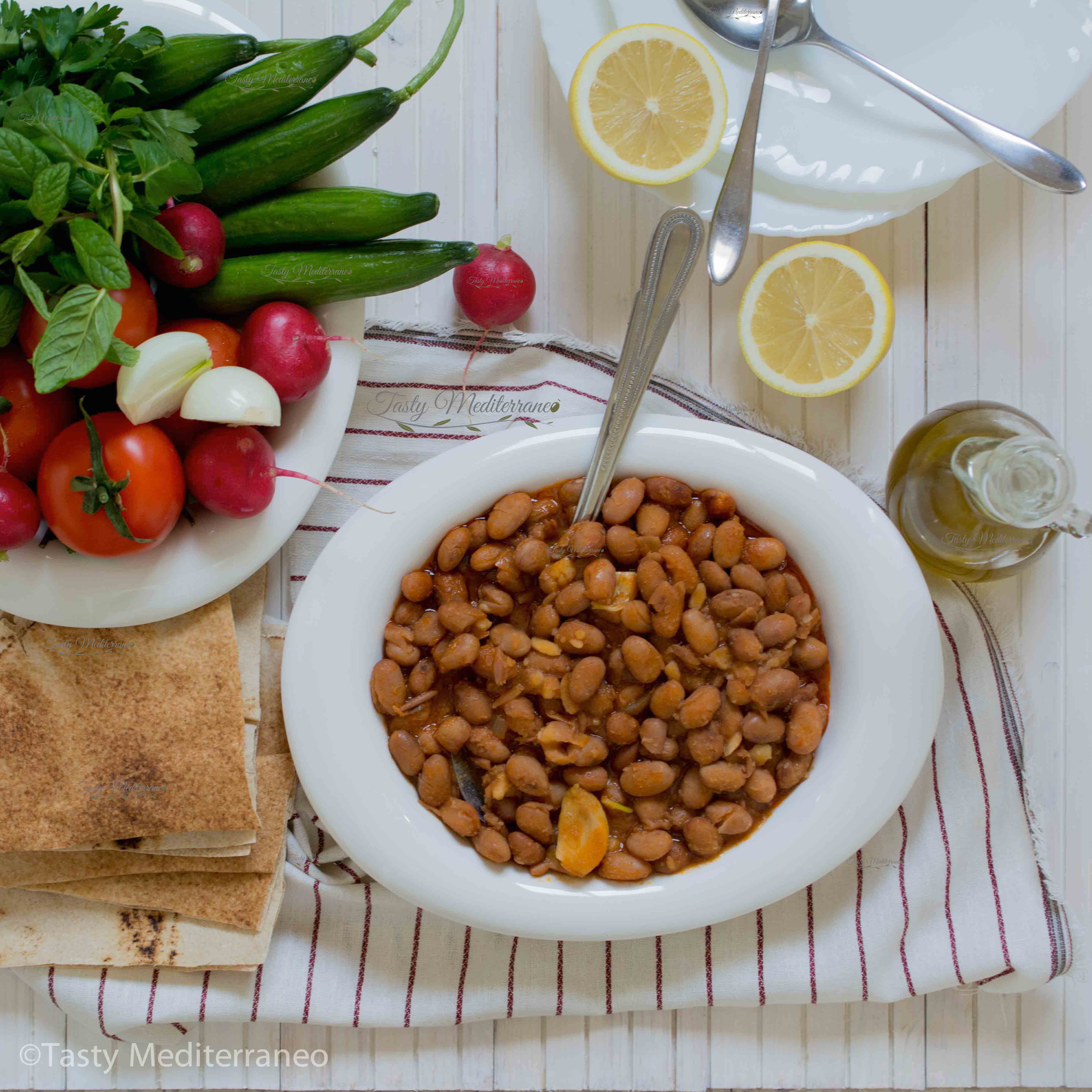 Fasolia bi zeit
Author:
Margarita @ Tasty Mediterraneo
Cuisine:
Mediterranean Diet
Ingredients
3 Jars (250g net drained weight each) of organic red kidney beans in water with no added salt
1 Large onion, peeled and finely chopped
6 Garlic cloves, peeled
3 Large ripen tomatoes, washed and finely chopped
4 Tablespoons crushed organic tomato passata
3 Tablespoons extra virgin olive oil (EVOO)
1 Teaspoon sea salt (or salt to taste)
Instructions
Have all the ingredients prepared as indicated in the ingredients description.
If you are using dried beans (360g (1⅔ cup) would suffice for 4 people), to cook them: soak the dried beans in cold water for 12 hours (ideally leave them soaked overnight). Rinse them well and drain. Put them in a cooking pot and cover with water and cook over low to medium heat for about 1 hour or until tender. Remove them from the heat and drain. If you are using a jar of cooked red kidney beans in water simply drain them.
In a large saucepan with lid add the 3 tablespoons EVOO, the peeled garlic cloves and the onion and sauté until only lightly golden over medium heat. Add then the tomatoes and salt and sauté for about 5 minutes. Add next the tomato passata and the cooked and drained red kidney beans, cover with the lid and cook at low heat stirring occasionally for about 15 minutes.
Remove from the heat, add the freshly squeezed lemon juice and serve hot.
Notes
It is nice to serve this dish accompanied with Lebanese bread, Lebanese cucumbers, radish, fresh mint, fresh parsley and onion, or your favourite fresh vegetables.