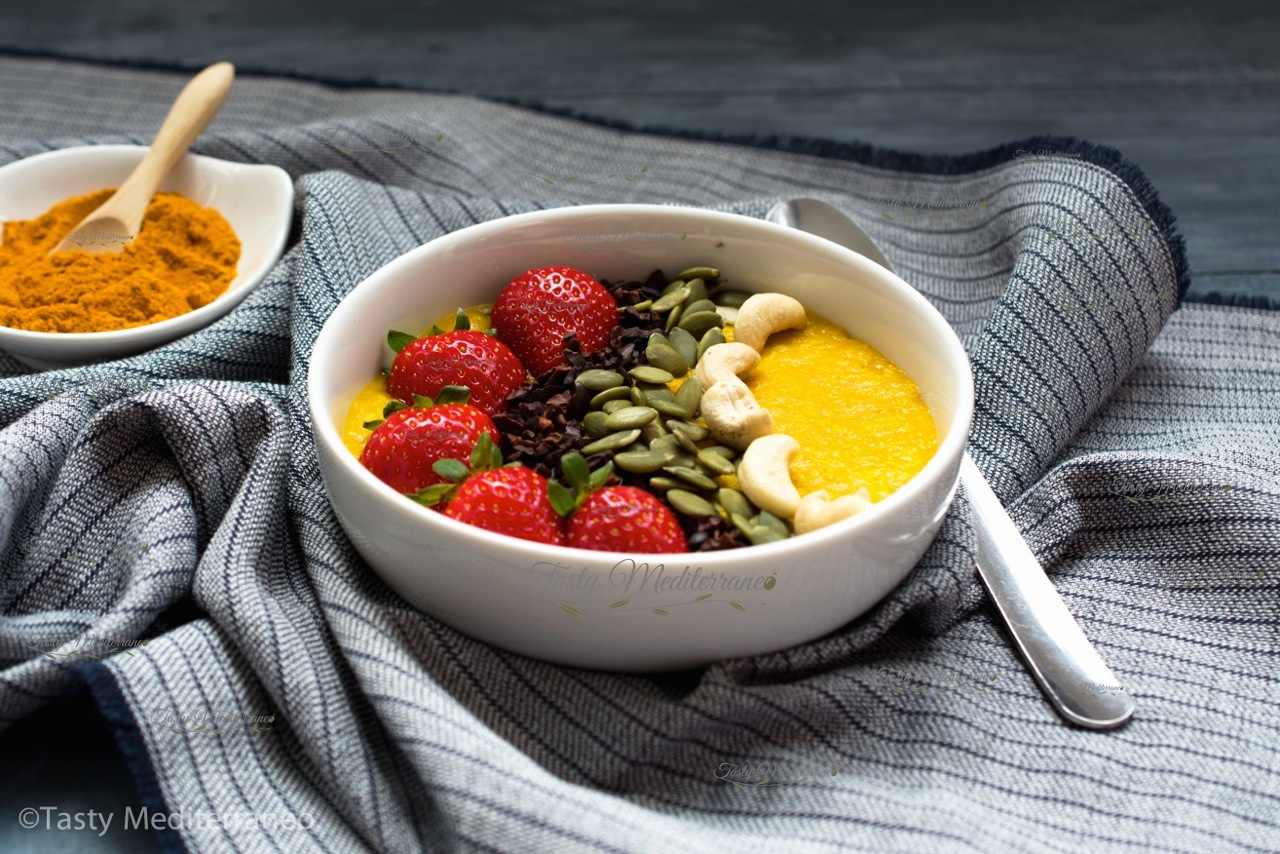 Those of you who follow Tasty Mediterraneo on the social media already know that my blog has won the "Silver Health & Fitness blog of the year" Award at the Irish Health and Fitness Awards.
As you can imagine I'm delighted with the news and this encourages me to continue sharing healthy recipes and nutrition and health tips with you all.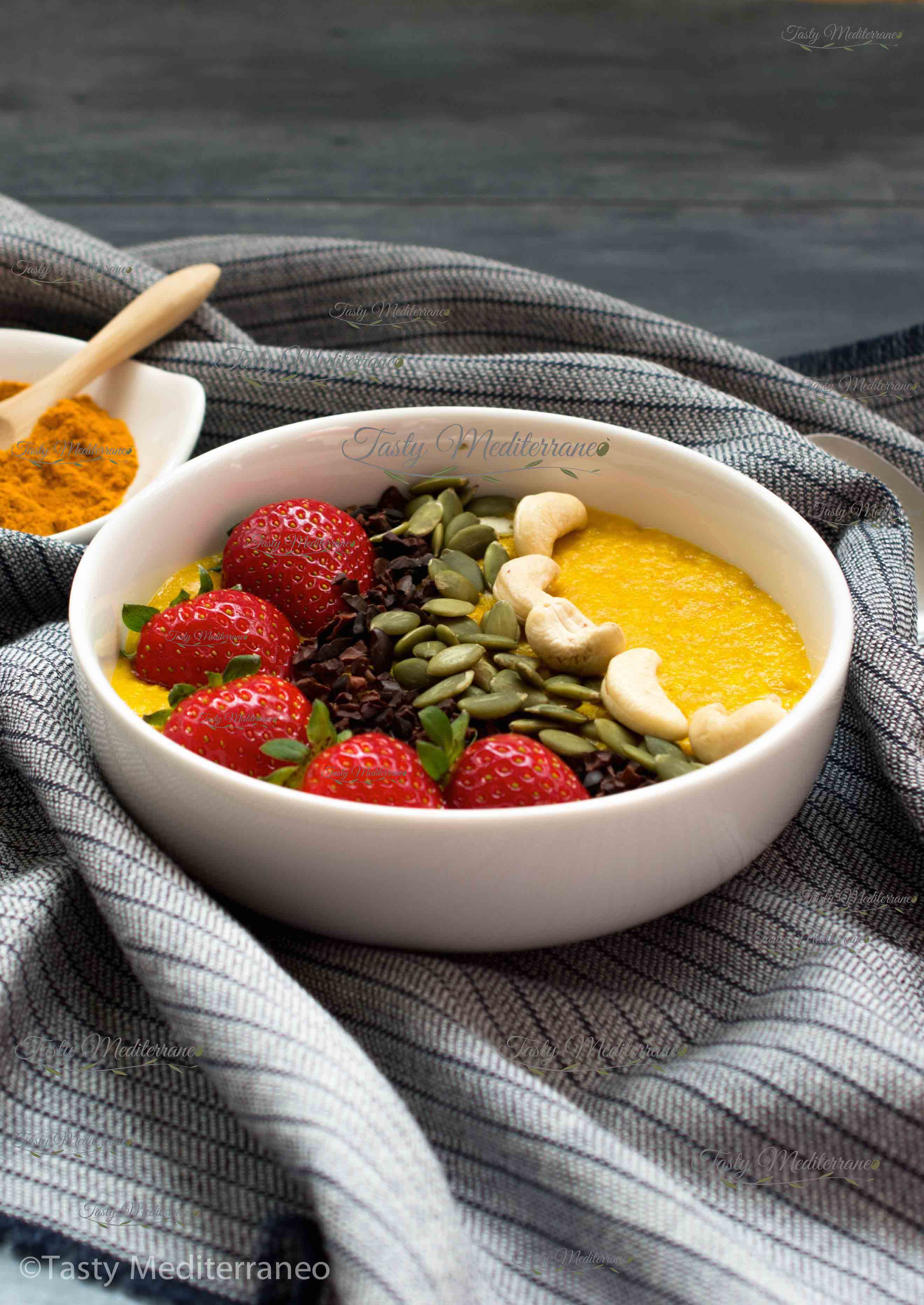 Whole oats are a good source of fiber and plant based protein. They are rich in vitamins (B1, B5 and folic acid), minerals (phosphorus, iron, copper, manganese, zinc, magnesium) & antioxidants. They make a nutritionally balanced option for breakfast.
Turmeric, also known as curcuma, is a spice that has a wide range of antioxidant and anti-inflammatory properties, and by adding it to the whole oats you can help your body to destroy the free radicals that cause damage to the body cells.
And since inflammation and oxidative damage play a role in Alzheimer's disease, the good properties of turmeric – in the context of a balanced diet – can help prevent it.
Turmeric also seems to be a good antidepressant, to help fight age-related chronic diseases, to be helpful for preventing cancer and to help strengthen the immune system. This is why many people consider turmeric as a very effective nutritional supplement!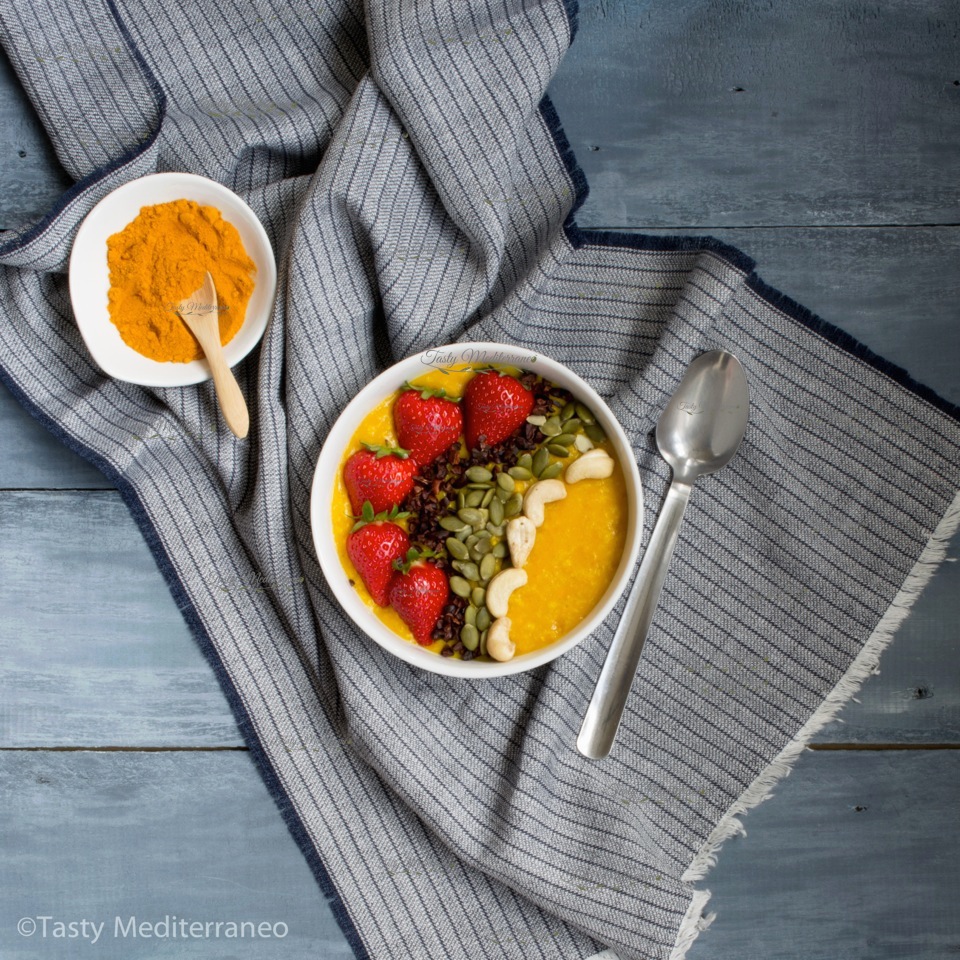 Curcumin is the main active ingredient in turmeric, but curcumin is poorly absorbed into the bloodstream; adding a bit of black pepper when consuming turmeric enhances its absorption.
Adding to this turmeric porridge some seasonal fruits, like strawberries that are now in season in Ireland, plus some nuts, seeds and cocoa nibs make of this recipe a well-balanced breakfast that will help you keep full & energized during the morning.
If you try this tasty and healthy breakfast recipe of turmeric porridge, please let me know, leave a comment and rate it. I would love to know what you come up with. Enjoy!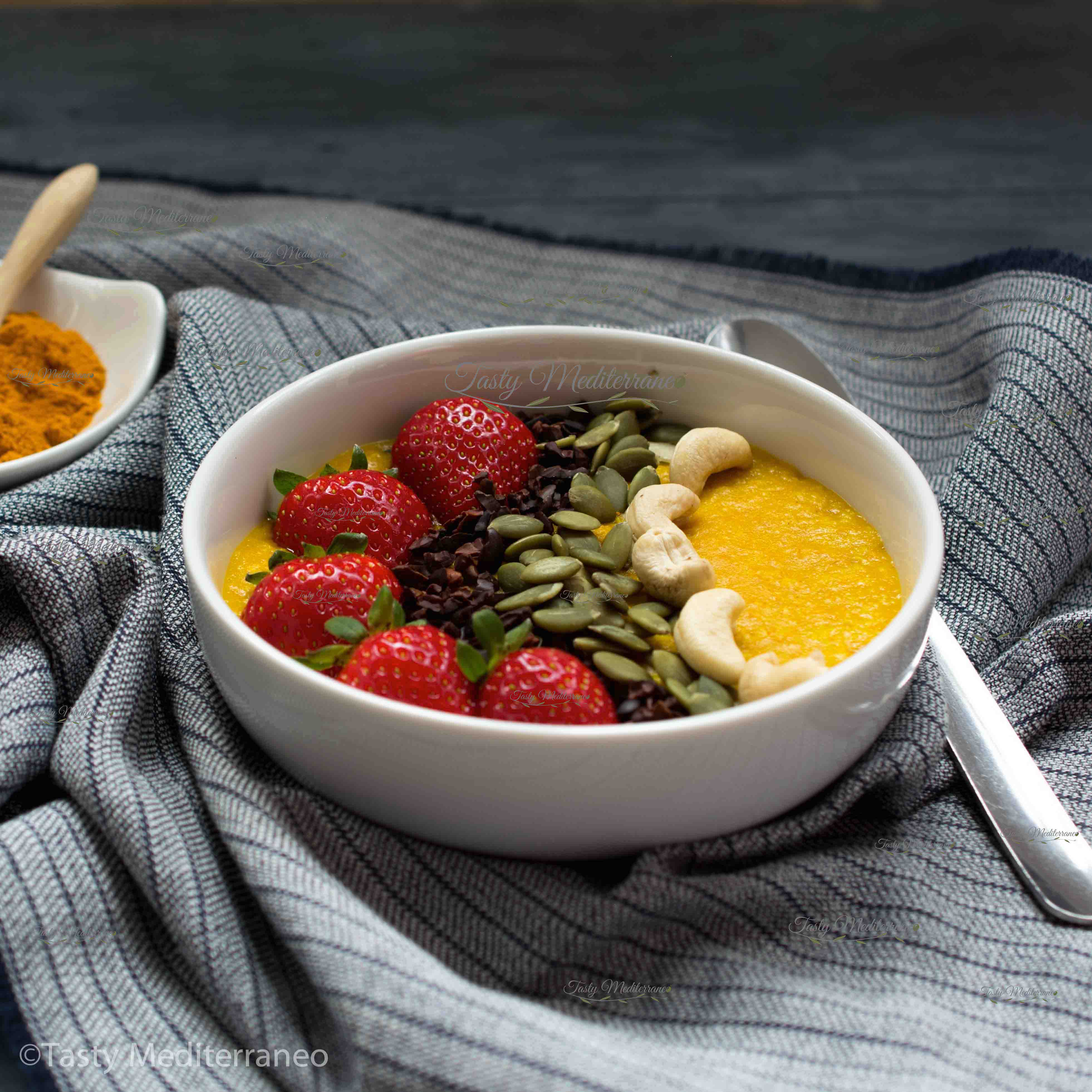 Turmeric porridge
Author:
Margarita @ Tasty Mediterraneo
Cuisine:
Mediterranean Diet
Ingredients
100g (1 cup) Wholegrain organic porridge oats (gluten free)
500ml (2 cup) Water
½ Teaspoon turmeric powder
A tiny pinch of freshly ground black pepper
5 Strawberries cut in half (or the berries of your choice)
1 Tablespoon cashew nuts or your preferred nuts
1 Tablespoon cocoa nibs
1 Tablespoon pumpkin seeds
Instructions
Add the wholegrain oats, the turmeric powder, the tiny pinch of freshly ground black pepper and the water into a saucepan over a medium heat and bring to a boil. Reduce heat and simmer for 5 minutes, stirring as often as you can until you get a smooth creamy porridge. If you like it with a runny texture, simply add a splash more water.
Wash well the strawberries and cut them in half. Serve the porridge hot and add the strawberries, the nuts, the cocoa nibs and the pumpkin seeds on top.