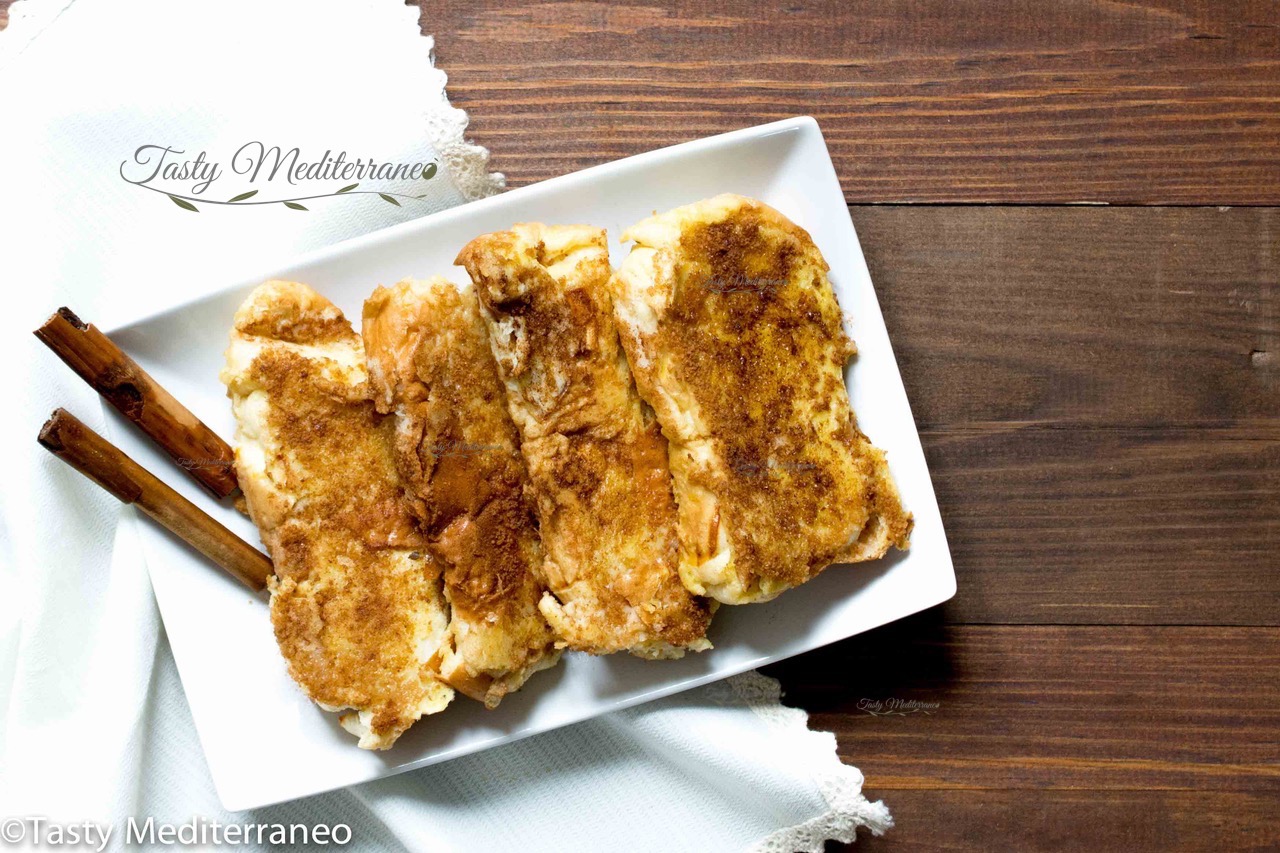 This is an unusual Easter. These are challenging times and due to corona virus people are confined at home in quarantine.
During this time good nutrition is crucial for health, and it is especially important in times when the immune system might need to fight back.
I wrote a post on my blog about "Coronavirus and food", and I'd like to encourage you to read it.
The recipe I share with you today, "Torrijas" is a traditional Easter dessert in Spain. It is a sweet treat, but to make a healthier version of torrijas I don't add a lot of sugar. Plus traditionally they are fried in olive oil, but to make them lighter I bake the torrijas in the oven.
I used a loaf of organic sourdough to prepare them. In Spain you can find a variety of bread specific for Torrijas, but you can use any loaf of bread you have from yesterday. It is best if it has become a bit hard, since you will have to soak it in milk.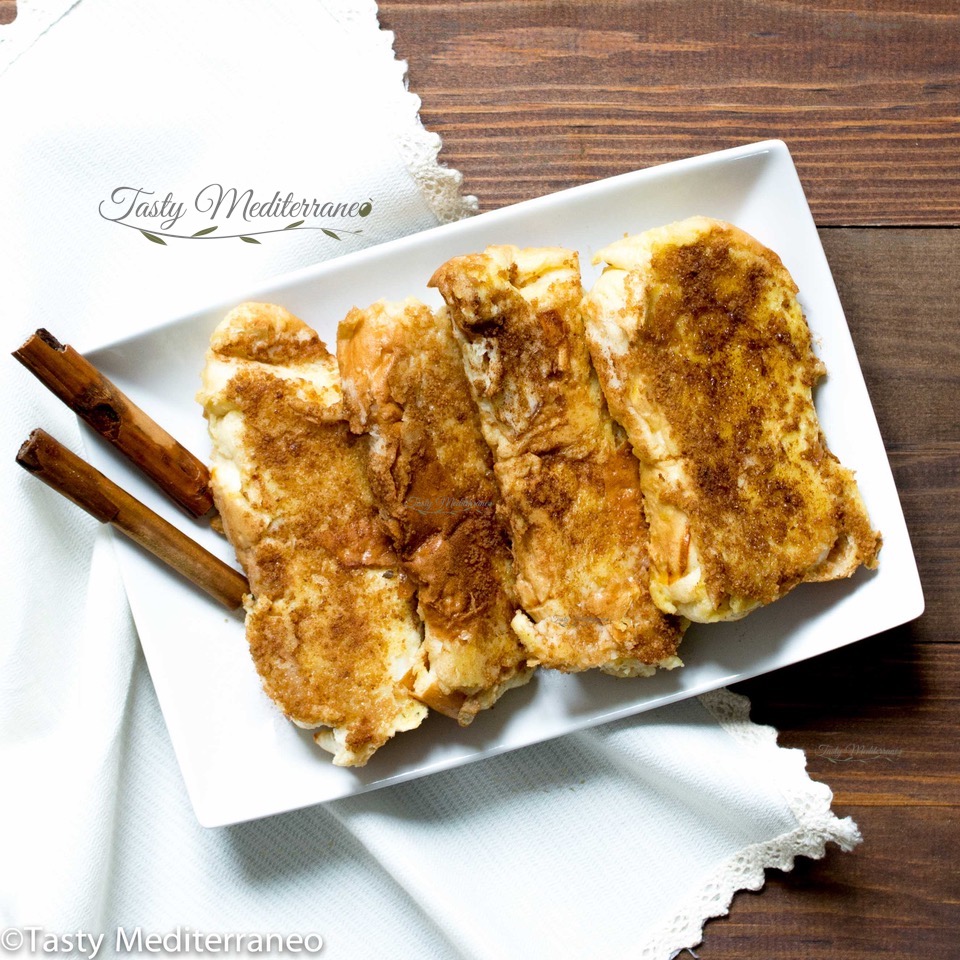 You can find other Easter recipes on my blog such as my "Vegan Maamoul" which is a typical Easter dessert recipe from Lebanon; and my "Vegan Easter empanadas" and "Cocarrois" that are both typical Easter dishes from Majorca Island.
If you try this tasty vegetarian Mediterranean diet recipe of "Torrijas: Spanish Easter dessert", please let me know, leave a comment and rate it. I would love to know what you come up with. Enjoy and happy healthy cooking!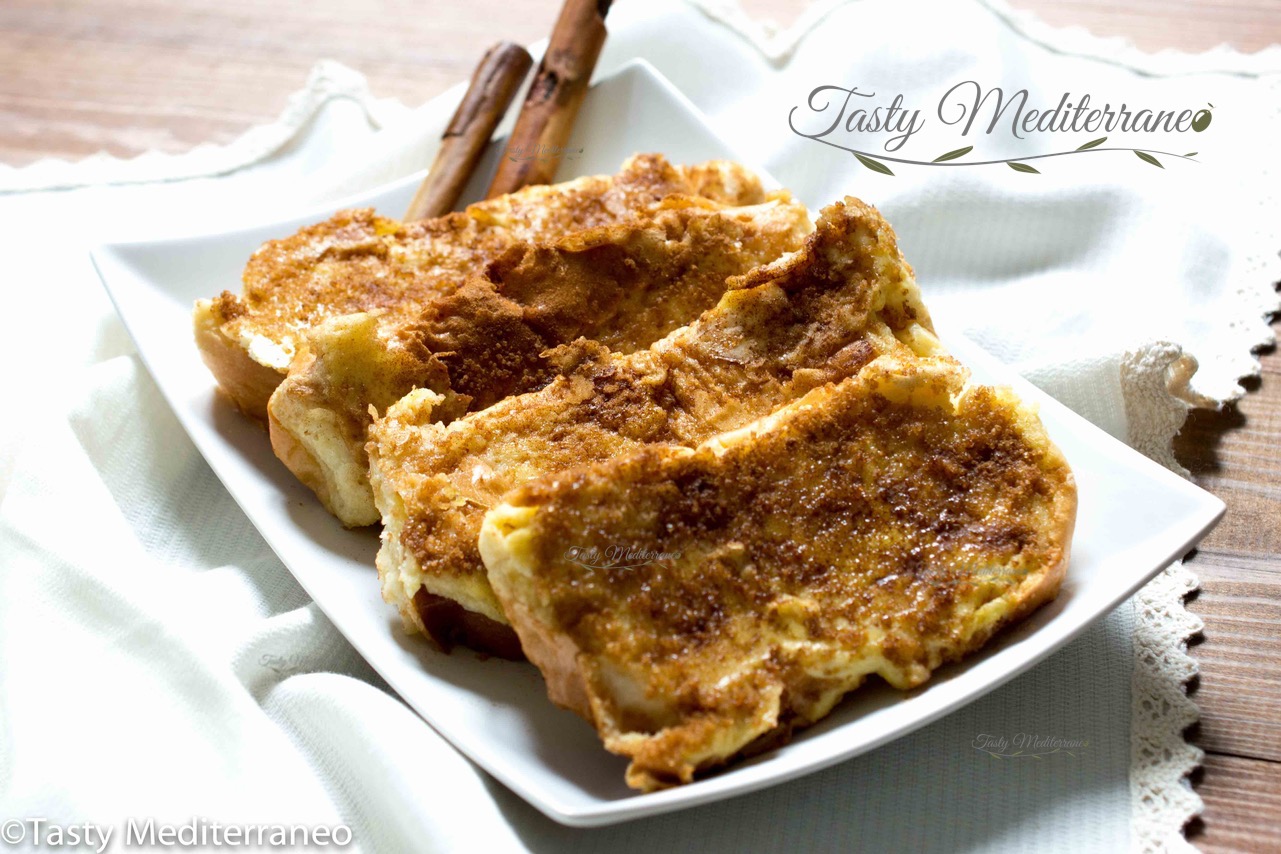 Torrijas: Spanish Easter dessert
Author:
Margarita @ Tasty Mediterraneo
Cuisine:
Mediterranean Diet
Ingredients
6 Thick slices of bread (preferably bread from yesterday or the day before)
3 Tablespoons brown sugar
½ l (2 cups) of skimmed milk (if you have lactose intolerance you can replace it by your favorite vegetable milk)
2 Cinnamon sticks
The skin of one organic lemon (avoid the bitter white membrane beneath the lemon peel)
2 Eggs
For the cover
2 Tablespoons brown sugar
1 Tablespoon cinnamon powder
Instructions
In a saucepan add the milk, the 3 tablespoons of brown sugar, the 2 cinnamon sticks and the zest of one organic lemon. Before it reaches the boiling point stop the heat. Allow the infused milk to get warm. (If you want you can let it infuse for about one hour)
Beat the eggs in a deep plate.
In a deep plate add the infused milk and dip each slice of bread in the milk. Don't leave it too long in the milk, otherwise the bread risks to break. Squeeze a bit the milk from the bread and add it to the beaten eggs plate. Repeat the process with each slice of bread.
Preheat the oven at 175 degrees C (350 degrees F). Add the torrijas into a deep oven dish. Bake in the middle of the oven for 10 min at 175 degrees C (350 degrees F). After those 10 minutes turn each of the torrijas and bake them 10 extra minutes until the torrijas are golden.
Once they are golden remove them from the oven and allow them to get warm.
In a deep plate add the 2 tablespoons of brown sugar and the tablespoon of cinnamon powder. Mix them well and sprinkle over the baked torrijas.