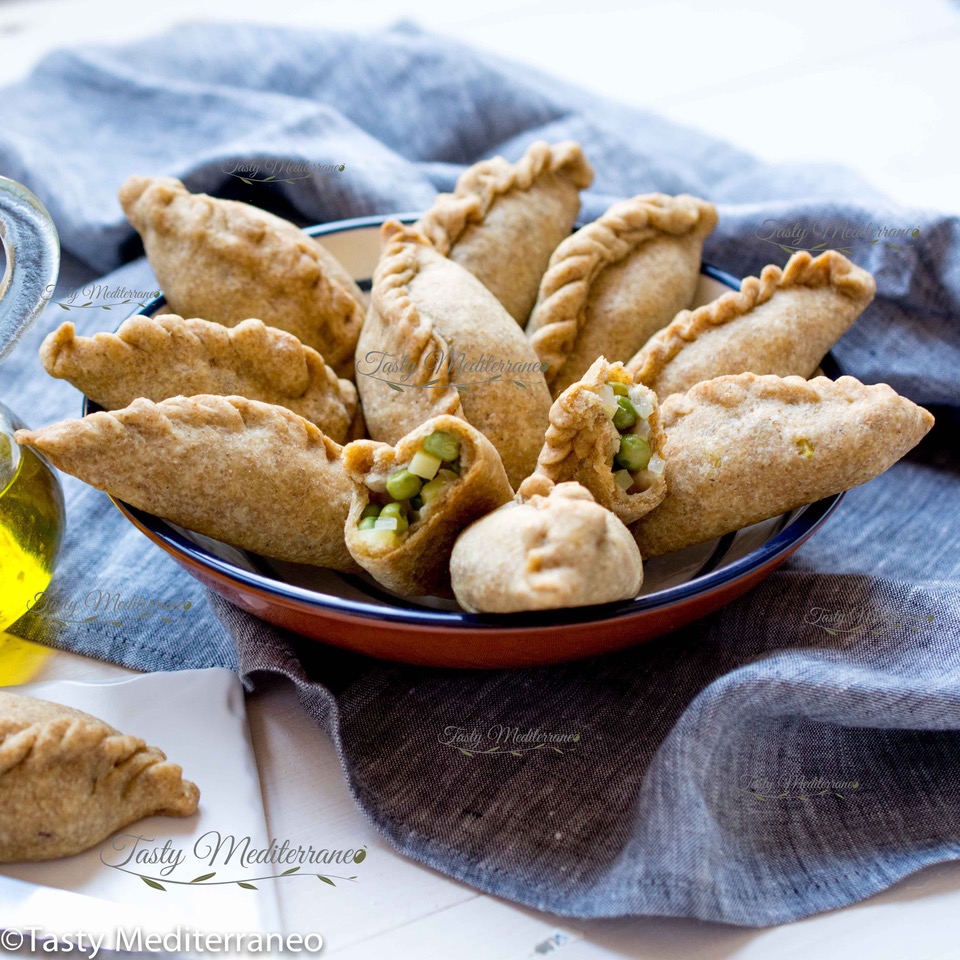 Many people believe that healthy eating is expensive. But you can eat healthy on a budget, and most of the recipes I share on Tasty Mediterraneo are proof of that.
For example pulses (such as beans, peas, lentils, etc) are rich in nutrients (protein, fiber, minerals, vitamins), cheap and very versatile to use in many dishes. Have a look at my recipes with pulses for healthy and nutritious meals on a budget.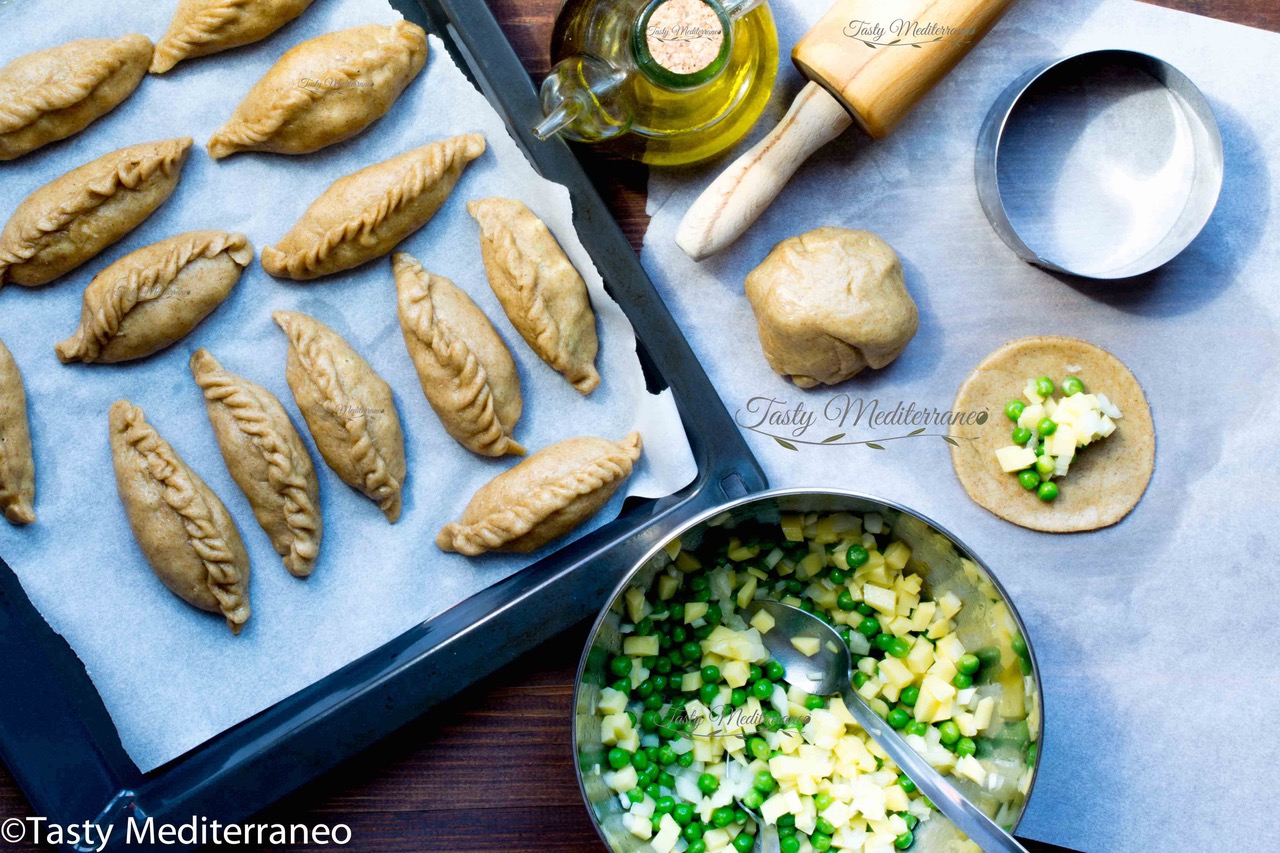 Also frozen or tinned vegetables and fruits are often cheaper than fresh. Many people's ideal is to eat fresh vegetables straight from the garden, but vegetables start losing nutrients as soon as they are harvested and often the fresh vegetables stay for days in the shelves of the supermarkets and even in our fridges at home losing part of their nutrients.
Frozen vegetables and fruits remain a convenient and affordable alternative because they are frozen while still fresh, usually within a few hours of harvesting, keeping the goodness of their original fresh state locked in. Plus they also keep for longer, meaning less food waste!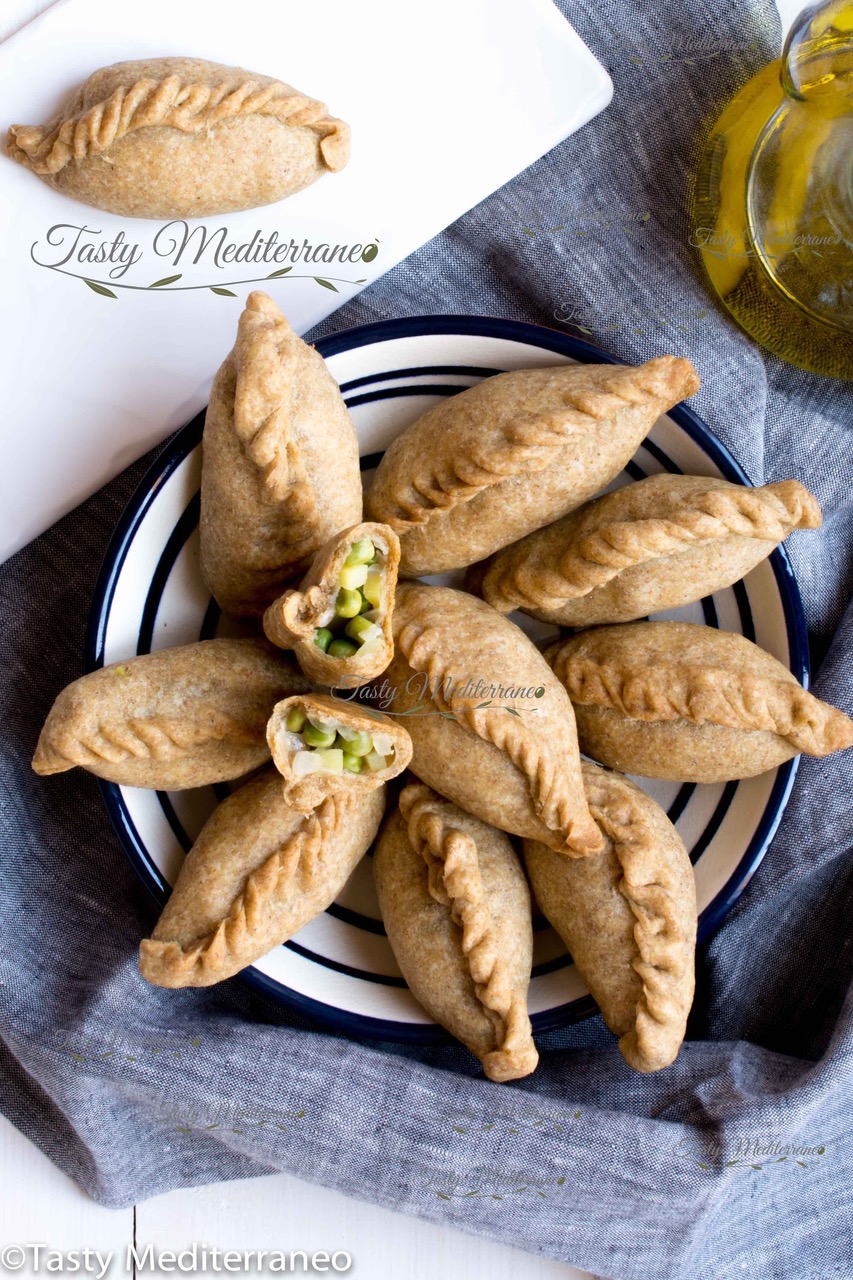 Cooking your meals at home instead of buying ready to eat meals, is a good way to save money, plus by doing so you will know exactly what is in your meal!
I always tell my nutrition & health coaching clients that they do not need to buy expensive "superfoods" to eat healthy. What is best for you is to eat real food and one of the most fundamental principles of healthy eating is variety. No single food can supply all the essential nutrients – apart from human milk for infants – thus the need to consume a broad range of foods on a regular basis.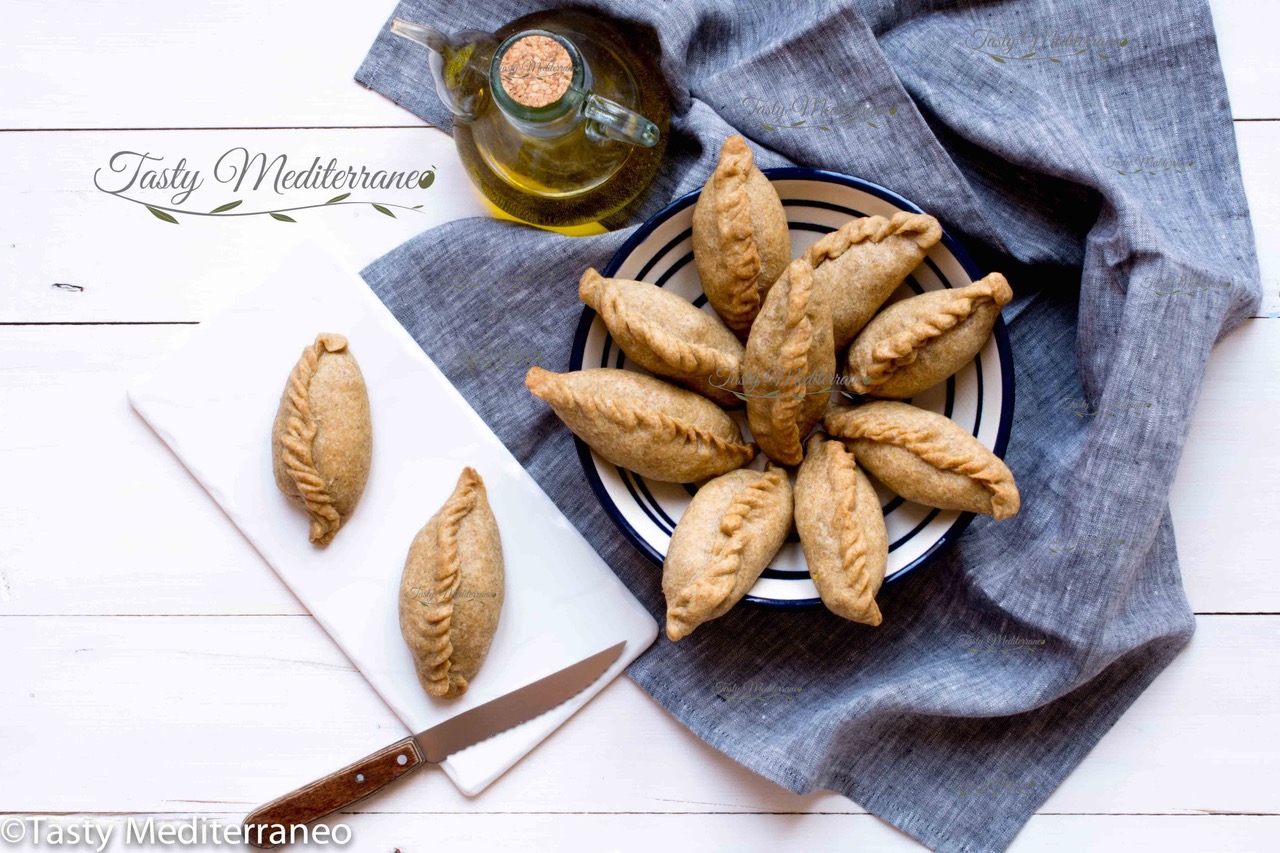 And remember that our diet is absolutely critical for good health and well-being!
Food should be a positive aspect of our life, offering us not only nourishment and fuel for the body, but also pleasure and happiness.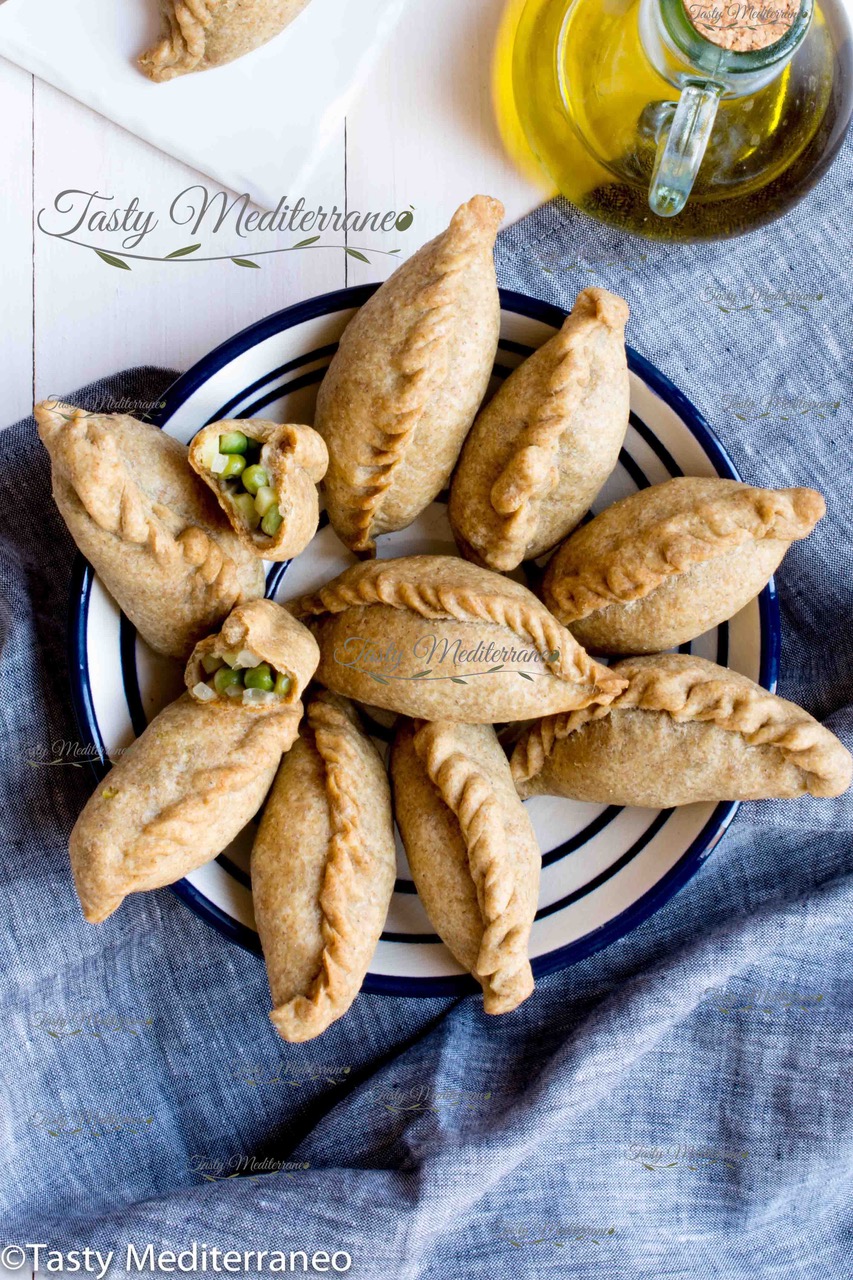 The recipe I share with you today is a very affordable vegan Mediterranean diet recipe from Majorca. It is a simple yet nutritious Easter recipe, my Majorcan family recipe of "Cocarrois". There are different varieties of "Cocarrois" using different seasonal vegetables. The variety of cocarrois I share with you today is made with potatoes, green peas and onion.
You can also find other "empanadas" style recipes on my blog such as my "Vegan empanadas", my "Spanish empanadas" or my "Spinach fatayers".
If you try this tasty and healthy vegan Mediterranean diet recipe of "Cocarrois: Majorcan Easter empanadas", please let me know, leave a comment and rate it. I would love to know what you come up with. Enjoy and happy healthy cooking!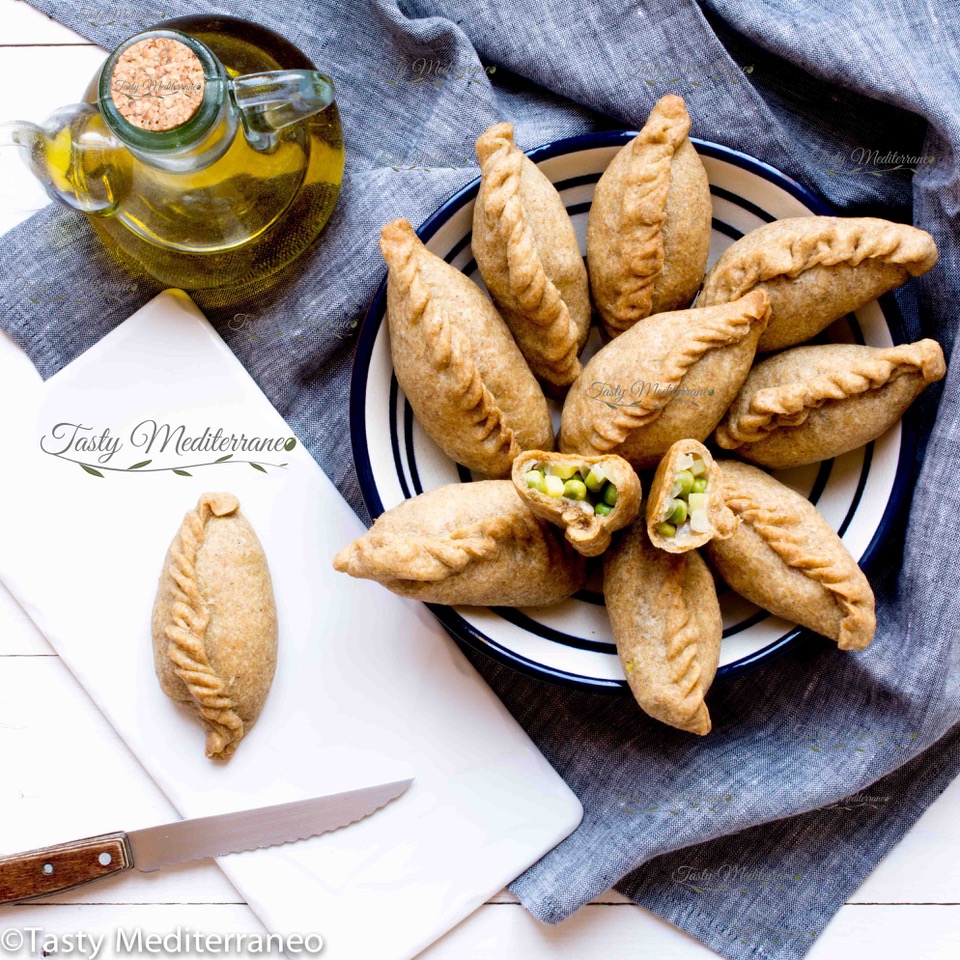 Cocarrois: Majorcan Easter empanadas
Author:
Margarita @ Tasty Mediterraneo
Cuisine:
Mediterranean Diet
Ingredients
For the cocarrois dough:
175ml (¾ cup) Extra Virgin Olive Oil (EVOO)
175ml (¾ cup) Warm water
210g (1 ½ cup) Organic plain flour
210g (1 ½ cup) Organic whole-wheat flour
For the cocarrois filling:
1 Tablespoon extra virgin olive oil (EVOO)
1 Small onion, peeled and thinly diced
2 Medium potatoes, peeled and thinly diced
150g (1 cup) Shelled green peas (Fresh or frozen)
1 Teaspoon sea salt (or salt to taste)
1 Teaspoon smoked paprika (optional)
Instructions
For the cocarrois dough:
Pour the warm water and the EVOO into a large bowl and add the plain and whole-wheat flours. With a silicon spatula mix well the flour with the liquid. Keep mixing until it all starts to come together, and then keep on mixing with your clean hands and knead it until you have a smooth, not sticky, dough. You may add a bit of extra flour if needed.
Remove the dough from the bowl and place it in a clean flour-dusted surface. Knead it a bit with your hands and, with the help of a rolling pin (lightly dusted in flour), extend it gradually flattening it out. Once you have flattened out the dough, with the help of a small round cutter (of approx. 15cm - 6 inches diameter) make the small dough portions.
For the cocarrois filling:
Have the vegetables well washed and prepared as indicated in the ingredients description.
In a bowl add the shelled green peas, the thinly diced potatoes and onions (all raw), the tablespoon of EVOO, salt and optionally the smoked paprika. Mix it all well and reserve.
For the final preparation:
Fill in the flattened dough portions with one tablespoon of the filling and stick the dough edges together making sure you close them well so that they do not open. Shape the borders pinching them with your fingers.
Preheat the oven at 175 degrees C (350 degrees F). Bake in the middle of the oven for about 30 min at 175 degrees C (350 degrees F) or until the empanadas are golden. Remove from the oven and enjoy them warm or cold.
Notes
Optionally you could add some dried raisins in the filling.