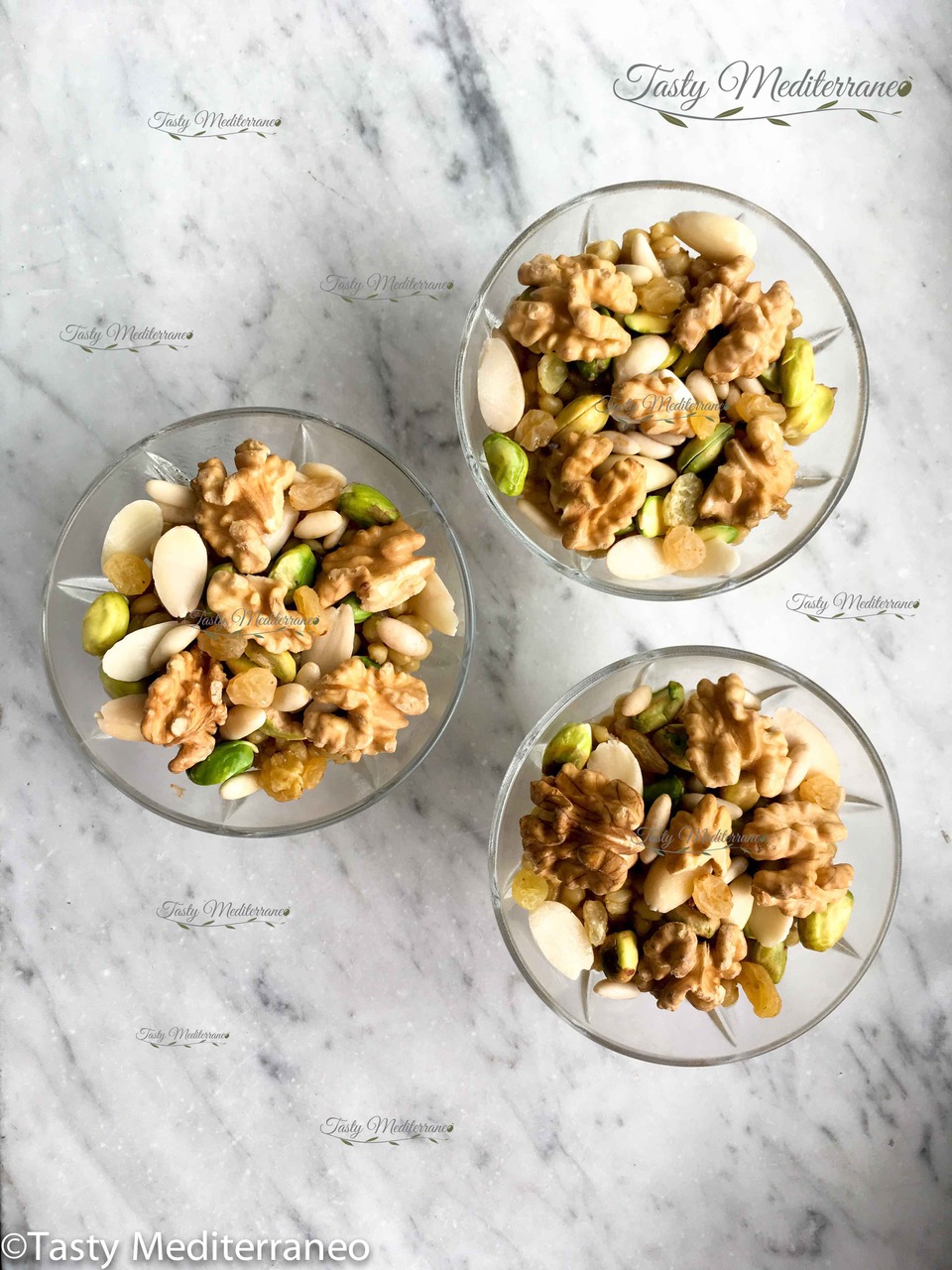 Snayniyeh is a popular dish made to celebrate a baby's first tooth in the Levantine region. My baby girl had her first tooth at 7 months old.
This is a very nutritious dessert recipe.
Wheat is composed of carbs but also has moderate amounts of protein. Whole grains contain the most phytonutrients and fiber.
Pine nuts are high in magnesium, iron, zinc, calcium, copper, phosphorus, vitamin E, and vitamin K.
Walnuts are cholesterol free and sodium free. Walnuts are very healthy, they are a good source of Omega 3, and they are also rich in antioxidants, protein, fiber, magnesium and phosphorus. Walnuts are an excellent source of polyunsaturated fat, a healthy fat that can boost heart health and provide other benefits. Research has shown that diets rich in omega-3 fatty acids may reduce the risk of cardiovascular disease and may even benefit those with type 2 diabetes, especially those with elevated triglycerides.
Almonds are cholesterol free, a good source of fiber; they are low in saturated fats, are sodium-free and rich in phytonutrients. They are high in vitamin E, calcium an iron.
Pistachios are cholesterol free, a good source of fiber and sodium free. Pistachios are loaded with vitamins, minerals, and phytonutrient. Pistachios are a good source of vitamin B6, phosphorus, and thiamin, and an excellent source of copper.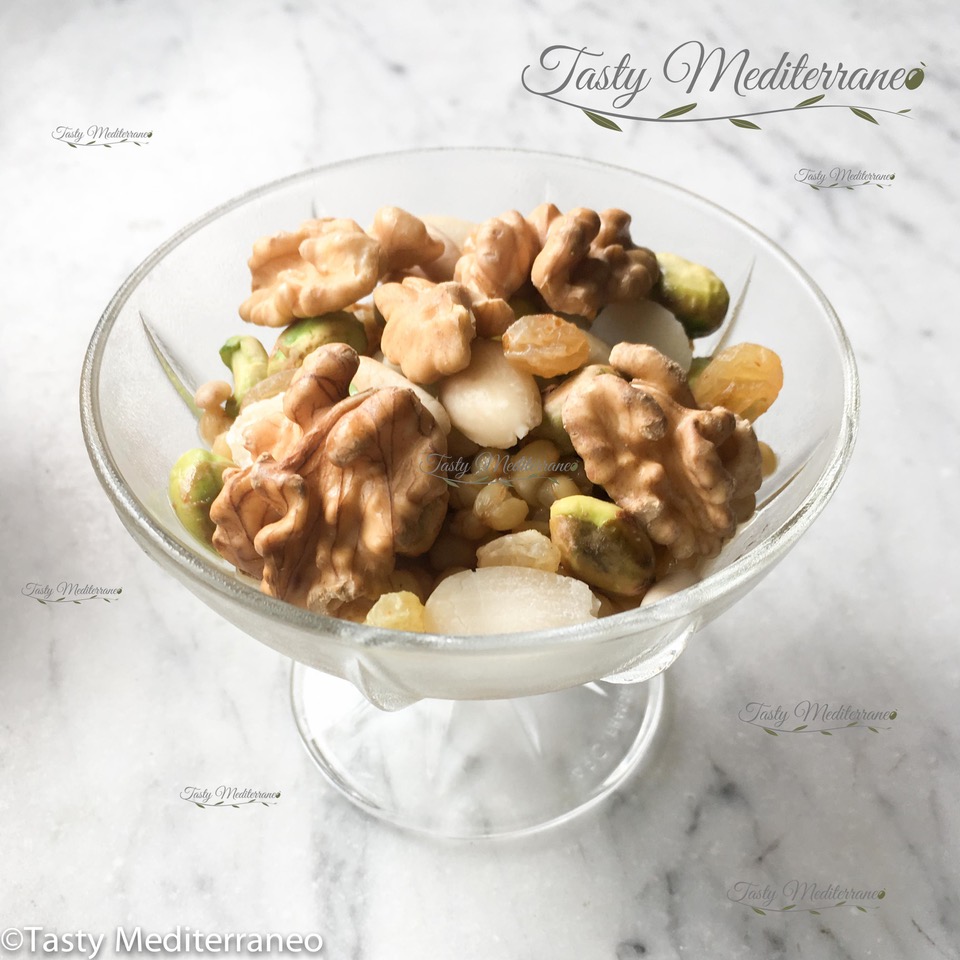 Nuts are rich in polyphenols, which have been associated with a reduction in obesity. The weight-control benefits of a Mediterranean diet, which is rich in nuts, olives, fruits, vegetables, and whole grains, are well established.
Eating 28 grams of nuts per day, as part of a diet low in saturated fat and cholesterol, may reduce the risk of heart disease.
If you try this tasty and nutritious vegan Mediterranean diet dessert recipe of "Snayniyeh" please let me know, leave a comment and rate it. I would love to know what you come up with. Enjoy and happy healthy cooking!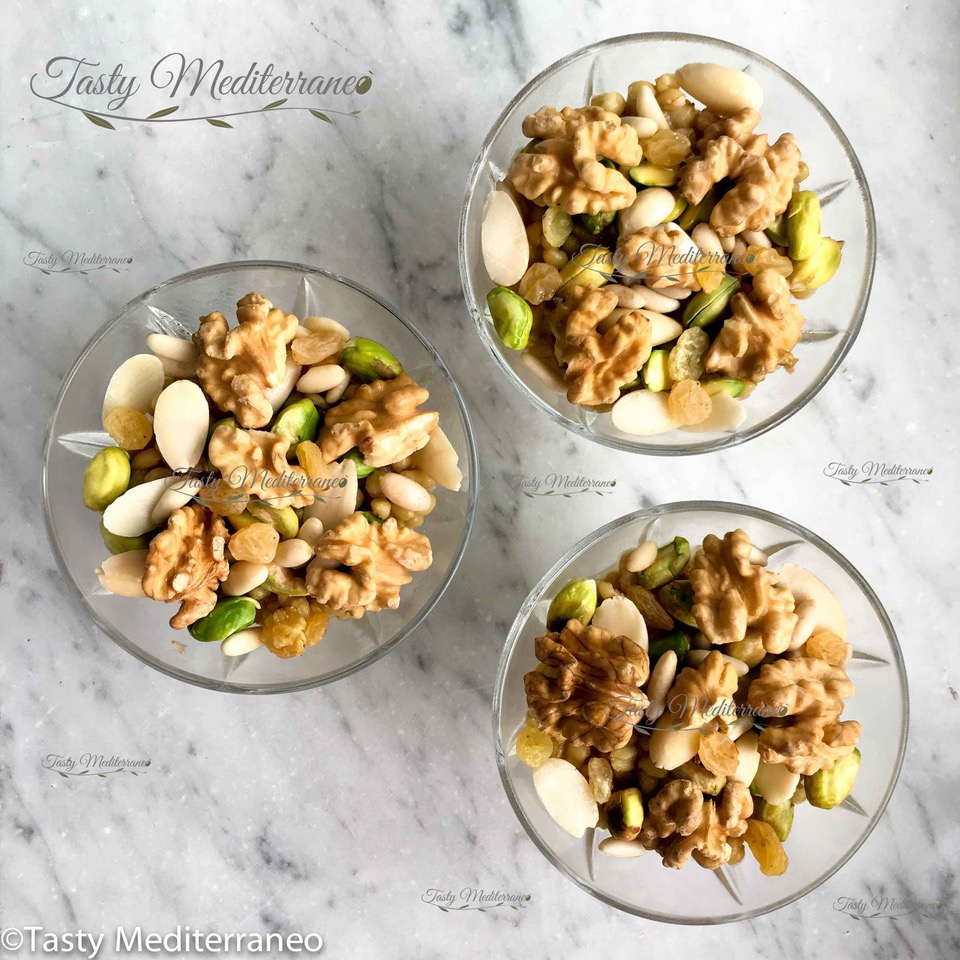 Snayniyeh
Author:
Margarita @ Tasty Mediterraneo
Cuisine:
Mediterranean Diet
Ingredients
1 Cup wheat, pealed
5 Cups water,
1 Teaspoon ground anise
4 Tablespoons sugar
5 Tablespoons orange blossom water
3 Tablespoons rose water
6 Teaspoons pine nuts, previously soaked in water
6 Teaspoons walnuts halves, previously soaked in water
6 Teaspoons almond halves, previously soaked in water
6 Teaspoons pistachios, previously soaked in water
4 Teaspoons raisins
1 Sweet pomegranate, peeled (optional)
Instructions
Rinse well the wheat and drain. In a pot, mix wheat with water and anise and bring to a boil. Cover the pot with the lid and cook over low heat for 60 minutes or until wheat is cooked and the water is absorbed.
Add sugar, orange blossom water and rose water and mix well.
Pour into serving plates and set aside to cool down.
Decorate with pine nuts, walnuts, almonds, raisins and sweet pomegranate (optional) shortly before serving.