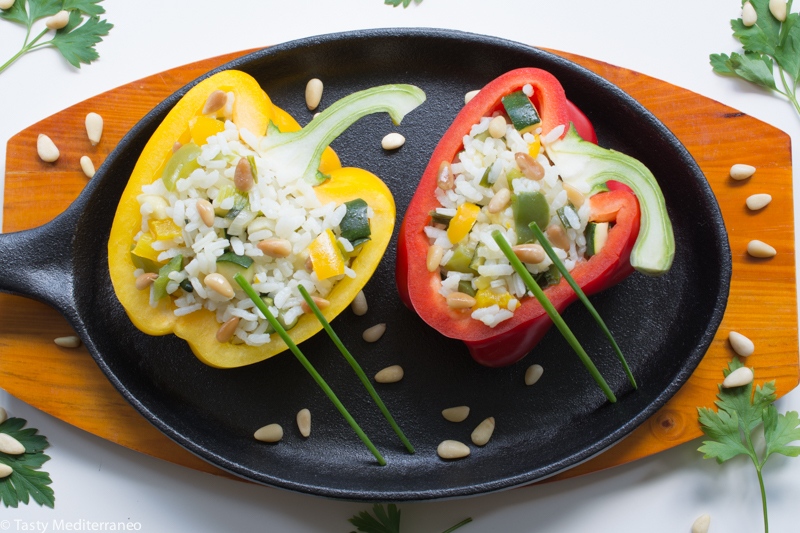 Are you looking for a simple and delicious weeknight meal? You do not want to spend too much time in the kitchen?
You only need 20 minutes and less than 10 ingredients to prepare these healthy Mediterranean rice, vegetables & pine nuts stuffed peppers.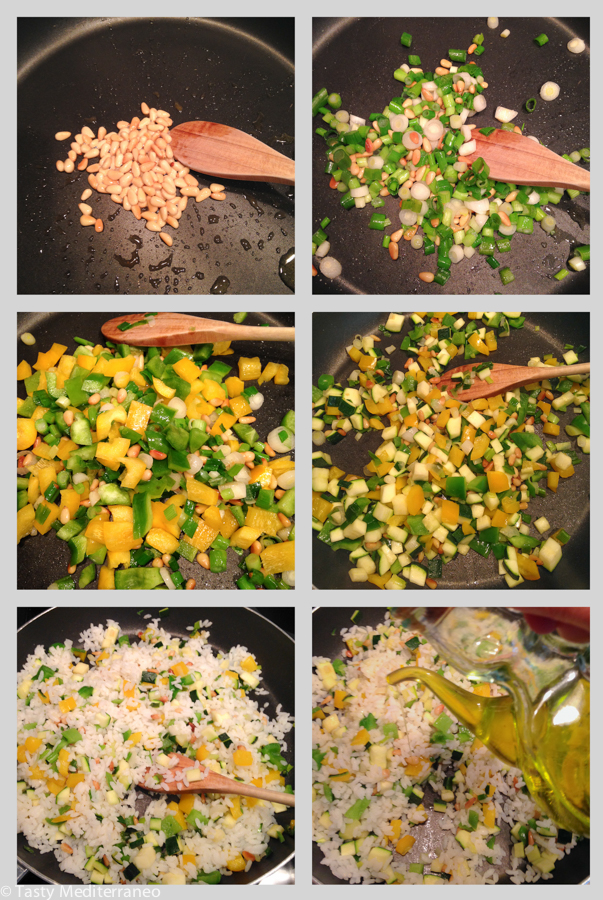 They are colourful, hearty and full of flavour. Fresh and light, yet satisfying. This Mediterranean stuffed peppers recipe is one of our summer favourites weeknight meals at home.
Their rice, vegetables and pine nuts filling is delicious on its own, but when we staff the bell peppers with it the result is a perfect and elegant dish that you will love.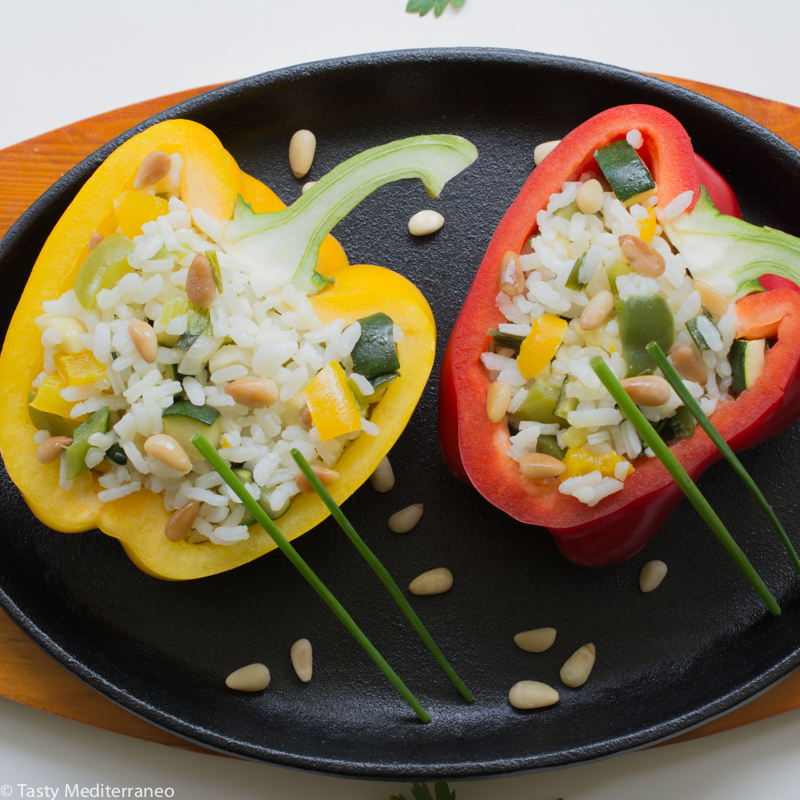 A healthy and easy to prepare vegetarian / vegan meal, that soon will become a summer favourite in your home too.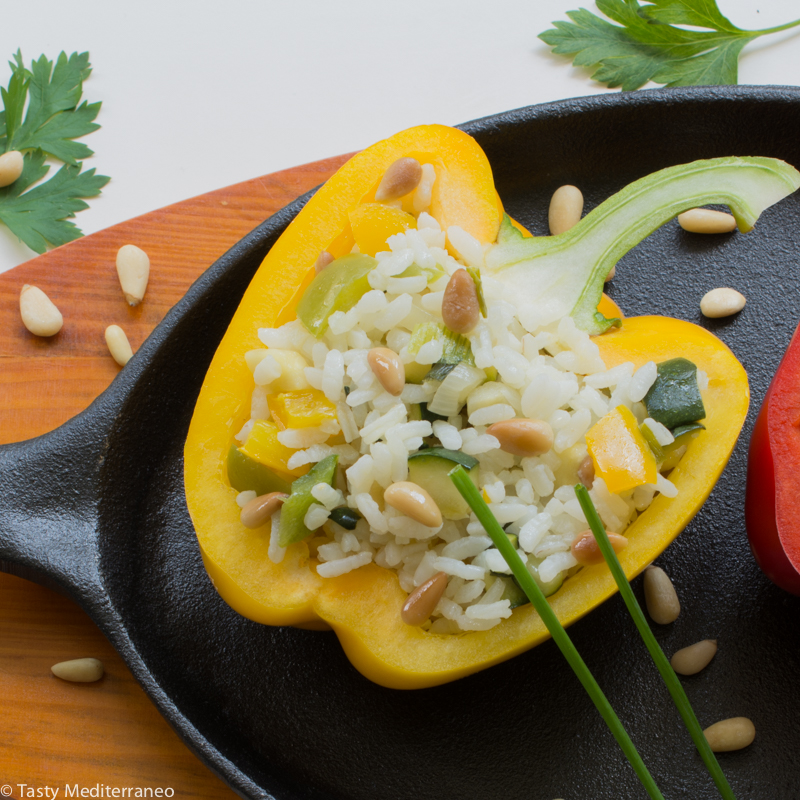 If you try this simple, healthy and nutritious stuffed peppers recipe, please let me know, leave a comment and rate it. I would love to know what you come up with!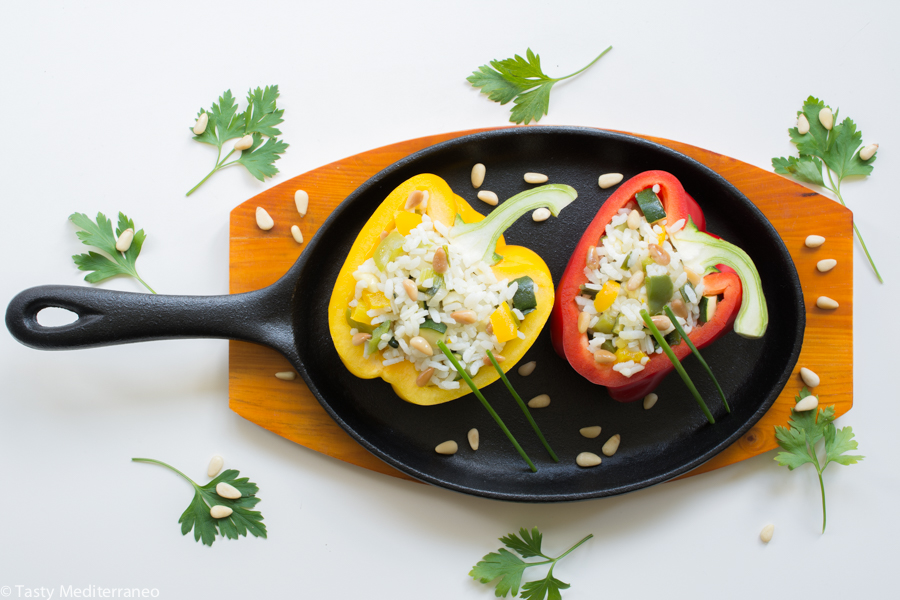 Rice, Vegetables & Pine Nuts Stuffed Peppers
Author:
Margarita @ Tasty Mediterraneo
Ingredients
2 Tablespoons extra virgin olive oil
10 Scallions, finely chopped
2 Red bell pepper, cored and cut in half
2 Yellow bell pepper, cored and cut in half +1 Yellow bell pepper, cored & diced
1 Green bell pepper, cored and diced
1 Zucchini, diced
2 Tablespoons pine nuts
300g (1 ½ cups) Arborio rice
Sea salt
Instructions
In a saucepan bring water to a boil (or preferably Vegetable Stock if you have it available), then add the rice and a spoon of salt and cook until the rice is done, preferably al dente. Drain the excess of water.
Have all the vegetables well washed and prepared as indicated in the ingredients description.
While the rice is cooking, heat 1 tablespoon extra virgin olive oil in a stir fry pan over medium heat, add the pine nuts and sauté for around 1 minute until golden. Add then the scallions, and the yellow and green bell peppers. Add 1 teaspoon salt (or salt to taste) and stir and cook for around 3 minutes until lightly soft but not brown.
Remove the stir fry pan from the heat. Add to the vegetable and pine nuts mix the drained rice and 1 tablespoon extra virgin olive oil. Mix it all together well.
Stuff the peppers with the rice mixture and serve.
Notes
If you do not like to have the bell peppers raw, and if it is not too hot where you live at this time of the year, you could put the stuffed peppers in the oven with some Parmesan cheese on top (non-vegan option) and heat them at 200°C (400° F) for around 15 minutes.