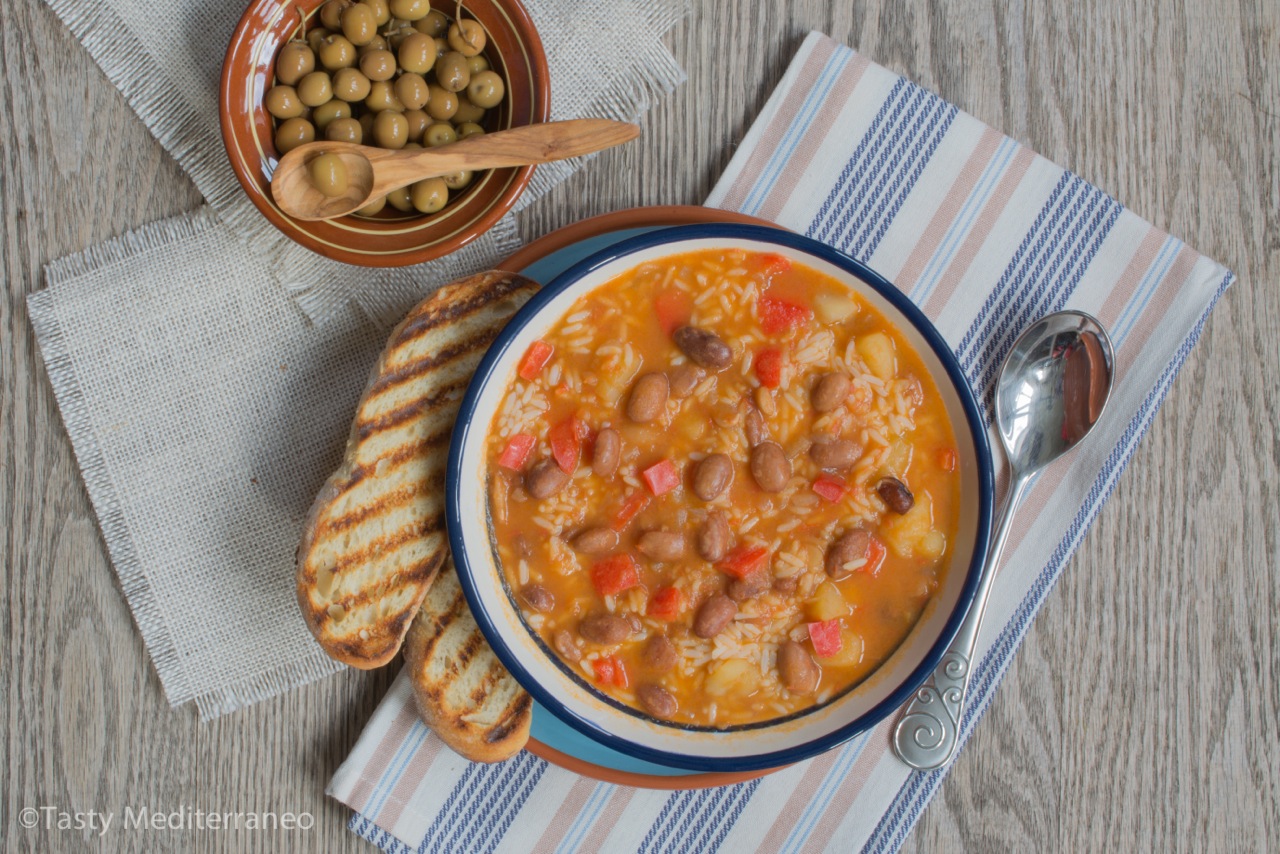 This pinto beans and rice soup recipe brings back very good memories from my childhood. This soup was one of my dad's favourite meals once the hot summer season had ended. I can perfectly remember his smile when he came home for lunch to discover that one of his favourite dishes was served at the kitchen table.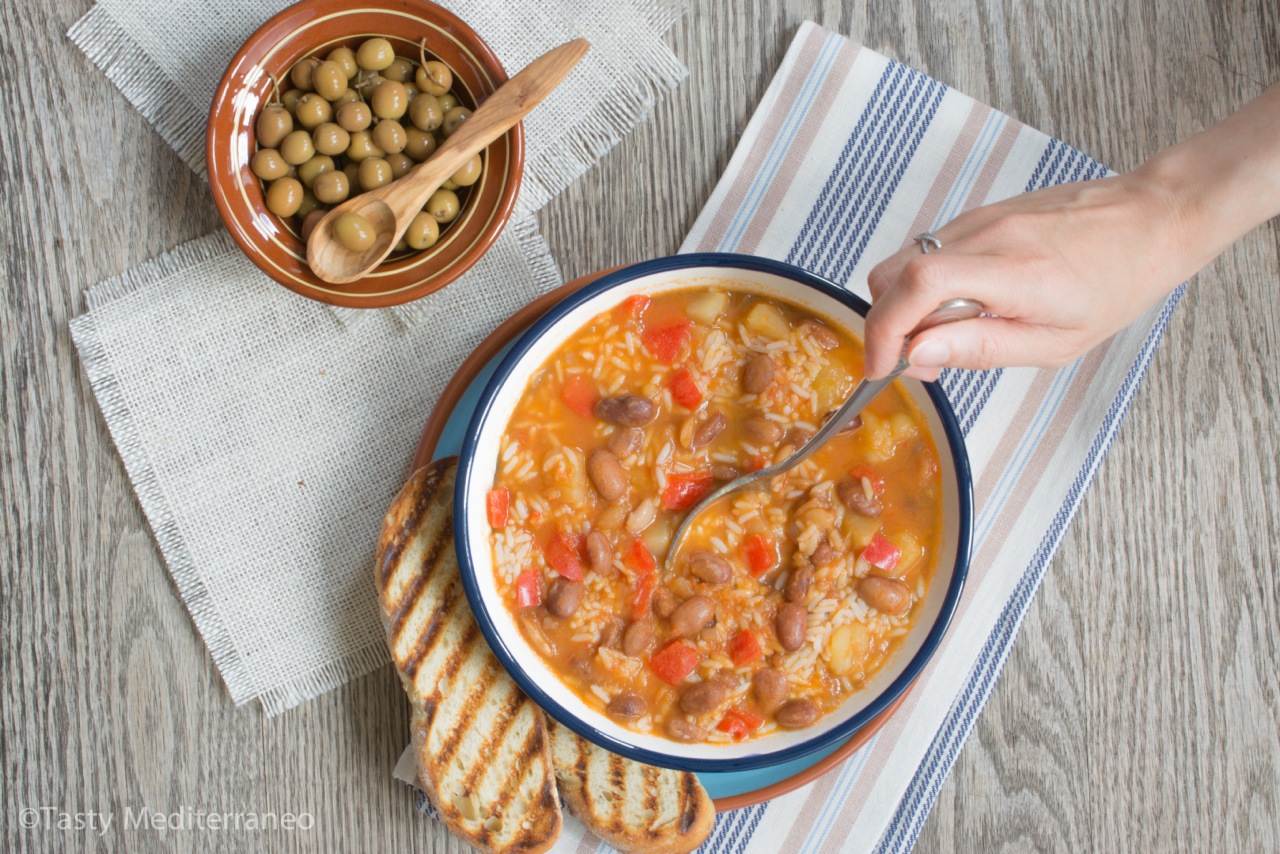 We were very lucky to have lunch all together every day. My mum worked at home and my dad's business was within a walking distance from our place, so we could enjoy lunch the Mediterranean way with the family and with enough time to savour every bite!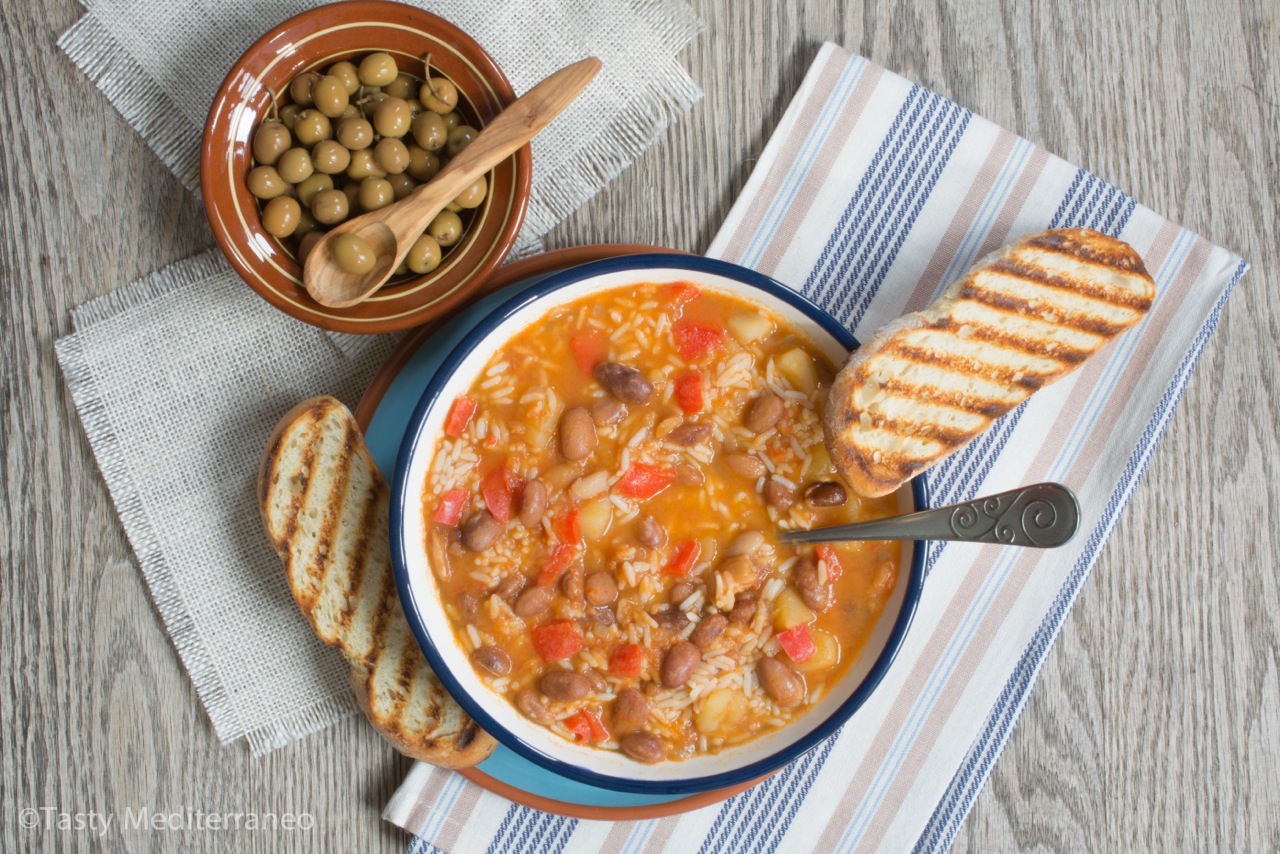 As you know pulses are a staple of the Mediterranean diet. They are good sources of plant-based proteins, amino acids, fibre, iron, B group vitamins and other nutrients that help prevent cancer, diabetes and heart diseases. They are low in fat, contain no cholesterol and so it is recommended to eat them as part of a healthy diet and to address obesity problems. They are a perfect addition to all sorts of dishes including soups and stews.
You can find plenty of pulses recipes on my blog under the category "Beans & other legumes"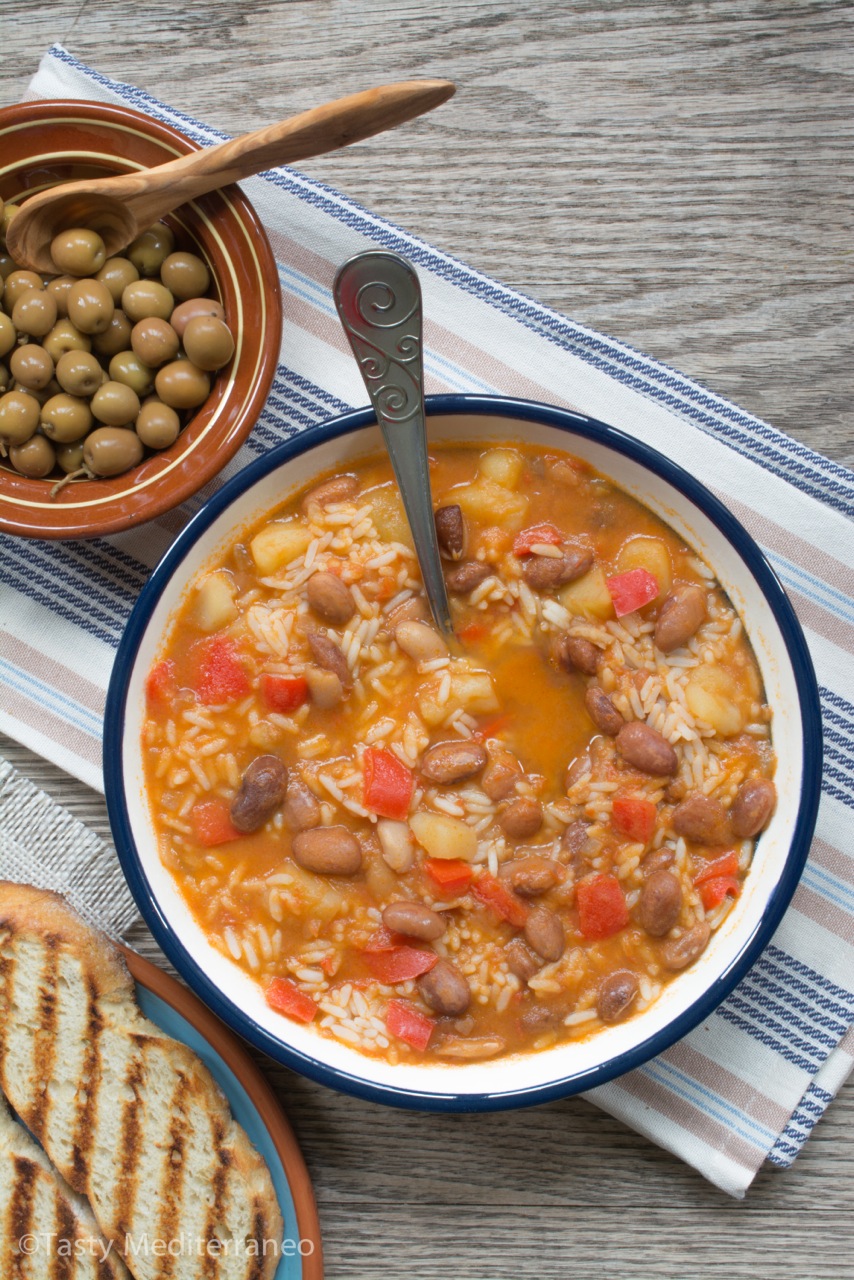 This pinto beans and rice soup recipe is a virtually fat free high quality protein meal. It is also a good source of folate, vitamins B1 and B6 and an excellent source of minerals such as iron, magnesium, manganese, phosphorus, copper and potassium.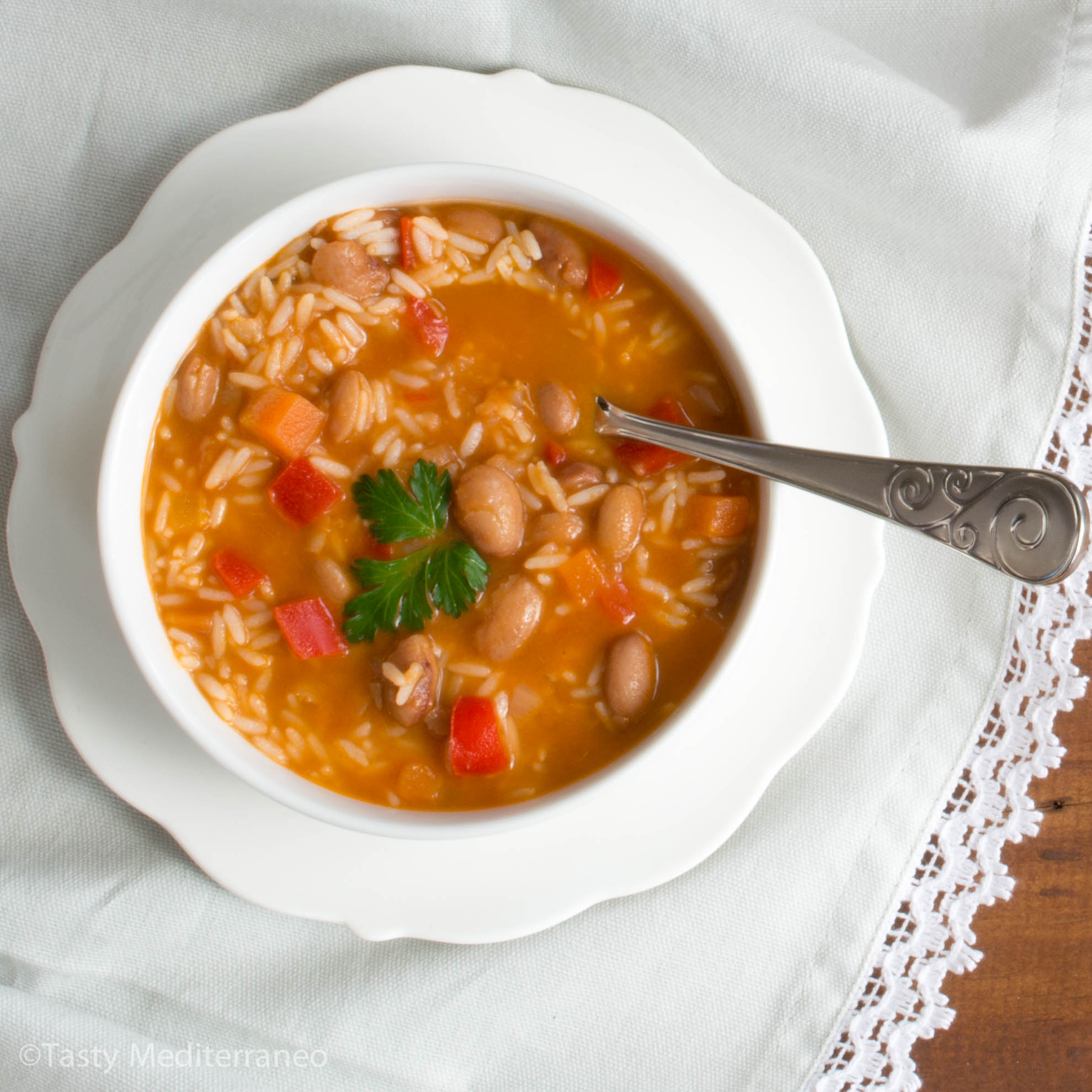 If you try this healthy and tasty vegan Mediterranean diet recipe of pinto bean and rice soup, please let me know, leave a comment and rate it. I would love to know what you come up with. Enjoy!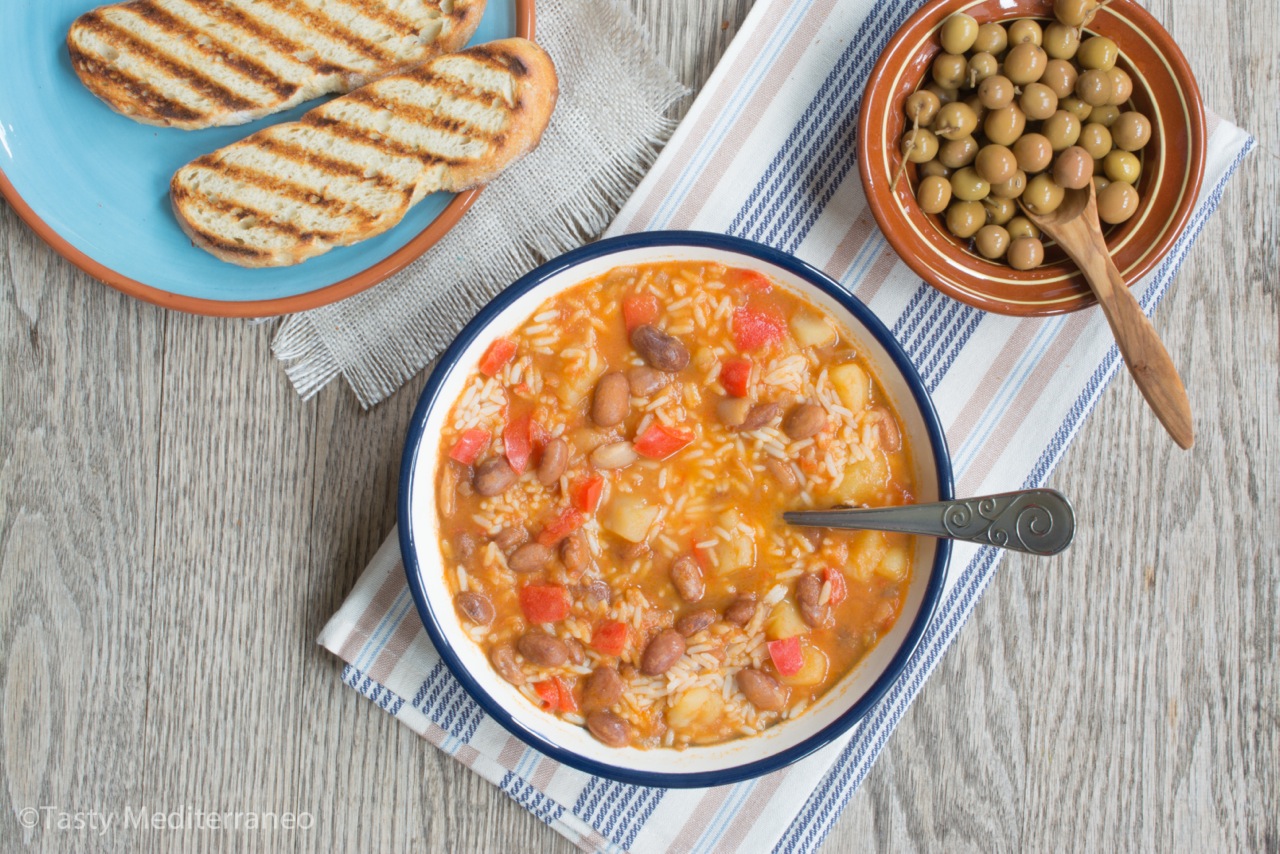 Pinto bean & rice soup
Author:
Margarita @ Tasty Mediterraneo
Cuisine:
Mediterranean Diet
Ingredients
360g (1⅔ cup) Dried pinto beans
2 Tablespoons extra virgin olive oil
1 Onion, peeled and finely chopped
1 Red bell pepper, cored and diced
1 Potato, peeled and diced
1 Garlic clove, peeled and thinly chopped
5 Ripe tomatoes, finely chopped
½ Tablespoon salt (or salt to taste)
1 ½ Litre (3 pints or 6 cups) water
150g (3/4 cup) Rice (ideally brown rice)
Instructions
Soak the pinto beans in cold water for 10 hours (ideally leave them soaked overnight). Rinse them well and drain.
Have the ingredients well washed and prepared as indicated in the ingredients description.
Heat the olive oil in a large saucepan. Add the garlic and sauté for 1 minute until lightly golden. Add then the onion, the red pepper and a pinch of salt and sauté for 2 more minutes until only lightly golden. Add then the potato and sauté over medium heat for around 7 minutes.
Reduce heat to low. Add the tomatoes, the drained pinto beans and stir. Cover with cold water and leave to cook, covered with a lid, at a medium-low heat for approximately 50 minutes or until the beans are almost done, stirring from time to time. Add salt and stir.
Add the rice and cook until the rice is done, preferably al dente. Remove from the heat and serve hot.
Notes
If you are using already cooked pinto beans, you could simply add the cooked beans into step number 4 and cook them only for about 10-15 minutes, following the rest of steps as indicated.