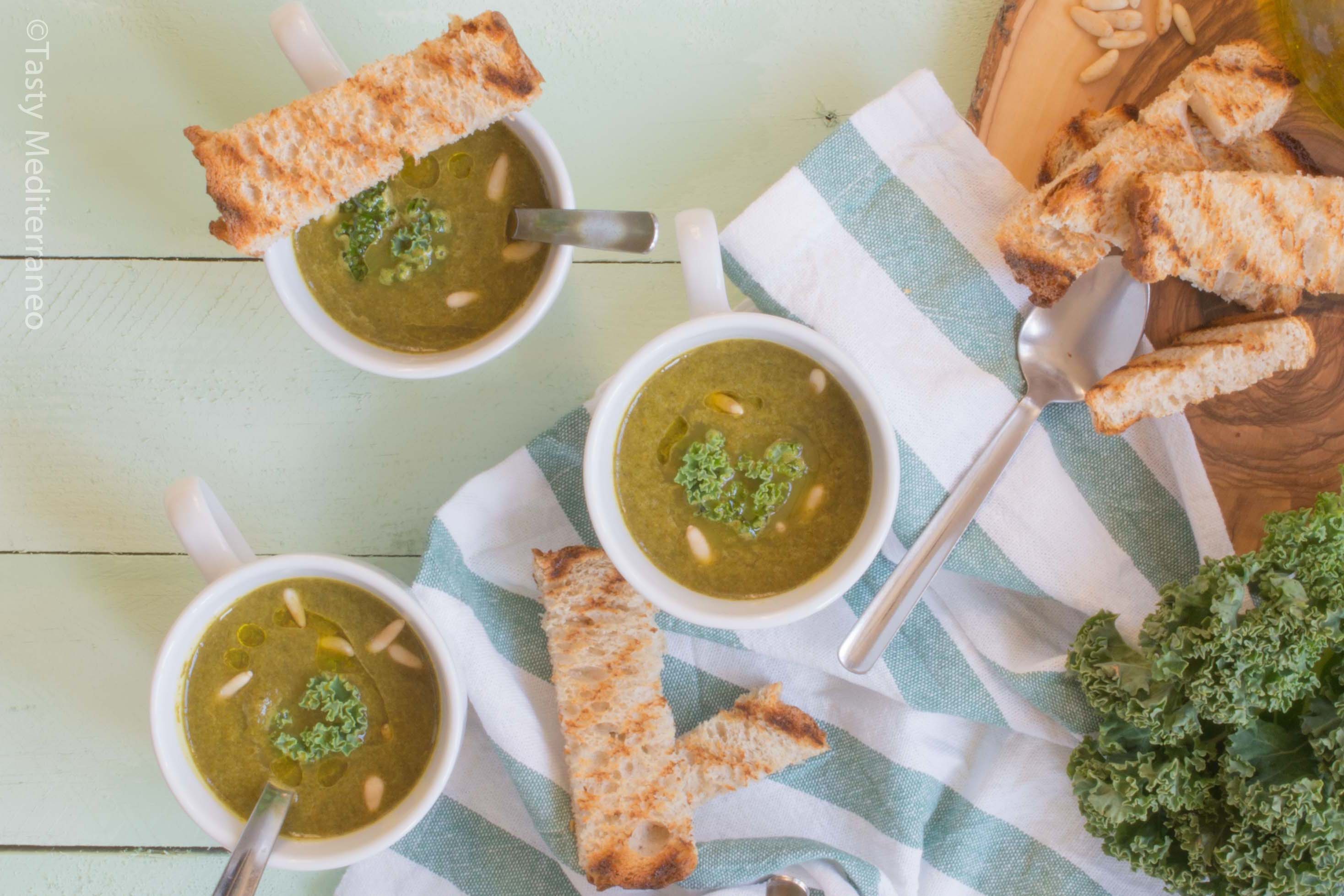 Don't you feel in need of a healthy reset after the Christmas feasts? I really do!
In Lebanon, at this time of the year, I feel we do nothing but eating.
Every time we go to pay a visit to our family members or friends, they will offer us food, regardless of the time of the day! They actually serve the food without asking first if you would like to eat, it is their hospitality tradition to feed their guests. But my stomach is not able to eat the whole day – nobody should eat that much food if they care about their health!
Personally I can only eat when I feel hungry, and that usually happens around breakfast, lunch and dinnertime, that is why out of those hours I refuse food as politely as I can.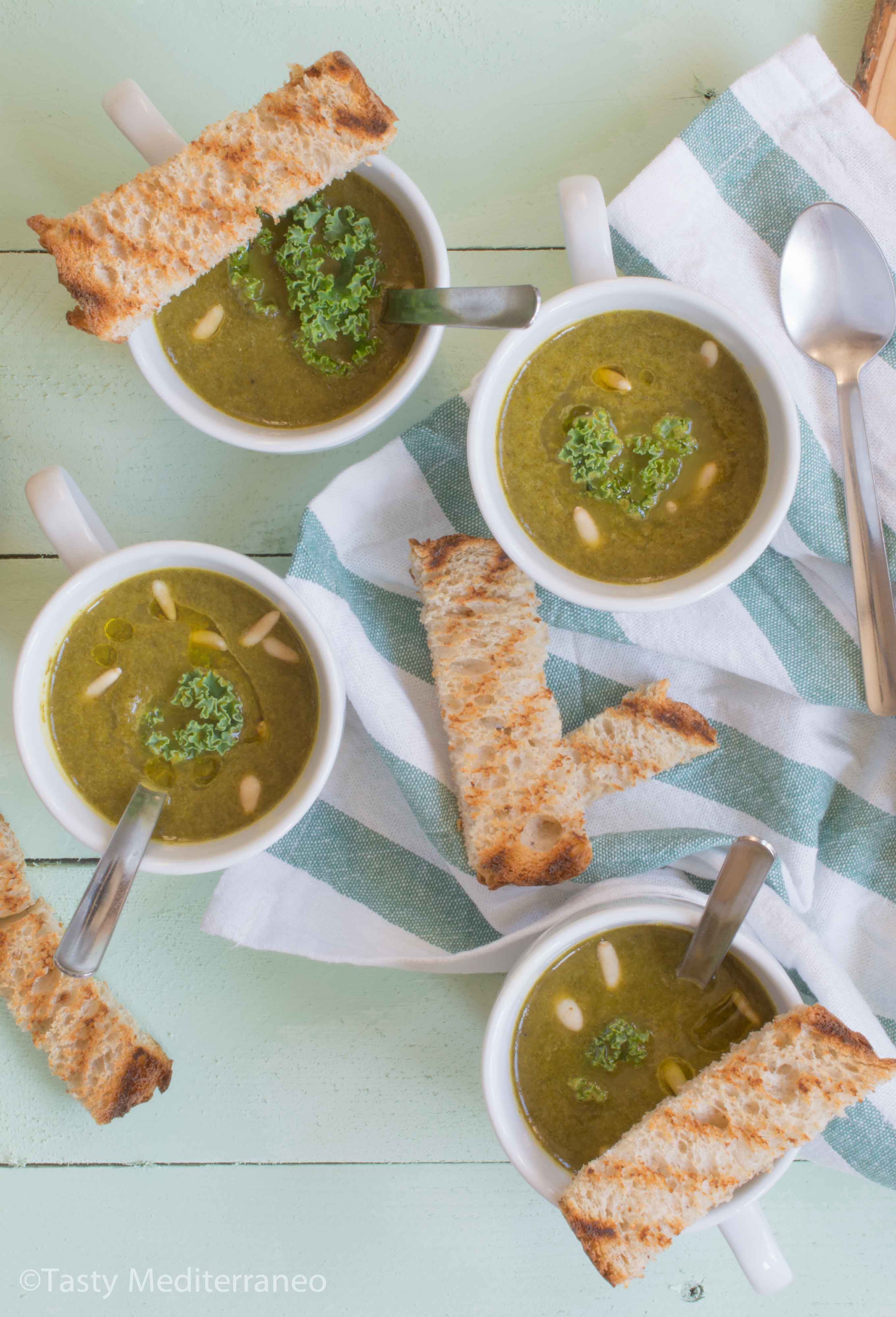 If you also feel that around Christmas you have eaten too much you will find in this Mediterranean kale soup a great way to reset.
As you know kale, as most of the cruciferous vegetables, is very high in antioxidants (carotenoids and flavonoids). We need a sufficient intake of antioxidants to avoid the oxidative stress and health problems related to oxidative stress. Kale is also rich in anti-inflammatory nutrients, fibre, folates, vitamin K, vitamin A, vitamin C, vitamin B6, calcium, magnesium, manganese, copper, calcium, …
Given the fact that oxidative stress and chronic inflammation are risks factors for cancer, the antioxidant and anti-inflammatory richness of kale and similar green leaf vegetables in a healthy and balanced diet help to keep you at a lower risk for cancer and other chronic diseases.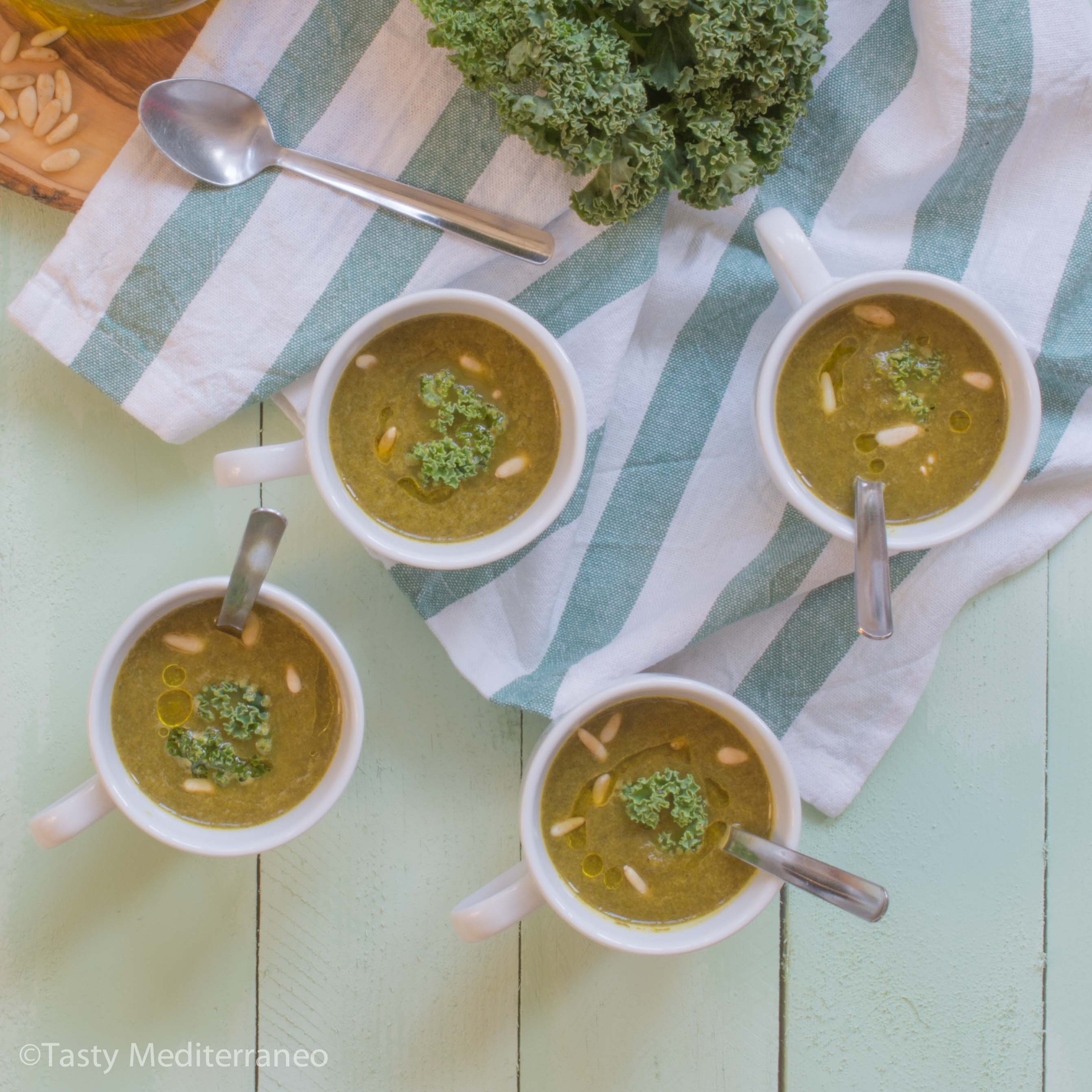 I hope you had a lovely Christmas and that you enjoy the last few days of the year!
The term "detox" means detoxification, which is a normal process carried out by the body (liver, kidneys, lungs, skin, colon) to remove toxic substances from the body such as ammonia, waste products and alcohol. Please, stay away from all the "Nutribabble" of diet supplements or foods that are sold to help you to detox such as juice cleanses and detox supplements and teas. Your body already takes care of detoxification and you only need good and nutritious real food.
If you try this tasty and healthy vegan Mediterranean diet recipe of Mediterranean kale soup please let me know, leave a comment and rate it. I would love to know what you come up with. Enjoy and best wishes for 2017!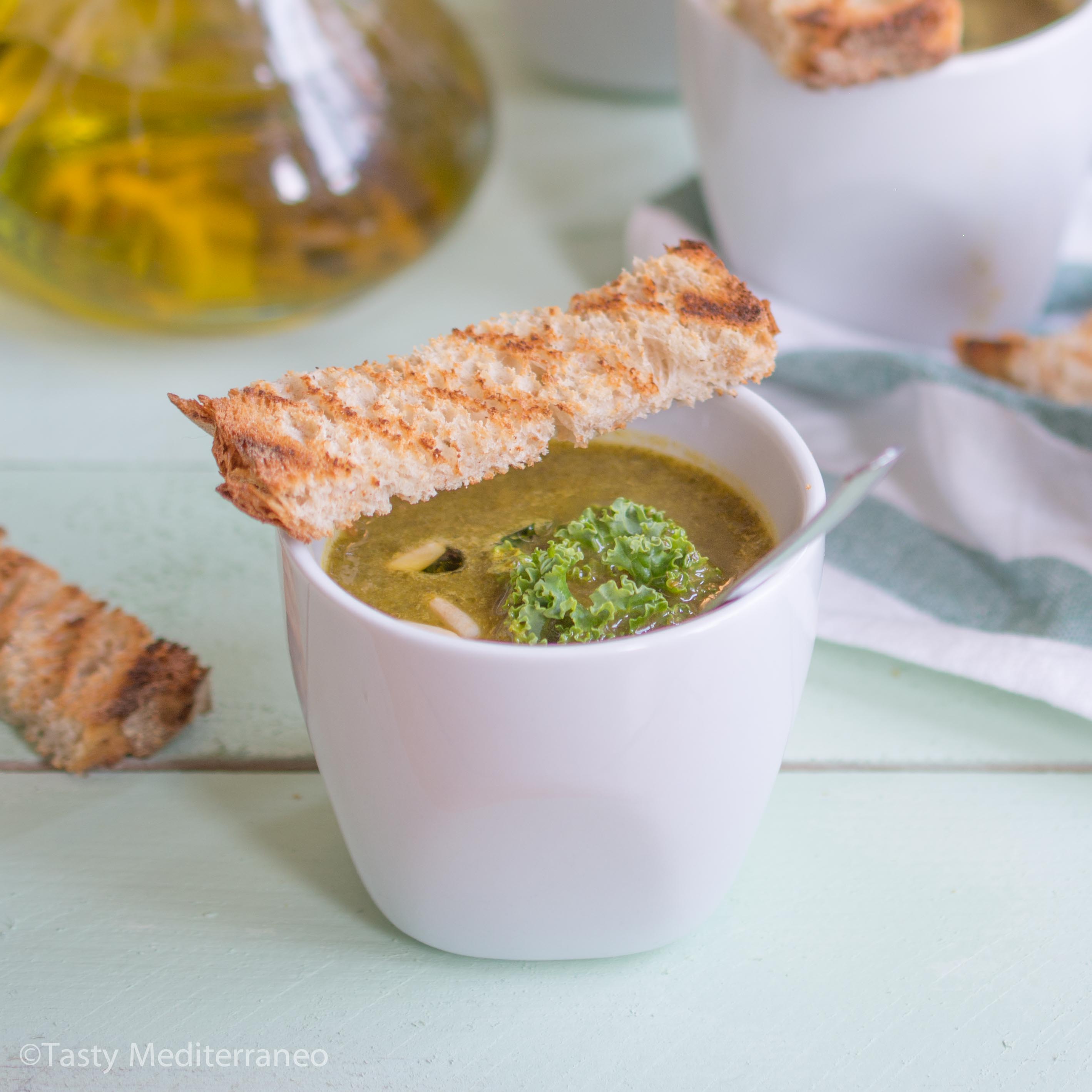 Mediterranean kale soup
Author:
Margarita @ Tasty Mediterraneo
Cuisine:
Mediterranean Diet
Ingredients
3 Tablespoons extra virgin olive oil
1 Medium onion, chopped
1 Garlic clove, chopped
3 Medium carrots, peeled and sliced
2 Medium potatoes, peeled and sliced
500g (2 ¼ cups) Kale leaves, finely chopped (thick stems removed)
1 l (2 pints) vegetable stock (or water)
1 Teaspoon sea salt (or salt to taste)
2 Tablespoons pine nuts
4 Teaspoons freshly squeezed lemon juice
Instructions
Have all the vegetables well washed and prepared as indicated in the ingredients description.
Heat 2 tablespoons of olive oil in a large saucepan over medium heat. Add the garlic and sauté for 1 minute until lightly golden. Add the onion and a pinch of salt and cook over a low heat, stirring frequently, for about 2 minutes.
Add the carrots and the potatoes and stir well all together for about 5 minutes until just beginning to colour.
Pour in the vegetable stock (or water), increase the heat to medium, and bring to a boil. Reduce the heat and simmer for 10 minutes. Add then the kale and the salt and simmer for 5 more minutes.
Remove the saucepan from the heat and with the help of a hand mixer (ideally a powerful one of at least 450 watt) mix it all well until perfectly combined.
Serve hot and garnish each serving with the rest of the EVOO, the freshly squeezed lemon juice and some pine nuts (raw or toasted). And optionally accompany it with some slices of toasted country bread.