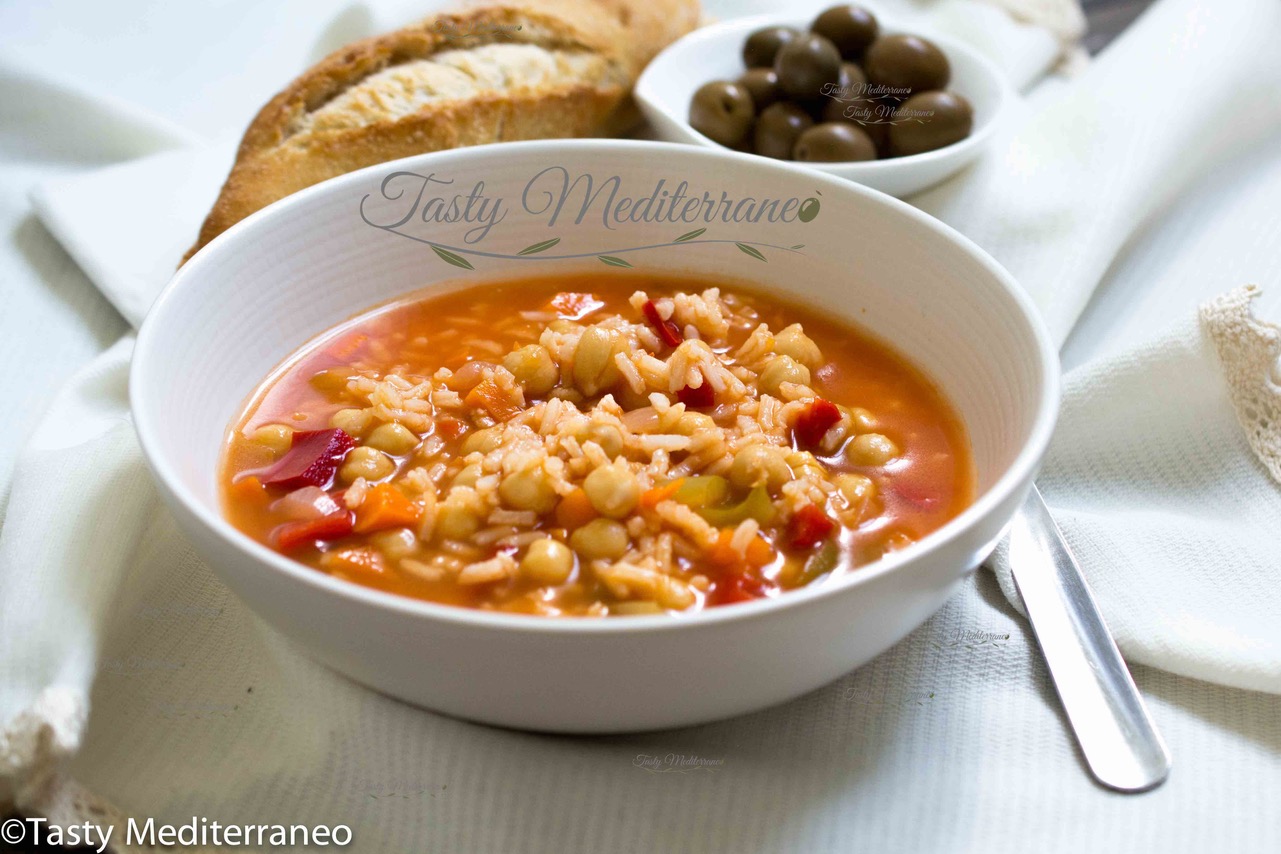 Being pregnant during COVID-19 is not easy. Pregnant women are at increased risk of severe morbidity and mortality from specific respiratory infections, this includes an increased risk of serious illness when infected with viruses in the same family as COVID-19.
In the 8th episode of Tasty Mediterraneo's podcast I interview Dr. Espinosa Director of the "Unidad de parto afectivo of the San Francisco de Asís Hospital" in Madrid and we talk about "COVID-19 and Pregnancy"
Tasty Mediterraneo's podcast is recorded in Spanish and if you understand it I'd highly encourage you to listen to it.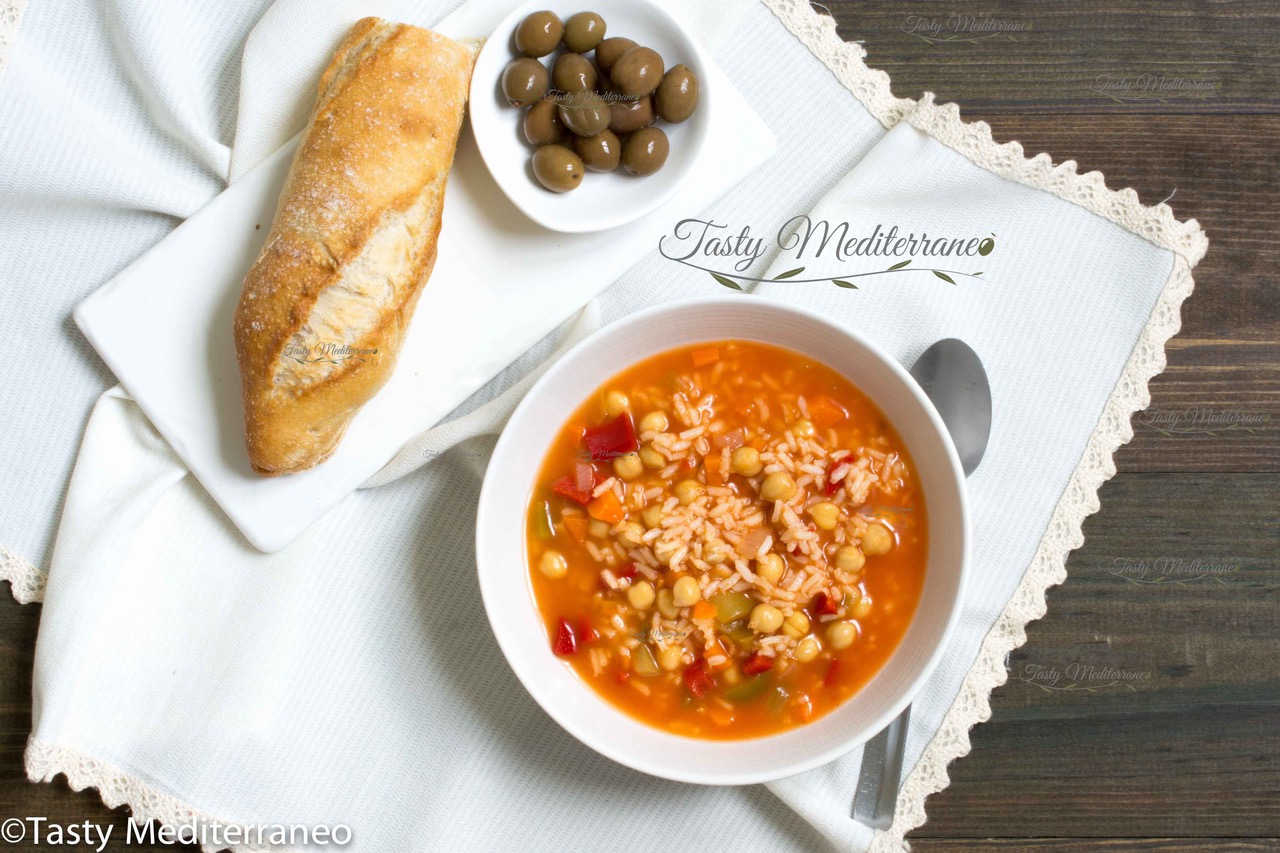 The recipe I share with you today, my "Mediterranean chickpea & rice soup" is a tasty vegan recipe highly nutritious. Pulses, because of their nutritional qualities, are very healthy and nutritious foods. In the context of a balanced diet, pulses are a key food to prevent non-communicable diseases (NCDs). Plus they are sustainable!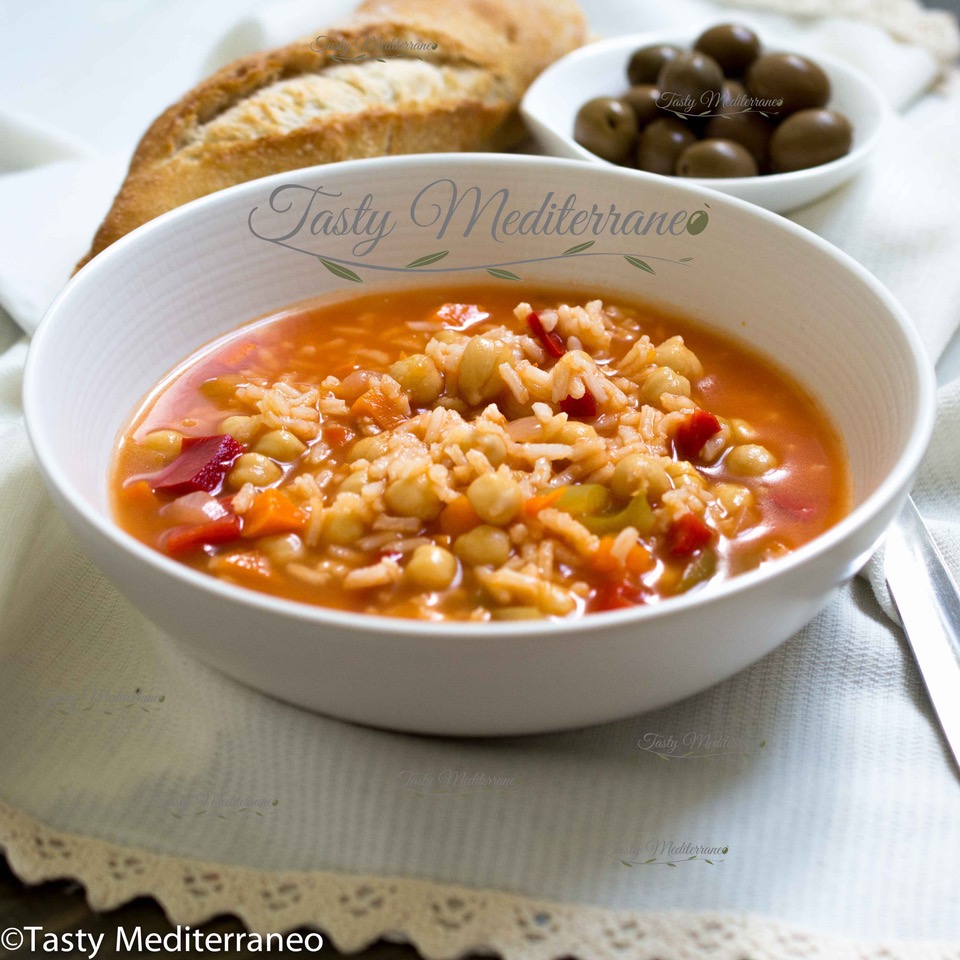 You can find plenty of tasty and nutritious vegetarian and vegan recipes from the Mediterranean Diet on my blog that are excellent for pregnant women.
If you try this tasty and nutritious vegan Mediterranean diet recipe of "Mediterranean chickpea & rice soup" please let me know, leave a comment and rate it. I would love to know what you come up with. Enjoy and happy healthy cooking!
Mediterranean chickpea & rice soup
Author:
Margarita @ Tasty Mediterraneo
Cuisine:
Mediterranean Diet
Ingredients
2 Tablespoons extra virgin olive oil
1 Garlic clove, peeled and finely chopped
1 Onion, peeled and finely chopped
2 Carrots, peeled and diced
1 Red bell pepper, cored and diced
1 Green bell pepper, cored and diced
6 Medium ripe tomatoes, thinly chopped. You could also use ½ l of tomato passata if tomatoes are not in season
500g (2 ½ cup) Boiled organic chickpeas in water, drained
1 ½ Litre (3 pints or 6 cups) water
½ Tablespoon sea salt (or salt to taste)
150g (3/4 cup) Rice (ideally brown rice)
Instructions
Have the ingredients prepared as indicated in the ingredients description.
Heat the olive oil in a large saucepan. Add the garlic clove and sauté over medium heat for around 1 minute until only lightly golden. Add the onion and the carrots and a pinch of salt and cook over a low heat, stirring frequently, for about 2 minutes until soft but not brown. Add then the green and red bell pepper and sauté over medium heat for around 2 more minutes. Add the tomatoes and sauté for a couple of minutes. Add the boiled chickpeas and cover them with water.
Cook it all together at low-medium heat for around 30 minutes and salt to taste.
Add the rice and cook until the rice is done, preferably al dente (look for the rice cooking instructions in the package). Remove from the heat and serve hot.
Notes
If you are not going to eat the soup immediately it is best to add the rice once you are ready to eat it.

You can also use 360g (1⅔ cup) dried chickpeas. If you are using dried chickpeas, soak the dried chickpeas in warm water for 10 hours. Ideally leave them soaked overnight. Rinse them well and drain. Bring water to a boil in a cooking pot and when the water is boiling add the drained chickpeas and leave them cooking over low heat, stirring occasionally, for 1-2 hours until tender.