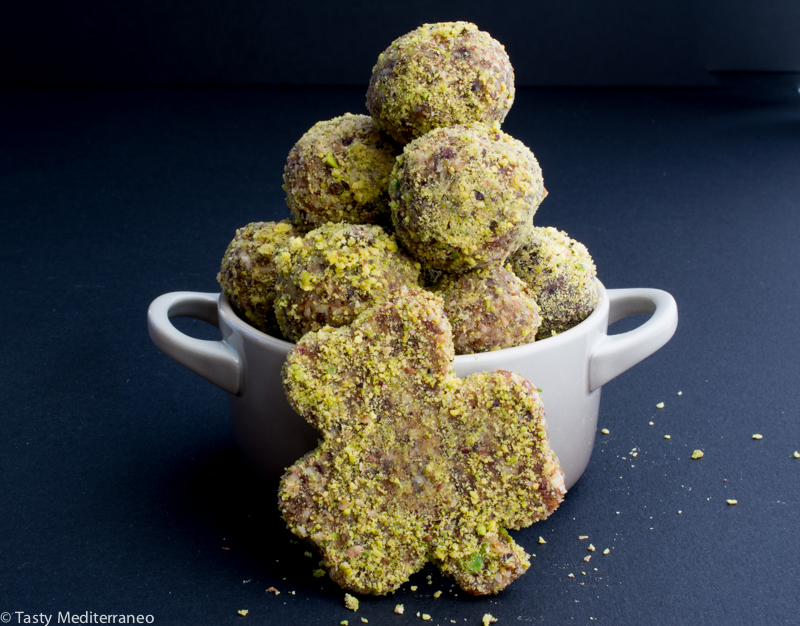 When was the last time that you tried to read the ingredients list placed on the label of a granola bar or any other kind of snack?
I know, when you take the time to read that label you find all sort of refined added sugars and unpronounceable preservatives. And that helps you understand why shortly after eating one of those snacks you feel hungry again and craving more sugar.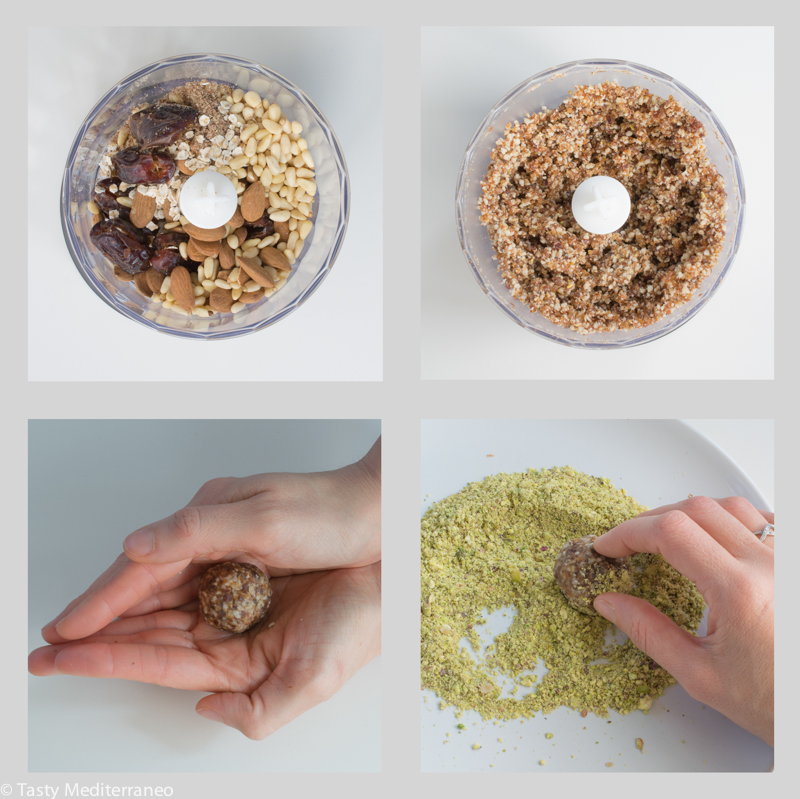 As I always say, it is very important to avoid refined and processed carbs and added sugars since they do not add any of the necessary fibre or nutrients to our diet, only the calories!
In order to avoid the sugar crash you would get from any artificially sweetened snack I propose to you these all-natural vegan and gluten free energy bites that are the perfect fuel for your post-workout nibble.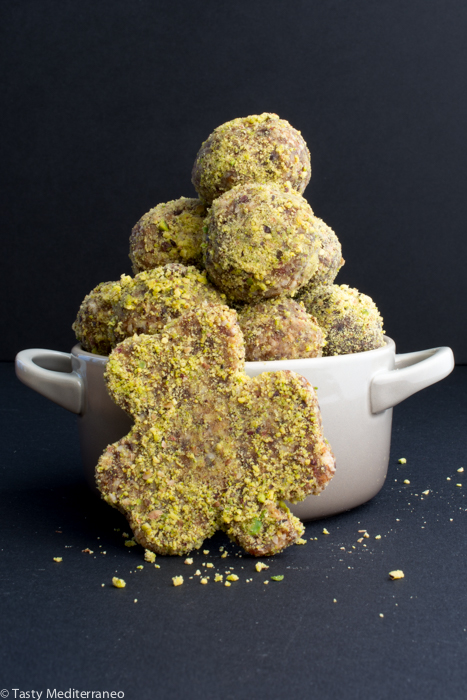 They contain almonds, pine nuts, dates, milled flax seeds, oats and pistachios what makes them rich in fibre, magnesium, iron, calcium, vitamins, Omega-3 essential fatty acid and protein. A great quick and filling snack full of goodness and natural sugars.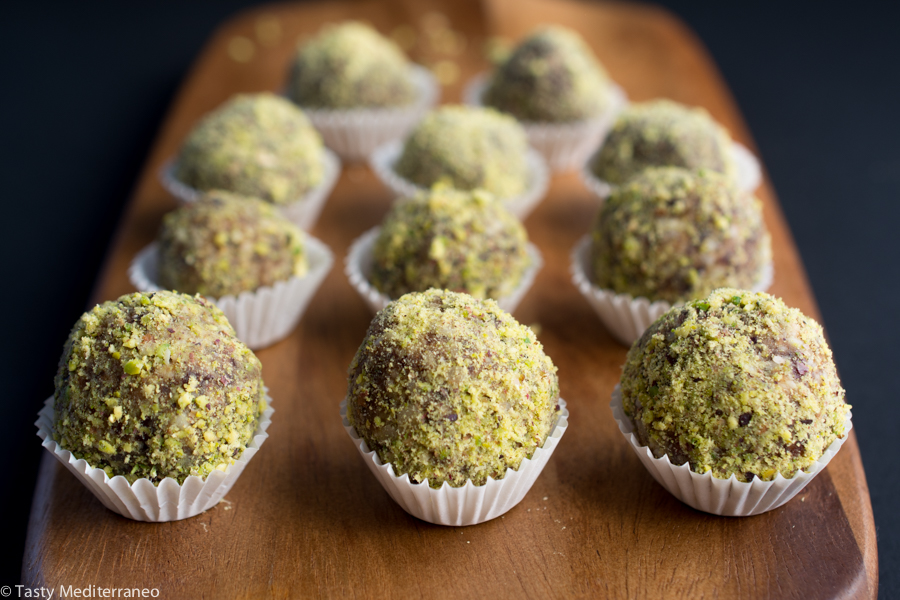 It only takes 10 minutes to make them, you just have to blend all the ingredients together in a food processor and work the dough with your hands into small balls, that's all!
I wish all my Irish friends happy St. Patrick's celebrations!
If you try this tasty and healthy vegan energy bite, please let me know, leave a comment and rate it. I would love to know what you come up with. Enjoy!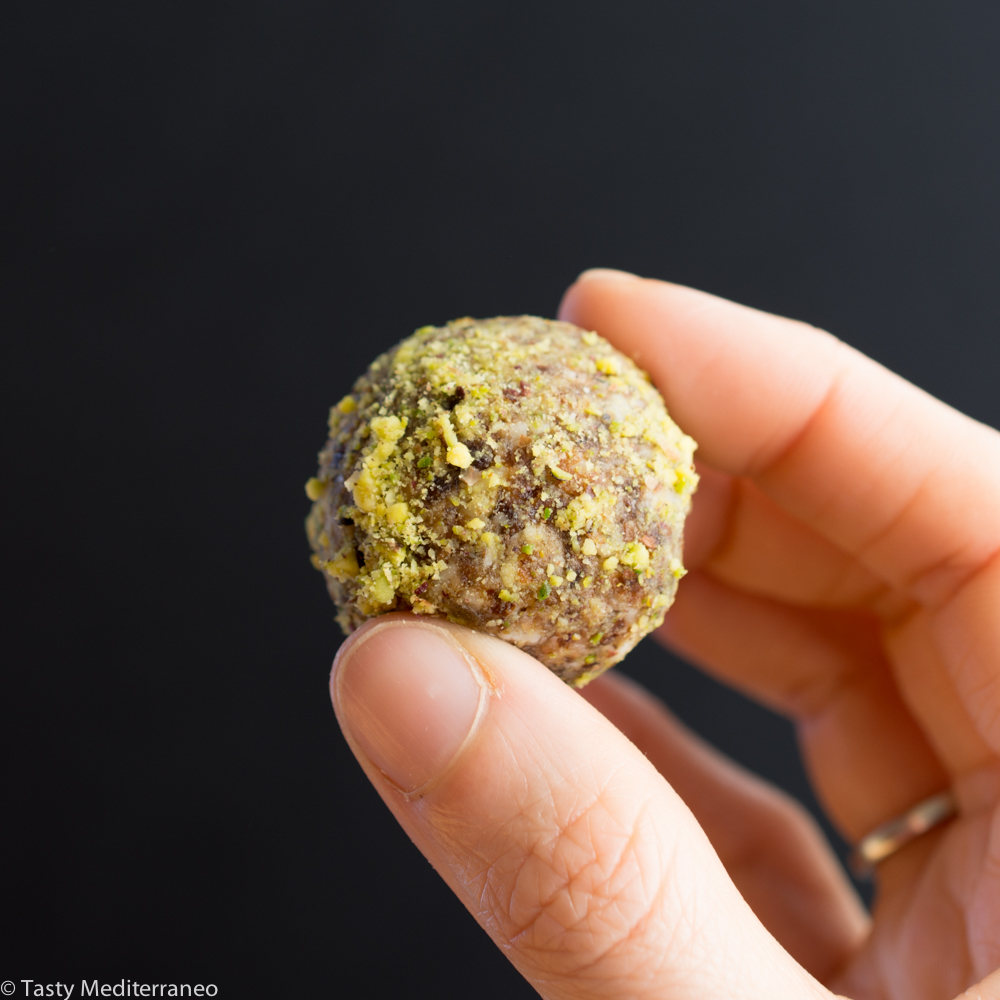 Healthy energy bites
Author:
Margarita @ Tasty Mediterraneo
Cuisine:
Mediterranean Diet
Ingredients
150g (1 cup) Pitted dried dates
60g (1/2 cup) Raw almonds
40g (1/4 cup) Raw pine nuts
1 Tablespoon milled flaxseeds
2 Tablespoon organic porridge oats
35g (1/4 cup) Raw Pistachios, coarsely ground
Instructions
Add the dates, almonds, pine nuts, milled flaxseeds and porridge oats into a food processor and mix until well incorporated.
To make the energy balls, roll about a tablespoon of the mix between your palms until you get a bite-size ball. Repeat the same process with the rest of the dough.
Put the ground pistachios onto a plate and coat each of the balls in them.
Notes
If you would rather make bars instead of balls, spread the mixture into a tray and cut it into squares.

Store them in the fridge where they will keep for a few days. You can also freeze them.