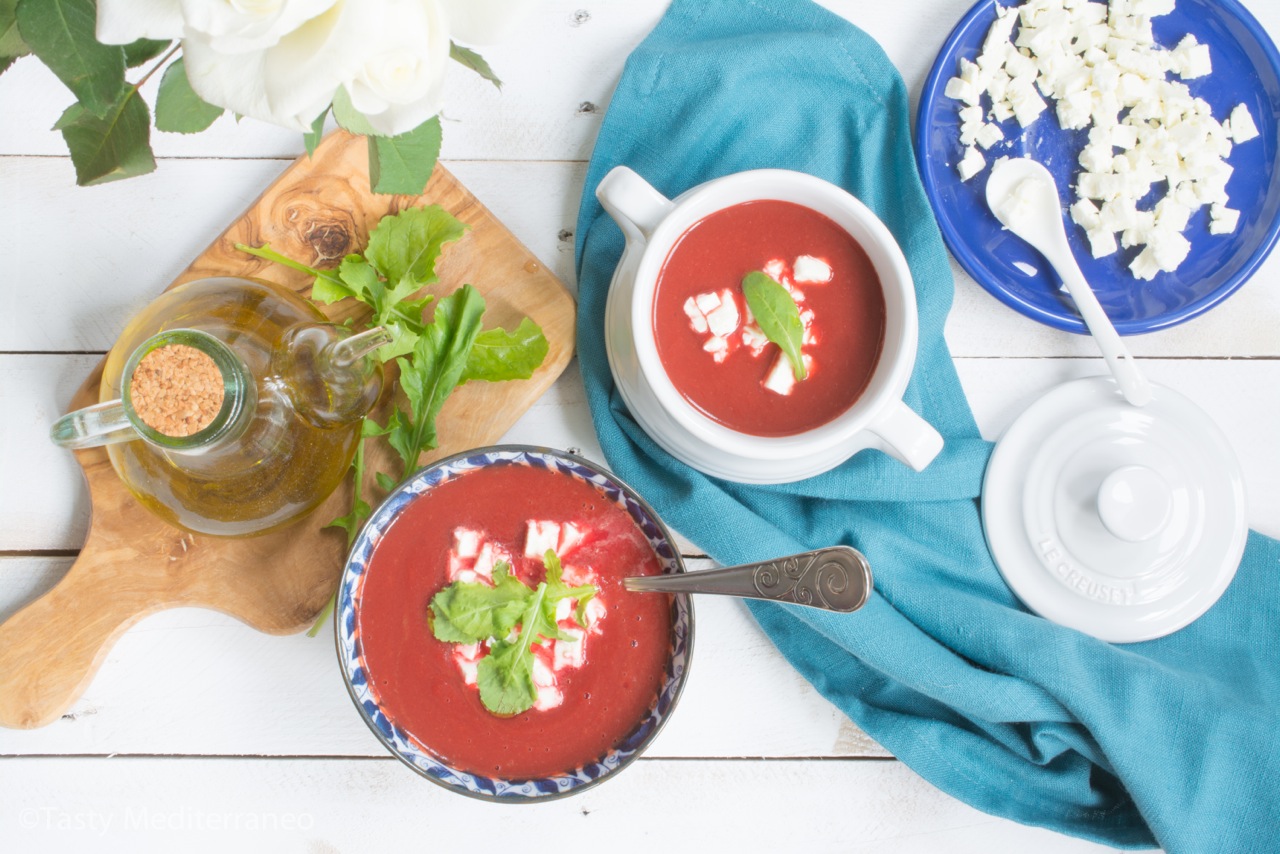 There is nothing better than a big bowl of nutritious comfort food on a cold night!
The weather has been quite cold lately in Dublin, and this is why I am sharing with you today another healthy, tasty and warming Mediterranean soup recipe, my "Beetroot soup with feta & arugula topping".
Beetroot is a highly nutritious root vegetable. It is rich in fibre and helps promote regularity for a healthy digestive tract. It is also rich in anti-inflammatory and anti-oxidant compounds as well as rich in vitamins and minerals (Folate (B9), potassium, manganese, iron, vitamin C…).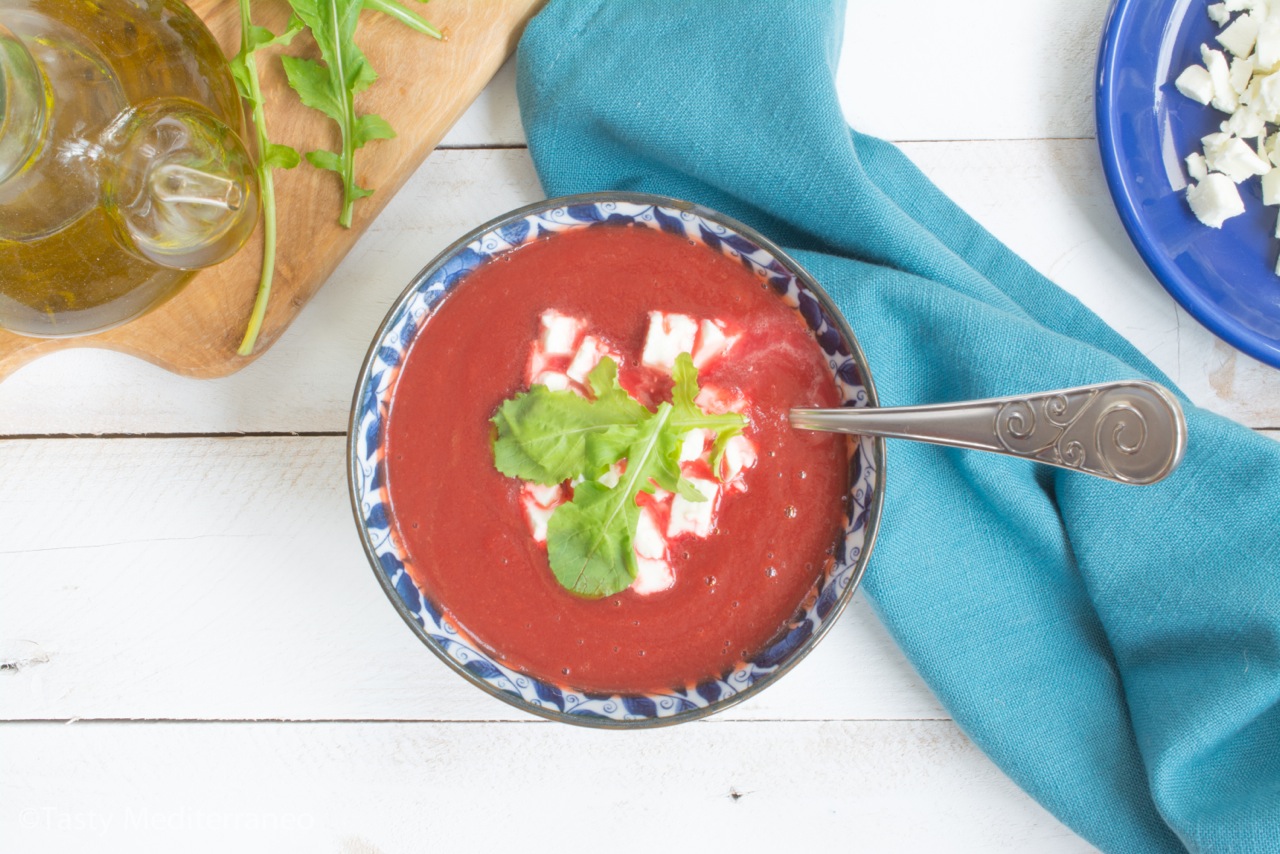 If you like beetroot you have to try this soup, it is a very simple and comforting soup that is ready in less than 30 minutes, which makes it perfect for the busy weeknights.
For a vegan version of this soup you could replace the feta cheese with roasted cashew nuts.
If, like me, you like to keep warm with a hearty and delicious soup, you can find plenty of nutritious and warming Mediterranean diet soups and stews on Tasty Mediterraneo.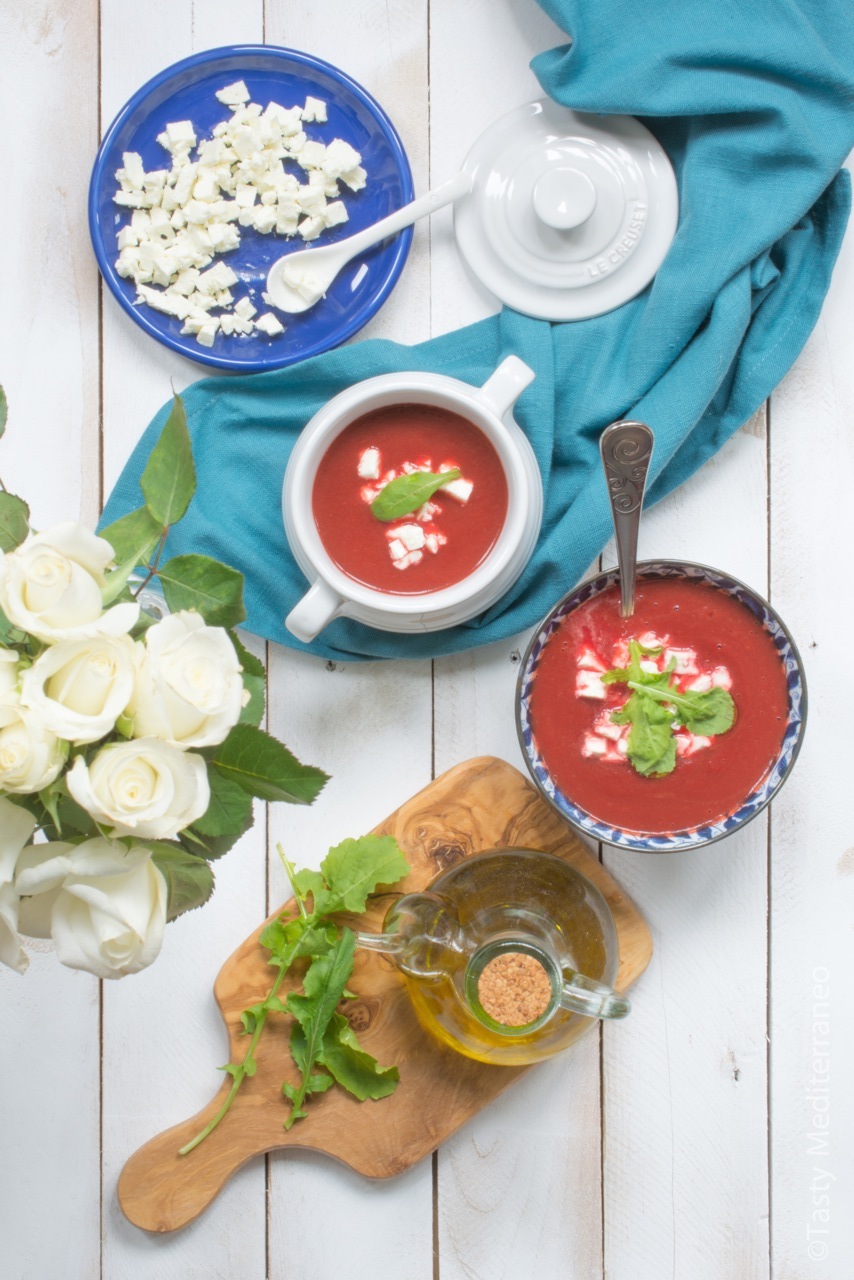 I know it is a bit early for the festive season, but if you are already thinking about getting new ideas for your Christmas menu, this beetroot soup is a great first dish to have in mind.
If you try this tasty and healthy vegetarian Mediterranean diet recipe of beetroot soup with feta & arugula topping please let me know, leave a comment and rate it. I would love to know what you come up with. Enjoy!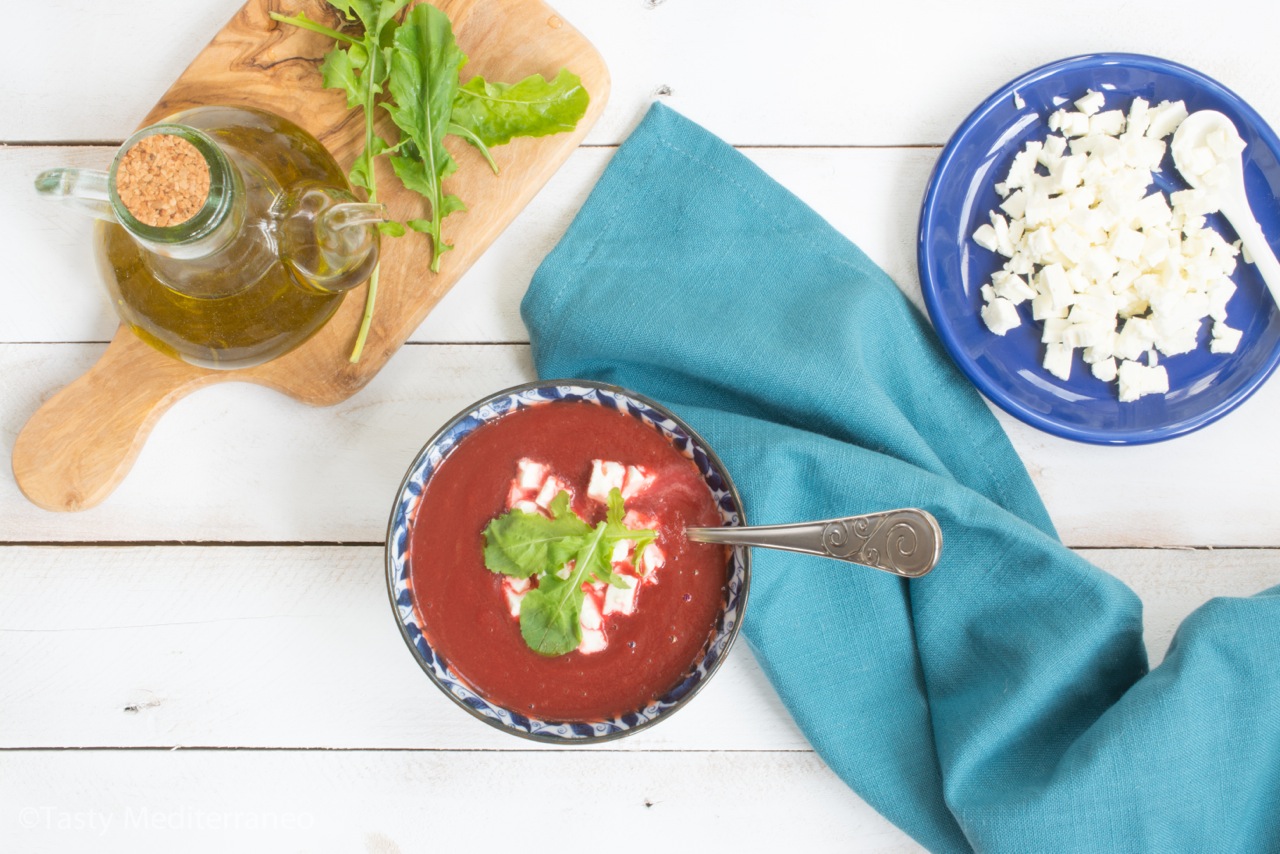 Beetroot soup with feta & arugula
Author:
Margarita @ Tasty Mediterraneo
Cuisine:
Mediterranean Diet
Ingredients
2 Tablespoons extra virgin olive oil (EVOO)
500g (2 ½ cups) Organic cooked beetroot (vac-packed and not in vinegar), chopped into small dices
2 Carrots, peeled and diced
1 Medium potato, peeled and diced
1 White onion, peeled and finely chopped
3 Garlic cloves, peeled and thinly chopped
1 Teaspoon sea salt (or salt to taste)
Freshly grounded black pepper
For the topping
120g (1 cup) Feta cheese, crumbled
2 Small batch arugula, chopped
Instructions
Have all the vegetables well washed and prepared as indicated in the ingredients description.
Heat the olive oil in a large saucepan over medium heat. Add the garlic and sauté for 1 minute until lightly golden. Add then the onion, the carrots and a pinch of salt and sauté for 2 more minutes until only lightly golden. Add then the diced potato and 2 tablespoons of the vegetable stock (or water if not available) and sauté for about 7 minutes. Add then the cooked beetroot dices and cover with the rest of the vegetable stock, add one teaspoon sea salt (or salt to taste), bring to a boil over medium heat and when it has reached a boil remove the saucepan from the heat.
With the help of a hand mixer (ideally a powerful one of at least 450 watt) mix it all well until perfectly combined. Serve hot, sprinkle some feta cheese and arugula and add some freshly grounded black pepper to taste.
Notes
If you use raw beetroots, to cook them steam them for about 20 minutes until you are able to pierce them easily with a fork. When peeling them, a good way to avoid the stains in your hands is to previously rub your hands with a few drops of olive oil.