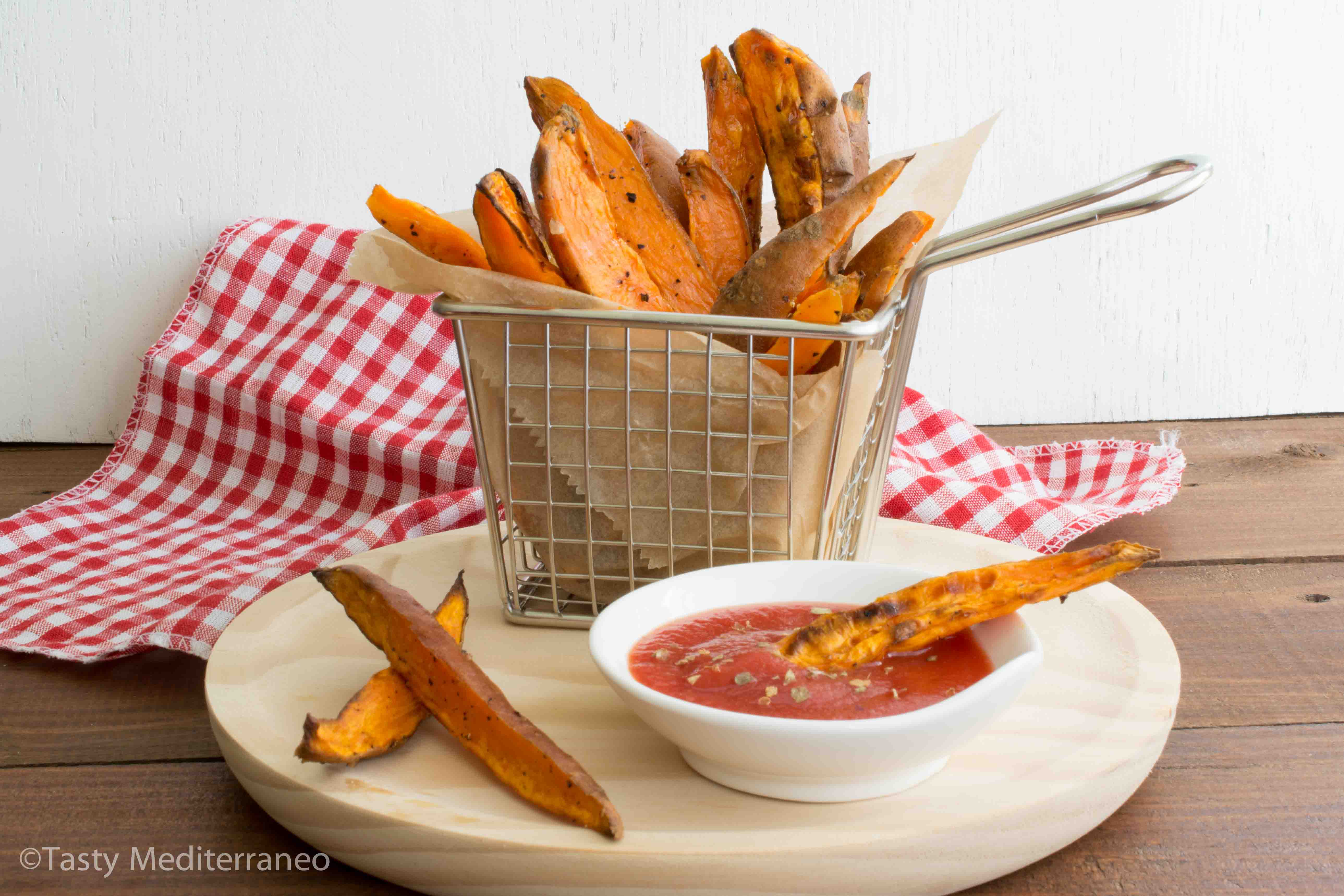 Sweet potatoes pack a powerful nutritional punch and have plenty of antioxidant and anti-inflammatory benefits.
They are packed with vitamin A (in the form of beta-carotene) and C, and they are a good source of fibre, manganese, copper, phosphorus, calcium and potassium.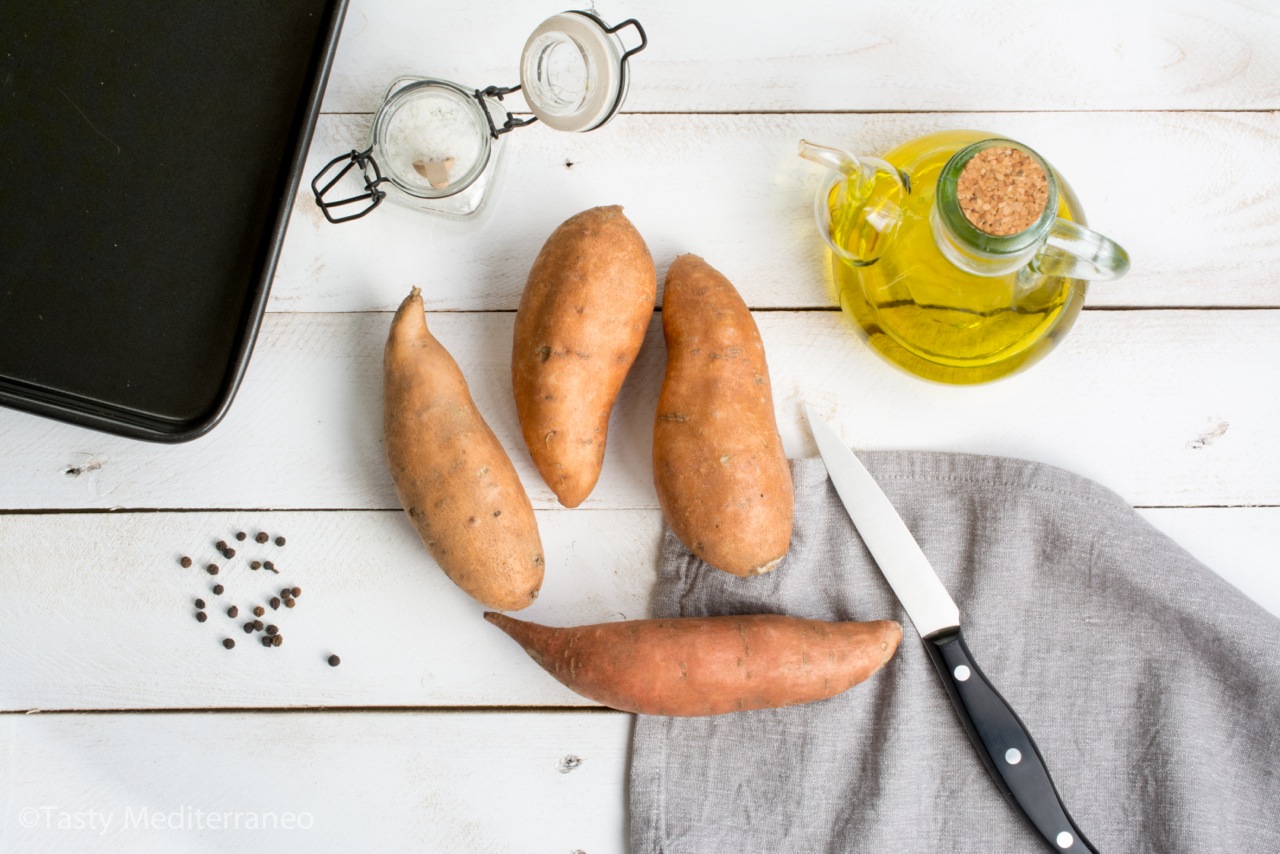 Many studies have suggested that increasing consumption of plant foods, like sweet potatoes and others, has long been associated with a reduced risk of many lifestyle related health conditions.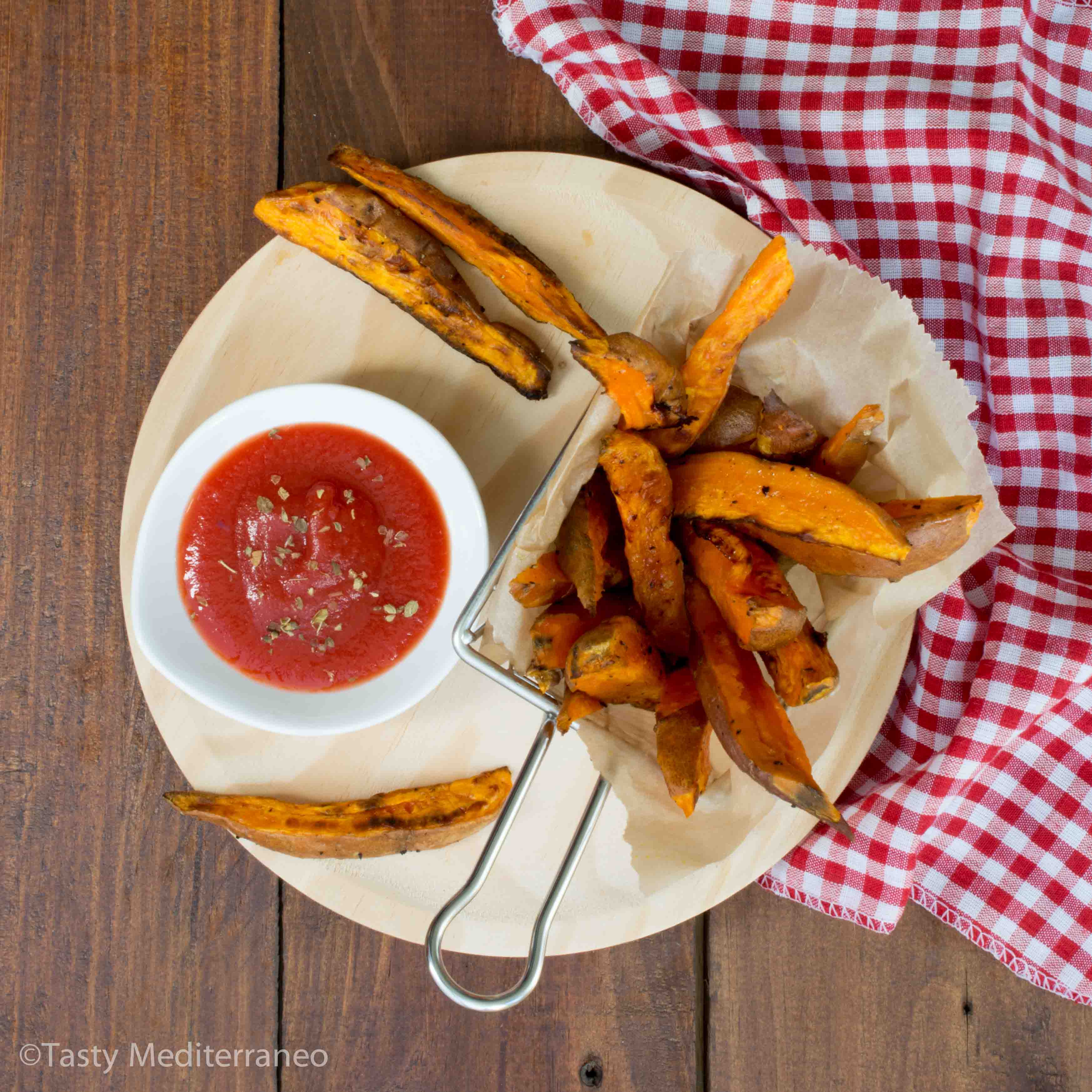 To cut down on calories, instead of deep-frying the sweet potatoes wedges I like to bake them in the oven. These sweet potato fries are perfect as a side dish for anything but also great as a healthy snack to dip in your favourite dipping sauce.
Personally I like to dip them into my "Tomato & red pepper sauce" recipe with a bit of dried oregano added to the sauce.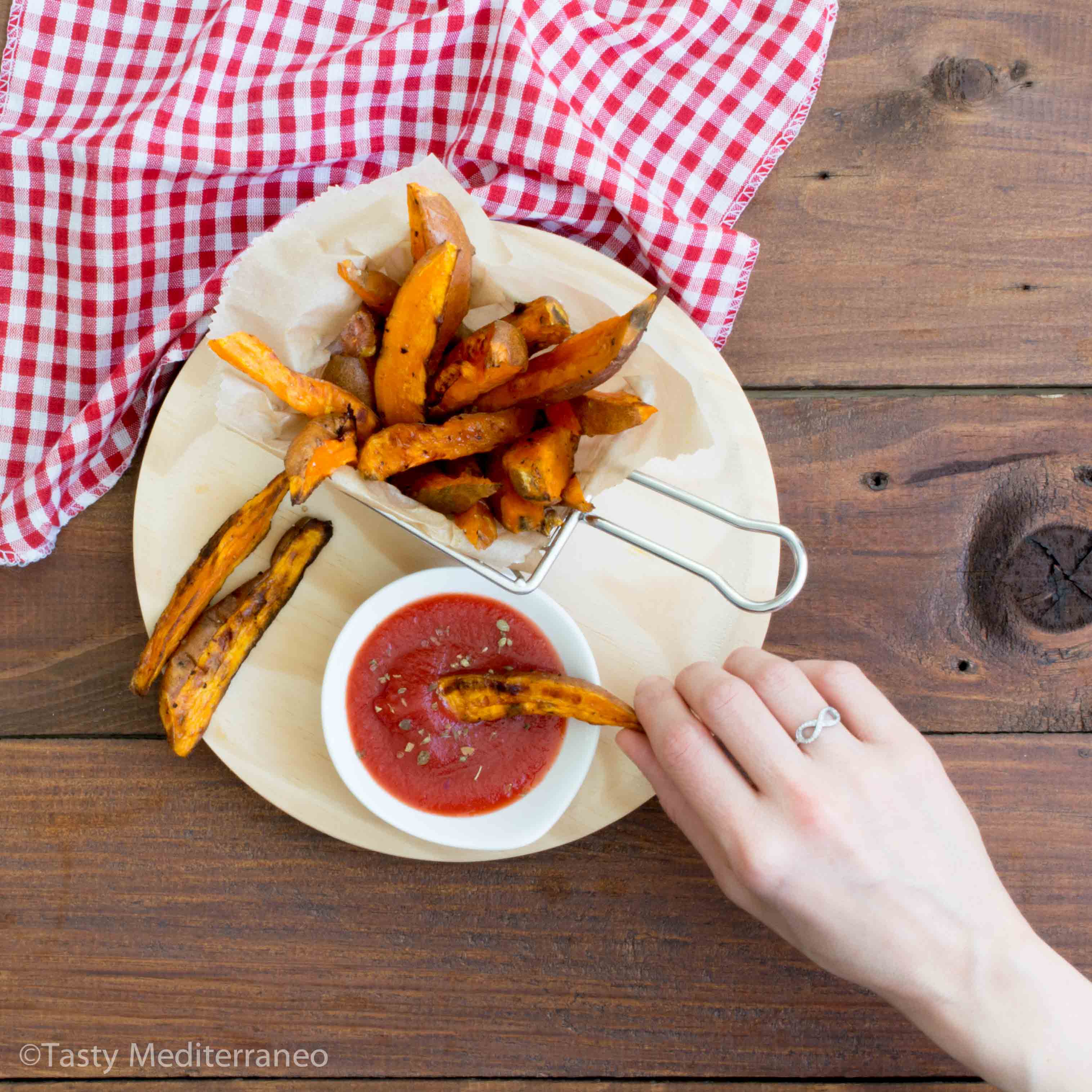 If you try this healthy and nutritious vegan Mediterranean diet recipe of baked sweet potato fries, please let me know, leave a comment and rate it. I would love to know what you come up with. Enjoy!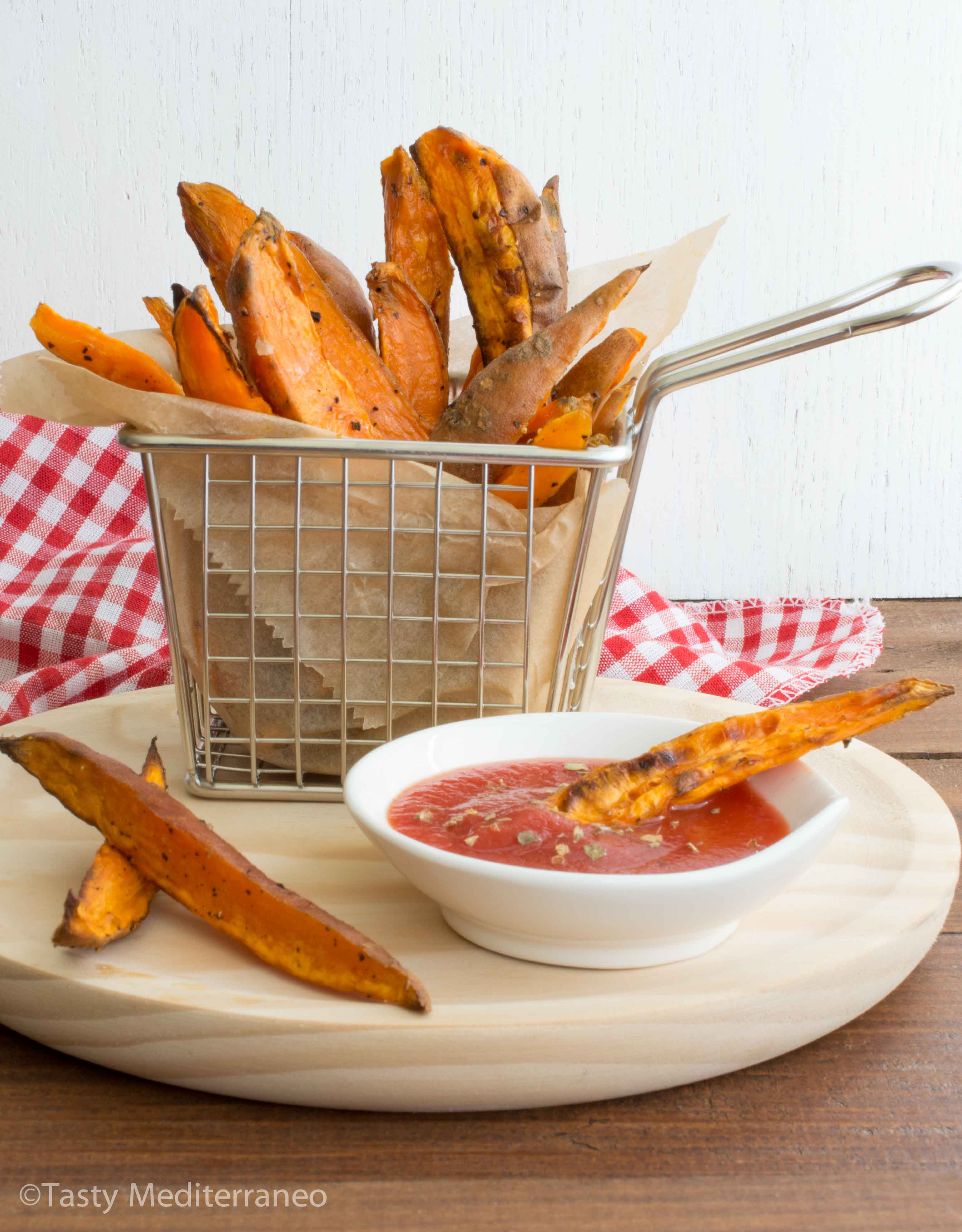 Baked sweet potato fries
Author:
Margarita @ Tasty Mediterraneo
Cuisine:
Mediterranean Diet
Ingredients
5 Organic sweet potatoes
2 Tablespoons extra virgin olive oil (EVOO)
½ Teaspoon sea salt flakes (or salt to taste)
Freshly ground black pepper to taste
Instructions
Scrub the potatoes clean to get rid of any dirt and get rid of any gnarly bits. There is no need to peel them if you are using organic sweet potatoes. Cut the potatoes into wedges.
Preheat the oven to 200 degrees C (400 degrees F) and line a large baking tray with parchment.
In a large bowl toss the sweet potato wedges with the EVOO, the sea salt flakes and the freshly ground black pepper.
Spread the sweet potato wedges into a single layer in the baking tray making sure there is enough space between one wedge potato and the other. Then bake, turning occasionally, for approximately 30 minutes until golden and cooked through.
Let them cool for a couple of minutes before serving.