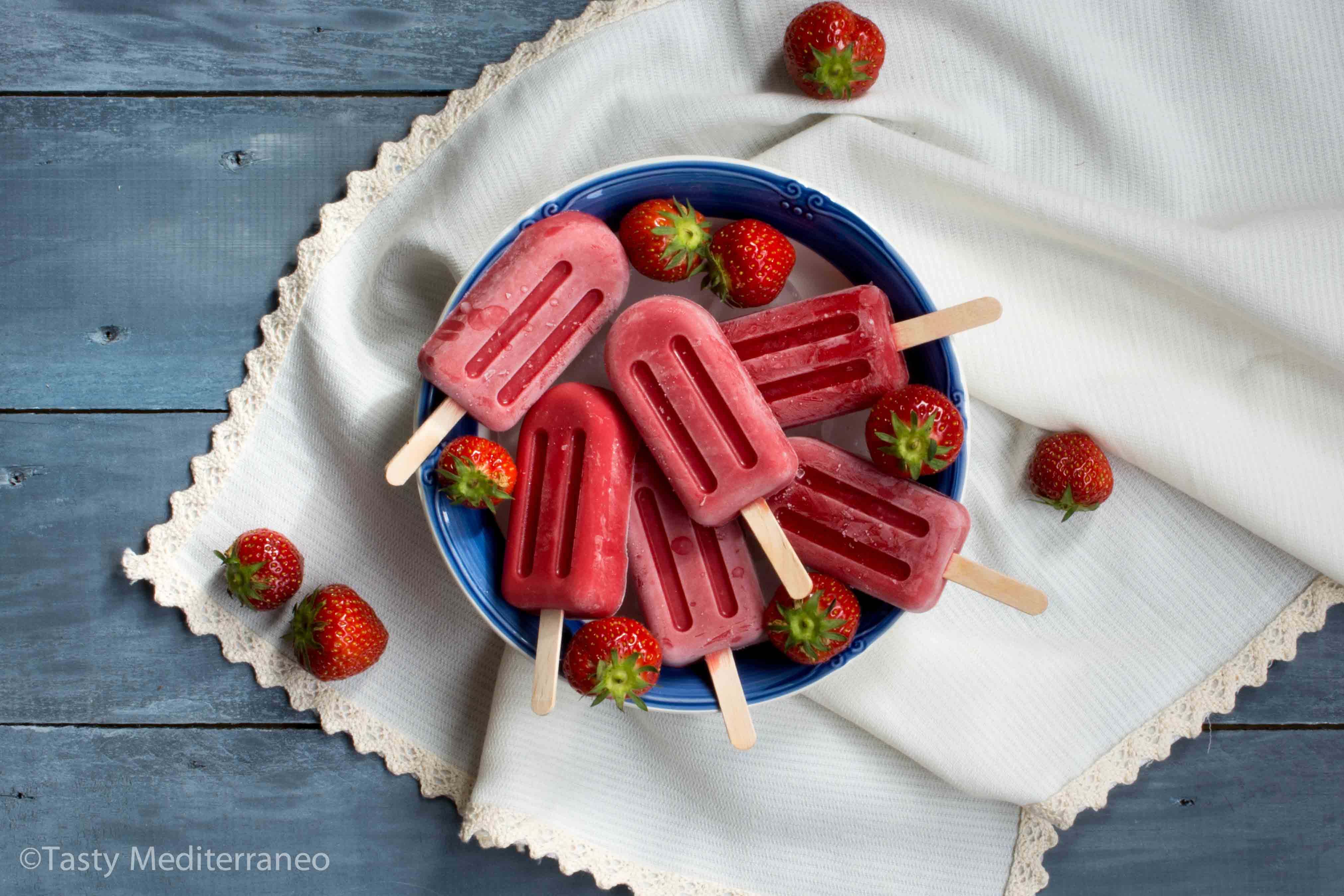 My blog is 2 years old!
During this time I've shared more than 100 healthy vegetarian & vegan recipes from the Mediterranean diet, and published each of them in English, French, Spanish & Arabic.
This involves a lot of work & effort, but it gives me the pleasure of sharing healthy Mediterranean recipes with you all and the happiness of helping some people to eat better.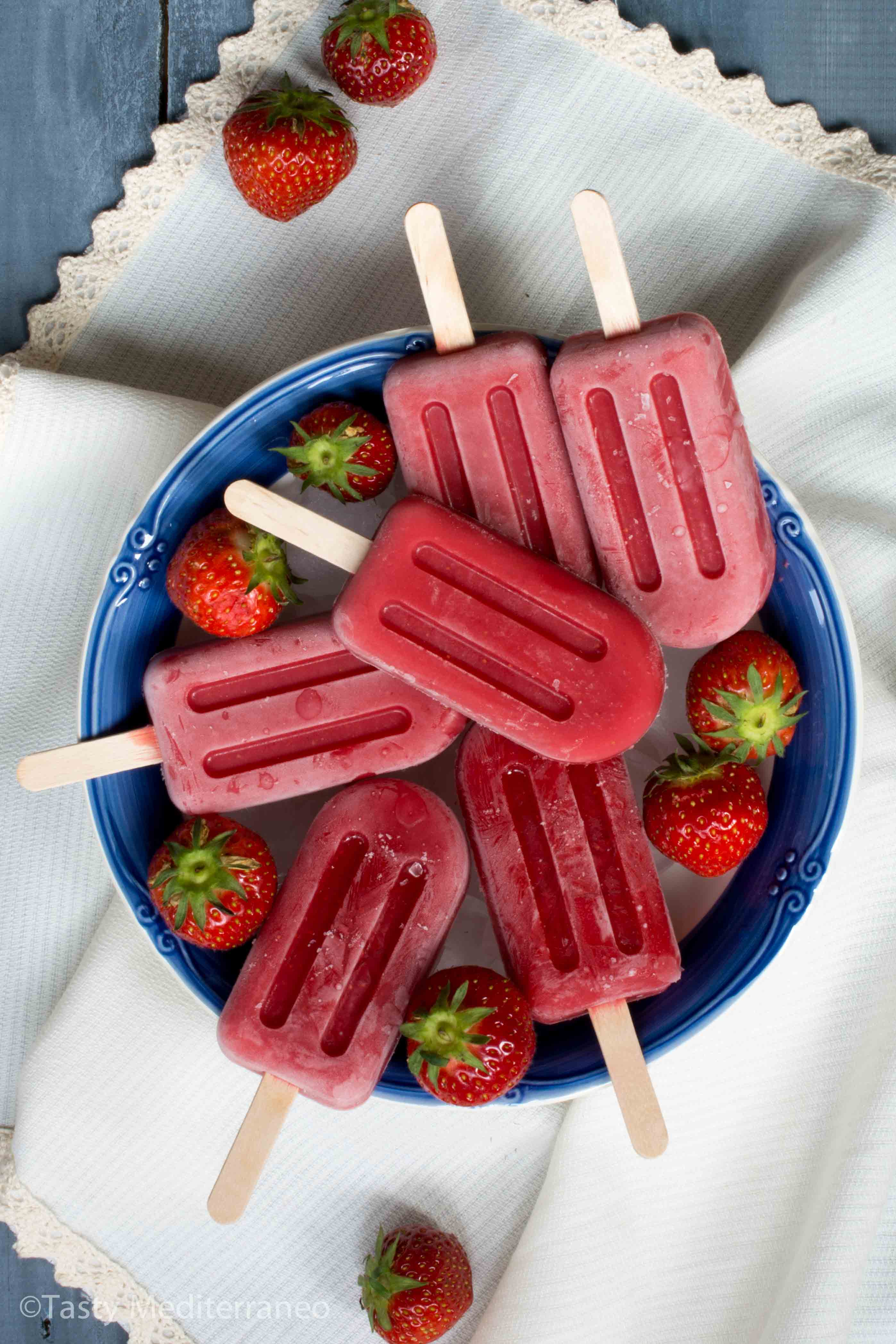 To celebrate my blog's 2nd anniversary I am doing a give away of a set of 3 wooden maamoul moulds. You can find all the details on how to participate on my Instagram account.
Today I am not sharing a healthy cake recipe to celebrate my blog's anniversary, but another treat that I love and that is perfect for a hot summer day.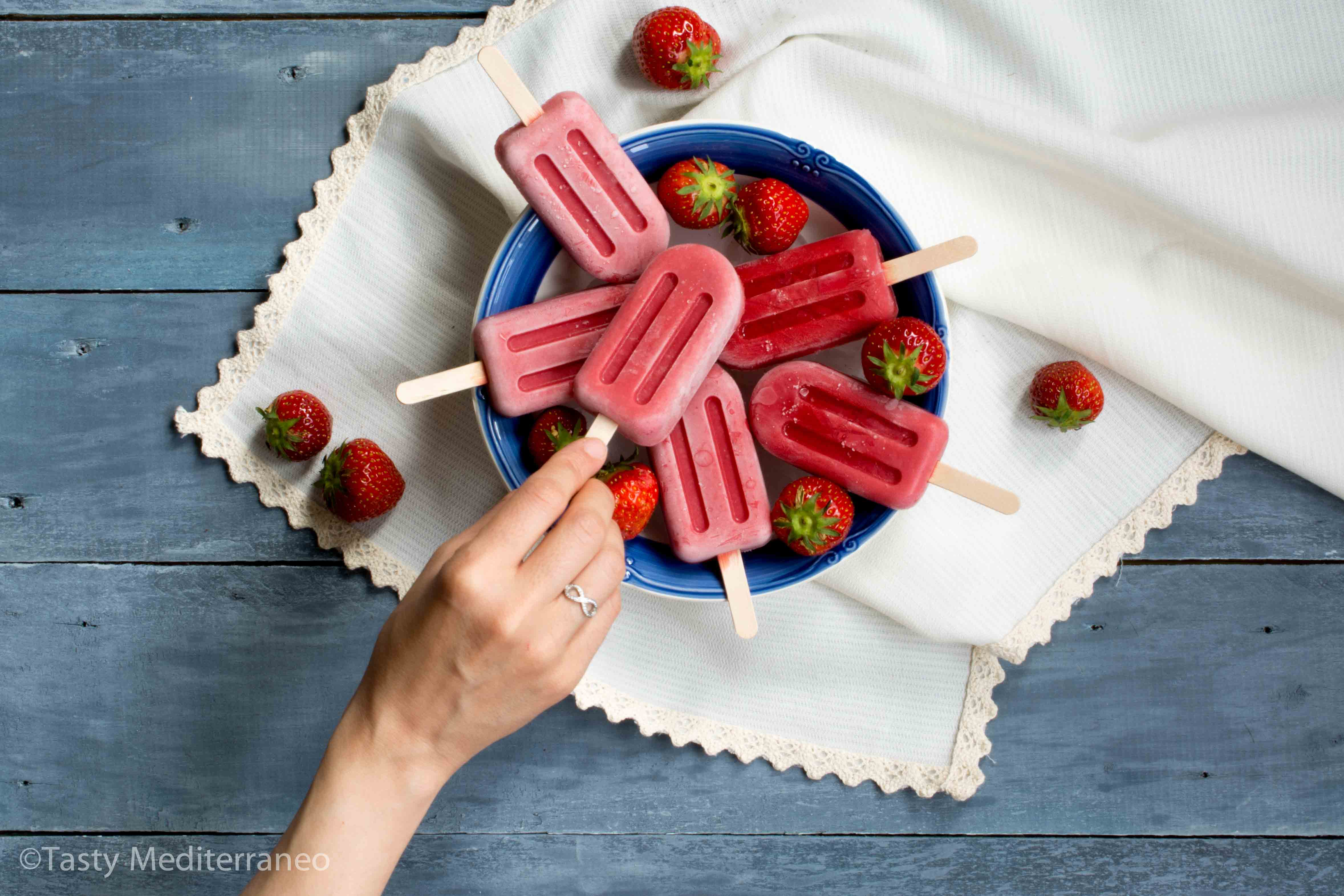 Do you buy ice cream and popsicles from the supermarket? If so, when was the last time that you tried to read the ingredients list placed on the label of an ice cream or ice pop?
When you take the time to read that label you often find all sort of refined added sugars and unpronounceable preservatives.
Making your own popsicles at home is very easy, you could simply mix your favourite fruits that are naturally sweet, and maybe add a bit of liquid depending on the fruit you decide to use. It takes less than 10 minutes to prepare them; all you need is a blender and a few ice pop moulds. Let them freeze for a few hours and voilà, you have a healthy, nutritious and refreshing treat perfect for those hot summer days.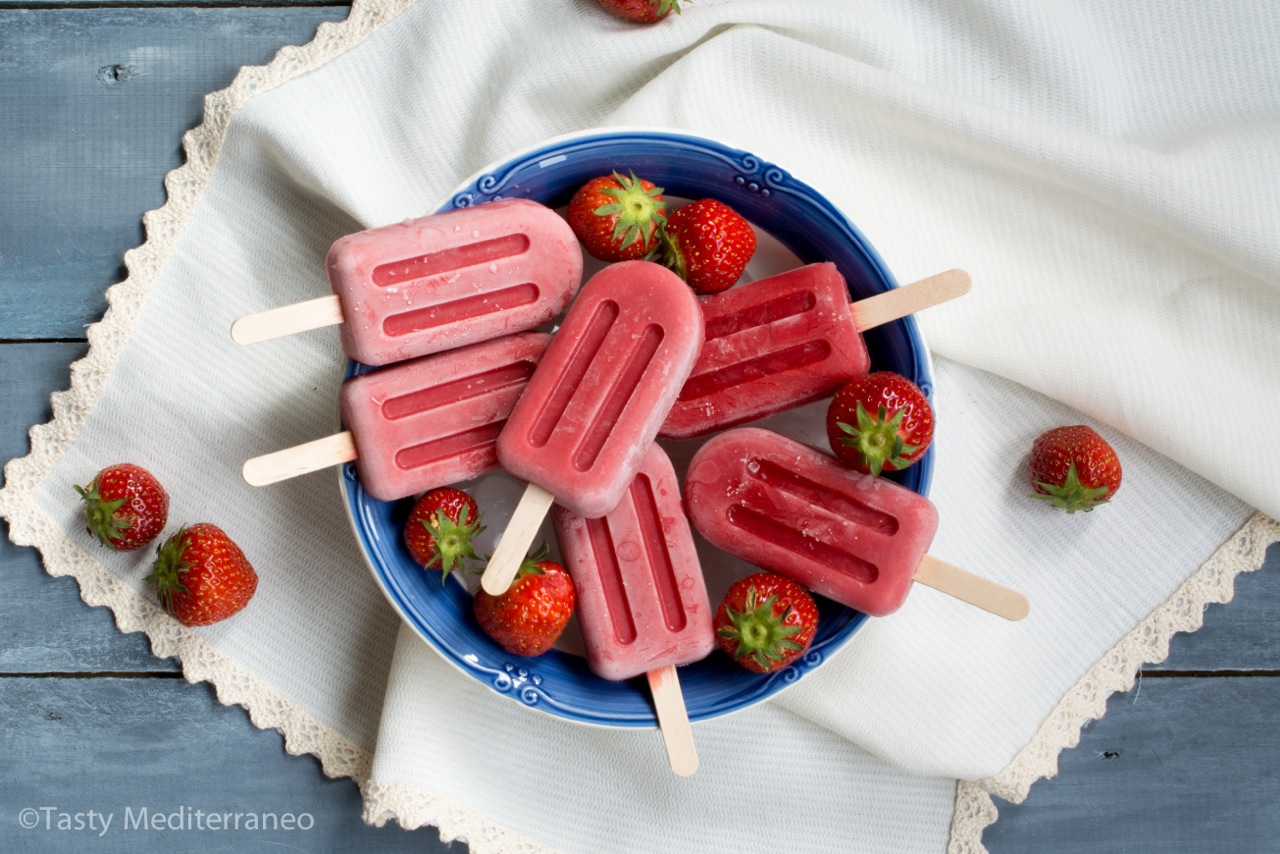 I love strawberries, and Irish strawberries are in season now, so here is my 2 ingredients strawberry popsicle recipe proposal.
If you try this simple, healthy and nutritious 2 ingredient strawberry popsicle recipe, please let me know, leave a comment and rate it. I would love to know what you come up with. Enjoy!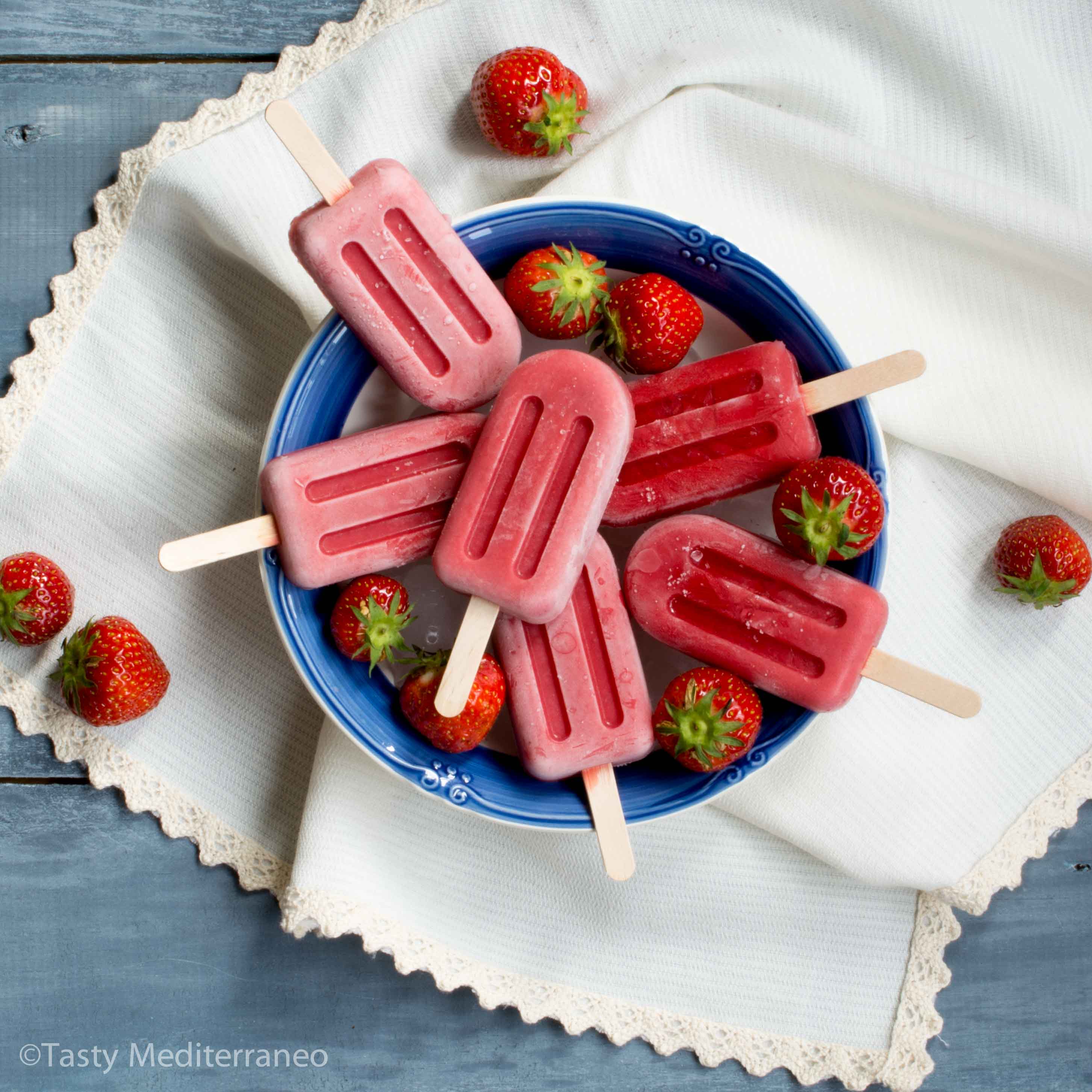 Strawberry popsicles
Author:
Margarita @ Tasty Mediterraneo
Cuisine:
Mediterranean Diet
Serves:
8 Small popsicles
Ingredients
300g (2 ½ cups) Strawberries
150ml (½ cup) Almond milk (or your milk of choice)
Instructions
Wash well the strawberries under cold water. Rinse and remove the hull, with the help of a small sharp knife, and discard.
Blend the 2 ingredients until smooth.
Put into popsicles moulds with sticks and freeze for 4 hours.
Notes
The preparation time is just 10 mins, there is no cooking time, but you have to freeze for 3-4 hours.