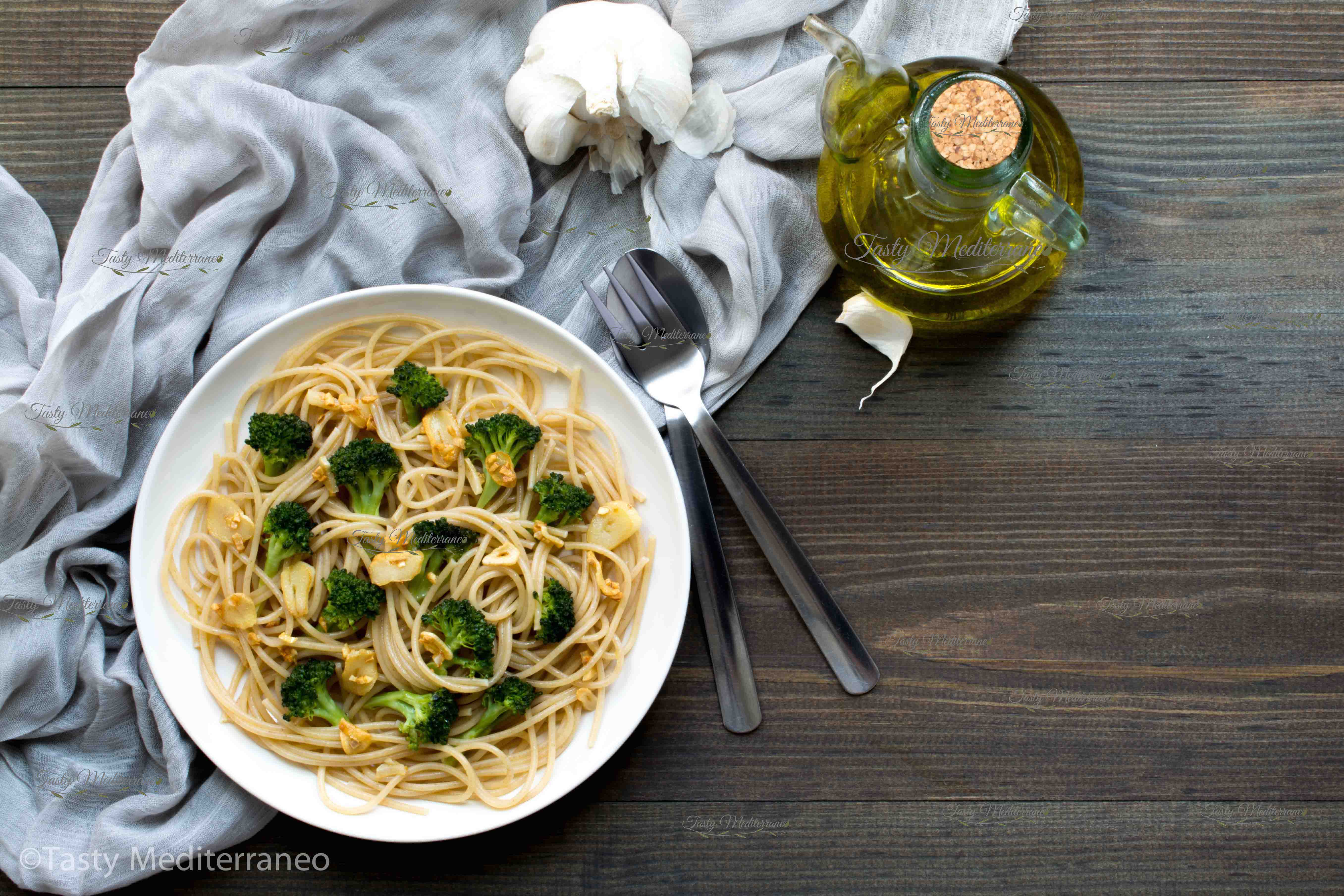 Whole grain pasta is a rich source of bioactive nutrients including both soluble and insoluble dietary fibre, B vitamins, trace minerals and phytochemicals.
Whole grains include the entire kernel, and the kernel consists of three elements: the bran, the germ and the endosperm. Refined grains have been milled to remove the bran and germ from the grain what results in grains having a finer texture and improved shelf life but the milling process removes dietary fibre and other bioactive compounds that are mainly present in the bran and germ.
Scientific research shows that eating whole grain products regularly, as part of a healthy diet and lifestyle, may help to reduce the risk of many common diseases.
Whole grains also seem to be beneficial in helping maintain a healthy weight over time as part of a healthy diet and lifestyle. Whole grains are usually low in fat, but rich in fibre and starchy carbohydrate. Whole grain pasta has a low glycaemic index (GI) but needs to be cooked the Italian way "al dente" in order to keep its Glycaemic Index (GI) low. The fact that it has a low glycaemic index (GI) means that it provides a slow release of carbohydrate into the blood. This, together with the high fibre content, can help to feel fuller for longer – helping to control appetite.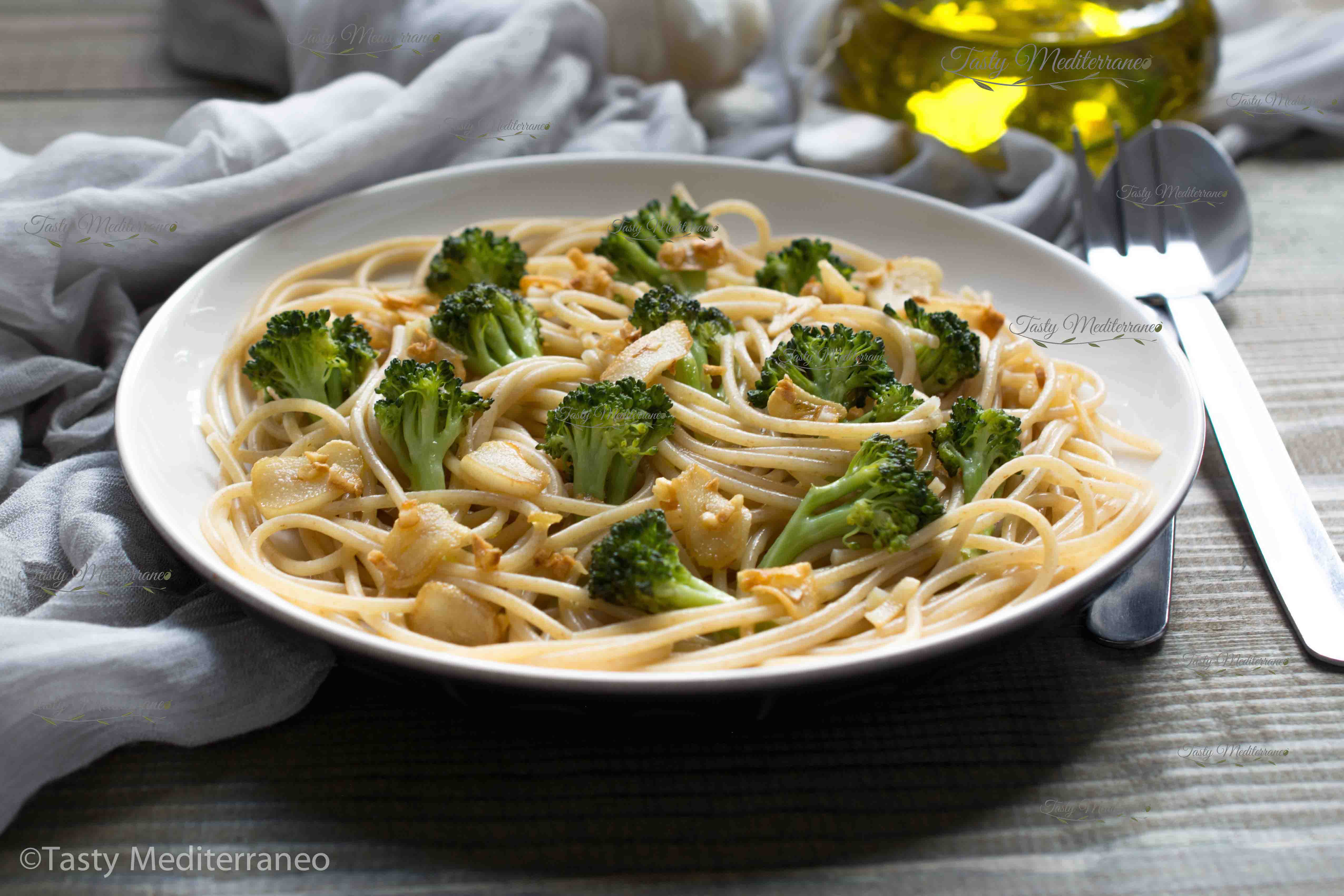 Whenever you eat pasta I would encourage you to eat whole grain pasta, since Whole grain foods can contain up to 75% more nutrients than refined cereals.
The recipe I share with you today, "Spaghetti aglio e olio with broccoli", is a nutritious whole-wheat pasta dish full of goodness and very tasty.
One of its main ingredients is broccoli. Broccoli belongs to the brassica vegetables family (also called cruciferous vegetables), which also include cabbage, cauliflower, kale and similar green leaf vegetables in the family. These vegetables are well known for their disease fighting compounds. Broccoli is rich in antioxidants and anti-inflammatories compounds, fibre, folate, vitamin A, vitamin C, vitamin K, vitamin E, vitamin B6, calcium, magnesium, manganese, zinc, calcium, iron…
Garlic is a very good source of manganese and vitamins B6, B1 and vitamin C. It is also a good source of copper, selenium, phosphorus, and calcium and it provides us with health advantages for our cardiovascular system, digestive system and immune system, and it also has good anti-inflammatory and detox properties.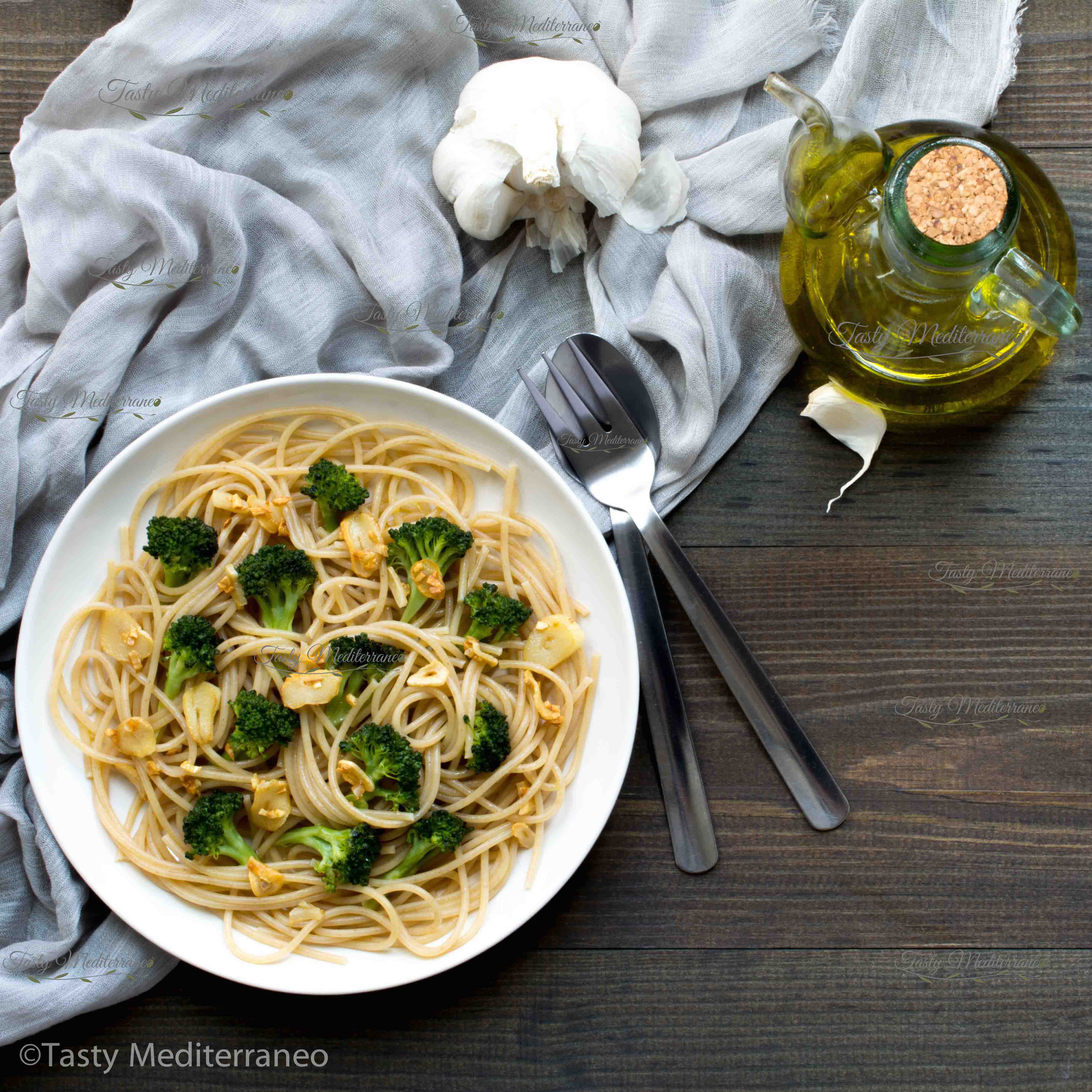 The whole wheat pasta accompanied by these nutritious and tasty ingredients drizzled with a good quality extra virgin olive oil (EVOO) make of this recipe an excellent and highly nutritious lunch that is ready in just about 20 minutes.
If you try this tasty, healthy and highly nutritious vegan Mediterranean diet recipe of "Spaghetti aglio e olio with broccoli" please let me know, leave a comment and rate it. I would love to know what you come up with. Enjoy!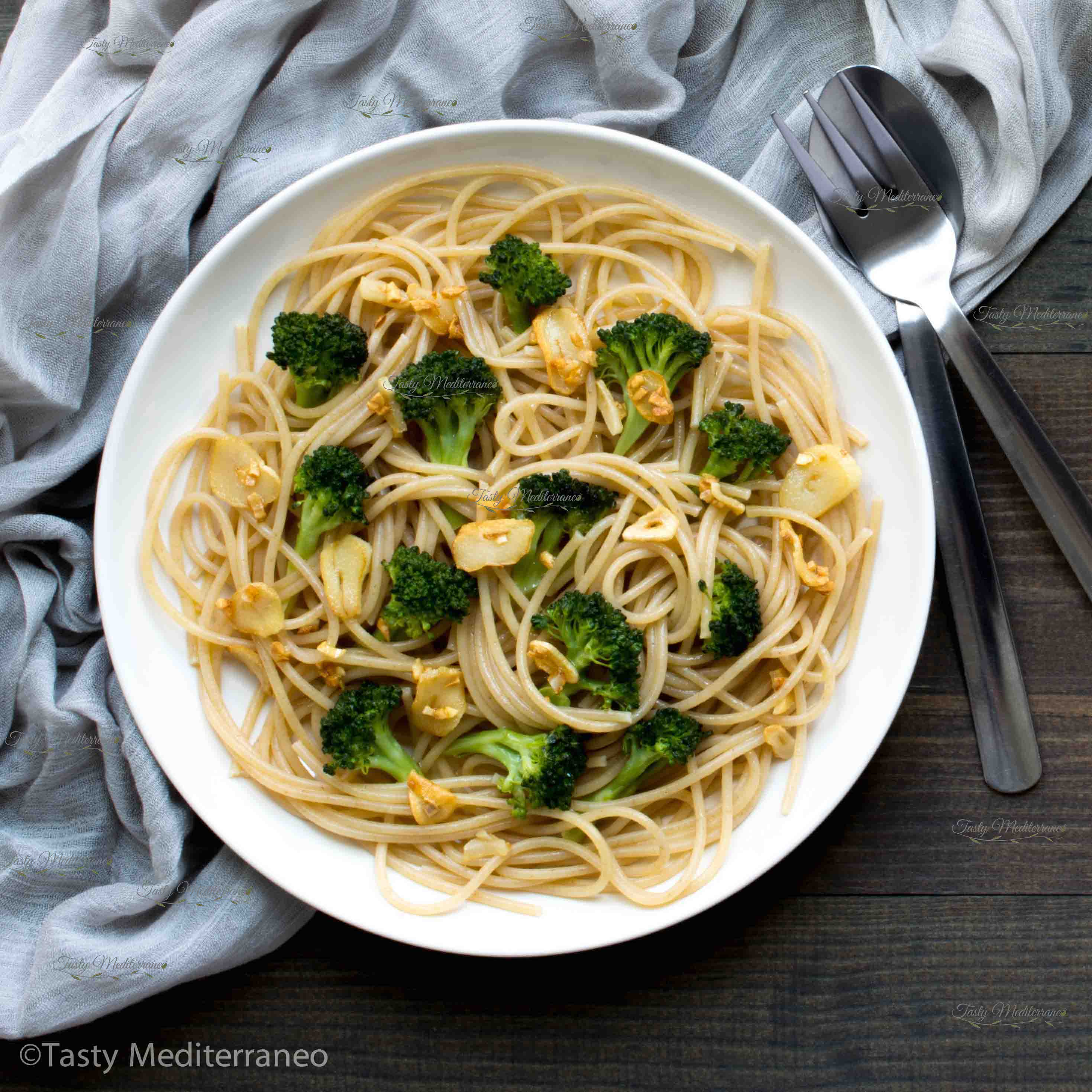 Spaghetti aglio e olio with broccoli
Author:
Margarita @ Tasty Mediterraneo
Cuisine:
Mediterranean Diet
Ingredients
3 Tablespoons extra virgin olive oil (EVOO)
3 Dried cayenne peppers
3 Garlic cloves, pealed and finely sliced
1 Broccoli head, the florets sliced into smaller pieces
200g (7 ounces) Wholemeal spaghetti
Sea salt
Instructions
Have the broccoli well washed and prepare all of the ingredients as indicated in the ingredients description.
Boil water in a large saucepan and add one tablespoon sea salt. Add the spaghetti pasta and stir. Follow the cooking instructions on the package and taste your pasta while it is cooking to avoid overcooking it and to make sure you cook the pasta "al dente". Stir the pasta from time to time and when the cooking time indicated in the package is over and the pasta is al dente, remove from the heat and drain.
While the pasta is boiling, in a large frying pan with lid heat one tablespoon of EVOO over moderate heat, add the garlic and the dried cayenne peppers and sauté until golden. Once the garlic is golden remove it from the heat and set aside. Add the broccoli into the frying pan, add a pinch of salt and cover with the lid, sauté for about four minutes stirring occasionally. Finally add the drained spaghetti, the garlic that we had set aside and 2 tablespoons of EVOO and stir all together over moderate heat for one more minute. Serve hot.
Notes
As a serving suggestion, you can add a bit of freshly grated Parmesan cheese right before serving or a grated vegan cheese option for vegans.