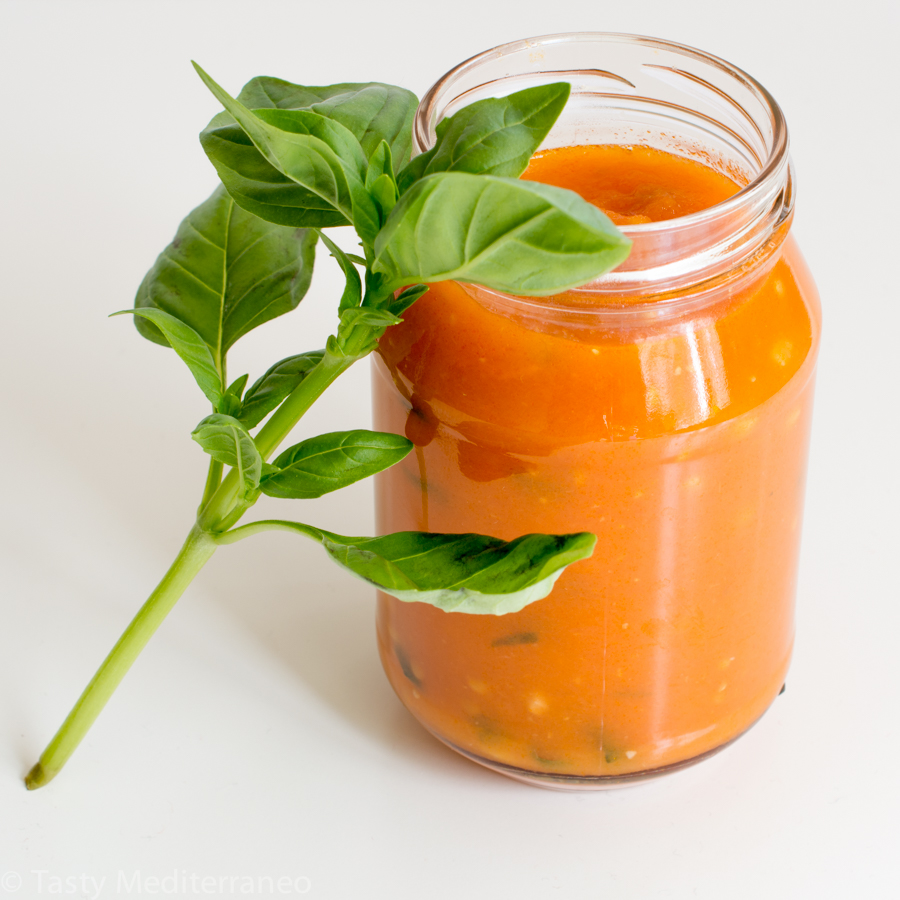 A good tomato sauce is basic for topping your homemade pizzas, your pasta and rice dishes and for plenty of other recipes.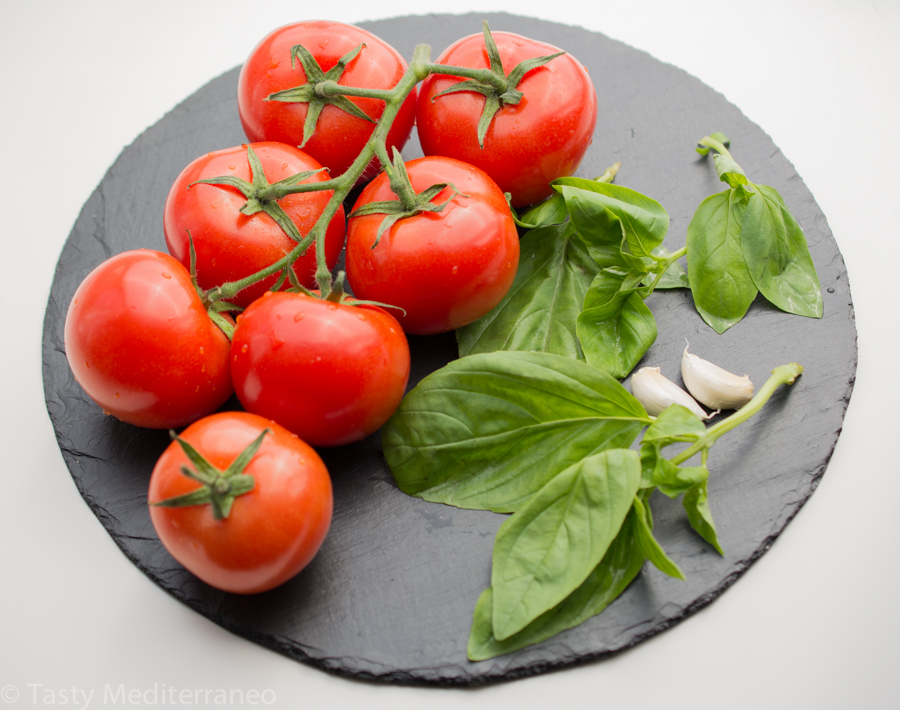 For sure the taste of the sauce will depend on the quality of the fresh tomatoes you are using, but if a homemade tomato sauce is good and tasty you will need no further addition to your dish!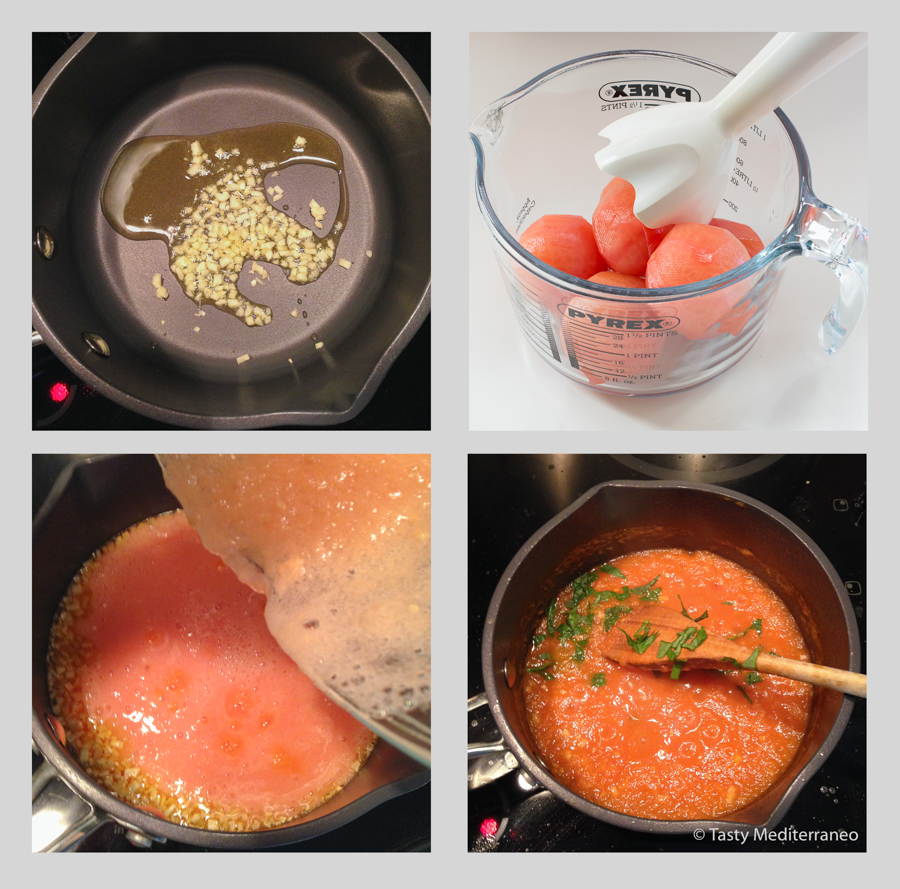 At home we love fresh tomatoes, although since we live in Ireland we find it more difficult to find good fresh tomatoes as juicy and flavourful as the ones we can find in the Mediterranean. No matter this, paying an extra cost we manage to have good fresh tomatoes and to still enjoy a good homemade tomato sauce.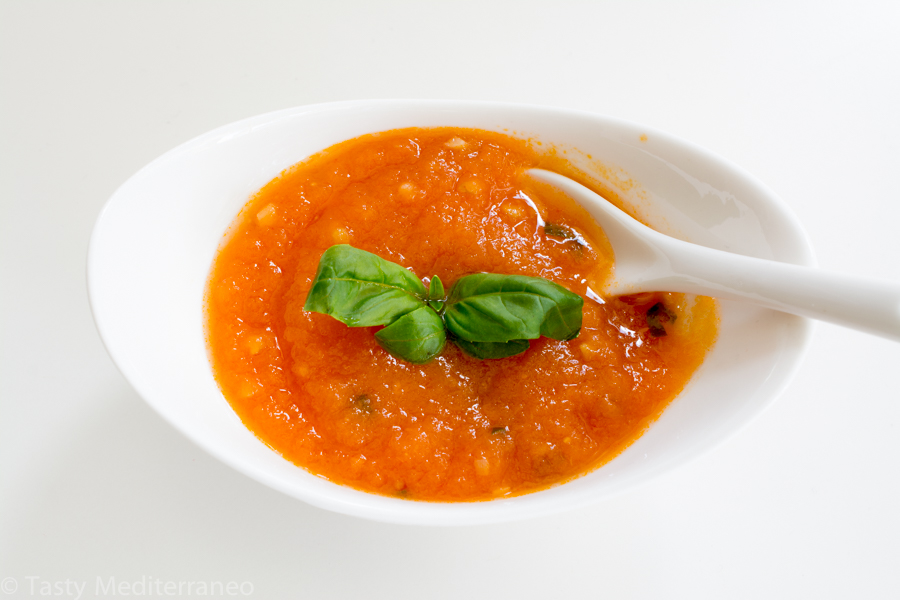 To prepare this savoury tomato and basil sauce you only need 5 ingredients and 30 minutes.
If this is the first time you make tomato sauce from fresh tomatoes, and you try this simple, healthy and nutritious recipe, please let me know, leave a comment and rate it. I would love to know what you come up with.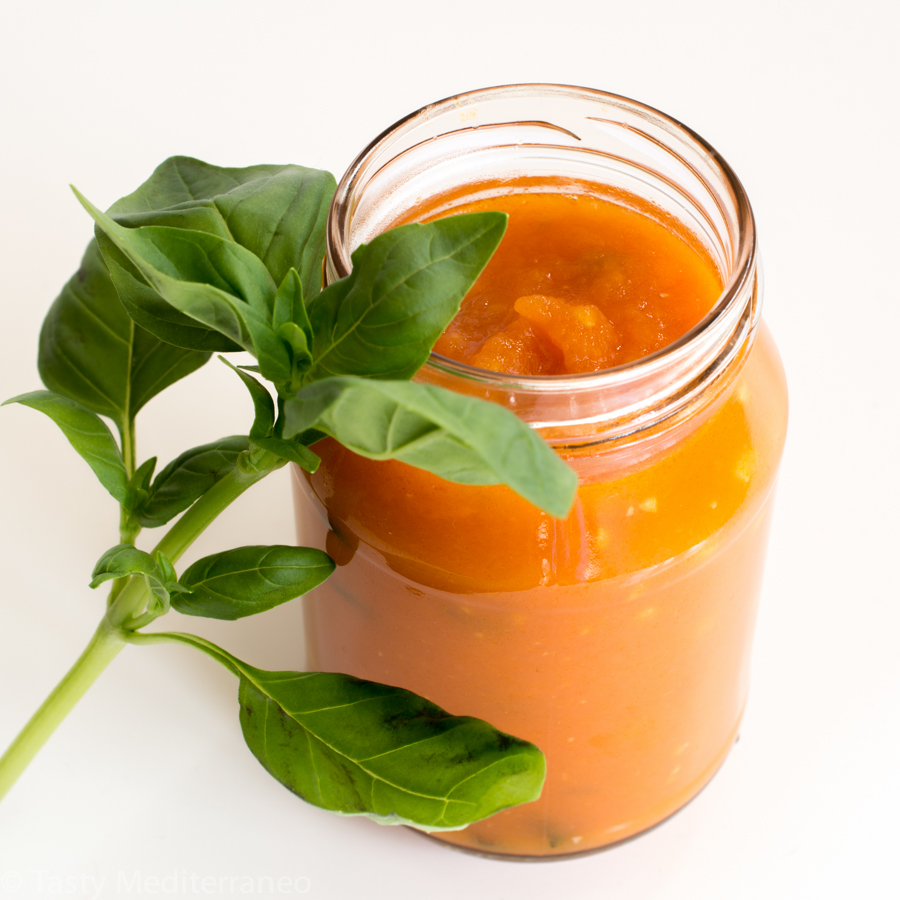 Fresh Tomato and Basil Sauce
Author:
Margarita @ Tasty Mediterraneo
Serves:
for preparing 2 jars of sauce
Ingredients
1kg (2lb) ripe tomatoes, peeled
1 tablespoon extra virgin olive oil
2 garlic cloves, peeled and finely minced
15g (1/2 cup) fresh basil leaves, plucked off stems and finely minced
1 teaspoon sea salt (or salt to taste)
Instructions
Have the tomatoes and the fresh basil leaves well washed and all the ingredients prepared as indicated in the ingredients description.
Put the peeled tomatoes into a food processor or blender and process to turn them into a purée.
Heat the olive oil in a large saucepan over medium heat, add the garlic and sauté for around 1 minute until it begins to colour lightly. Add then the tomato purée and the fresh basil finely minced and season with salt. Add a pinch of sugar if you do not like the acidity of the tomatoes.
Bring to the boil, and then turn the heat to low heat and simmer for 20 minutes stirring occasionally. Watch your sauce while it is simmering until you see if it has reached the consistency and flavour that you like and then remove from the heat.
Notes
If where you live it is not easy to find good quality tomatoes, or they are too pricey, you could use instead a can of organic whole peeled tomatoes and proceed with them as indicated in step 2.

If you like onions in your tomato sauce, you can also add some onion finely chopped in step number 3 and soft them until lightly coloured before adding the tomato purée. When doing this you may not feel the need to add a pinch of sugar, as the sweetness of the onion would help to cover the acidity of the tomatoes.

If you are not going to consume it immediately, pour the tomato sauce into a jar, seal and store in the fridge. You can keep it in the fridge for up to 4 days.