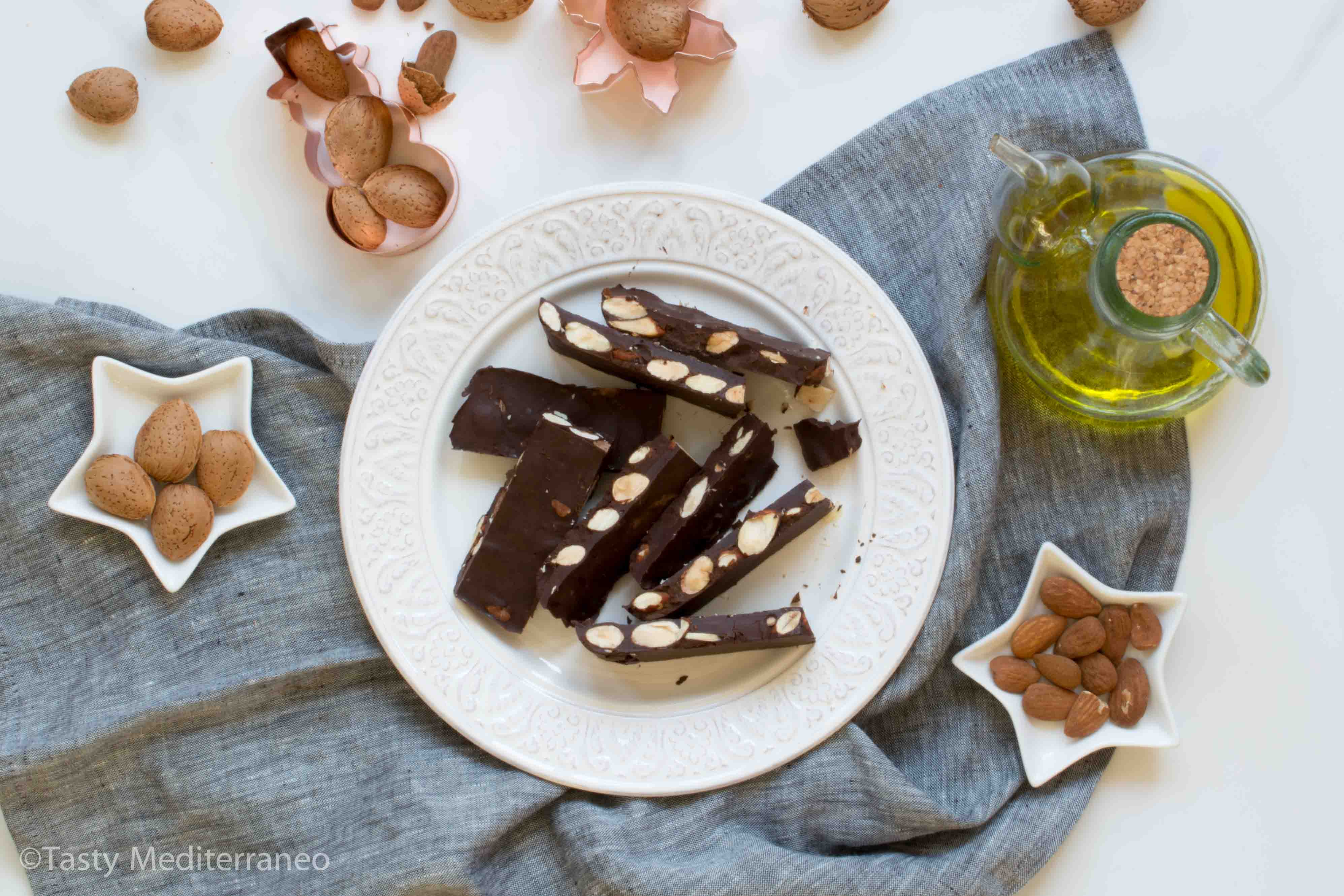 One of the most traditional Christmas sweets in Spain is "Turrón" (nougat).
It is usually made from almonds, honey and egg white, but there is a large variety of flavours to choose from.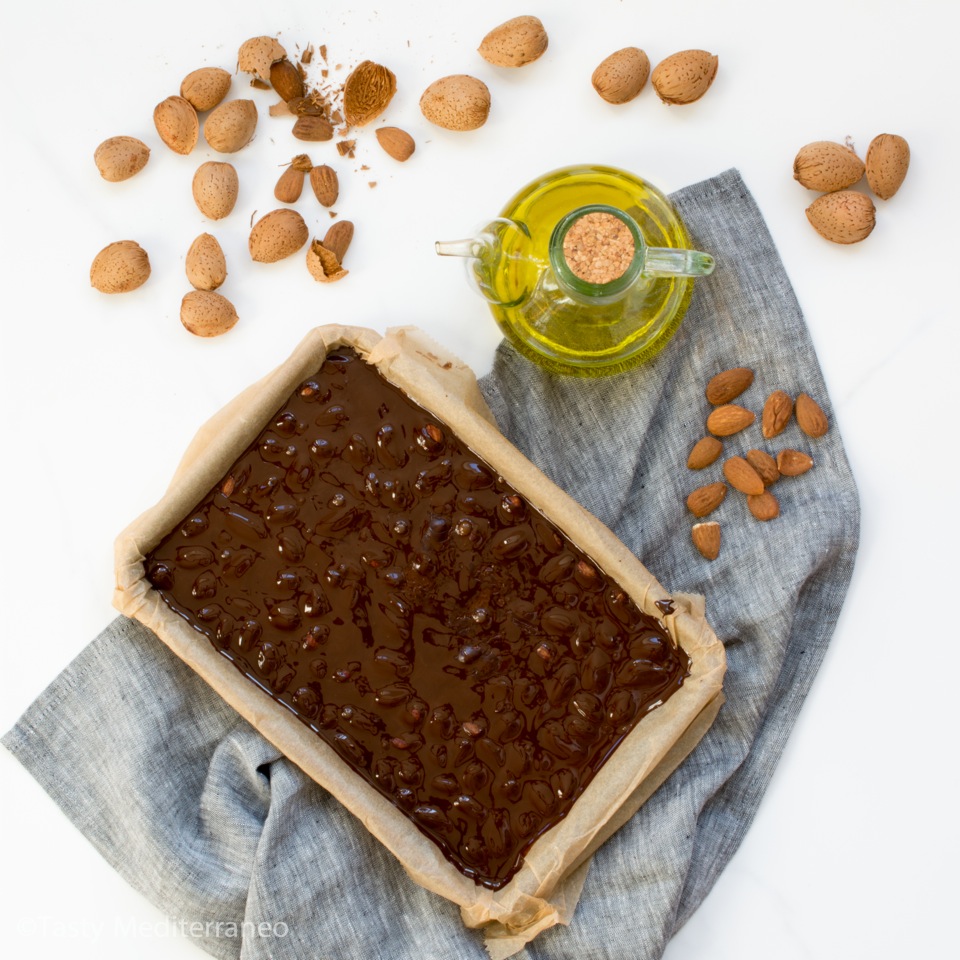 My favourite kind of turrón is "Turrón de chocolate". My vegan recipe for "Turrón de chocolate" is made using 3 ingredients: organic roasted almonds, a high quality organic dark chocolate 70% cocoa and organic extra virgin olive oil (EVOO).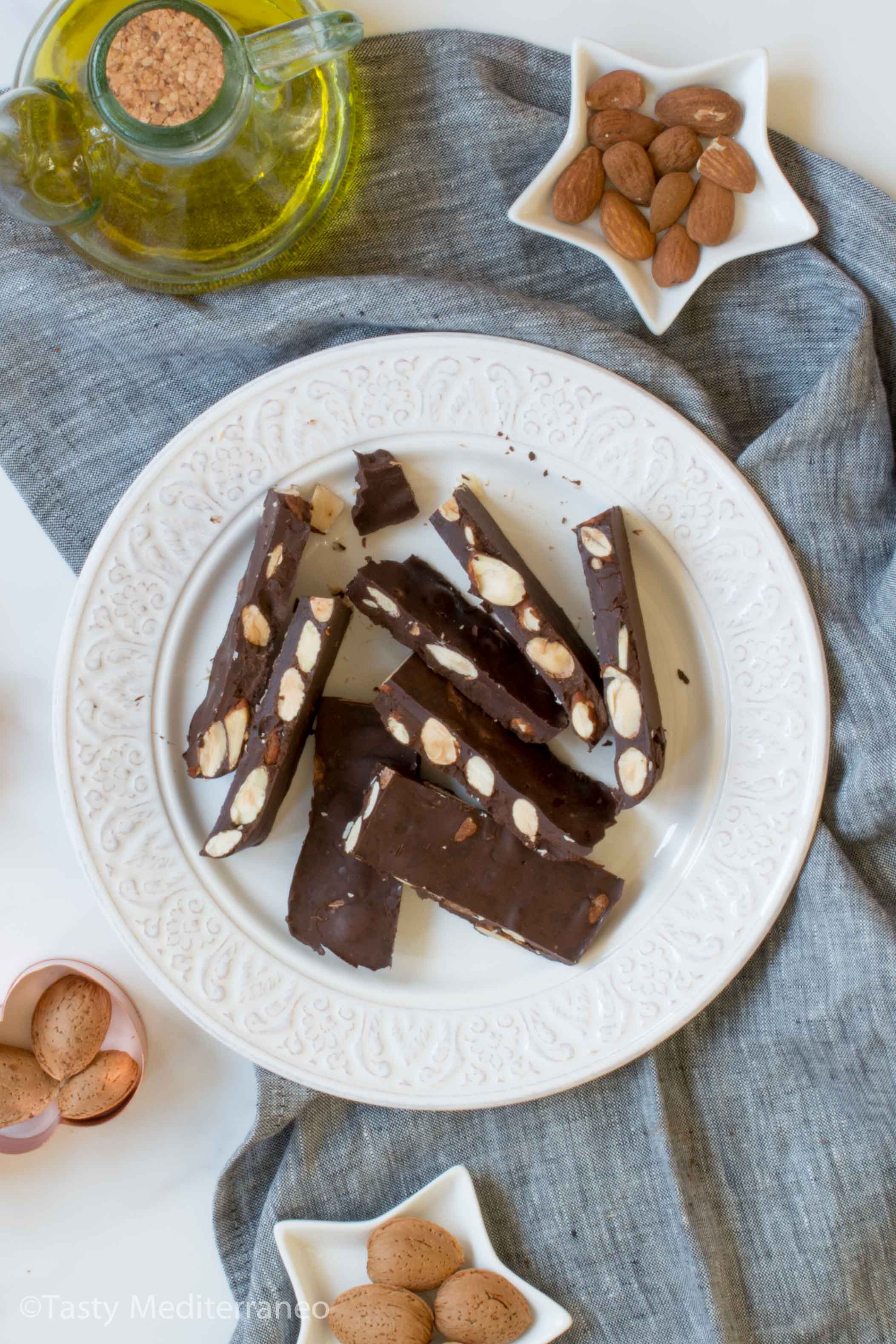 Dark chocolate provides us with a good variety of minerals including iron, magnesium, manganese and copper. Dark chocolate is also rich in antioxidants that help prevent the damage that oxidative stress and free radicals cause in our body.
Almonds are rich in heart-healthy monounsaturated fats and a very good source of vitamin E, magnesium, fibre and protein. For this recipe I used the organic almonds from my mum's garden that I brought from our latest trip to Majorca Island.
Extra virgin olive oil (EVOO) is rich in oleic acid, which is a monounsaturated fatty acid associated with several health benefits, including decreased inflammation, reduced blood pressure and cardiovascular disease risk. The EVOO also contains Omega 3 rich alpha-linolenic acid and it is high in vitamin E and other powerful antioxidants.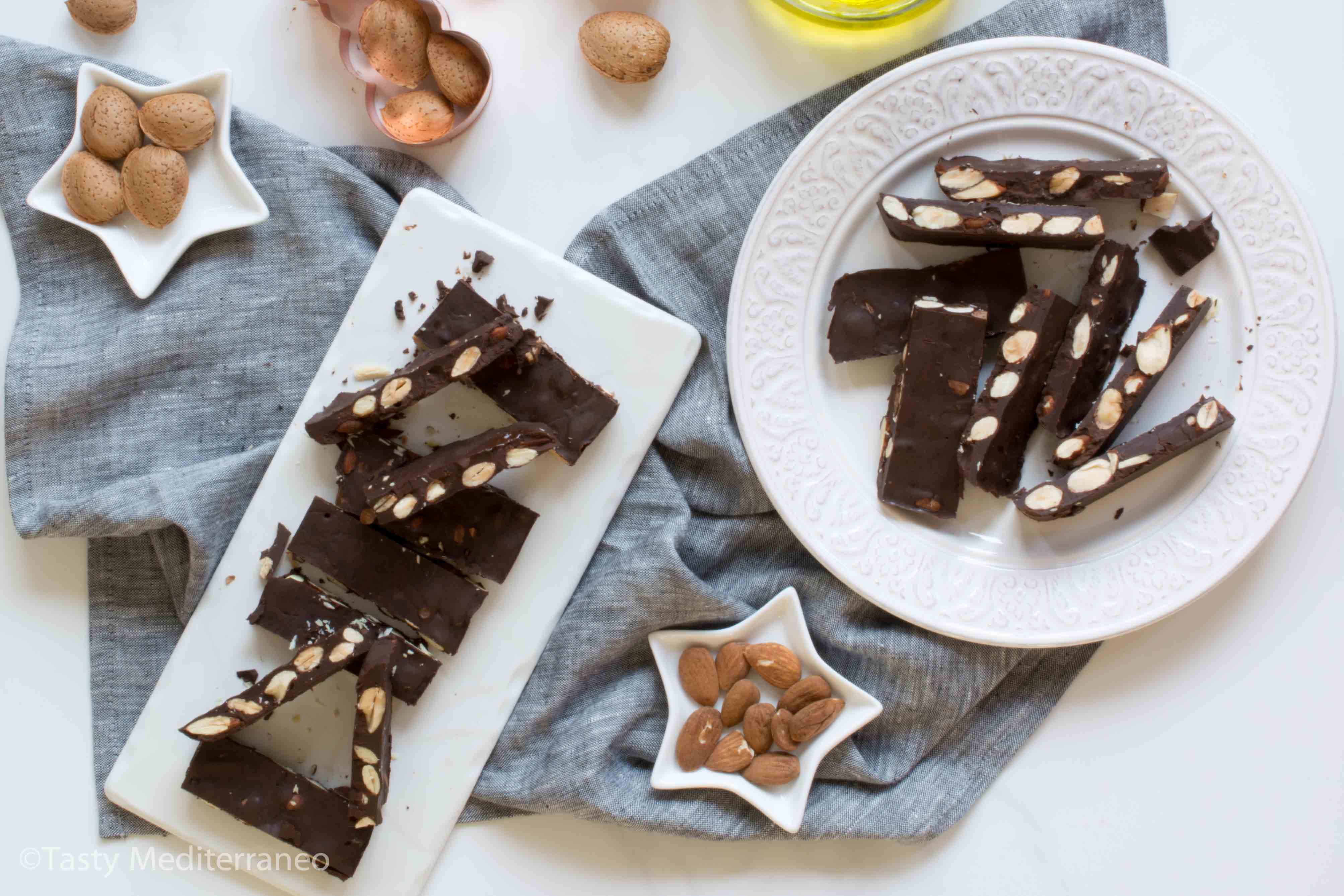 These are the 3 nutritious ingredients included in this recipe, overall very healthy ingredients. But even if the ingredients in this recipe are healthy and you would want to eat the whole bar – it is so tasty! – do not forget that this is a Christmas treat and as a treat it should be eaten with moderation.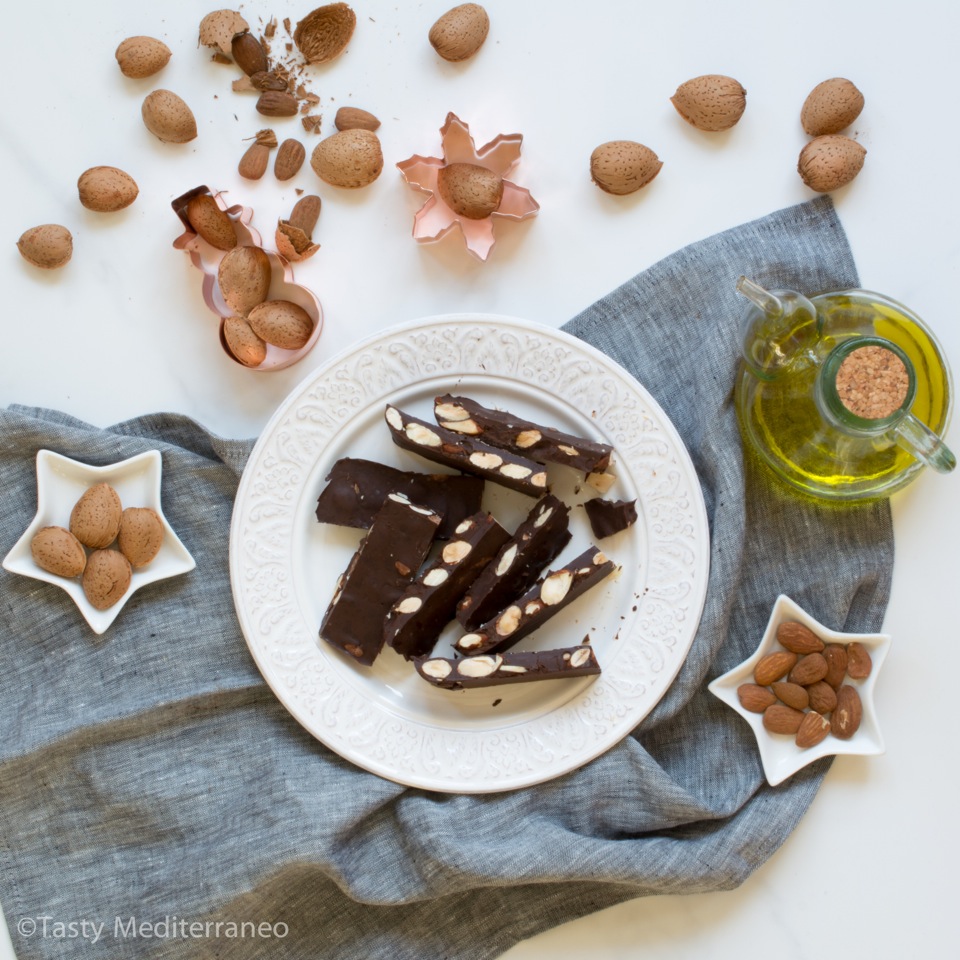 This "Chocolate, almond & EVOO turrón" is also a perfect edible Christmas gift for your loved ones. Wrap it up beautifully and let me know what your family and friends think about this tasty Mediterranean handmade gift.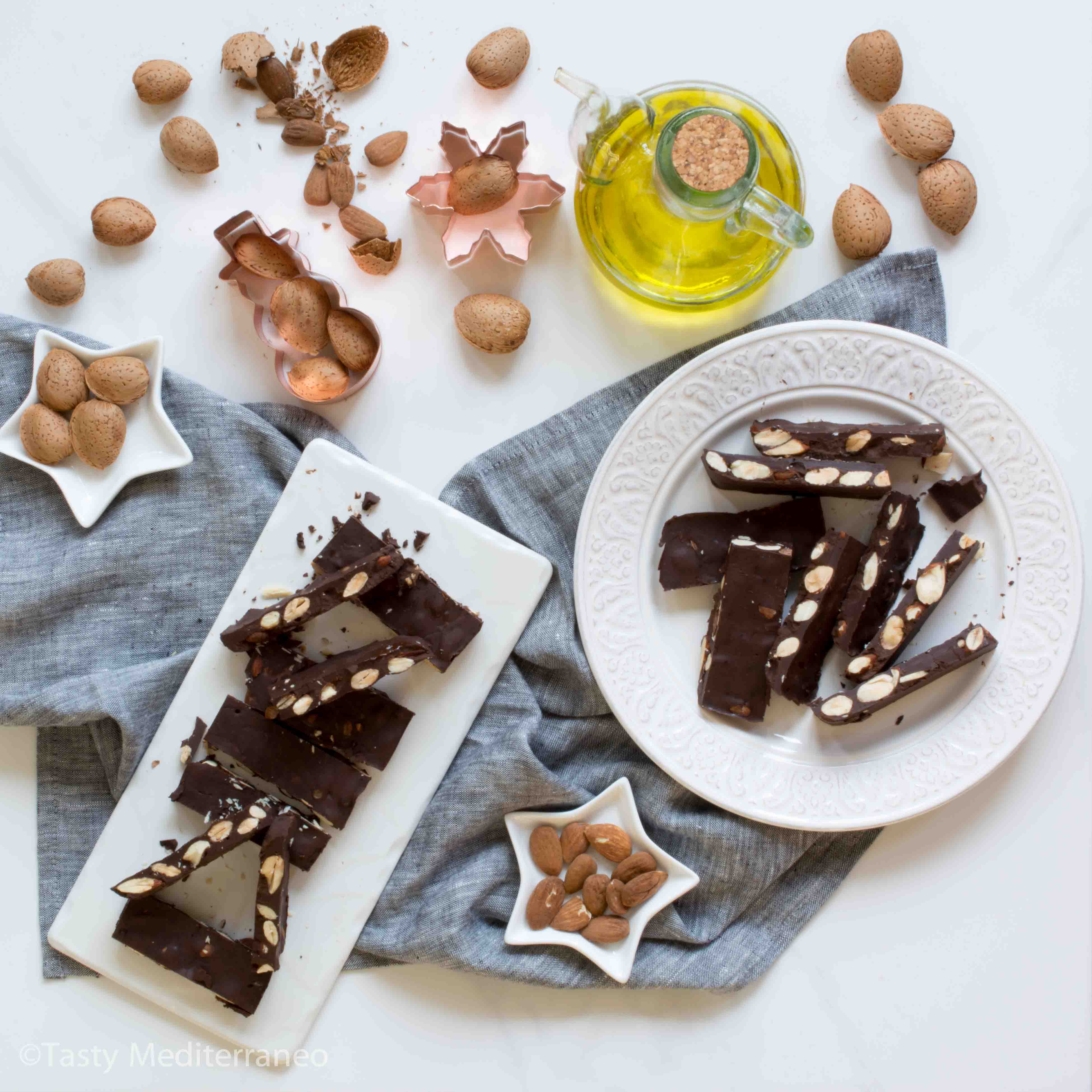 If you try this tasty and nutritious treat from the Mediterranean cuisine of "Chocolate, almond & EVOO turrón", please let me know, leave a comment and rate it. I would love to know what you come up with.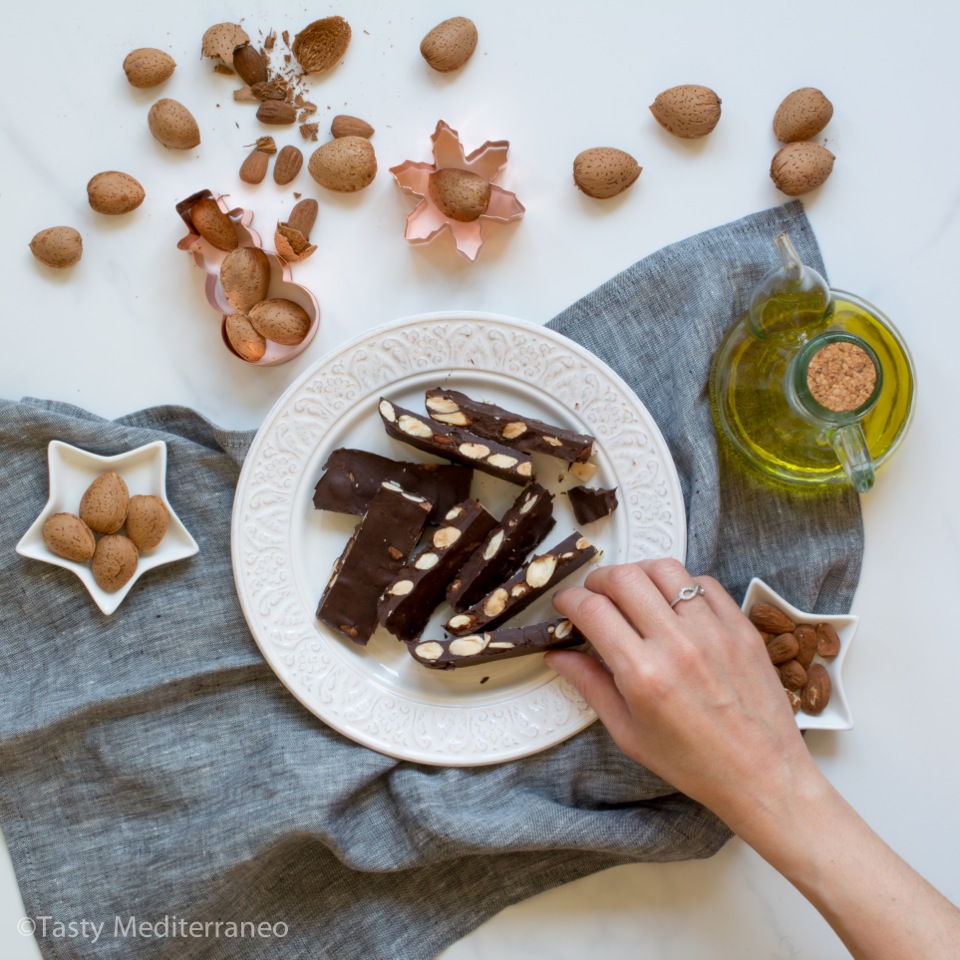 And since Christmas is almost here, just a few days away, I wish you a merry Christmas from my family to yours! Enjoy!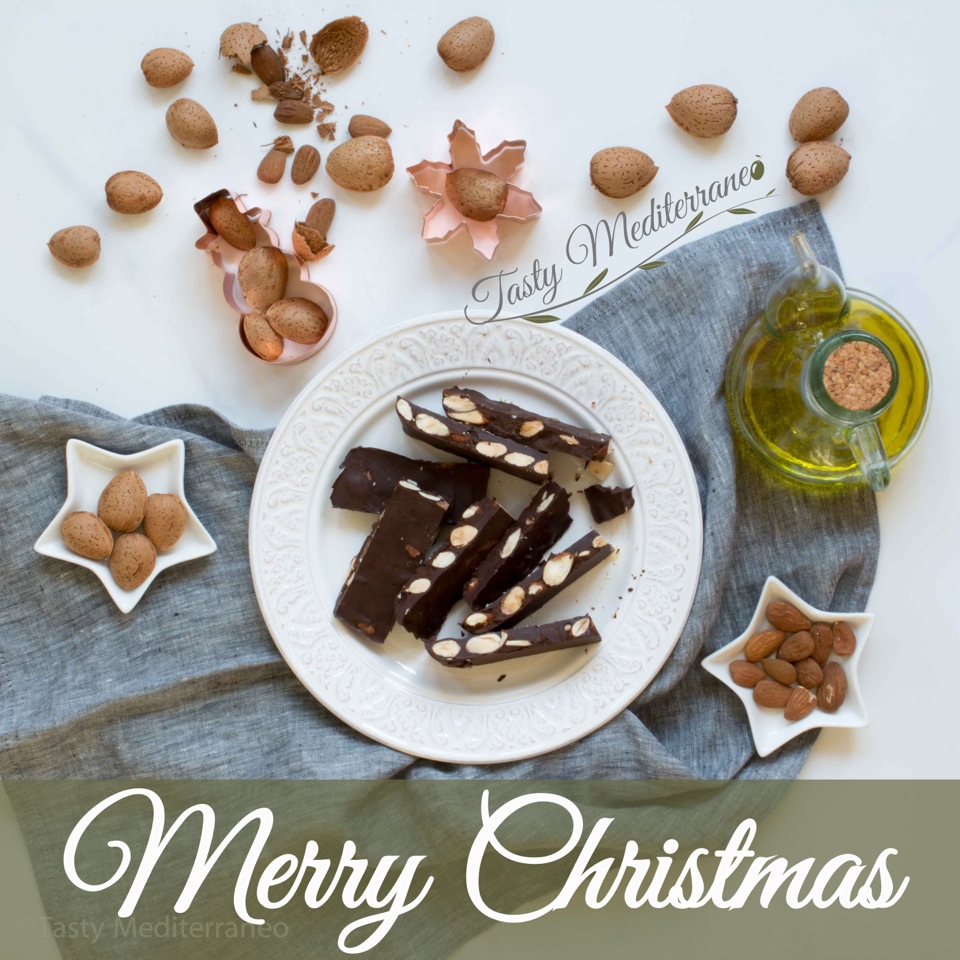 Chocolate, almond & EVOO turrón
Author:
Margarita @ Tasty Mediterraneo
Cuisine:
Mediterranean Diet
Serves:
1 Bar of turrón (For 6-8 people)
Ingredients
130g (1 cup) Raw organic almonds (leave their skin on)
200g (1 ¼ cup) Organic dark chocolate (70% cocoa), chopped into small pieces
40ml (6 tablespoons) Extra Virgin Olive Oil (EVOO)
Instructions
Add the raw almonds evenly to an oven pan and roast them at 150 degrees C (300 degrees F) for 15 minutes. Remove from the heat and place the roasted almonds evenly in a small rectangular container lined with nonstick baking paper.
Place the chopped dark chocolate into a heatproof bowl. In a small saucepan add 1 cup water, bring to a boil and remove from the heat. Sit the heatproof bowl containing the chocolate over the saucepan of barely simmering water and do a "bain marie" allowing the chocolate to melt stirring until it is totally melted.
Once the chocolate is totally melted add the EVOO and stir until both are perfectly combined.
Then pour the mix of melted dark chocolate and EVOO over the roasted almonds allowing it to cover well all the almonds.
Allow it to cool down for at least 4 hours in a cool place of the house.