Chia Pudding Parfait with berries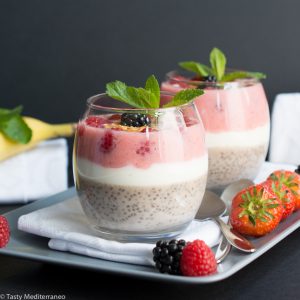 Author:
Margarita @ Tasty Mediterraneo
Cuisine:
Mediterranean diet
500ml (2 cups) Almond milk
1 Banana, peeled
2 Tablespoons strawberry jam
50g (¼ cup) Chia seeds
2 Natural yogurts (250 g or 1 cup) (or your favorite plant based natural yogurt for the vegan & dairy free option)
250g (2cups) Strawberries
125g (1 cup) Raspberries
125g (1 cup) Blackberries
4 Tablespoons organic wholegrain oats
4 Teaspoons bee pollen (replace with pumpkin seeds for the vegan option)
A few fresh mint leaves
Wash well the fruits and mint leaves.
For the 1st layer of the parfait, blend 400ml (1 ¾ cups) almond milk, the banana and the 2 tablespoons strawberry jam together. Add the chia seeds and mix well with the help of a spoon. Pour the mix equally into the 4 serving glasses and leave to cool in the fridge for at least 4 hours (I usually leave it overnight to have it ready for breakfast).
For the 2nd layer, add 3 tablespoons of yogurt on top of each of the 4 already cooled chia puddings.
For the 3rd layer, blend the strawberries with 100ml (1/4 cup) almond milk and add it on top of the yogurt layer. Add now raspberries and blackberries to taste, one tablespoon of organic wholegrain oats and one teaspoon of bee pollen on each of the 4 parfaits. Decorate with some fresh mint leaves.
The preparation time is only 10 minutes, but it is best to allow the chia pudding to rest in the fridge before serving as indicated in the instructions.
Recipe by
Tasty Mediterraneo
at https://www.tastymediterraneo.com/chia-pudding-parfait-with-berries-giveaway/