Pasta with mushrooms, tomato & red pepper sauce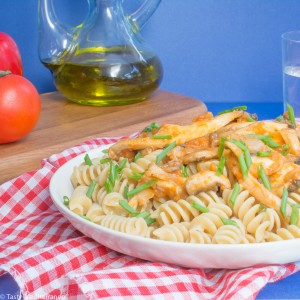 Author:
Margarita @ Tasty Mediterraneo
Cuisine:
Mediterranean Diet
2 Tablespoons extra virgin olive oil
1 Onion, peeled and finely chopped
2 Red bell peppers, cored and diced
4 Ripe tomatoes, peeled and finely chopped
1 Teaspoon sea salt (or salt to taste)
150g (2 cups) Fresh mushrooms, sliced
400g (4 cups) Wholemeal Organic Fusilli
A small bunch of chives, chopped
Sea salt
Have all the vegetables well washed and prepared as indicated in the ingredients description.
Boil water in a large saucepan and add one tablespoon salt. Add the Fusilli pasta and stir. Follow the cooking instructions on the package and taste your pasta while it is cooking to avoid overcooking it and to make sure you cook the pasta "al dente". Stir the pasta from time to time and when the cooking time indicated in the package is over and the pasta is al dente, remove from the heat. Run under cold water until the pasta has cooled and then drain.
While the pasta is boiling, prepare the sauce following the instructions as explained in my "Tomato & red pepper sauce" recipe. Once the tomato & red pepper sauce is ready, add the sliced mushrooms into the hot sauce and stir together for about 3 minutes.
Finally add the drained fusilli, the chopped chives and 1 tablespoon of extra virgin olive oil, stir all together and serve hot.
For a non-vegan option, you can add a bit of freshly grated Parmesan cheese right before serving.
Recipe by
Tasty Mediterraneo
at https://www.tastymediterraneo.com/pasta-with-mushrooms-tomato-red-pepper-sauce/