Mediterranean vegan quinoa salad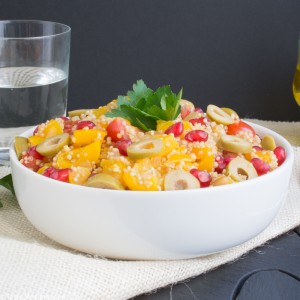 Author:
Margarita @ Tasty Mediterraneo
Cuisine:
Mediterranean Diet
250ml (1 cup) Vegetable stock
80g (½ cup) Organic quinoa seeds
1 Tablespoon extra virgin olive oil
1 Tablespoon pine nuts
1 Onion, peeled and finely chopped
1 Yellow bell pepper, cored and diced
6 Cherry tomatoes, cut each in 4 pieces
50g (1/4 cup) Stoneless Manzanilla green olives, sliced
1 Pomegranate
A small bunch of parsley
Have all the vegetables well washed and prepared as indicated in the ingredients description.
To remove the pomegranate seeds: roll it over a surface to loosen the seeds, cut it in two halves and holding each half over a bowl, with the seeds facing down and with the help of a spoon, tap the skin squeezing a bit to help release the seeds.
Wash the quinoa seeds briefly in cold water. Drain the water and catch the quinoa seeds with a sieve. In a small saucepan add the vegetable stock and the quinoa seeds and cook at low heat for 12 minutes with the lid on the pan. Once cooked, if there is any broth (water) left, drain it.
While the quinoa is cooking, in a large frying pan heat the olive oil over moderate heat, add the pine nuts and sauté for one minute until lightly golden. Add then the onions and a pinch of salt and sauté for 2 minutes. Add the peppers and sauté over medium heat for about 3 minutes. And finally add the tomatoes and sauté all together for 2 more minutes. Remove from the heat.
Pour the cooked quinoa into the frying pan where you have sauté the vegetables, salt to taste and add the olives, pomegranate seeds and a bit of parsley. Carefully mix it all together and serve hot or cold.
If you don't have the vegetable broth available you could replace it by water (although obviously the Quinoa is tastier when cooked in the vegetable broth).

As a dressing my advice is to add just a bit of extra virgin olive oil.
Recipe by
Tasty Mediterraneo
at https://www.tastymediterraneo.com/mediterranean-quinoa-salad/