Lentil, rice and vegetable soup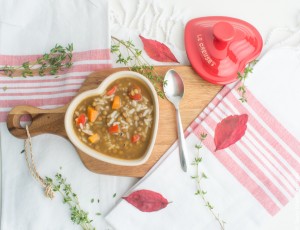 Author:
Margarita @ Tasty Mediterraneo
Cuisine:
Mediterranean Diet
2 Tablespoons extra virgin olive oil
2 Carrots, peeled and diced
1 Onion, peeled and finely chopped
1 Red bell pepper, cored and diced
1 Garlic clove, peeled
2 Ripe tomatoes, peeled and finely chopped
1 Bay leaf
300g (1 ½ cup) Pardina lentils
1 Teaspoon salt (or salt to taste)
150g (3/4 cup) Rice (ideally brown rice)
Follow the instructions as explained in my Mediterranean lentils soup with vegetables recipe, but skip the potatoes.
While the lentils are cooking, in a saucepan bring water to a boil, then add the rice and a teaspoon of salt and cook until the rice is done, preferably al dente. Drain the excess of water.
Add the drained rice to the lentils soup and mix it all well. Serve hot.
Recipe by
Tasty Mediterraneo
at https://www.tastymediterraneo.com/lentil-rice-and-vegetable-soup/