Jam filled olive oil tea biscuits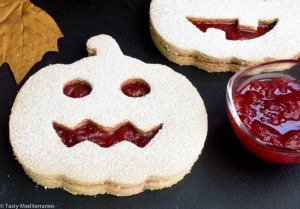 Author:
Margarita @ Tasty Mediterraneo
Cuisine:
Mediterranean Diet
Serves:
12 large biscuits
100ml (3.4 fl oz) Extra virgin olive oil
⅓ Teaspoon salt
⅓ Teaspoon vanilla extract
100g Unrefined sugar
2 Free-range egg yolks
300g Oat flour
6 teaspoons of strawberry, vanilla & pine nuts jam
Preheat the oven to 175 degrees C (350 degrees F).
In a large bowl mix the extra virgin olive oil, the salt, the vanilla extract and the unrefined sugar and beat in the 2 egg yolks until combined.
Add the oat flour and mix it all well until dough is formed. Using your hands knead gently and create two balls of dough.
Place one of the balls of dough over baking paper and cover it with another piece of baking paper. Roll out the dough with the help of a rolling pin to the thickness of 1€ coin (approx. 0,5cm). Using a cookie cutter cut out as many biscuits as possible but keeping them slightly apart. Knead the trimmings back together and roll them out again using the same method with the baking paper. Repeat the same process with the other ball of dough.
Once you have cut out all the biscuits just move the baking papers containing the biscuits to two baking trays. I like to work directly over the baking paper as it avoids the risk of breaking them when moving them to the baking tray.
If you do not have a cookie cutter for designing circles in the biscuits, with the help of a sharp knife, just cut out small circles or the shapes you want on half of the biscuits.
Bake the biscuits for 8 minutes at 175 degrees C (350 degrees F). Remove them from the oven very carefully, so that they don't crack, and place them on a cooling rack to allow them to cool completely.
Place a teaspoon of the strawberry jam onto the center of each of the biscuits that do not have a circle or other cut out, and sandwich them with each of the stamped out biscuits.
You can add a dusting of powdered sugar at the end.
Recipe by
Tasty Mediterraneo
at https://www.tastymediterraneo.com/jam-filled-olive-oil-tea-biscuits/