Spanish empanadas: Empanadillas de pisto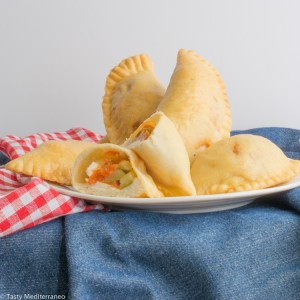 Author:
Margarita @ Tasty Mediterraneo
Cuisine:
Mediterranean diet
Serves:
For approx. 22 empanadas
300g (2 ½ cups) plain flour
75ml (2.7 fl oz) extra virgin olive oil
150ml (5.4 fl oz) warm water
2 teaspoons yeast powder
1 teaspoon sea salt
1 Tablespoon extra virgin olive oil
1 Clove garlic peeled and finely minced
1 Small onion peeled and finely chopped
½ Red bell pepper, cored and diced
½ Green bell pepper, cored and diced
½ Zucchini, diced
½ Teaspoon Pimentón de la Vera (Spanish Paprika)
3 Medium tomatoes peeled and diced
½ Tablespoon sea salt (or salt to taste)
1 boiled egg
1 egg (for brushing the empanadillas before baking them)
Follow the instructions as explained in my Multipurpose Olive Oil Dough recipe.
Once you have flattened out the dough, with the help of a small round cutter (of approx. 15cm - 6 inches diameter) make the small dough portions and they are ready to be filled with the pisto manchego filling.
While the dough is rising, prepare the pisto following the instructions as explained in my Pisto Manchego recipe. But do not add potatoes!
Once the pisto is ready, strain the pisto manchego using a fine sieve in order to remove as much liquid content from the pisto as possible.
Cut the boiled egg white into small pieces and add them to the strained pisto filling.
Preheat the oven to 175 degrees C (350 degrees F).
To fill in the small dough portions, add 2 teaspoons of the pisto filling to their center and make sure that you keep the borders clear of filling.
Beat one egg. Brush the borders of the dough with the egg. Fold the top halves over the pisto filling and enclose completely pressing with your fingertips to seal it. With the help of a fork crimp the borders firmly making sure you close the borders well so that they do not open. Brush the empanadillas with the beaten egg to help them get colour & shine when you bake them.
Bake in the middle of the oven for 20 min at 175 degrees C (350 degrees F) or until the empanadillas are golden.
Remove from the oven and enjoy them warm or cold.
Recipe by
Tasty Mediterraneo
at https://www.tastymediterraneo.com/spanish-empanadas-empanadillas-de-pisto/