Mediterranean Potato Salad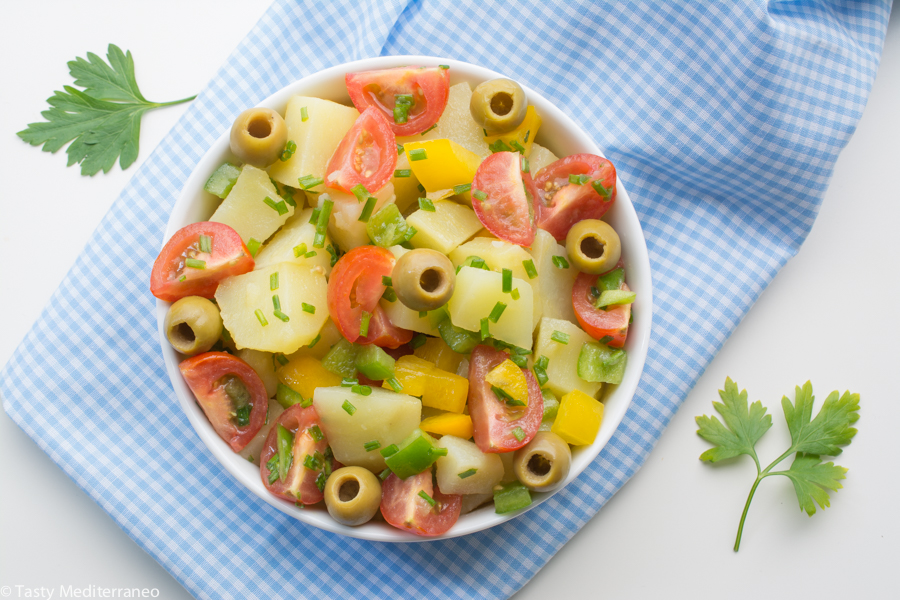 Author:
Margarita @ Tasty Mediterraneo
2 Tablespoons extra virgin olive oil
5 Large potatoes, peeled and cut into small evenly sized pieces
225g (1 ½ cup) Cherry tomatoes, cut each in 4 pieces
1 Green bell pepper, cored & diced
1 Yellow bell pepper, cored & diced
15g (1bunch = ½ cup) chives, chopped
100g (1/2 cup) stoneless Manzanilla green olives
Salt
Have all the vegetables well washed and prepared as indicated in the ingredients description.
To boil the potatoes, place them in a saucepan with cold water and simmer for about 10-15 minutes until tender, but not overcooked. Drain the excess of water.
In a large bowl add the boiled potatoes, the diced peppers, the cherry tomatoes cut in pieces, the chopped chives, the green olives, the 2 tablespoons of olive oil and salt to taste. Mix it all well and serve warm or cold.
You can prepare it one day in advance and keep it in the fridge up to a couple of days.
Recipe by
Tasty Mediterraneo
at https://www.tastymediterraneo.com/mediterranean-potato-salad/