Dark chocolate covered strawberries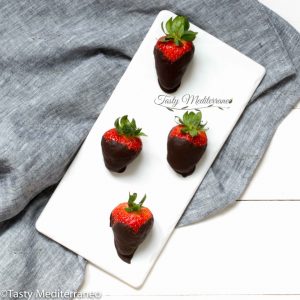 Author:
Margarita @ Tasty Mediterraneo
Cuisine:
Mediterranean Diet
Serves:
12-15 strawberries
350g (1 ¾ cups) Fresh strawberries
85g (2/3 cup) of 85% dark chocolate bar, chopped into small pieces
Wash well the strawberries.
Place the chopped dark chocolate into a heatproof bowl.
In a small saucepan add 1 cup water, bring to a boil and remove from the heat.
Sit the heatproof bowl containing the chocolate over the saucepan of barely simmering water and do a "bain marie" allowing the chocolate to melt stirring until it is totally melted.
Dip each of the strawberries into the melted chocolate and put them in the fridge, for about 20 minutes, so that the chocolate solidifies.
Recipe by
Tasty Mediterraneo
at https://www.tastymediterraneo.com/dark-chocolate-covered-strawberries/