Mediterranean style guacamole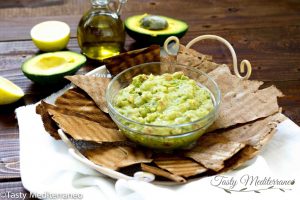 Author:
Margarita @ Tasty Mediterraneo
Cuisine:
Mediterranean Diet
4 Large fresh ripe avocados
1 Small onion, thinly chopped
1 Medium Tomato, thinly chopped
1 Green or Red bell pepper, thinly chopped
2 Tablespoons of freshly squeezed lemon or lime juice
¼ Cup of fresh cilantro, finely chopped (optional)
Sea salt to taste
A small drizzle of Extra Virgin Olive Oil (EVOO)
Cut the avocados in half and remove the core. With the help of a spoon remove the meat of the avocado. In a large bowl mash the avocado with the help of a fork until it reaches your desired consistency.
Add the thinly chopped onion, the tomato, the green or red bell pepper and the fresh cilantro and mix it all well.
Add the freshly squeezed lemon or lime juice, salt to taste and drizzle with a bit of EVOO.
Recipe by
Tasty Mediterraneo
at https://www.tastymediterraneo.com/mediterranean-style-guacamole/