Zucchini, Spinach and Carrot Lasagna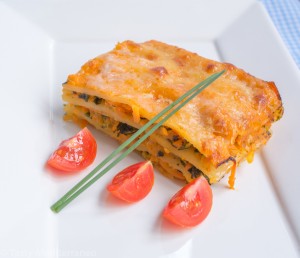 Author:
Margarita @ Tasty Mediterraneo
Cuisine:
Mediterranean diet
1 Tablespoon extra virgin olive oil
1 Garlic clove, peeled and finely minced
8 Scallions, finely chopped
1 Teaspoon sea salt
1 Carrot, peeled and julienned (cut into long thin strips)
1 Zucchini, julienned
500g (2 ¼ cups) Fresh spinach, (without the stems) and cut into small pieces
450g (2 cups) Fresh Tomato & Basil sauce
150g (1½cup) Freshly grated Parmesan cheese
15 Organic Lasagne sheets (if they require pre-cooking, follow the instructions of the package)
Have all the vegetables well washed and prepared as indicated in the ingredients description.
In a stir fry pan heat 1 spoon olive oil, add the garlic and stir-fry for 1 minute until lightly golden. Add then the scallions and 1 teaspoon salt and stir-fry at a medium heat for 2 minutes. Incorporate the julienne carrots and zucchini and stir-fry for 5 more minutes. Add the fresh spinach and continue stirring for 2 minutes. Remove the vegetable mix from the heat.
Preheat the oven to 175 degrees C (350 degrees F) and lightly grease the bottom of a baking dish with olive oil.
Add into the baking dish a layer of lasagna sheets, a third of the vegetable mix, ¼ of the Fresh Tomato & Basil sauce and ¼ of the grated Parmesan cheese. Repeat the process twice more and finish with a layer of lasagna sheets covered only by the remaining tomato sauce and sprinkled with the rest of Parmesan cheese.
Bake in the middle of the oven for 20-25 min at 175 degrees C (350 degrees F) or until golden and bubbling.
Remove from the oven and serve accompanied with fresh cherry tomatoes and chives.
If you like very cheesy lasagna, you can either add some more Parmesan cheese or add some shredded mozzarella instead.
Recipe by
Tasty Mediterraneo
at https://www.tastymediterraneo.com/zucchini-spinach-and-carrot-lasagna/