Lebanese rice with vermicelli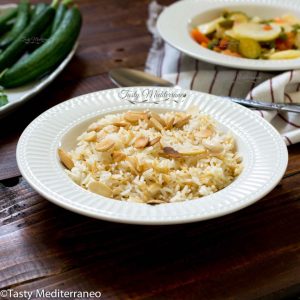 Author:
Margarita @ Tasty Mediterraneo
Cuisine:
Mediterranean Diet
1 Cup long grain rice
1 ½ Cups of water
½ Cup vermicelli pasta
2 Tablespoons Extra Virgin Olive Oil (EVOO)
½ Teaspoon sea salt (or salt to taste)
Almonds or pine nuts (optional)
Rinse well the rice to get rid of the excess starch and drain well.
Add the water in a cooking pot and bring it to a boil.
In another cooking pot heat the EVOO, add the vermicelli and sauté stirring continuously until they are toasted evenly and reach a golden brown colour. Be careful so that the vermicelli doesn't burn. Add then the rice and stir all together with the vermicelli to make sure the rice is well coated with the EVOO.
Pour the boiling water over the vermicelli and rice, add salt, and cook at low temperature, covered with the lid, for about 15 minutes until the water is absorbed. The cooking time may vary depending on the variety of rice that you use. My advice would be to follow the cooking time indicated in the package. Once it is fully cooked turn the heat off and serve.
Optionally you could toast some almonds or pine nuts in a frying pan with a drop of EVOO and add them to the rice with vermicelli.
Recipe by
Tasty Mediterraneo
at https://www.tastymediterraneo.com/lebanese-rice-with-vermicelli/