Mediterranean broad beans with eggs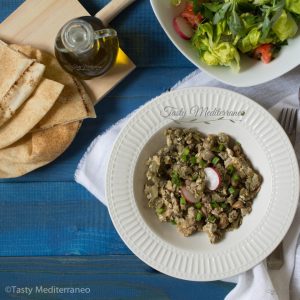 Author:
Margarita @ Tasty Mediterraneo
Cuisine:
Mediterranean Diet
½ kg (1.1 pounds) Fresh broad bean pods (if they are very fresh) or 3 cups shelled broad beans
3 Organic eggs
1 Medium onion, thinly chopped
2 Garlic cloves, thinly chopped
2 Tablespoons extra virgin olive oil (EVOO)
Sea salt and freshly ground black pepper to taste
Have the broad beans well washed and the rest of ingredients prepared as indicated in the ingredients description. If the fresh broad bean pods are really fresh chop them into small pieces. Otherwise simply remove the broad beans from their pods and discard the pods.
Heat the olive oil in a large deep frying pan over medium heat, add the thinly chopped garlic cloves and sauté for about 1 minute until lightly golden, then add the thinly chopped onion and a pinch of salt and sauté for a couple of minutes. Add then the fresh broad beans and cook for around 3 minutes.
Crack the eggs into a bowl, add a pinch of salt and with the help of a fork beat them together well. Incorporate the eggs to the frying pan with the onion, garlic and broad bean mix and stir gently at low heat. Add salt and freshly ground pepper to taste and keep stirring gently until the eggs are only slightly underdone, and then remove from the heat. Allow them to rest on the hot frying pan for a few seconds so that the heat of the pan cooks them to perfection. Serve hot.
This recipe makes a nutritious meal when served with a green salad and some wholemeal bread.
You can add on top some sliced fresh scallions and a few slices of radish.
Recipe by
Tasty Mediterraneo
at https://www.tastymediterraneo.com/mediterranean-broad-beans-with-eggs/