EVOO, yogurt & lemon zest madeleines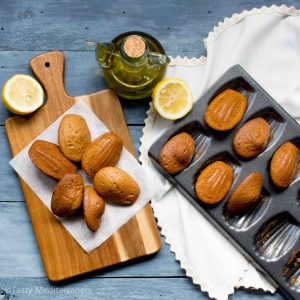 Author:
Margarita @ Tasty Mediterraneo
Cuisine:
Mediterranean Diet
4 Organic eggs
100g (½ cup) unrefined dark muscovado sugar
100ml (3.4 fl oz) extra virgin olive oil
3 Tablespoons organic natural yogurt
85g (2/3 cup) Organic plain flour
85g (2/3 cup) Organic whole-wheat flour
1 Teaspoon vanilla extract
¼ Teaspoon salt
2 Teaspoons baking powder
The zest of one organic lemon (avoid the bitter white membrane beneath the lemon peel)
Preheat the oven to 175 degrees C (350 degrees F).
Lightly grease a non-stick madeleine pan with olive oil and set aside.
In a large bowl beat the eggs with a hand mixer. Add the sugar and continue mixing until dissolved. Then mix in the olive oil and the 3 tablespoons of natural organic yogurt.
Add in the flours, the vanilla extract, the baking powder, the salt and the zest of one lemon. And mix it all well until just combined.
Keep the batter in the fridge for approximately 10 minutes.
Remove from the fridge and give a final mix before filling the madeleine pan.
Bake in the middle of the oven for 15-16 min at 175 degrees C (350 degrees F).
Remove from the oven and leave to cool.
Recipe by
Tasty Mediterraneo
at https://www.tastymediterraneo.com/evoo-yogurt-lemon-zest-madeleines/