Roasted fennel & tomato pasta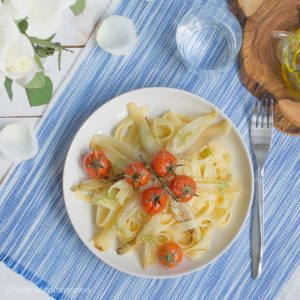 Author:
Margarita @ Tasty Mediterraneo
Cuisine:
Mediterranean Diet
4 Tablespoons extra virgin olive oil (EVOO)
1 Fennel bulb
250g (1 ½ cup) Cherry tomatoes
1 Lemon, cut in wedges
200g (7 ounces) Wholemeal tagliatelle
1 Teaspoon sea salt
Freshly grounded black pepper
Have all the vegetables well washed and prepared as indicated in the ingredients description.
Remove the stalks and fronts of the fennel by cutting them as close to the bulb as possible. Save the fronds to decorate the dish. Remove and discard the core of the fennel. And thinly slice the bulb.
Lay the fennel bulb slices, the lemon wedges and the cherry tomatoes in a roasting dish, toss with 2 tablespoons EVOO, season with salt and pepper to taste and bake in the middle of the oven at 200°C (392°F) for about 25 minutes or until the fennel is fork-tender and cooked through.
While the fennel is in the oven, boil water in a large saucepan and add one tablespoon salt. Add the tagliatelle pasta and stir. Follow the cooking instructions on the package and taste your pasta while it is cooking to avoid overcooking it and to make sure you cook the pasta "al dente". Stir the pasta from time to time and when the cooking time indicated in the package is over and the pasta is al dente, remove from the heat and drain.
Top the drained pasta with the roasted fennel and tomatoes, toss with the rest of the EVOO and decorate with the fennel fronds. Serve hot.
Recipe by
Tasty Mediterraneo
at https://www.tastymediterraneo.com/roasted-fennel-tomato-pasta/