Vegan turmeric blonde brownie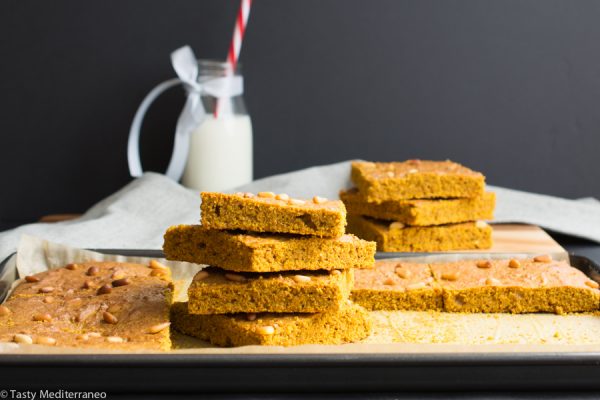 Author:
Margarita @ Tasty Mediterraneo
Cuisine:
Mediterranean Diet
400g (3 cups) Organic wholemeal flour
130g (3/4 cup) Dark muscovado unrefined sugar
150ml (2/3 cup) Extra Virgin Olive Oil (EVOO)
375ml (1 ½ cups) Almond milk
1 Tablespoon ground anise
1 Tablespoon baking powder
3 Tablespoons organic turmeric
A tiny pinch of freshly grounded black pepper
1 Tablespoon rose water
1 Tablespoon orange blossom water
2 Tablespoons raw pine nuts
In a large bowl mix well the wholemeal flour, the ground anise, the baking powder, the tiny pinch of black pepper and the turmeric.
Add the EVOO to the mixture and mix it all well with your hands to help the flour absorb the EVOO. (Be aware that your fingers will be a bit yellowish after this step!)
In a separate bowl mix the almond milk with the unrefined sugar until the sugar is completely dissolved.
Add the almond milk and sugar mix, the rose water and the orange blossom water to the flour mixture, and mix it all well until combined.
Preheat the oven to 175 degrees C (350 degrees F). Line a baking tray with non-stick baking paper, or lightly grease it with olive oil (my mother in law uses tahini sauce to grease the baking tray, it works very well too!)
Pour the batter in the baking tray and spread it evenly with the help of a spatula.
Sprinkle the pine nuts on the top and bake in the oven at 175 degrees C (350 degrees F) for 25 minutes. Allow it to cool down, divide in equal portions and serve.
The traditional sfouf recipe would use 1 cup of semolina and 2 cups of flour instead of 3 cups of wholemeal flour. Personally I like to use the wholemeal flour to make it richer in fibre.

As you may have noticed in my pictures, I did 2 batches of sfouf:
- The majority of the photos show a sfouf cake that looks like a blonde brownie because I baked it in a flat baking tray.
- But as you have seen in the last picture, for the 2nd batch I used a deep baking dish, thus its height! (when you bake it in a deeper baking dish you will need to bake it for 30 minutes instead of 25 minutes)
Recipe by
Tasty Mediterraneo
at https://www.tastymediterraneo.com/vegan-turmeric-blonde-brownie/