Tomato & red pepper sauce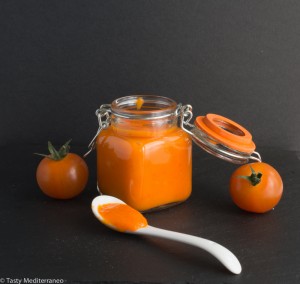 Author:
Margarita @ Tasty Mediterraneo
Cuisine:
Mediterranean Diet
Serves:
for preparing 2 jars of sauce
2 Tablespoons extra virgin olive oil
1 Onion, peeled and finely chopped
2 Red bell peppers, cored and diced
4 Ripe tomatoes, peeled and finely chopped
1 Teaspoon sea salt (or salt to taste)
Have all the vegetables well washed and prepared as indicated in the ingredients description.
Heat the olive oil in a large saucepan over medium heat, add the onion and a pinch of salt and sauté for around 3 minutes until it begins to colour lightly. Add then the red peppers and stir-fry for 2 more minutes. Add the tomatoes and stir.
Turn the heat to low heat and simmer for 10 minutes stirring occasionally and add the salt.
Remove the saucepan from the heat and with the help of a hand mixer (ideally a powerful one of at least 450 watt) mix it all well until perfectly combined.
If you are not going to consume it immediately, pour the tomato sauce into a jar, seal and store in the fridge. You can keep it in the fridge for up to 4 days
Recipe by
Tasty Mediterraneo
at https://www.tastymediterraneo.com/tomato-red-pepper-sauce/