Low fat dip / dressing sauce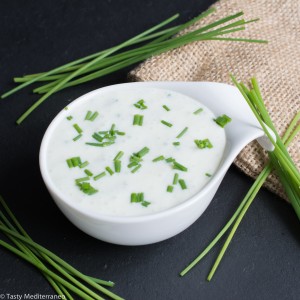 Author:
Margarita @ Tasty Mediterraneo
Serves:
One small jar of sauce
1 Low fat Organic natural yogurt (or Soy yogurt for a Vegan alternative)
1 Tablespoon extra virgin olive oil
1 Small bunch of chives, chopped
½ Teaspoon Salt (or salt to taste)
Wash well the chives and chopped them.
Put the yogurt (or Soy yogurt) into a food processor and, while adding the 1-tablespoon of extra virgin olive oil, process for a few seconds (10-15 seconds are more than enough).
Add the chopped chives and salt to taste and mix it all well with the help of a spoon.
For a vegan and dairy free option use a Soy Yogurt.

If you are not going to consume it immediately, pour the sauce into a jar and store in the fridge for up to 2 days.

You could also add to this sauce some freshly ground black pepper.
Recipe by
Tasty Mediterraneo
at https://www.tastymediterraneo.com/low-fat-dip-dressing-sauce/